16 Best Free Magazine WordPress Themes 2020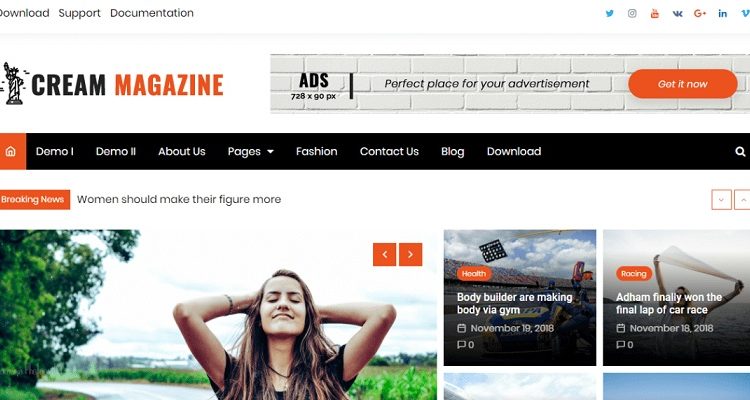 Looking for an online magazine or news website? Then we have a handpicked list of Best Free Magazine WordPress Themes 2020. Do you know exactly when did you opened a physical magazine or you purchased? I hope none of us know. Because in this modern world with far better options on the internet, we all prefer to read an online magazine site due to the variety of options and facilities of our interest related news. There are only a few magazine websites that are free and responsive and mostly among them have a poor code. But our rich collection of Top 16 Best Free Magazine WordPress Themes will resolve all these issues and we are committed to providing you with top-quality themes.
Every mentioned theme in this article possesses unique features like Fully Responsive, Customizable and Search Engine ( SEO ) Friendly Friendly WordPress Theme, Microformats and Font Awesome icons, Google Maps, Advanced Custom Fields, Contact Form, Custom FrontPage Settings, Custom Background Support, Custom Menu ( 3 Level on Header, 1 Level on footer ), Custom Colors, Google Fonts, Dynamic Widgets, and many more. So I recommend you to go through our awesome collection and find your best pic…
Also See
1. Magazine Power – Free Magazine WordPress Themes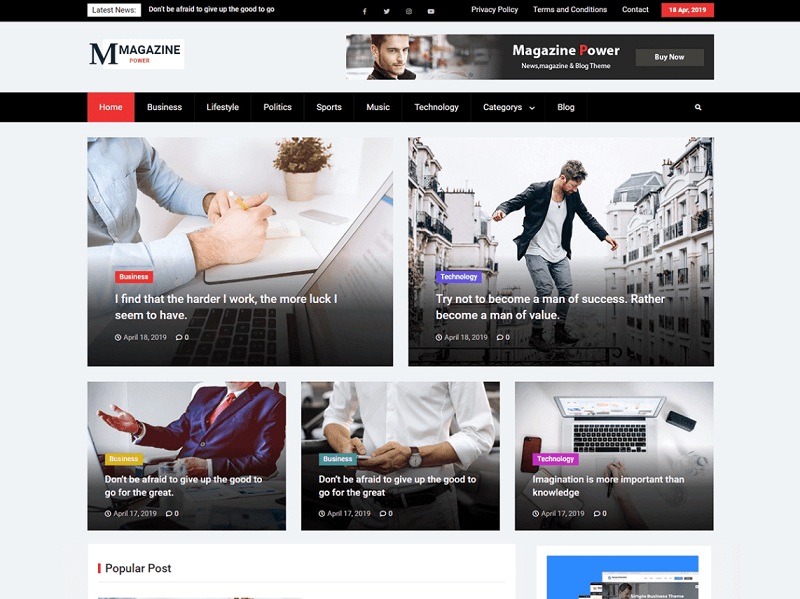 Magazine Power is a clean, responsive, and purposeful WordPress theme with a creative outlook focused on news portal and magazine sites. It provides plenty of unique features to make it a solid choice for your website, especially if your focus is on magazines or news.
---
2. Devotepress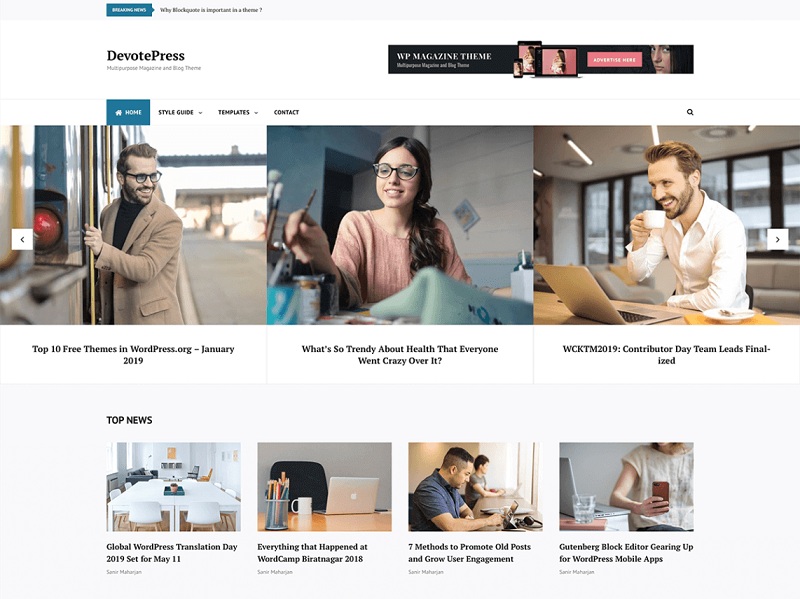 DevotePress is a clean, simple and elegant free multipurpose magazine and blog WordPress theme that is extremely responsive and flexible to customize. Our online media portal, DevotePress is actually what inspired us to craft the theme of the same name. This online publication covers everything and anything related to WordPress.
---
3. Magpaper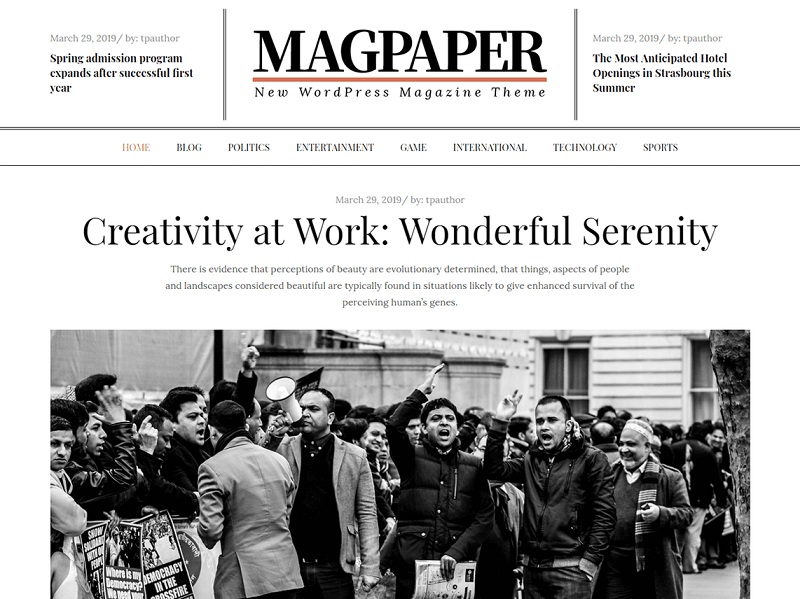 Magpaper is one of the fastest, cleanest, easy to use and aesthetically responsive WordPress magazine theme. To tweak your design further, the built-in Theme Customizer options include a plethora of options that enable you to fine-tune your site to your exact requirements.
---
4. Cream Magazine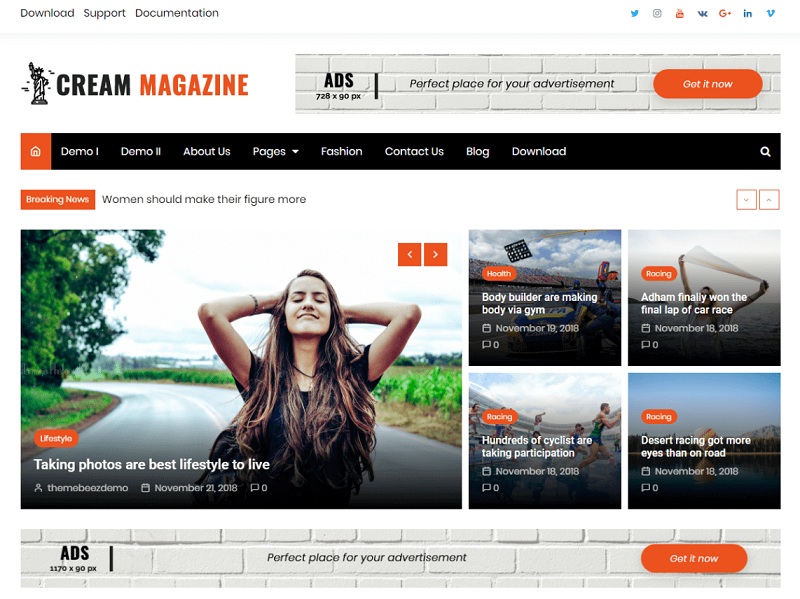 Cream Magazine is a news & magazine WordPress theme with a clean & modern design suitable for everyone who wishes to share their stories, publish breaking daily news or write on different topics. Everything in Cream Magazine is very easy to deal with, after assigning a front-page one can fully get started to build a website through WordPress Live Customizer.
---
5. Glamour magazine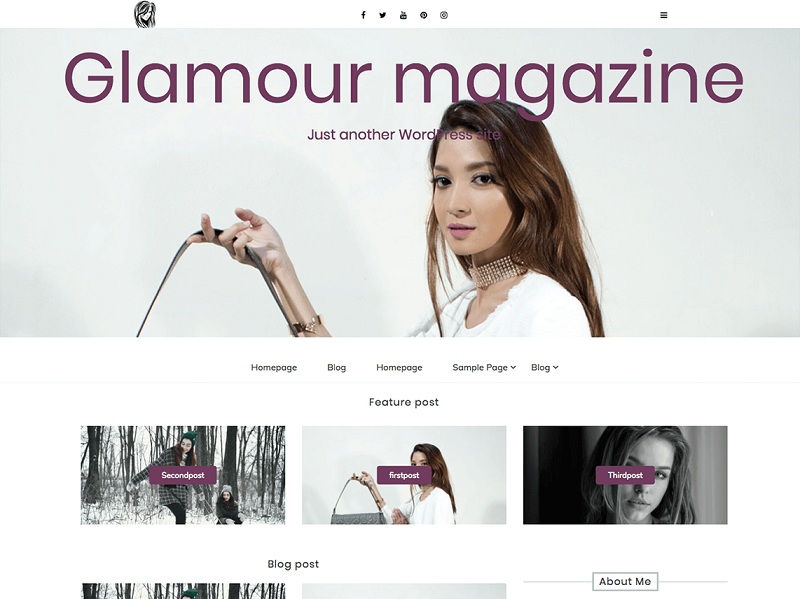 Glamour magazine WordPress theme is first of its kind which is suited for magazine type website. It allows you to use full customization through customizer view. Its function has been built so that a novice user can take advantage of it. Glamour magazine WordPress theme is very comfortable to use.
---
6. Catch Mag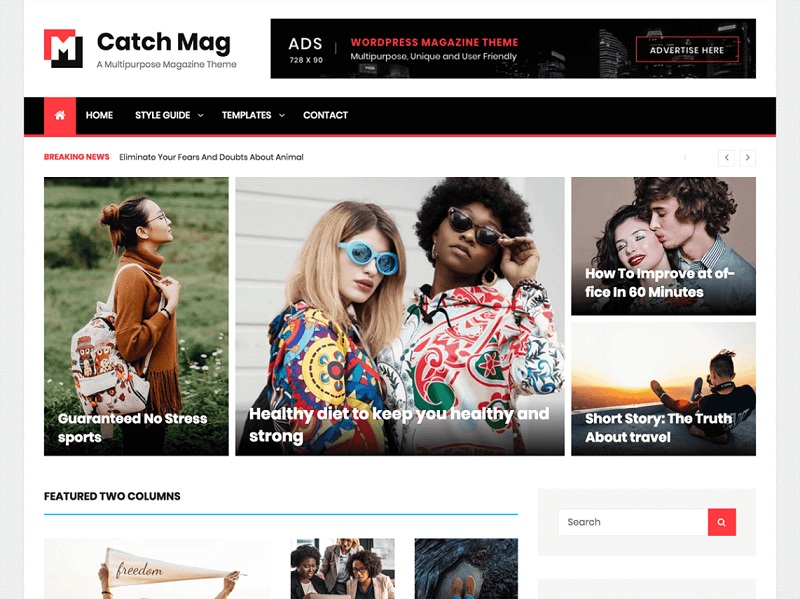 Catch Mag is a responsive and visually appealing multipurpose magazine WordPress theme that is completely free of cost. It comes with powerful customization features. Although Catch Mag has been designed especially for magazines, its vast range of features makes it adapt to be used in almost any platform. It is a very lively and purposeful theme that comes with a creative outlook, making it wholly compatible with a range of diverse usages.
---
7. Mag News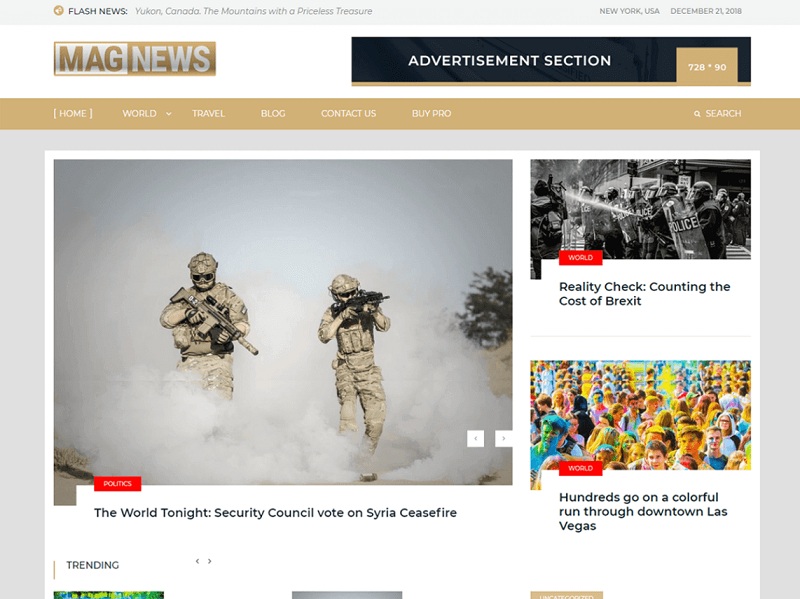 Mag news is a perfect WordPress magazine theme you can choose to build a professional news website, it can be used to build simple personal or company blog too, with the advanced theme options, you can customize your website and build your layout in a very easy way.
---
8. Xpressmag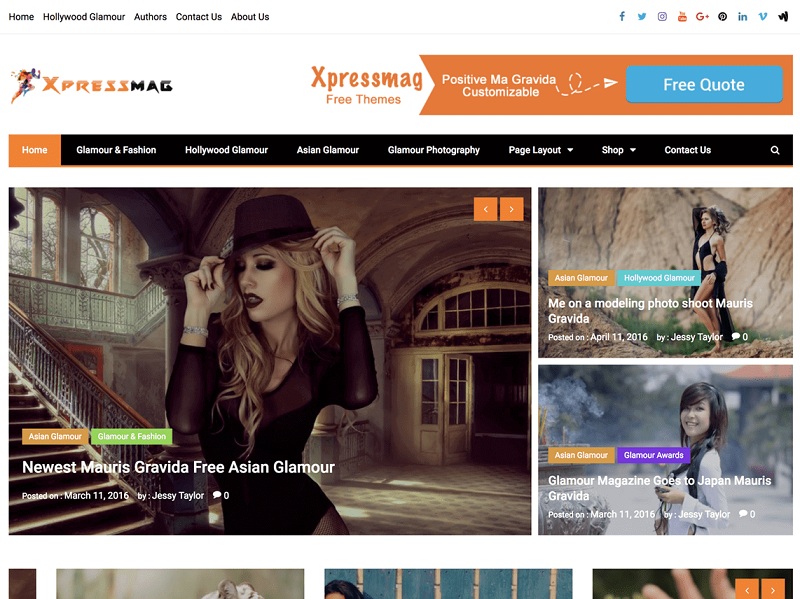 Xpressmag is an ultra-fast clean and best responsive free WordPress magazine theme, Xpressmag specially designed for magazine, newspaper, news portals, and editorial style websites. Xpressmag theme design flat, minimalist, magazine style homepage Design with full post banner and carousel slider with latest posts, and different custom widget design layout.
---
9. Multipurpose Magazine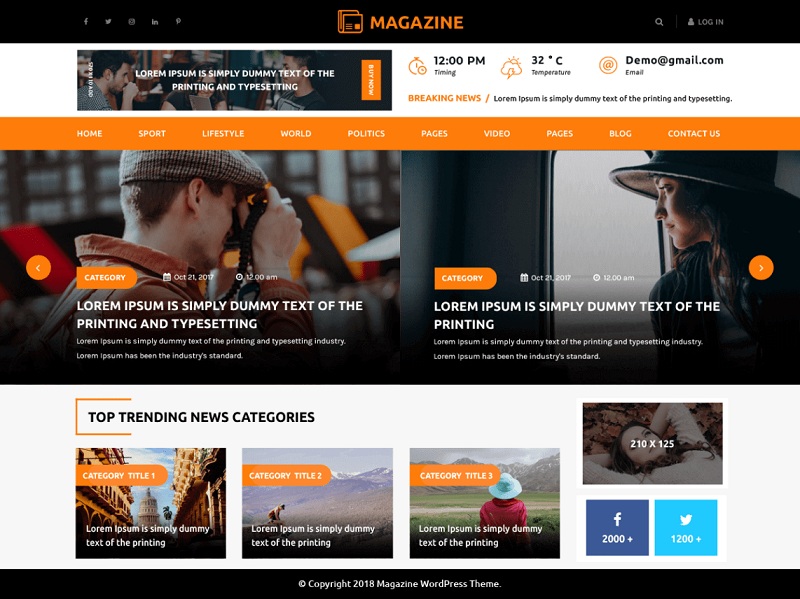 Multipurpose Magazine is a vibrant, energetic, feature-full and highly organized WordPress magazine theme which is made to be used by online magazines, newspapers, editors, journalists, publishing units, bloggers, informative sites, educational websites, content writers, digital news media and other similar websites. It is flexible to be used for a portfolio website.
---
10. PridMag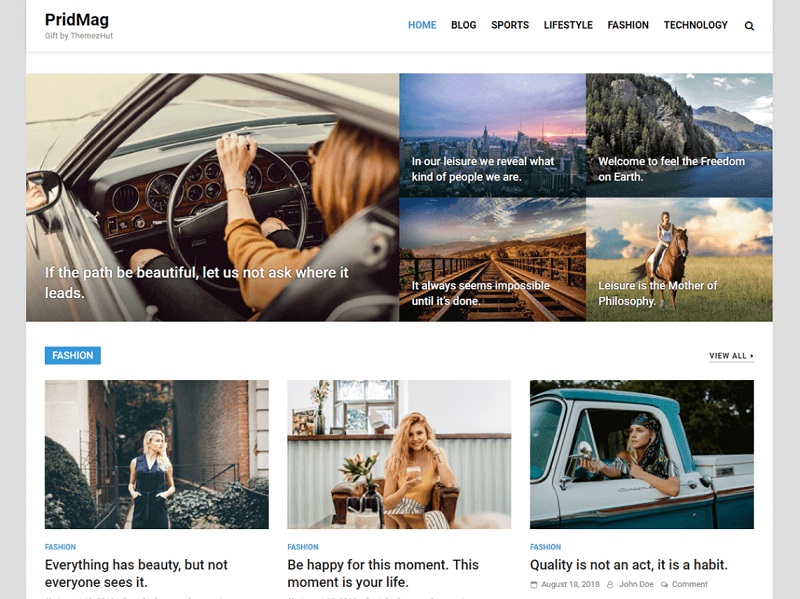 PridMag is a well crafted, fast and modern magazine WordPress theme which is perfect for all kind of publishing sites including magazine/news sites and blogs. PridMag has a handful of options to customize your site as you like. Presence your visitors a truly awesome browsing experience with PridMag.
---
11. Themaga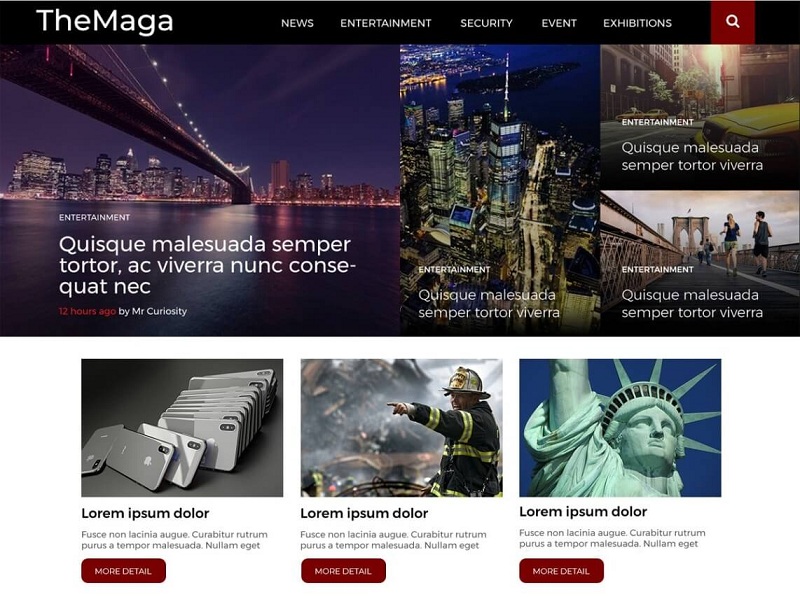 Themaga – Be the leader in your industry by taking your online publishing to the next level with Themaga WordPress Magazine Theme. Easily let your readers go through content by category, archive with clean and well-organized homepage magazine layout.
---
12. Enspire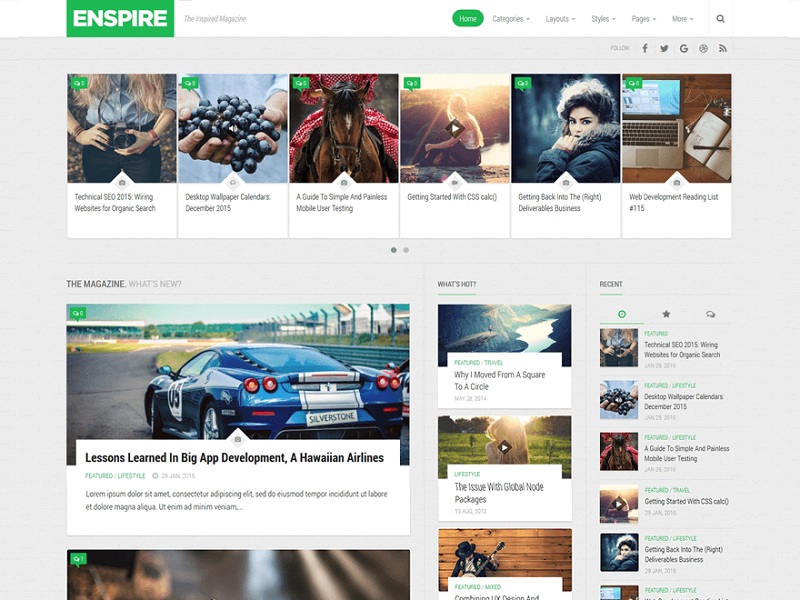 Enspire is a responsive 100% high-resolution theme for blogs and magazines. Unique toggle sidebars give a great browsing and reading experience on both tablet and mobile.
---
13. Fabulous Fluid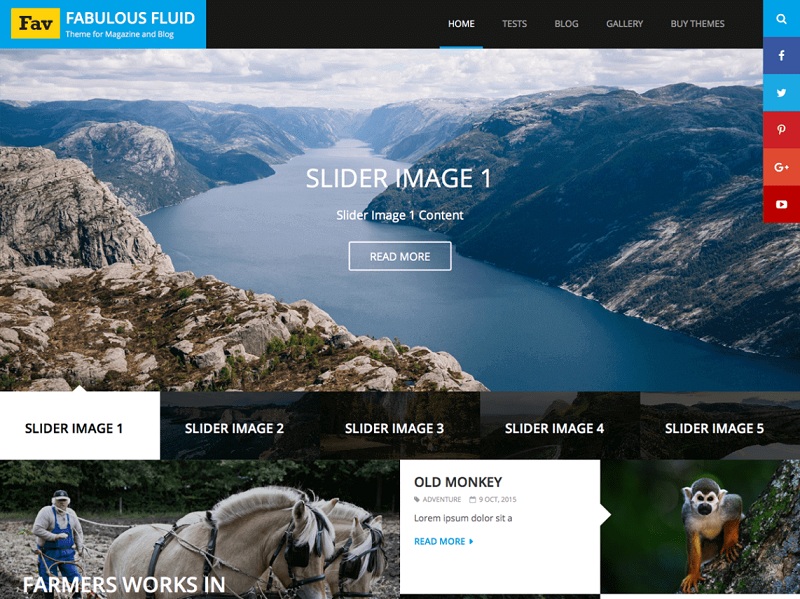 Fabulous Fluid theme is fantastically crafted WordPress theme for Blogger, Photographers, private and magazine internet site with a bendy and customizable theme customizer options. Its responsive design perfectly displays on all gadgets and platforms where each detail has been cautiously configured.
---
14. Gridbox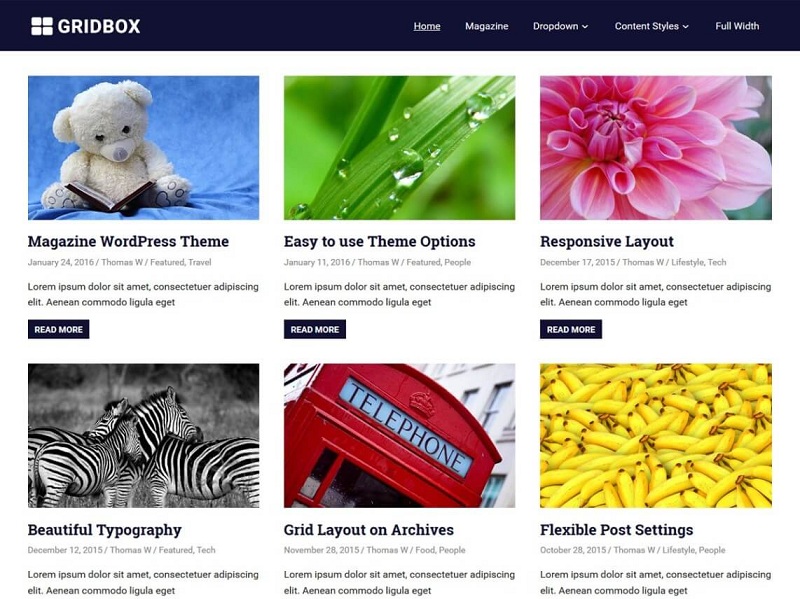 Gridbox is a smooth and stable Free Magazine WordPress Themes presenting a three-column grid-design for posts. The theme works out of the box and does now not require any problematic setup. It is perfectly suited for a simple journal, blog or portfolio internet site.
---
15. Newszine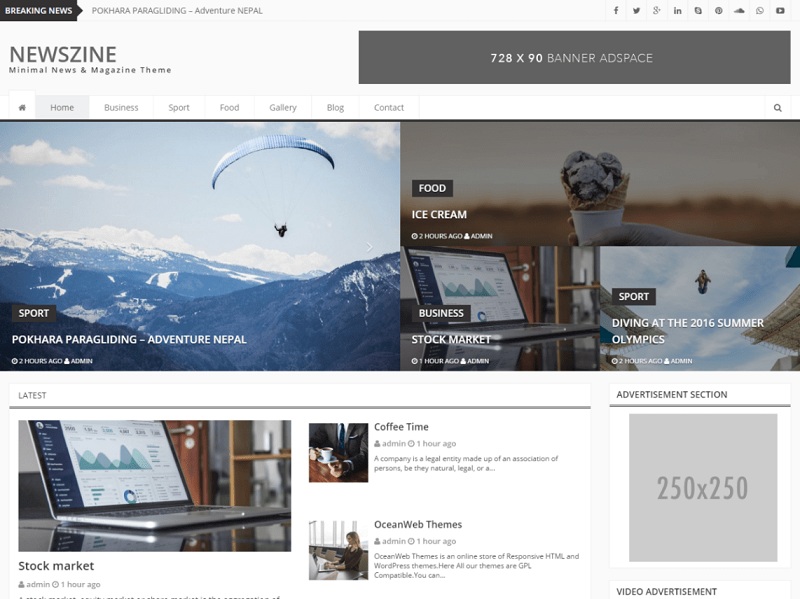 Newszine Theme is an easy, easy, superbly designed responsive WordPress news & magazine theme. A newszine theme is especially for news and weblog theme. It is minimal but frequently used facets will aid you set up your internet site effortlessly and swiftly.
---
16. The Minimal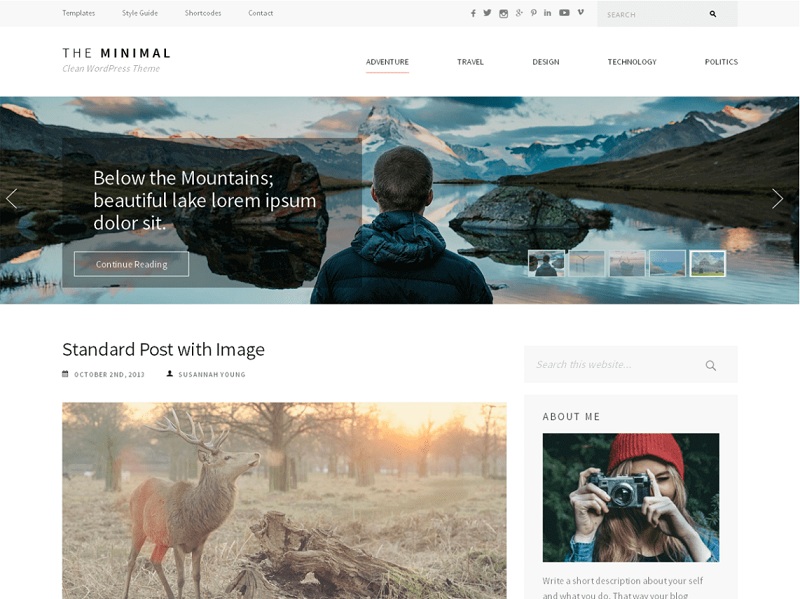 The Minimal is a fresh, easy and a minimalist WordPress theme designed for a weblog or a journal. The significantly featured slider with developing slider choices makes this theme a nice alternative for photography, journey, food, trend, journey, subculture, physical activities or some other terrific web publication.
---
Conclusion:
The above-mentioned collection of 16+ Best Free Magazine WordPress Themes has all the latest design and features that can be fruitful for setting up a beautiful website. You must try to include it and see the results.