11 Best Free WordPress Button Plugins In 2023 For Your WordPress Website.

Adding buttons to your WordPress website or blog's posts, pages and sidebars generally is a good option to increase a better stage of consumer engagement with your content, and drive your audience or purchasers to signal up, buy now, learn more, and follow. Now today, there are a lot of plugins are available to add buttons to your WordPress site but choosing the best one among them is a tough task to do. Making it easy for you in this article I have listed the 11 best free WordPress button plugins for WordPress users, situated on the greatest downloads which are compatible with all wordpress themes.
These plugins have so many aspects like unlimited color combinations, textual content, box shadowing, gradients, predefined defaults to make getting began simple, and the ability to copy existing buttons to make use of as a beginning point for customized buttons.
So without wasting more time let's start with our best list:
1. AddToAny Share Buttons
2. Call Now Button
3. Social Media Share Buttons
4. Ultimate Blocks
5. Simple Share Buttons Adder
6. MaxButtons
7. Grow By Mediavine
8.  Forget About Shortcode Buttons
9.  WP ULike
10. MashShare
11. Social Share Icons
1. AddToAny Share Buttons

Let's start with one of the best Free WordPress Button Plugins, AddToAny Share Buttons plugins help you to increase your website's traffic by adding the share buttons on your website so that people can share your piece of content on different platforms. People can share their posts and pages on different services such as Facebook, WhatsApp, LinkedIn, Twitter, Pinterest, Reddit, and over 100 more sharing and social media sites & apps. You can easily place share buttons before the content, after the content, or before and after the content.
---
2. Call Now Button

If you want to add a call Now button on your website this plugin works best for you. It adds a call to now button at the bottom of your visitor's device screen which is visible for mobile users only. This plugin allows your mobile visitors to call you with just one click.  You can easily set your call now button in the settings option then you can enable and enter your phone number to create your button. You can also add some kind of text to your button. Also, you can set the size, color, and design of your button.
---
3. Social Media Share Buttons

Social Media Share Buttons allow you to set share buttons for Twitter, LinkedIn, Facebook, Instagram, Tumblr, Email, Youtube, and over more than 200+ services. It offers you 16 different designs for your social media share icons you can easily pick your favorite one. With this plugin, you can make your social media share buttons 'float' or 'sticky' and you can also add some animation.
---
4. Ultimate Blocks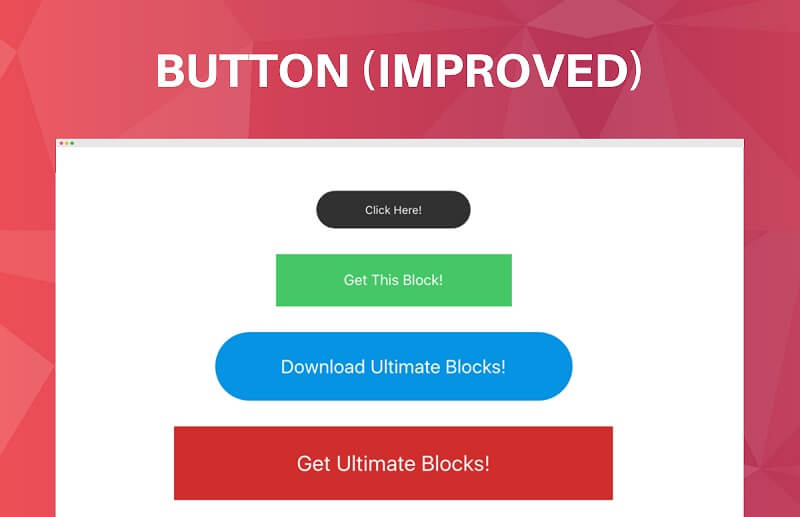 Ultimate Blocks is an awesome lightweight Gutenberg plugin that lets you add beautiful buttons to your content. The buttons block in this plugin comes with a lot of customization options. You can set the button size, color, alignment, border, icon, and more. With this block, you can create highly engaging call-to-actions on your website.
The blocks in this plugin are fully responsive so that your buttons will look good no matter what device the user is browsing your website on. You can download Ultimate Blocks on your website completely for free.
---
5. Simple Share Buttons Adder

Another plugin that simply adds share buttons to all of your posts and pages. Simple Share Buttons Adder plugin allows you to easily customize your Share Buttons, Icon and Icon Hover colors. The best part of this plugin I liked most is that you can also upload and use your own custom images to customize your share buttons.
---
6. MaxButtons

MaxButtons WordPress plugin helps you to easily create awesome-looking CSS3 WordPress buttons within minutes. Anyone can easily use this plugin with or without any coding knowledge. Due to its responsive nature, buttons created by this plugin look awesome on every type of device. You can create an unlimited number of buttons with this plugin. It provides you with multiple customization options to change the color, design, and size of your buttons.
---
7. Grow By Mediavine

Grow by Mediavine is one of the finest and easy-to-use social sharing plugins available on WordPress. This plugin allows you to create easily customizable social share buttons that will look beautiful with your website's design. Using the social share buttons will increase the interactions and social media shares of your website. You can easily create share buttons for different social platforms includes Facebook, Twitter, Google+, Pinterest, and LinkedIn. Also, it provides you the feature of social sharing buttons with social share counts so that you can easily count the no. of shares of your post and pages.
---
8. Forget About Shortcode Buttons

Forget About Shortcode Buttons WordPress plugin for your website. This plugin is beautiful and straightforward to use without any coding knowledge. It is compatible with the WordPress classic editor. With the help of this plugin, you can easily add a button to the editor toolbar. You can easily download this plugin for your new WordPress project.
---
9. WP ULike

WP ULike is the most advanced WordPress marketing plugin available for your website. This plugin offers like and dislikes buttons for your websites. Also, it has some unique features for all your marketing needs. In addition, this plugin has plenty of customizing options so that you can customize every part of your buttons with just a few clicks. It has 20+ premium designed templates and it's fully supported for Elementor Page Builder With Functional Widgets. You can easily install this plugin within minutes for your website.
---
10. MashShare

MashShare is a modern and highly customizable WordPress plugin. This plugin's setting is very easy to use and its share count is a great feature. It has 3 different effective share button styles. Plus, this plugin is free so there is no need to worry about any money to spend. Also, you can easily combine it with other third-party share button vendors. MashShare social media share buttons support Pinterest, Linkedin, Whatsapp, Facebook, and any other social media platforms.
---
11. Social Share Icons

Social Share Icons & Social Share Buttons are easy-to-use plugins for your WordPress website. With the help of this plugin, you can easily add social share icons and buttons to your website with just a few clicks. This plugin is free to use and ready to help you grow your audience right away. Also, this WordPress plugin is compatible with Gutenberg editor. Additionally, it provides you with 16 different design styles for your social media share icons, you can easily set your favorite one on your dream website. Moreover, this plugin supports Facebook, Twitter, Youtube, Pinterest, and any other popular social media platforms.
---
So that's it from this article I hope you liked the list of Free WordPress Button Plugins for your WordPress website. Also do not forget to share it with your friends and followers.