20 Best Free Shopify Themes In 2023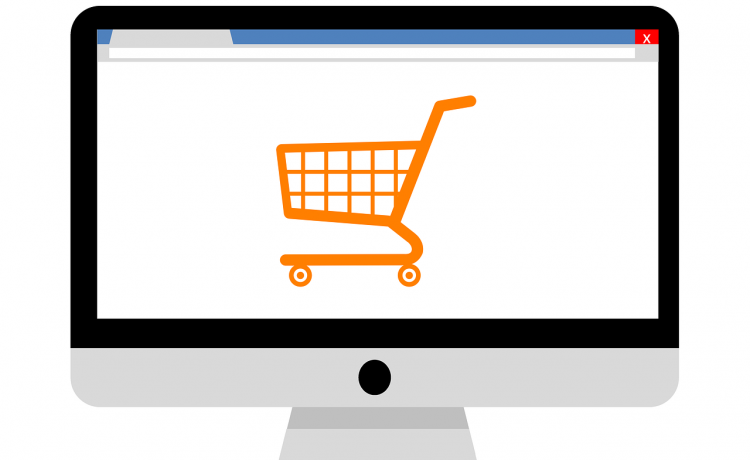 Shopify is the latest trending E-Commerce Platform that will help you to sell your product online. With the help of Shopify, you can easily manage your orders and products, connect with staff, and track your sales. We create a list of the best free Shopify themes you can use to design your online store according to you.
Shopify will help users to achieve independence by making it easier to start, run, manage, and grow a business. It is the best option for you to create a successful online store and Free Shopify themes will help you to give your business an attractive and beautiful look.
In this post, we will share some unique and Best Free Shopify Themes perfect for showcasing your products with a clean design.
List of Best Free Shopify Themes we cover:
1. Brooklyn
2. Narrative
3. Debut
4. Express
5. Venture
6. Boundless
7. Simple
8. Supply
9. Minimal
10. Sports Store
11. Annabelle
12. Fashe
13. Envy
14. Wood
15. Windsurfing
16. Office
17. Sport Store
18. Milky
19. Apparelix
20. SuitUP
1. Brooklyn: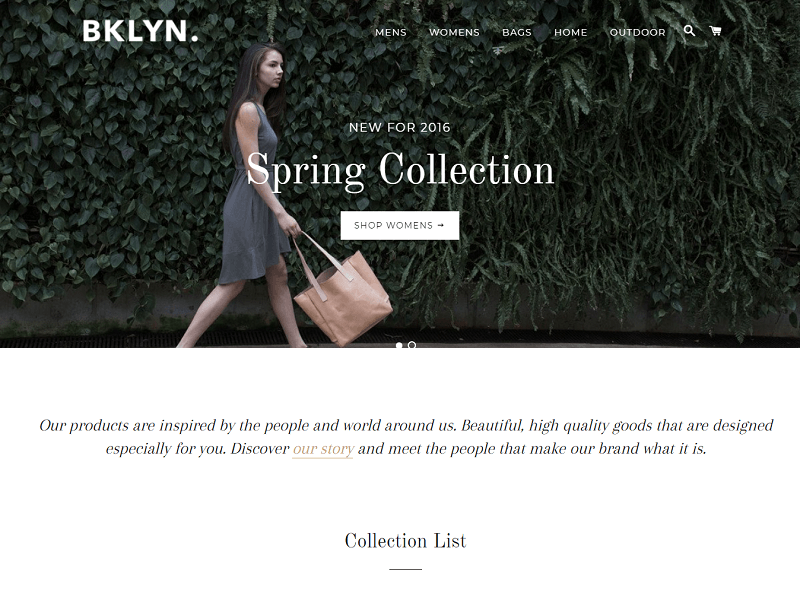 Brooklyn is a tailor-made free Shopify theme for the modern apparel store include a mobile-first responsive design, unique typography, an edge-to-edge home page slideshow, a dynamic product grid, and product pages with at-a-glance availability for each size.
This theme is offered in two styles, Classic and Playful. Classic is the more ideal style and with its traditional font and white and black CTA boxes, it is ideal for any type of modern apparel store. Playful has a simple layout and much more energizing with its brighter color scheme and slightly less stuffy font Sans-Serif and it looks great for a bakery or kids' clothing shop.
Theme Features: 
Designed and modern apparel store
Header Slideshow
Dynamic product grid
Slide-out cart
Home page video
social media icons
---
2. Narrative: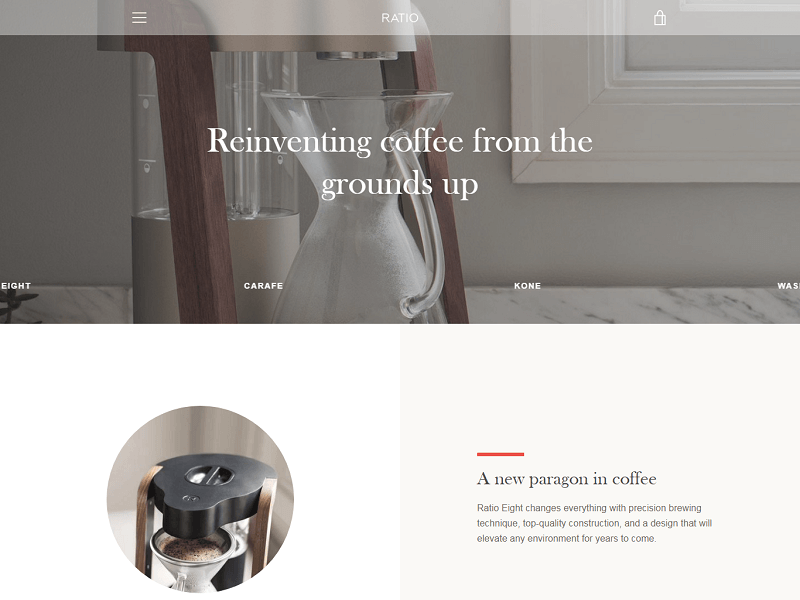 A narrative is a boutique theme designed for visual storytelling. It has a mobile-friendly design with a free theme update. The Narrative Shopify theme is one of the best free options, and it has multiple styles with different colors with Fully customizable product pages.
Theme features:
Built for small catalogs
Vertical slideshow
Wide layout
Fixed navigation
Hero video
Designed for visual storytelling
---
3. Debut: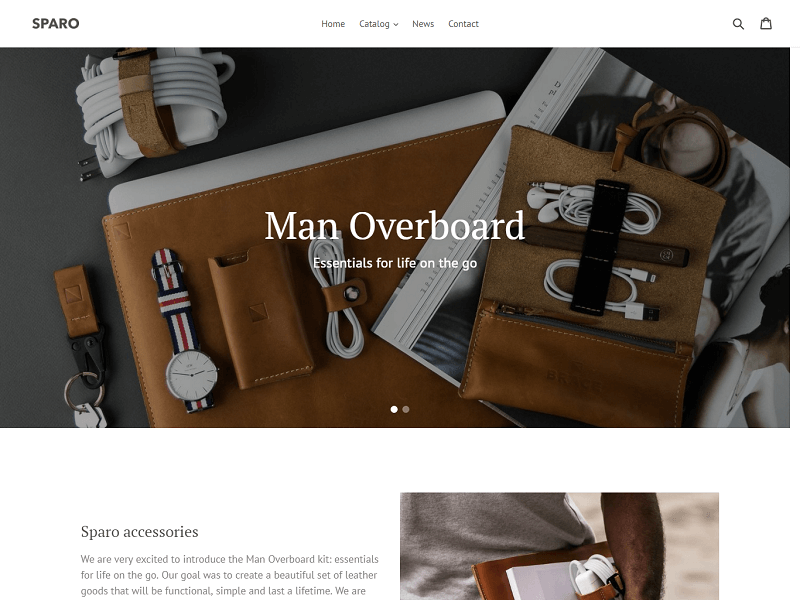 Debut is a free Shopify theme designed to showcase your brand and products. This theme is optimized for SEO-friendly and mobile-friendliness. Debut is fast, easy to navigate, has a clean design, and is flexible enough for a different range of stores no matter how big your inventory is.
Theme features:
Fast and customizable
Slideshow
Predictive search
Customer testimonials
Promotional banner
Built for small catalogs
Home page video
Product filtering
---
4. Express: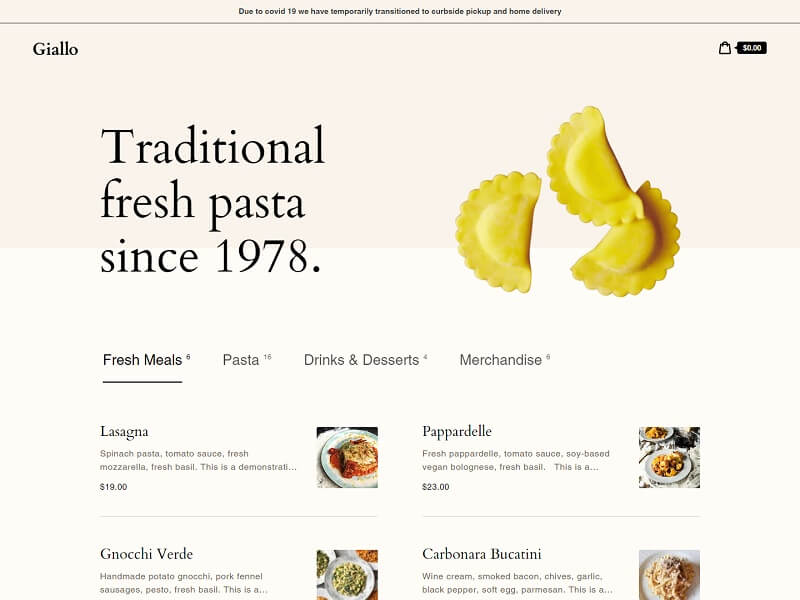 Express is a theme designed for merchants who want to get online quickly. It provides a polished look for stores with limited product photography and is best suited for stores with small or medium inventories.
Theme features:
Optimized for one-page stores
Mobile-first design
Quick buy
Slide-out cart
Built for small catalogs
Featured collections on the homepage
---
5. Venture: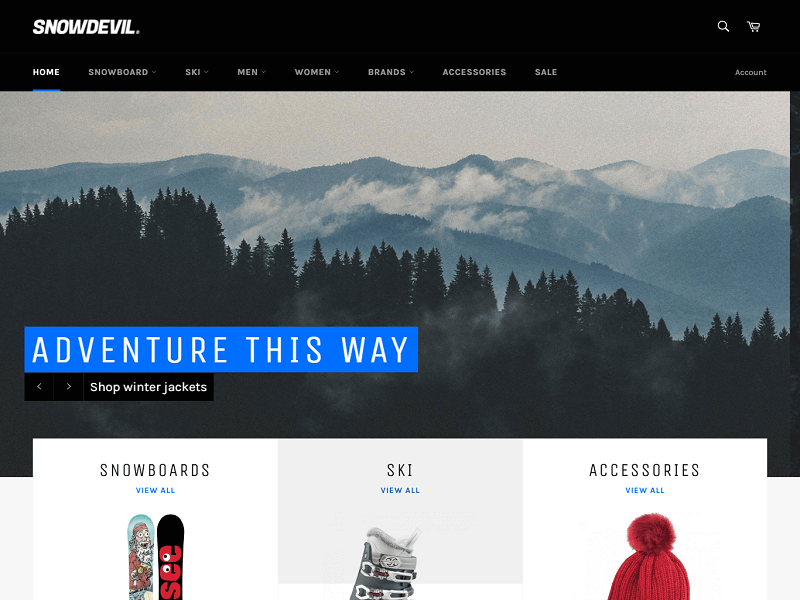 The venture is a bold yet minimal theme designed for high-volume stores with large inventories. Features include an edge-to-edge slideshow, multi-column drop-down menus, and a promotional bar.
Theme Features:
Built for large catalogs
Multi-column menu
Promotional banner
Single featured products
Three styles for different niche
Full-screen slideshow
Slideshow
---
6. Boundless: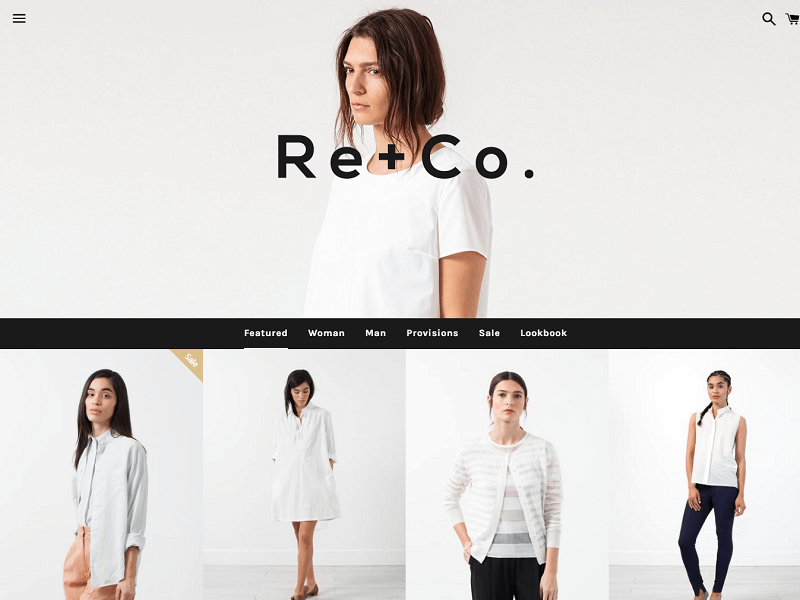 Boundless is a photography-first theme with a minimal UI that features edge-to-edge photography. It is mobile-first and suited for stores with medium to large inventories. It comes in two styles: Black & White and Vibrant. The Black & White variant of the theme is more conservative and suitable for a wide range of industries, while Vibrant has a more playful and aggressive feel.
Theme features:
Optimized for large images
Slideshow with fading effect
Sticky navigation
Single product gallery
Full-width collection images
Comes in two style
---
7. Simple: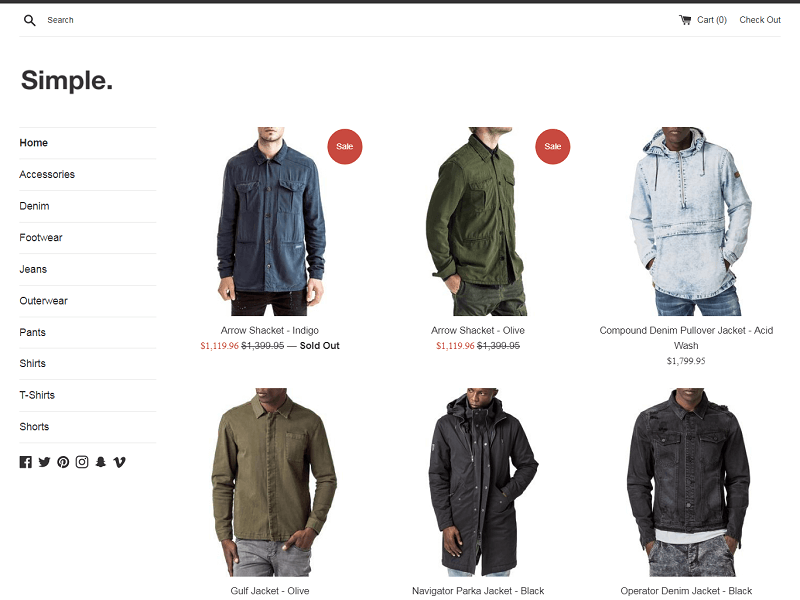 Simple is a clean and minimal theme, perfect for showcasing products. It comes in three styles Light, Beauty, and Toy. The Light variant of this theme is suitable for clothing stores, its Beauty variant is suitable for beauty products and The last toy variant is suitable for toys and kids' products.
Theme features:
Slidebar menu
Product image zoom
Image animation
Mobile-first responsive design
Comes in three styles
Minimalist design
---
8. Supply: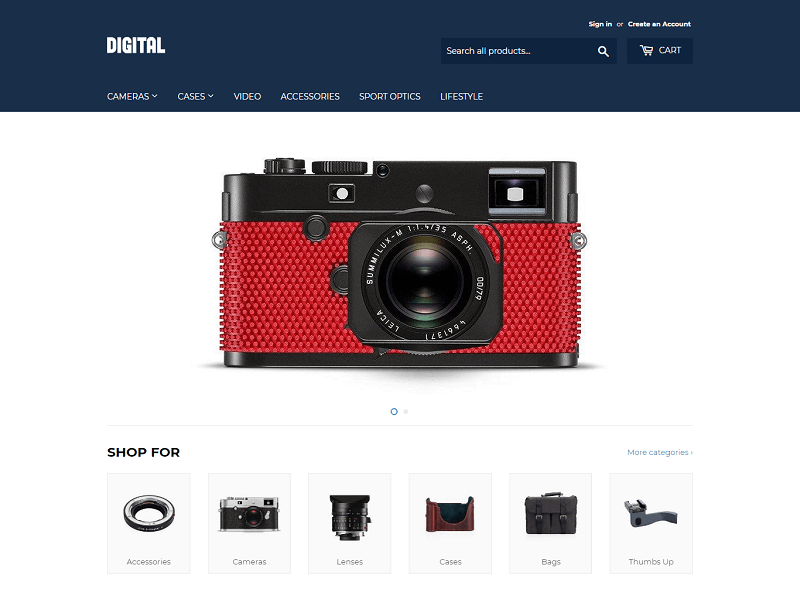 Supply is a clean, easy-to-navigate theme perfect for merchants with large inventories and several collections. It comes in two styles blue and light. Blue uses a simple white-and-blue color scheme suitable for electronics stores, and Light style is suitable for watch and accessories stores.
Themes features:
Built for large catalogs
Collection filtering in the sidebar
Slide show
Multiple home page collections
Comes in two styles
Mobile-friendly design
---
9. Minimal: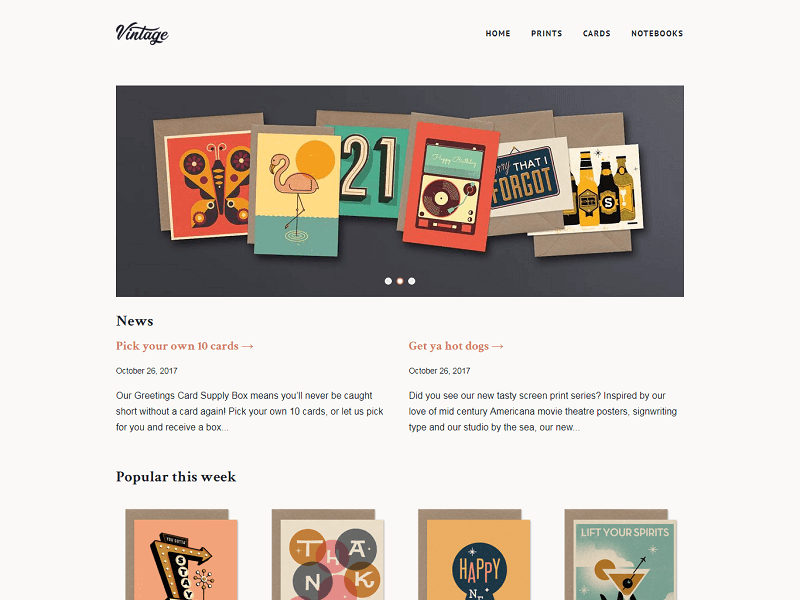 Minimal is a wide-layout responsive theme that looks great on any device. Loaded with features designed to give you complete flexibility, you can customize your store with additional layout options, product views, collection views, navigation styles, and typography choices. It comes in 3 styles Vintage, Modern, and Fashion.
Theme features: 
Product image zoom
Product filtering
Search engine optimization
Customizable content sections on home page
Product recommendations
Mobile-friendly design
Drop-down navigation support
---
10. Sports Store: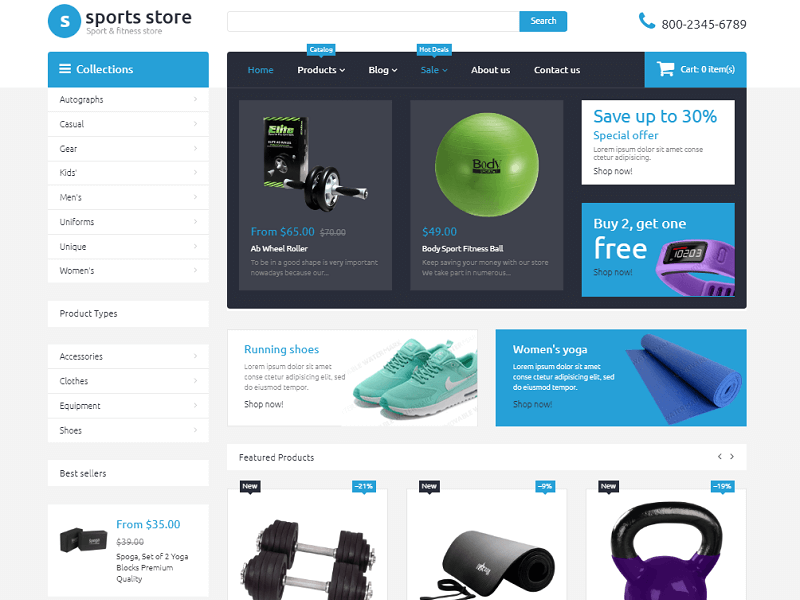 Sports Store is a free sample of the premium Shopify theme #55233. It has a similar structure and functional features. This theme will help your online store surpass any competition.
Theme features:
Designed for sports stores
The main menu supports images and tooltips
Social media icons
Product banners
Timer feature to create urgency
slideshow
Three-column store page design
user-friendly navigation
 Call-to-action buttons are icon-based
---
11. Annabelle: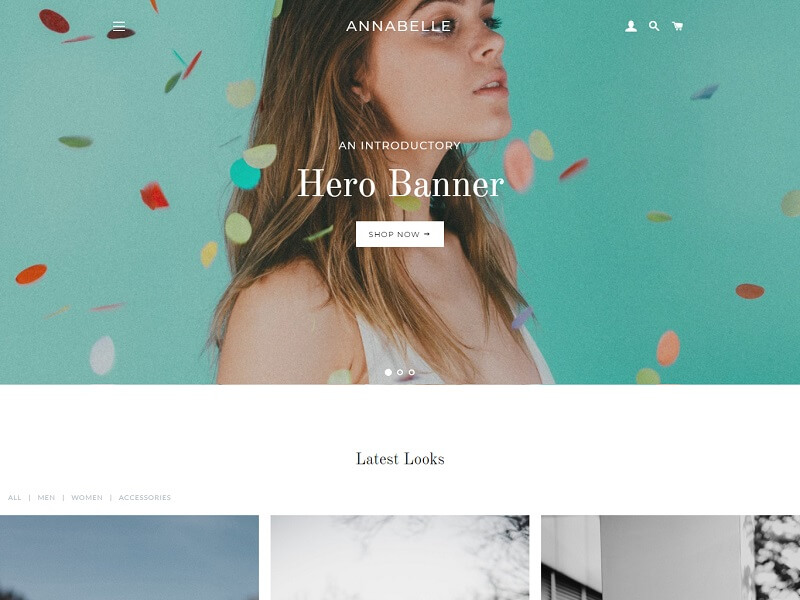 Annabelle is a fully responsive elegantly versatile Shopify theme. it will give your online business a beautiful and clean look. It comes in three styles. Annabelle is a perfect theme for high fashion, footwear, jewelry, and craft items businesses.
Theme features: 
Fully responsive
Customizable
Versatile
Comes in three styles
Homepage slider variation
Product zoom
Collection page
---
12. Fashe: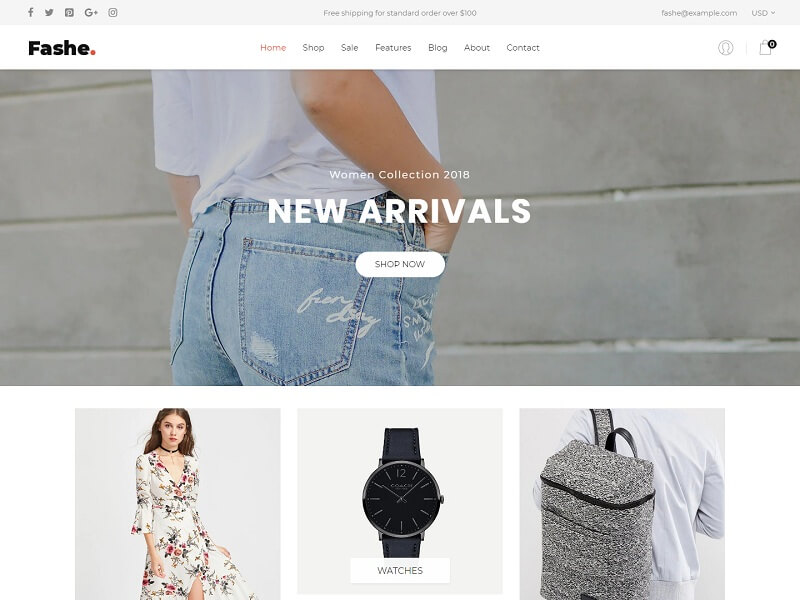 Fashe is a free and modern-looking fashion eCommerce theme for Shopify which gives your store an attractive and clear design. This free Shopify theme rivals most of the premium offerings and leaves any other free template far behind.
Theme features: 
Designed for fashion stores and fashion accessories.
Comes in a plain HTML version
Variety of front-page and product page options
Full-width slideshow header
Multi-column product layout
Product filters and sorting functionality
User friendly
---
13. Envy: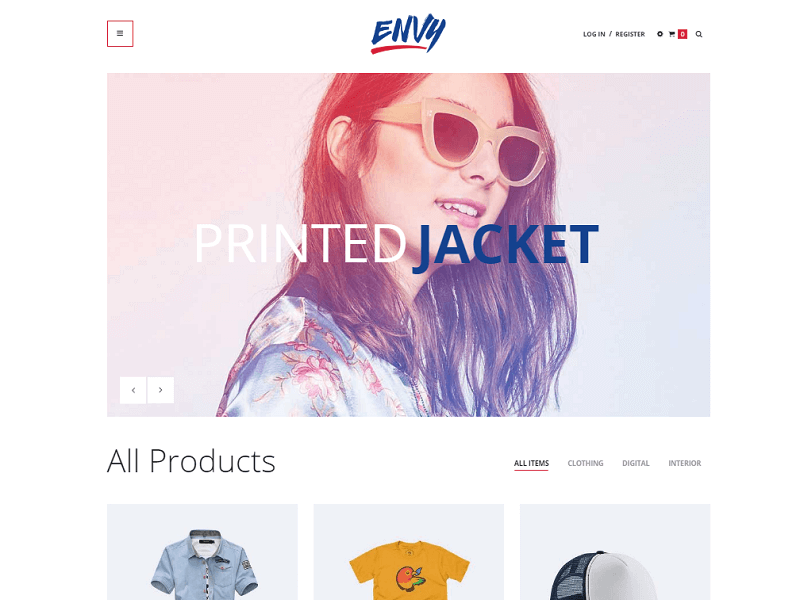 Envy is fully responsive and highly customizable. This theme can turn your store into a luxurious, clean, and unique store for shopping online.  Envy Shopify Theme supports CSS3, HTML5, RTL Language layout, and Bootstrap 3 Framework.
Theme features:
Fully responsive and highly customizable
Product quick view
Features rich
Swipe, Animation and Slick Slider
powerful admin panel
User friendly
Designed for fashion stores.
---
14. Wood: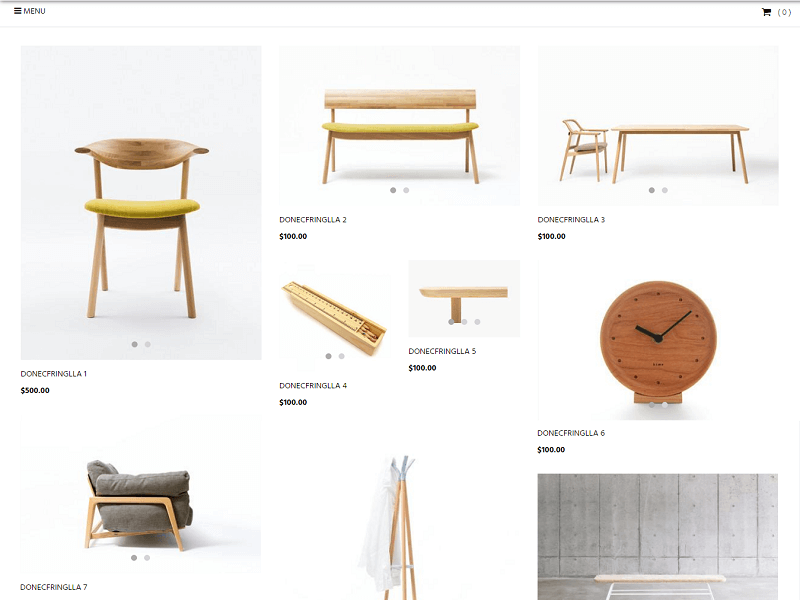 Wood is a fully responsive Shopify theme that utilizes the latest technologies in Web Development to dynamically adjust for all screen sizes and services. This template meets and fits with a furniture store, sofa salon, interior, and exterior design. This theme will help you to create a successful online store through its outstanding features.
Theme features:
User friendly
Supports Css3, Html 5, RTL language layout and Bootstrap 3 Framework
Slideshow
Megamenu and canvas menu
Multiple currency support
Seo optimization
Feature-rich
---
15. Windsurfing: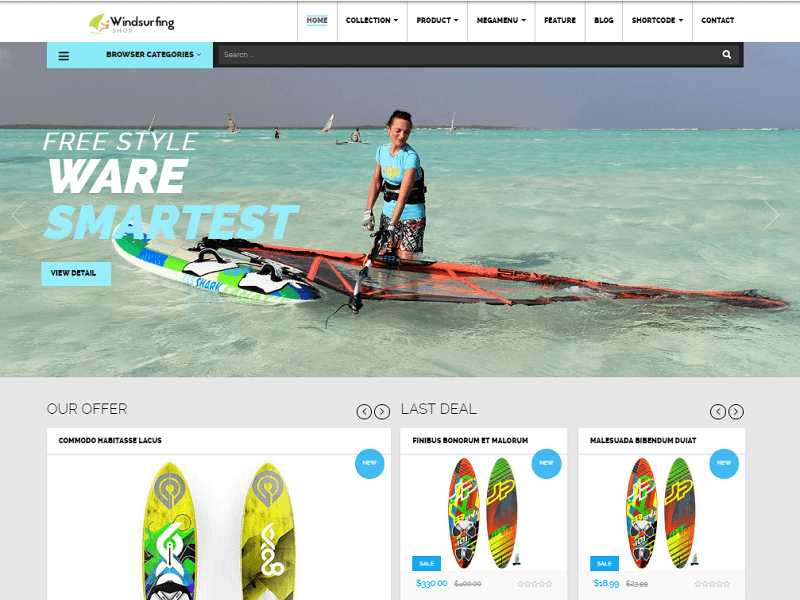 Windsurfing Shopify theme–one of the most powerful responsive Shopify themes. This summer you are free of charge to own this amazing template it is free.  It is an ideal theme designed for the FASHION SHOP, BOATING ACCESSORIES store, and MARINE service.
Theme features:
Mega Menu
Quick View Products
Fully Responsive Web Design
Framework features
Slideshow
SEO optimization
---
16. Office: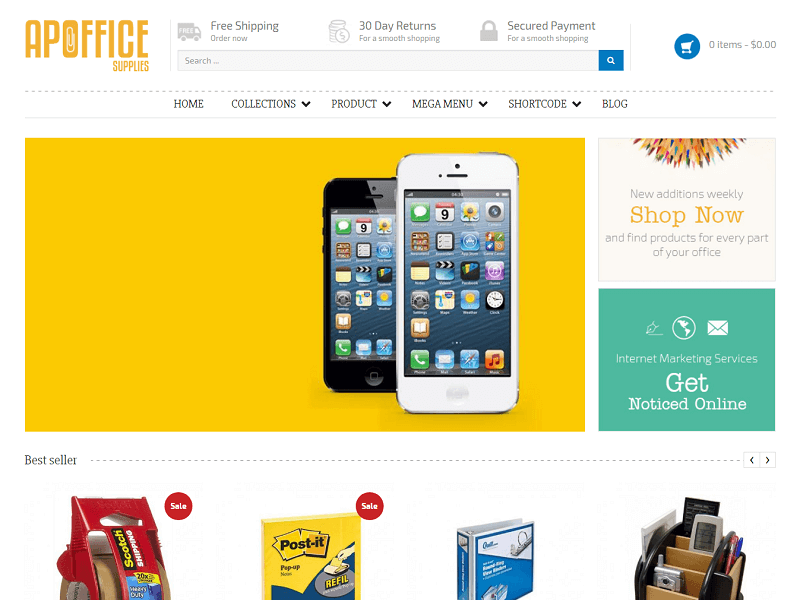 An office is a clean, creative, and responsive Shopify template and it is free. This template has a modern responsive Shopify theme, which is suitable for any e-commerce site about equipment products. This is a fully responsive theme suitable for any type of equipment eCommerce store.
Theme features:
Apollo framework features
Megamenu module
Layout variants
Slideshow module
Modern responsive Shopify theme
Supports CSS3 and HTML5
Powerful admin panel
---
17. Sport Store:
Sport Store is a clean, creative, and great Shopify theme and it is a free theme. It is suitable for online Sport Shop, Shoes Store, Sports Instrument shop, Gym Center, Souvenir Shop, and more. This theme is fully responsive and looks great on desktop, mobile, tablets, iPhones, and any smartphone.
Theme features:
It supports CSS3 and HTML5
100% responsive
Custom slideshow
Brand logo slider
Quick view products
User friendly
 The bright and classic background
---
18. Milky: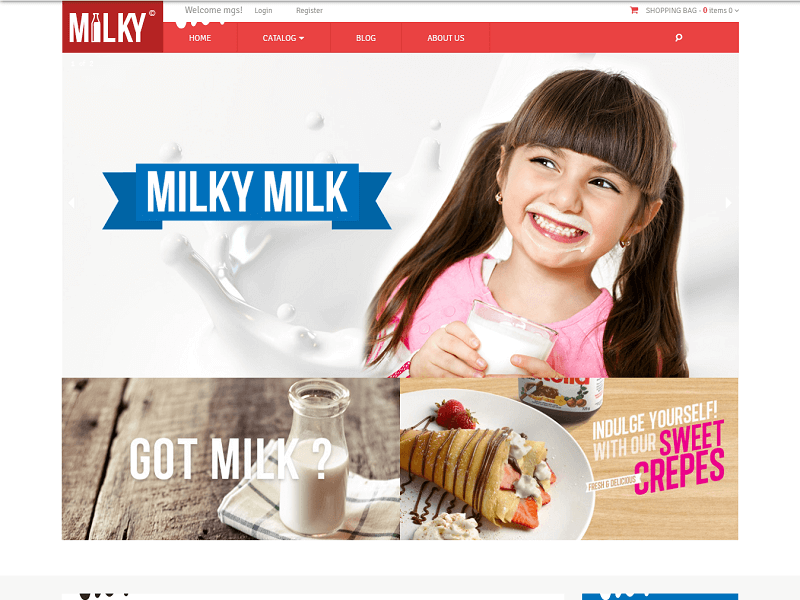 Milky is the best FREE Shopify theme that has a fully responsive design to make your site fit for any device. Its flexible layout system helps you build and display content the way you want. The milky theme is a great choice for milk stores, fresh market stores, Food stores, and multi-purpose stores.
Theme features:
Powerful, optimization
ease of customization
Perfect responsive
Manage widgets
User friendly
Megamenu
Bright looks
---
19. Apparelix: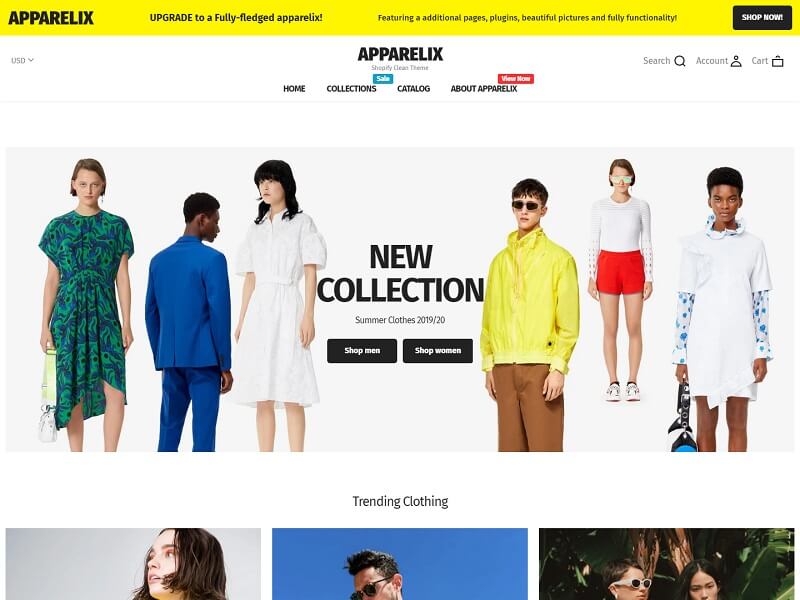 Apparelix free theme design is bright, clean, and allows you to highlight all the necessary information about your collections. And if you want to change something in the theme you can edit any part of it with the help of Live Customizer. This theme gives your business a completely different and attractive look.
Theme features:
Best Free Shopify Theme
20+ Home Page Variations
10+ Child Apparelix Themes
Fully responsive
Collection catalog
User friendly
---
20. SuitUP: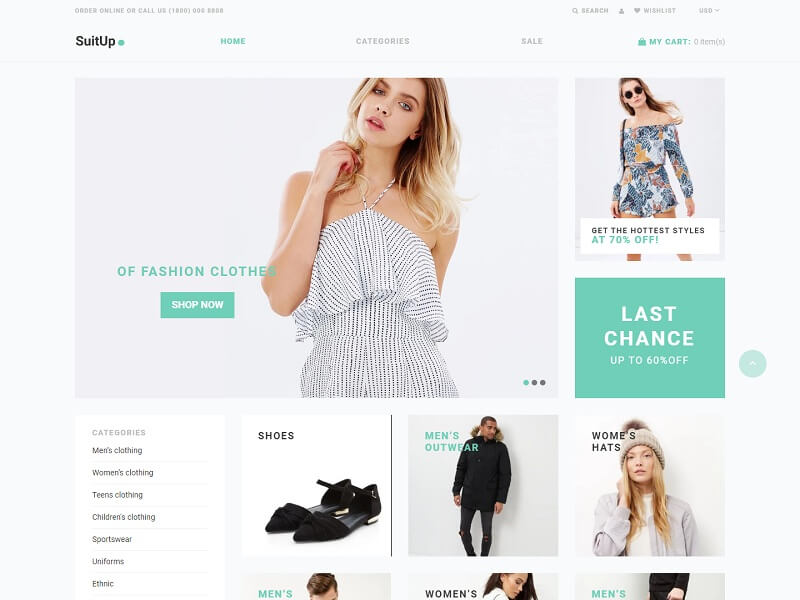 Selling clothes online is a popular simple business nowadays, All you need to create a successful fashion or sportswear online store. SuitUP is a fully responsive, fashion store-free elegant Shopify theme which will help you to create an attractive and clean online fashion store.
Theme features:
Fully responsive
Multilingual
Megamenu
User friendly
Seo friendly
Attractive looks
---
These free Shopify themes will help you to give your online business a completely different look. When we start a new online store then the option of choosing free Shopify themes will help you to maintain your budget. So choose any one of them according to your requirements and start your online store by today.