10 Best Free WordPress File Manager Plugins In 2023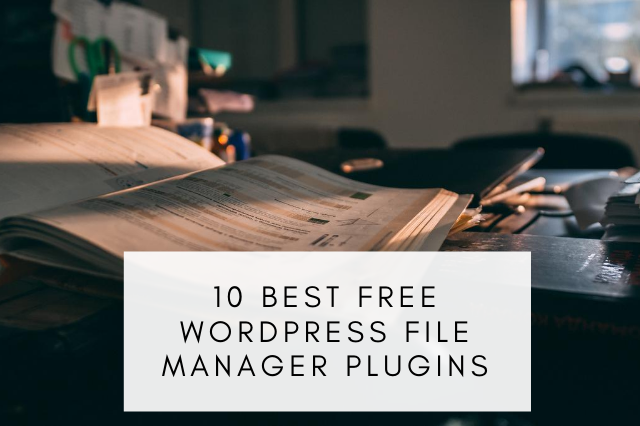 File administration plugins help the webmasters to manage higher the files/records inside the dashboard and also do manipulations on them. In WordPress, all media documents get stored within the media library the place they can be searched, edited, and eliminated if now not wanted. Up to date, updates have generally improved this part of the WordPress backend. There are presently quite a lot of the best free WordPress file manager plugins available in the market.
Let's start with the list of Top 12 Best Free WordPress File Manager Plugins;
1. Filester
2. Categorify
3. FileBird
4. Wicked Folders
5. Advanced File Manager
6. Smarty Pants Plugins
7. Frontend File Manager Plugin
8.  Easy Updates Manager
9.  Events Manager
10. WP Job Manager
11. WordPress Download Manager
12. File Manager
1. Filester – Best File Manager Pro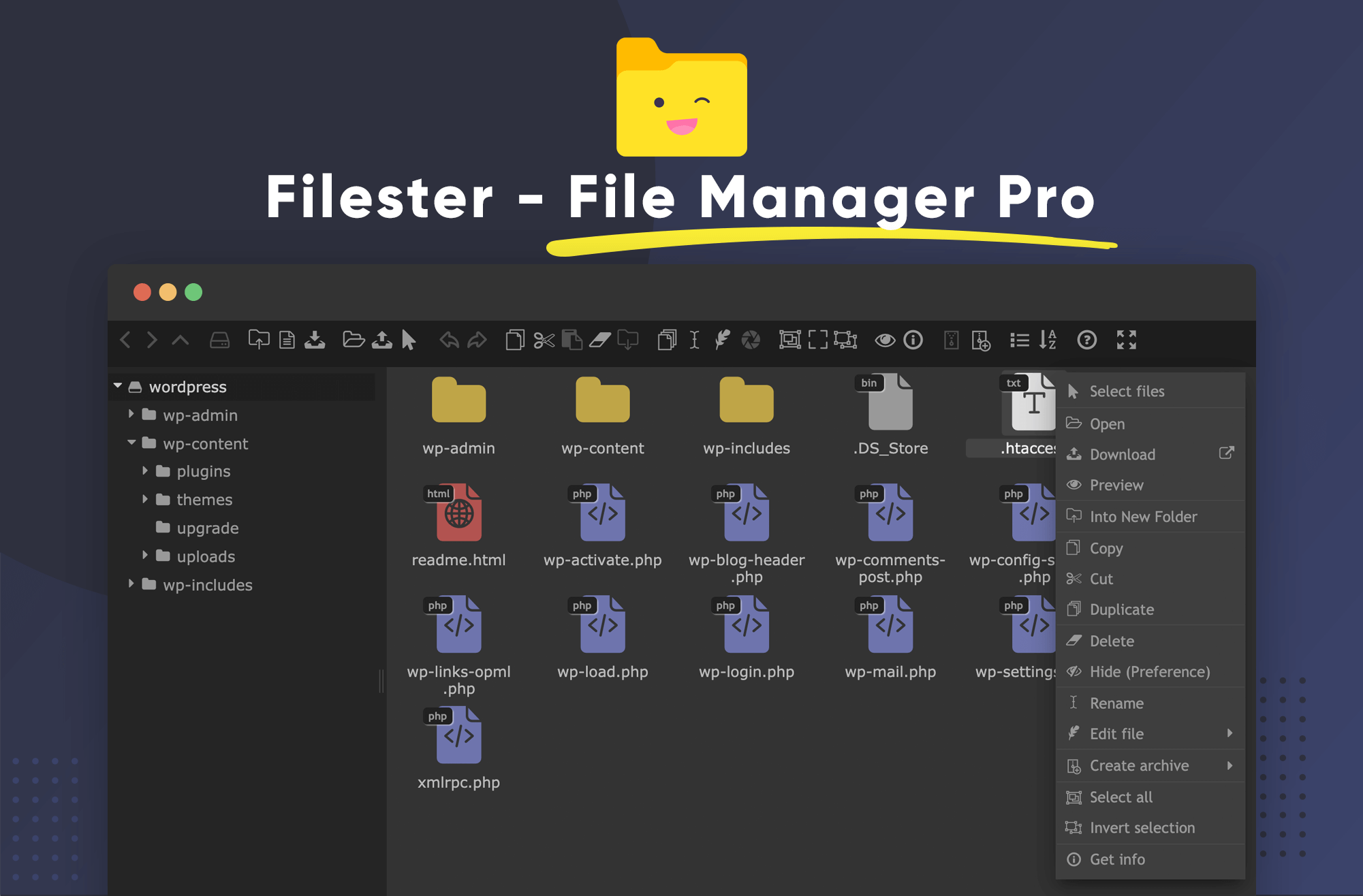 Filester is the best WordPress plugin in the free repository that you can find. While requiring no payment, it offers the ultimate functionality that other premium file managers have.
Using Filester's folder structure is honestly simple. The main folder public_html locates 3 key folders wp-admin, wp-content, and wp-includes.
Filester helps WordPress beginners become quickly familiar with those folder names and configurations. For experts, this professional file manager is useful to help manage WordPress dashboard administration tasks really fast and productively. Whether it's an error to troubleshoot, a CSS tweak to run, or simply organize files and folders, Filester makes it much easier to do.
FEATURES:
Drag and drop interface
Set root path access for each type of users
Hide .htaccess or file paths from user role
Control what files can be uploaded and what files can be downloaded.
Disable/enable specific commands
And other advanced settings
---
2. Categorify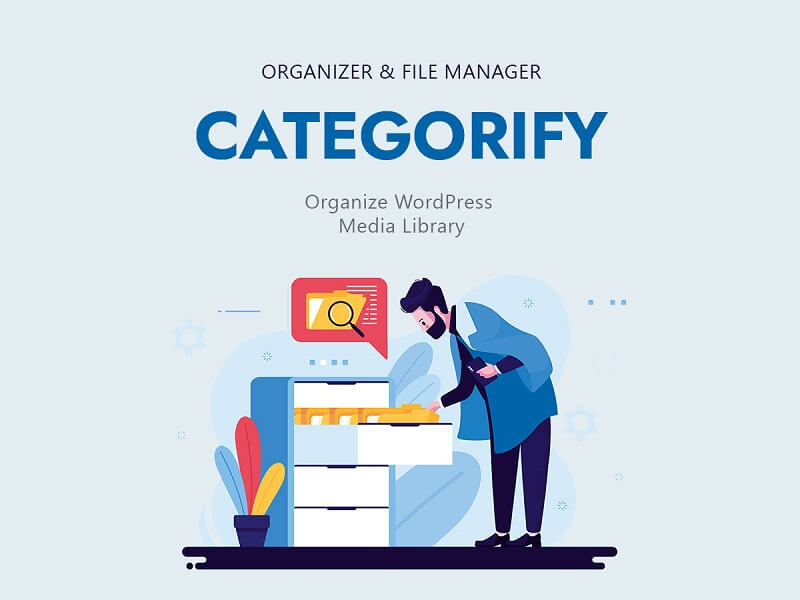 Categorify is a file manager plugin dedicated to the WordPress media library. It adds an integrated category tree on the left sidebar to help you drag and drop files into the categories easily. With Categorify it is possible to organize all of your media data properly.
FEATURES:
Drag and drop interface
User Friendly
Media Context Menu
Subcategory Support
File Counters for Categories
---
3. FileBird

The FileBird is one of the best free WordPress file manager plugins for file management in WordPress. It works as a WordPress media library folder and dashboard file manager. With the help of this plugin, you can easily organize and manage your files wisely.
FEATURES:
Smart Context Menu
Unlimited Folders/ Subfolders
RTL Supported
Full Control In One Toolbar
---
4. Wicked Folders

The wicked folder is the ultimate plugin to manage a huge number of pages. This plugin helps to simplify the management of content by allowing the admin to organize content into folders. It provides you complete freedom to manage your content in your way.
FEATURES:
Create an unlimited number of folders and nest them any way you like
Drag and drop folders to easily reorganize them
Resizable folder pane
Assign items to multiple folders
Organize pages, posts, and custom post types into folders
---
5. Advanced File Manager

It is the most powerful and as easy to use file manager plugin for WordPress. With the help of this plugin, you don't need any c-panel, you can easily edit, delete, and download files, you can access files inside the WordPress root directory.
FEATURES:
 Access files inside and outside WordPress root directory
Feature to hide the file's real and actual path.
Drag & Drop file upload support
mage and File, Edit Support
Keyboard shortcuts available
---
6. Smarty Pants Plugins

The plugin additionally demonstrates how rapidly a business can take hold of its interactions with clients, income organizations, providers, and all in between. With a straightforward design, access to template modifications, and handy to manipulate aspects; purchasers can add and regulate projects. The plugin provides assurances that the user has the entire control over the waft of information. It provides remote file sharing and maintains an unlimited number of documents.
FEATURES:
You can create an unlimited number of folders
Facility to secure documents with Login
You can upload and manage lots of files
SSL Support
Require login to download files
You can embed YouTube and other media as a file
---
7. Frontend File Manager Plugin

The Frontend file manager is an excellent choice for WordPress website owners to upload files for admin. with the help of this plugin, all files will be saved in the private directory so that every user can access and delete their files.
FEATURES:
Detail file popup
sorting filters
size settings and file type
labels for upload and save button
progress bar uploader
---
8. Easy Updates Manager

Easy Updates Manager is an easy-to-use yet powerful plugin that allows you to manage all kinds of update- both on your single site install, or in Multisite. With a large number of settings for endless configuration, Easy Updates Manager is a great choice for anyone wanting to take control of their website updates.
FEATURES:
Disable all updates with one click
Customize your automatic update settings
Use logs to determine what and when something is updated
Select which plugins and themes can be automatically updated
And much more…
---
9. Events Manager

Events Manager is a fully-featured event registration plugin for WordPress-based websites on flexibility, reliability, and powerful features.
FEATURES:
Easy event registration
Bookings Management
Guest/Member Event submissions
Assign event locations and view events by location
Easily create custom event attributes
Widgets for Events, Locations, and Calendars
And much more.
---
10. WP Job Manager

WP Job Manager is a lightweight and fully features job listing plugin for adding job-board-like functionality to your WordPress website. Being shortcode-based, it can work with any theme and is easy and simple to set up.
FEATURES:
Add, manage, and categorize job listings using the familiar WordPress UI.
Frontend forms for guests and registered users to submit & manage job listings.
Allow job listers to preview their listing before it goes live.
Each listing can be tied to an email or website address so that job seekers can apply to the jobs.
Allow logged in employers to view, edit, mark filled, or delete their active job listings.
And much more.
---
11. WordPress Download Manager

WordPress Download Manager is a Files/Documents Management Plugin to manage, track, and control file downloads from your WordPress webSite. Also, this plugin is used as a complete e-Commerce Solution for selling your digital products.
FEATURES:
Custom post type and taxonomy, adding a download is just like creating a post
Media library file protection
Drag and Drop File Upload
Attach file directly from your server using the server file browser
Google Drive support to store your files in Google drive
And much more.
---
12. File Manager

File manager plugin is one of the most powerful, easiest, and flexible WordPress file management plugins available in the market. This plugin allows you to edit, delete, copy, paste, zip, upload, download, files, and folders directly from the WordPress backend.
FEATURES:
Move/Copy files with Drag & Drop
Create, archive, and extract files
Admin/User can upload any size files
Control what files can be uploaded and what files can be downloaded.
File Manager comes with a built-in integrated development environment (IDE)
Easily and quickly share files by Email
Automatically resize files once uploaded.
---
Also, visit 5 Best Free WordPress Mega Menu Plugins to create some stunning mega menus for your wordpress website.