11 Best Free WordPress Contact Form Plugins in 2023
Are you looking for plugins to add a contact form to your WordPress website? and are you confused about which one of the WordPress contact form plugins is best for you? Then you are in the right place, In this article, we have listed the top 11 best free contact form plugins for WordPress so you can easily add a contact form in WordPress.
List of Best Free WordPress Contact Form Plugins:
1. Contact Form 7 
2. Jetpack's Contact Form Module
3. wpForms
4. Ninja Forms
5. Clearout
6. Formidable
7. Caldera Forms
8.  Form Maker
9.  Contact Form Plugin
10. Everest Forms
11. Kali Forms
1. Contact Form 7

Contact Form 7 is one of the most downloaded, popular, and responsive free WordPress contact form plugins. With over 60+ million downloads on WordPress.org and 5+ million active installs, Contact Form 7 is one of the most used WordPress plugins in existence.
This plugin provides a user-friendly interface and you can create and manage multiple contact forms, plus you can customize the form and the mail contents flexibly with simple markup. It supports Ajax-powered submitting, CAPTCHA, Akismet spam filtering, and so on.
One of the best contact plugin that provides you some extra features and extensions that makes it best from others.
---
2. Jetpack's Contact Form Module

Jetpack is a famous and feature-rich WordPress plugin that offers you different features depending on your needs. It is one of the best security, performance, and site management WordPress plugin you will ever know.
One of Jetpack's most commonly used modules is the Contact Form module, which provides a simple and decent form creator. You can easily build forms that look stunning on your WordPress website and also you can customize the email address to which the Jetpack will send an email notification for each contact form response.
Jetpack offers you some advanced features that you can use to manage and understand the site status of your WordPress website.
---
3. wpForms

WPForms is one more famous free contact form plugin for your WordPress website. It's a user-friendly contact form plugin that's easy to use yet very powerful. And it has over 3+ million active installs which readily proves that it's very popular in the WordPress community.
WPForms allows you to create stunning contact forms, subscription forms, feedback forms, payment forms, and other types of forms for your site in minutes.
This contact form plugin is a 100% mobile responsive contact form solution, so your contact forms will always look great on all devices such as mobile, tablet, laptop, and desktop.
---
4. Ninja Forms

Ninja Forms is another popular plugin to create contact forms for your WordPress website. You can easily use Ninja Forms to create awesome, user-friendly WordPress forms that will make you feel like a professional web developer. With ninja's drag and drop features, you can very easily create contact forms, subscription forms, feedback forms, and any other type of forms within minutes.
Ninja Forms is 100% beginner-friendly means if you are not a tech person, and don't have coding knowledge still You can design beautiful, complex forms like a pro.
A number of advanced features are also available. This provides you premium features like front-end editing and posting, conditional logic, multi-part forms, file uploads, email marketing support, etc.
---
5. Clearout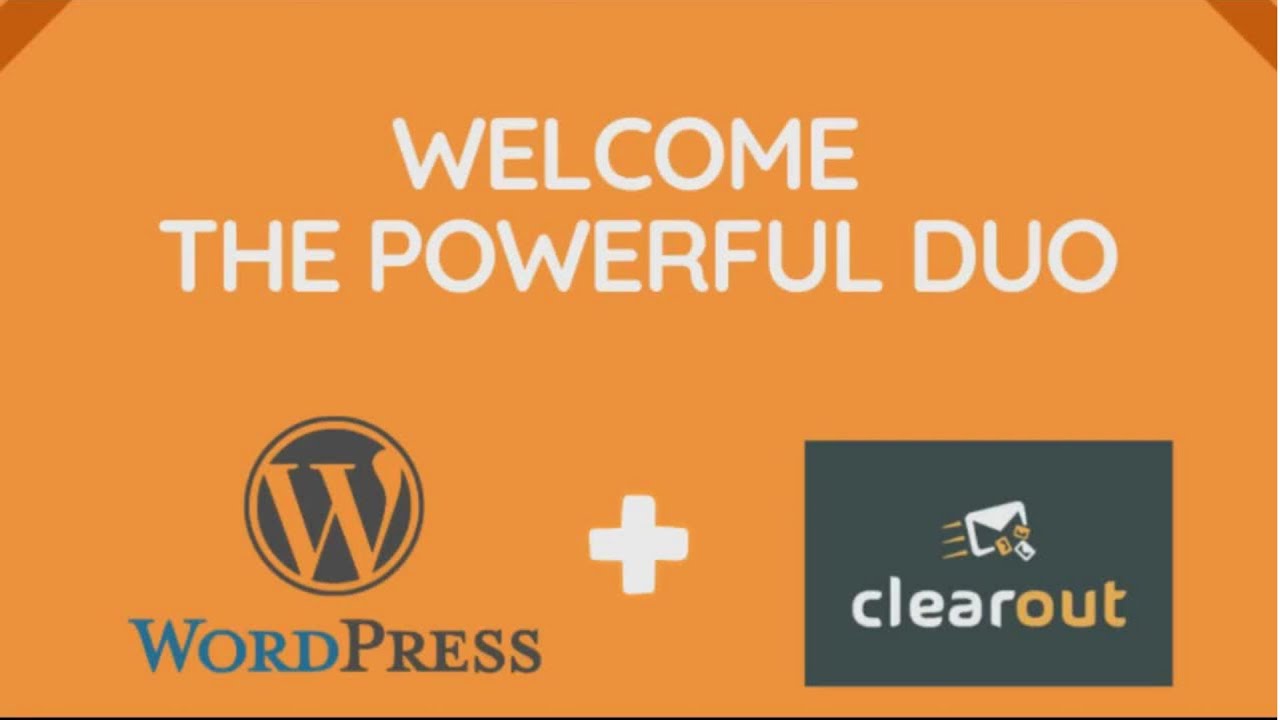 Clearout email validation WordPress plugin helps with the problem of bad leads and inaccurate data which affect the bottom line of 88% of organizations costing them around 12%-15% of their overall revenues. The entry of such bad quality leads can greatly impact the sales & marketing efforts of the team.
With the integration of the Clearout email verification WordPress plugin in lead capture forms, a user can avoid the entry of fake, bad & disposable email contacts into the system and improve the data quality.
Clearout WordPress plugin seamlessly integrates with all popular form-based plugins on WordPress to validate the email addresses in real-time. The plugin is developed to perform 20+ refined real-time validation checks to determine the current status of each email address.
Use of Clearout WordPress will ensure to:
Accept valid email addresses only
Accept business/work email addresses only
Prevent all fraudulent signups from disposable email addresses
Block free email address providers like gmail.com / yahoo.com / hotmail.com on demand
Throw auto-suggestions to genuine users of their email if there are some typos. Give it a go with the free trial of 100 credits.
---
6. Formidable

Formidable is an advanced WordPress contact form plugin. You can easily create contact forms with its drag & drop form builder for fully responsive forms, surveys, quiz forms, and more.
100% mobile responsive is one of the best features of the powerful Formidable form builder plugin which means Your WordPress forms will always look great on all devices such as desktops, laptops, tablets, and smartphones. Plus, Formidable is optimized for speed and maximum server performance.
Also, this plugin gives you some premium features that make it completely the killer plugin in the market.
---
7. Caldera Forms

This is a free and powerful contact form WordPress plugin that creates responsive forms, email marketing forms, and subscription forms, with a simple drag and drops editor.
Caldera Form's visual editor simplifies form building for your WordPress website. You can easily set up your form with multiple columns, add additional pages, and funnel user responses with conditional logic to get more robust data and relevant information from your customers and site visitors.
It is more than just a beautiful form builder. You can use it to create custom search forms. Search posts, users, categories, tags, custom post types, custom fields, etc.
---
8. Form Maker

If you are looking for the perfect form plugin that'll save you time and effort then Form Maker is the best option for you. Form Maker is used for making decent and elegant contact forms for your WordPress website. It is one of the leading drag & drop plugins for building forms of any type in just a few clicks.
some of the best features of Form Maker are; Intuitive Interface, Mobile-Friendly, and Responsiveness, 43 different form field types, Embed Easily, Pre-built Templates, Fully Customizable Themes, Protection from Spam, Conditional Logic, Multi-Page Forms, and much more.
---
9. Contact Form Plugin

With 100,000+ installation Contact Form Plugin is one more WordPress plugin to create beautiful forms that look stunning on your WordPress website.
It offers you some free features like;
Add a contact form to any post, page or widget using the short-code,
Data validation before the submission,
Send a copy of the submitted message to the email
Responsive Layout
Editable field labels
Required fields
Enable additional pre-build fields
Enable two-column layout
Change the width for contact form
and much more. This plugin comes with a pro version that gives you some advanced features so if you have a budget then must go for a premium version.
---
10. Everest Forms

Everest Forms plugin is one more easy way to create any kind of form including contact forms. Even a beginner to WordPress can create beautiful forms within minutes with the help of Drag and Drop fields. Everest Forms plugin is lightweight, fast, extendible and 100% mobile responsive.
You can easily create multiple-column forms with a click. Some Pre-built templates and design layouts allow you to create forms that look different yet awesome.
Some PREMIUM FEATURES AND ADD-ONS are also available in the premium version.
---
11. Kali Forms

If you are looking for a powerful & user-friendly WordPress contact form plugin then Kali Forms is a great option for you. You can easily build forms from scratch with its easy-to-use drag & drop builder or you can build a form with its predesigned templates in just a few clicks.
Kali Forms makes it easy to create beautiful contact forms, subscription forms, feedback forms, Payment forms, and more for your WordPress website without the hassle.
You can also create GDPR-friendly contact forms with a confirmation checkbox that allows you to ensure that people submitting your contact form agree with the terms and conditions or privacy policy of your WordPress website.
---
If you want to create stunning sliders for your WordPress website then must read our article on Best Free WordPress Slider Plugins in 2023.