7 Best Free WordPress Google Map Plugins In 2021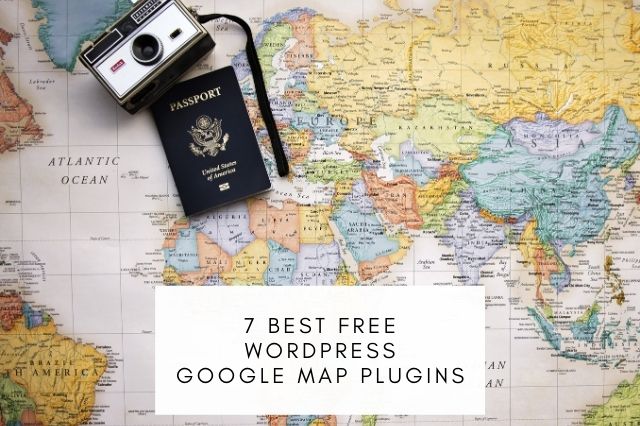 Hello everyone If you are looking for some Best Free WordPress Google Map Plugins for your wordpress website then you are in the right place. In this article, I have listed 7 Best Free WordPress Google Map Plugins In 2021 so that you can easily add some beautiful and attractive maps within your wordpress website.
If you are running an industry or any type of business and you want to add multiple locations on your site so that your customers can easily find your places, so in that case, you can use these plugins to increase the user experience of your wordpress site.
These plugins come with great functionality and customizable option so that you can insert maps according to your design and functionality.
Also if you want to improve the customer relationship of your WordPress website you can also use the Best Free WordPress CRM Plugins to manage the customer relationship on your WordPress website.
So let's start with the complete list:
1. WP Google Maps

Let's start with one of the most flexible Free WordPress Google Map Plugins, WP Google Maps plugin is a highly popular and trustworthy plugin with 400,000+ Active installations. You can easily and quickly add your customized Google map to your WordPress posts or pages with just a supplied shortcode. The free version of this plugin allows you to build a Responsive Google map with a lot of information and with as many markers as you want for your website. This is a super easy to use plugin also for those who don't have so much coding knowledge.
Features:
Comes with 9 pre-built popular map themes.
Highly customized means you can create or add your own map theme also.
Comes with Full-screen map functionality so you create full-screen maps also.
Highly flexible means you can select your own width, height, and zoom level for your map.
To create your map more attractive you also add animations to your map markers.
No advertising or links for a better user experience.
And much more.
---
2. WP Google Map Plugin

Want to display responsive, attractive, and beautiful google maps on pages, widgets, and custom templates of your website? Well, if yes then WP Google Map Plugins is the perfect choice for you. It helps you to quickly add maps on your website with custom markers on every google map so you can show messages with links on a marker click. It has no restrictions means you can add unlimited multiple locations with various information.
Features:
Easily add maps on posts/pages by using shortcodes.
Different markers options, you can select your marker icon for markers.
Offers 4 map types: Roadmap, Satellite, Hybrid, and Terrain.
Define the height and width of your maps.
You can also set the zoom level for your map.
widget supportive plugin means you can also display Maps on sidebars using the widget functionality.
Create 100% responsive maps.
And much more.
---
3. Google Maps Widget

The best useful and powerful wordpress google map plugin available, Google Maps Widget is a trendy plugin to display multiple locations on your website. You can easily and quickly add a map thumbnail & lightbox to your site without wasting so much time. The best part of this plugin is you can add a custom google map with different size – map width & map height
Features:
 Offers different map types – road map, satellite map, terrain map, and a hybrid map.
Offers different google map colors.
Define the zoom level.
Define pin type, color, size, and label.
Also, you can use any image as a pin icon for your map.
Translation ready.
And much more.
---
4. MapPress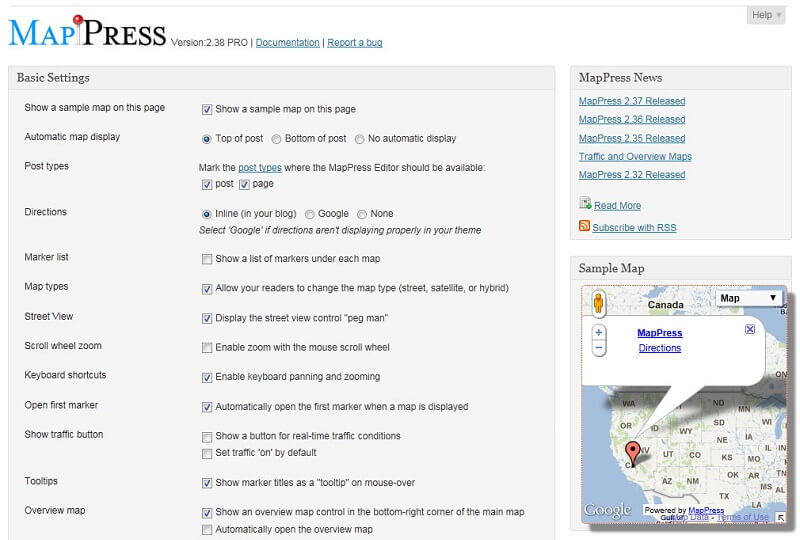 One more plugin in the list, MapPress is a highly customizable plugin to add trendy, attractive, and beautiful Google or Leaflet maps to your WordPress website. The best part of this plugin is whenever you are creating or editing any page or post you can automatically add an interactive map into your blog just by entering the address. This plugin is compatible with multisite which makes it one of the best choices.
Features:
Add markers for any address, place by dragging markers where you want them.
Highly customizable means you can create custom text and HTML for the markers which include photos, links, designs, and much more.
You can create multiple maps in a single post or page.
Shows Real-time traffic.
Based on the latest Google and Leaflet APIs.
And much more.
---
5. Leaflet Maps Marker

Leaflet Maps Marker plugin is the best mapping solution available for your wordpress site. Download and Install the Leaflet Maps Marker plugin for your WordPress website to create beautiful maps on your site. This plugin is very useful for display multiple directions and locations on any post and page. If you love some places so fir that you can also pin your favorites places with markers on your map. Also, it shows directions to the users for your locations.
Features:
Supports the highest security standards.
Display Street View.
Offers 1000 free and customizable icons.
Select an individual base map, zoom level, height, width, and size for each marker and map layer
You can add popups, messages, description text, or images
And much more
---
6. Google Maps CP

Google Maps CP plugin allows you to easily display responsive Google Maps in a post or on a page of your wordpress site. You can select any position within your blog where you want to display your maps. The best part is that you can also customize your markups according to your needs. It comes with a wide range of settings and functionality to make your maps more attractive and versatile.
Features:
You can add location information by entering the physical address and point coordinates.
Highly customizable
It is based on Google Maps Javascript API Version 3.
Allows you to create maps in multiple languages.
You can select zoom, height, width, alignment, map type, map language,  and much more
Comes with so many functions.
---
7. Google Maps Easy

Google Maps Easy is a versatile and excellent WordPress plugin to insert a beautiful map on your wordpress website. With this plugin, you can easily create Google Maps within a minute without wasting more time. It allows you to add limitless map markers and multiple locations on your map. This is the best solution to display a google map on the contact page, real estates, delivery areas, routes, and much more.
Features:
Offers Unlimited markers and locations.
Fully Responsive
You can add text, video, images, email, phone, and much more within your makers.
100% customizable so you can create maps according to your design
Easy and quickly add a map with shortcodes.
Shows live traffic.
And much more
---
So, that's all from this blog, I hope you liked the list of WordPress Google Map Plugins in 2021. If you liked this article then please share it with your friends and followers. Now I would like to hear from you which plugin you like the most in the comments section down below.