17 Best Free WordPress Popup Plugins In 2023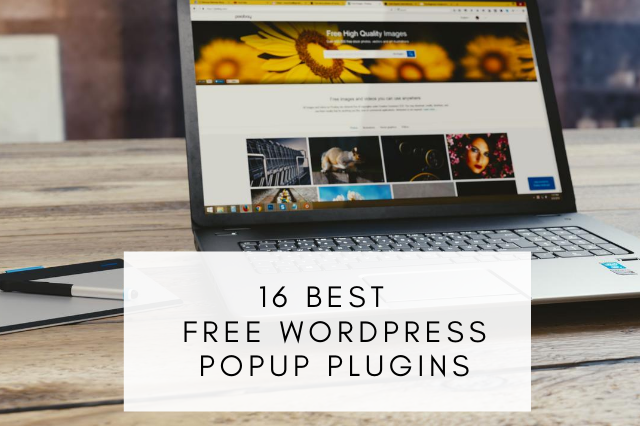 Are you looking for Best Free WordPress Popup Plugins? If yes then keep reading this article to find the 17 best free WordPress popup plugins in 2023. As Hunter Boyle says, popups square measure like simply Bieber: "You either love 'em or hate 'em, however latterly you see 'em all over – as a result of they still pull in massive crowds".
Popups work… extremely, really, very well. I've nonetheless envisioned a case study wherever option popups attenuated the site's conversion rate, and I've seen innumerable case studies wherever popups catapulted CRO by as high as three hundredths.
If you're not convinced, don't take my word for it merely use one in every of these high popup plugins for WordPress. They're fast, easy, and square measure utterly free.
List of Best Free WordPress Popup Plugins:
1. Popup Box by AYS
2. OptinMonster
3. Popup Maker
4. Pabbly Form Builder
5. Popup Builder
6. Optinly
7. Hustle
8.  On Click
9.  Icegram
10. Popup by Supsystic
11. MailOptin
12. WP Popups
13.  Poptin
14. WP Post Popup
15. Anything Popup
16. Alligator Popup
17. Email Subscription Popup
1. Popup Box by AYS


With this WordPress Popup Plugin, you can create informative and promotional popups and increase your user engagement. By installing the plugin, you will get the most user-friendly interface with advanced functions and style. 
With Popup Box, you can choose a popup type from our ready-made types and themes: Shortcode Popups, Subscription Popups, Yes or No Popups, Coupon Popups, Cookie Popups, Countdown Popups, Custom Content Popups, Contact Form Popups, etc.  And if for any reason you want to customize your own here is what you can do!  Popup Box allows its users to create popups with several trigger types such as:
Popups On Button Click
Popups On Page Load
Exit Intent Popups
Make your popup user-friendly by customizing its opening and closing options:

Opening by Scrolling

Open Delay 

Closing by pressing ESC

Closing by class name

Hiding the Close button

Many more…
In the Advanced features, schedule your popup, set the interval between popup sessions, enable social media links, etc.  Break stereotypes of popups being annoying in the Limitations section, display the popup for guests, for logged-in users, by country, device, etc. And finally in the style section, brand your popup, and make it mobile-friendly.
Working with the WordPress Popup Box plugin doesn't only mean reaching your goal but also getting exceptionally fast and accurate support.        
---
2. OptinMonster

If you are looking for the best WordPress popup plugin then optinmonster is the right and perfect choice for you. This is the most famous popup builder and marketing plugin that helps you to get more email subscribers, increase sales, and grow your business fast. OptinMonster comes with a straightforward-to-use type builder that enables you to make lovely option forms that are verified to convert.
The popups and newsletter popups are 100% mobile responsive, which means your marketing popups will always look great on all devices such as a mobile, tablet, laptop, and desktop. OptinMonster popups and marketing tools are SEO- friendly means it is optimized for both web and server performance.
You love the DRAG & DROP POPUP MAKER for creating some beautiful popups for your website.
---
3. Popup Maker

Popup Maker™ is the best popup plugin WordPress has to offer. It is extremely versatile, responsive, and flexible. You can easily use it to create any type of popup or content overlay for your WordPress website. With Popup Maker, you can easily create popups such as Email opt-in popups, Content upgrade popups, Popups to greet visitors from ProductHunt, Contact form popups, and more.
Popup Maker is used on over 500,000 websites and has received over 3,500 5-star reviews with 500,000+ active installations.
---
4. Pabbly Form Builder

Pabbly Form builder is the ultimate and amazing choice for your WordPress website to create any type of professional popup form easily & quickly. For making your work easy it comes with an amazing collection of stunning pre-built form templates that are conversion-optimized, mobile responsive, and easily customizable.
This plugin comes with unlimited submissions, unlimited payment accounts, unlimited uploads, unlimited embedding, unlimited storage, custom branding, unlimited views, and many more.
---
5. Popup Builder

Pop up anything with Popup Builder, you can easily create and manage powerful promotion modal popups for your WordPress blog or website. Powerful, and yet easy to use this plugin will help you to grab your visitors' interest to introduce them to your offers, discounts, or other kinds of promotional notices. Besides this, you can create and manage as many popups as you want.
This plugin comes with some awesome features like; Customize the look of the popups, set popup animation effect, Set popup location on the screen, OnClick/OnHover popup, Responsive popup, Reopen popup after form submission, and much more.
---
6. Optinly

Optinly is a free popup plugin that redefines the popup building experience by following a campaign-based approach, allowing eCommerce stores & websites to drive 10x conversions. Besides this, it comes with 10+ growth marketing campaigns backed by 30+ relevant popup templates (including gamification popups).
Mentioned below are a few features of Optinly:
User-friendly popup builder – no design or coding skills needed.
Advanced popup triggering options – exit triggers, page-based triggers, time triggers, and more.
Powerful targeting options like device-based targeting, targeting based on previous interactions, and more.
Integration with best in the industry ESPs like MailChimp, Constant Contact, and more.
Forever free plan – no credit card is required
---
7. Hustle

Hustle is the ultimate and easy-to-use marketing plugin for building a mailing list, targeted marketing, lead generation, building a social following, improving conversions, and growing your business.
Also, this popup plugin lets you quickly style your marketing to pop. Moreover, choose colors, animations, layouts, drop shadows, and display conditions from the easy-to-use design settings for pop-ups, slide-ins, email opt-ins, and social share bars. Furthermore, this plugin is one of the finest popup plugins available on the WordPress platform With 90,000+ Active installations.
---
8. On Click

Popup anything, on click is a modal popup plugin for WordPress websites that allows you to add highly customizable popup windows. Besides this, set Popup position ie center, top left, top right, bottom left, bottom right, center-left, and center-right. Furthermore, this plugin allows you to enable awesome popup in your WordPress website or blog using shortcodes.
---
9. Icegram

Icegram is the best popup plugin to easily build beautiful options and call-to-action popups of your choice, show them to targeted visitors, and convert them to customers and fans. Also, it is a full-featured, easy-to-use plugin with 40,000+ active installations.
Moreover, this plugin provides not one or two, but four different option types – Lightbox Popups, Header & Footer Action Bars, Toast Notifications, and Slide-in Messengers.
---
10. Popup by Supsystic

A Popup by Supsystic enables you to simply gain a lot of subscribers, social followers, and customers mistreatment popup, header & footer bars, slide-in forms, sidebar widgets, in-line forms, social share & follow buttons. Besides this, you can simply choose the most appropriate popup type and template that looks amazing on the design of your website and create a popup with just a few clicks.
---
11. MailOptin

MailOptin is the ultimate lead generation, autoresponder, and email newsletter plugin to grow and engage your mailing list and customers. You can easily create some amazing popups for your WordPress website and blog.
This plugin automatically informs your subscribers and WordPress users every time you publish new content on your blog, MailOptin sends blog posts as email newsletters. Moreover, with 30,000+ Active installations, MailOptin is one of the best plugins available in the market.
---
12. WP Popups

WP Popups is the best popup maker for your WordPress website and blog. Also, with the easy and intuitive template builder, you will be able to create and customize your popup with just a few clicks. Besides this, no coding skills are needed to create your popups.
---
13. Poptin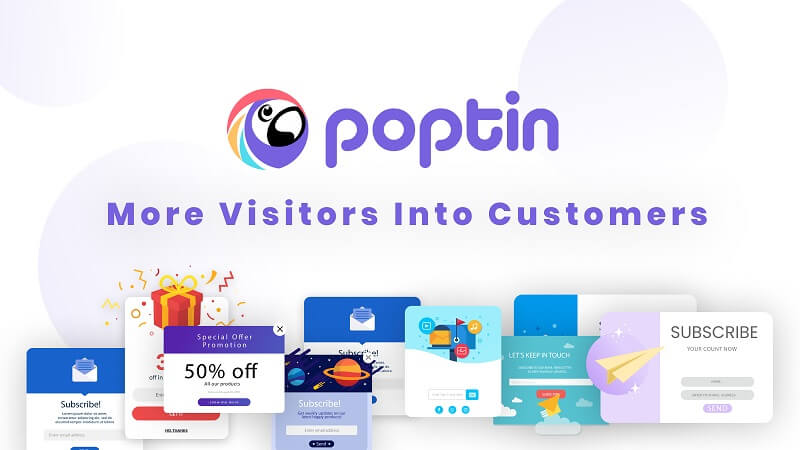 Create beautiful pop ups, exit intent, and contact forms in minutes and convert more visitors into leads, subscribers, and sales. Enjoy using its drag-and-drop builder to create your desired design. Optimize your pop ups with the most relevant behavioral triggers and targeting rules to convert the most qualified leads without disturbing their shopping experience. Popup campaigns also help boost engagement, reduce cart abandonment, and substantially increase your overall sales conversion rate through upselling, cross-selling, recommending products, and more. Aside from several features for website campaigns, Poptin offers A/B testing, analytics, app integrations, and reliable Help Support for its thousands of users worldwide.
---
14. WP Post Popup

WP Post Popup is a great option to Turn any page/post / external page into a popup instantly. Perfect for showing basic content pages without redirecting a user to the page. Moreover, this plugin has some attractive and good features like; Trigger popup on page load using a URL a parameter, A page can have multiple popup links, Scroll to a specified anchor once the popup opens, Showing external pages in a popup, showing only a specific section from an external page works with shortcodes and some plugins, including Contact Form 7, Visual Editor button for easy popup link creation and much more.
---
15. Anything Popup

This is an easy plugin to show the content into an unblockable popup window this popup window can open by clicking the button or link. Also, we will place the button or link on the contraption, post, and pages.
Furthermore, this plugin has some advantages such as; Easy to configure, Unblockable, HTML Editor to add popup contact, Plugin supports Chrome, Firefox, Safari, and IE 7,8,9,10, etc.
---
16. Alligator Popup

Alligator Popup plugin allows you to enter a shortcode to add links to pages/posts which will be opened in a popup window. Besides this, the only options in the Alligator popup are entered in the shortcode, so there is no admin page for this plugin. Also, if you are using any other plugin or a theme that uses a shortcode with the name 'popup', you will not be able to use this plugin.
---
17. Email Subscription Popup

Wp Email Subscription is a plugin that will be used as a news report subscription. Also, this is straightforward to use a plugin. Just set what number of times the news report modal seems once a user enters to website. Admin also can use this plugin as an appliance. Furthermore, this easy-to-use, beautiful, and powerful plugin with 4,000+ Active installations.
Moreover, this plugin comes with great features such as; Newsletter subscription, Responsive design, Mass email to subscribers, Newsletter widget available, Delete subscribers, and much more.
---
Conclusion:
We have searched a lot to provide you with 16 Best Free WordPress Popup Plugins so that your efforts and time could be saved. Do have a look one more time. Enjoy!!
Also. visit 10 Best Free WordPress Newsletter Plugins 2023.