18+ Best Free WordPress Related Posts Plugins 2020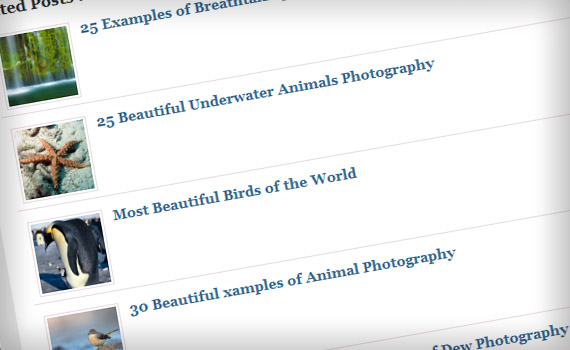 Posts to engage readers for your website so they can continue reading articles on your website? The reply is modest. You just need to show your different widespread central articles at the end of your put up. In this case, if your readers are already attracted to your writing, when they reach on the finish of your article, they will see some more related topics from you. And they're going to definitely click on any of these relates posts. This straightforward solution can dramatically scale back the jump cost and expand your website's page view. There are plenty of plugins available in the WordPress repository to display related posts for your website. However, looking at the great ones could take a decent amount of your priceless time. This article is a collection of best free WordPress Related Posts Plugins for WordPress users.
Also See
1. Custom Related Posts

Custom Related Posts is a user-friendly plugin for manually adding related posts to any of your posts, pages or custom post types. You have full control over those related links, choosing for yourself if they go both ways.
---
2. Related Content

Use cutting-edge AI to suggest genuinely relevant posts across your site. The same Bibblio tech that runs on National Geographic, Mashable, and PC Mag can power your related posts.
---
3. WP Simple Related Posts

Related posts based on categories, tags. Can be replaced and sort of related posts at admin screen.
---
4. Related Posts For Genesis

This is the most lightweight plugin and hence no adverse effect on the speed of your website.
---
5. Show Related Post

This is a Show Related Post plugin. This plugin works automatically. Just install and active it and go to sleep. This plugin automatically searches related post and show it below the single post.
---
6. Recent Posts Widget Extended

This plugin will enable a custom, flexible and super advanced recent posts, you can display it via shortcode or widget. Allows you to display a list of the most recent posts with thumbnail, excerpt and post date, also you can display it from all or specific or multiple taxonomies, post type and much more!
---
7. Simple Related Posts

This is a simple plugin that will show related posts under every single post depending on the category. This doesn't have many options now but planning to build more option in the future for this plugin.
---
8. Similar Posts

Similar Posts displays a list of posts that are similar or related to the current posts. The list can be customized in many ways. The similarity is judged according to a post's title, content, and tags and you can adjust the balance of factors to fit your own site.
---
9. Contextual Related Posts

Contextual Related Posts is a powerful plugin for WordPress that allows you to display a list of related posts on your website and in your feed.
---
10. Yet Another Related Posts Plugin

Yet Another Related Posts Plugin (YARPP) displays pages, posts, and custom post types related to the current entry, introducing your readers to other relevant content on your site.
---
11. Related Posts Thumbnails

Related Posts by WPBrigade will add related posts thumbnails after the post. This Related Posts Plugin allows customizing thumbnail sizes, display settings, and type of relation.
---
12. Related Posts by Taxonomy

Rapidly expand your readers' engagement by adding associated posts within the sidebar or after post content material with a widget or shortcode. Posts with essentially the most phrases in customary will display on the prime! This plugin is able to find related posts in more than one taxonomies and post forms. Comprise or exclude terms from the seek for related posts. Exchange the seem and believe with the aid of using your possess templates on your (youngster) theme.
---
13. Inline Related Posts

Organizations like Entrepreneur, The Wall Avenue Journal, BBC, industry Insider, monetary instances and plenty of others understood this idea and embraced it as you will see that on this GIF in Screenshots. In IntellyWP we deal with the advertising points of your WordPress web page and in these days we have dropped at you the same technological know-how they use, to support you to broaden engagement, page views and to lessen the soaring rate.
---
14. Related Posts for WordPress

Related Posts for WordPress presents you the ability to link related posts to one another with simply 1 click! Our set up wizard will do the entire hard work for you, easily activate the plugin, set the number of posts that must relate and press the button. Related Posts for WordPress will do the rest. Concerning posts in WordPress has never been this handy!
---
15. Related Post

Related post allows for you to show associated post under the post or different submits kind through short-code. Associated publish will show post list from same classes or tags match for a post. Display associated post underneath put up by means of tags and class.
---
16. CP Related Posts

CP associated Posts is a plugin that shows associated articles in your website, manually, or with the aid of the terms within the content material, title or abstract, including the tags assigned to the articles. The relationship between posts and pages is set in an extraordinarily distinct method. CP associated Posts makes use of an algorithm that makes it possible for you to establish the most representative phrases in the content, the title and the abstract of the article, whilst giving more weight to those phrases that suit the tags explicitly added to the articles by the creator.
---
17. Relevant

This plugin permits to show a record of publishing titles through the widget or by using utilizing the shortcode. It shows associated posts with similar words in class, tags, title or by using including unique meta key for posts. Critical is unassuming to use and to customize – that is what you're watching for.
---
18. Related Post Inside Plugin

Want some further configurations for associated submit within Plugin (if you wish to have it more useful for you). Associated post inside of Plugin allows varying the "related put up" Title, quantity of posts to exhibit, order and Order through. With the activation of associated submit inside of a settings part named "Jewel Theme RPI" can be created. For use, this plugin a shortcode [rpi] shall be wanted.
---