8 Best Free WordPress Pagination Plugins In 2023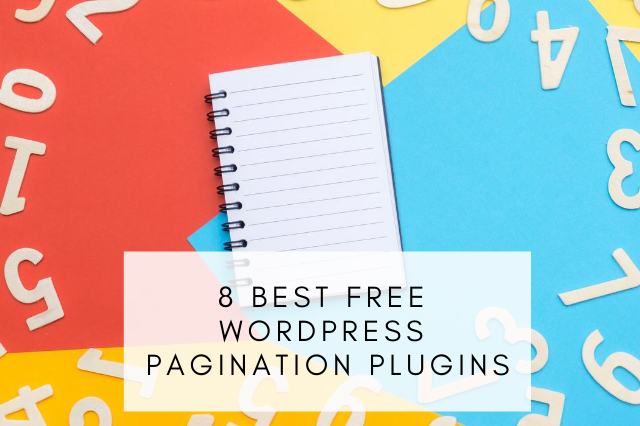 Pagination is an indispensable part of any modern-day blog. Due to its immense significance, it has made its option grow to be a core feature in WordPress. Pagination performs a tremendous role in maximizing the consumer expertise of your WordPress web page. Nowadays it is very easy to create pagination for your WordPress website with some Free WordPress Pagination Plugins.
Without pagination, you're going to have to load your whole web publication posts at once. This will significantly increase the loading time. Most contemporary WordPress themes are supplied with the pagination feature. If you need more manipulation over the pagination styling and don't wish to mess with the code, you should utilize a pagination plugin.
In this article we will share the top 8 best Free WordPress Pagination Plugins so without the delay let,s start,
List of Best Free WordPress Pagination Plugins:
1. WP-PageNavi 
2. WP-Paginate
3. Pagination by BestWebSoft
4. Page-Links Plus
5. Page Navi Slider
6. Alphabetic Pagination
7.  Pagination Styler
8.  CPTA Pagination
1. WP-PageNavi

With 700,000+ active installations, it's obvious that WP-PageNavi should figure at the top of this list of Free WordPress Pagination Plugins.
One of the best WordPress plugin that provides thewp_pagenavi()template tag which generates fancy pagination links for your WordPress website. Once you install and activate the plugin on your website, you will find the plugin settings in the Settings -> PageNavi. 
This plugin is one of the most popular and widely used WordPress pagination plugins.  It replaces the "Older posts" and "Newer posts" links with good looking numbered navigation.
---
2. WP-Paginate

WP-Paginate is a straightforward and flexible Free WordPress Pagination Plugins that presents customers with higher navigation for your WordPress web page. Additionally, to growing the user expertise for your visitors, it has been generally said that pagination increases the search engine optimization (SEO) of your web page with the aid of delivering more hyperlinks to your content material.
After installing and activating the plugin, you will find the settings options in the Settings -> WP-Paginate page. You can also add custom CSS for your pagination links with the Custom CSS tab in WP-Paginate Settings.
---
3. Pagination by BestWebSoft

The Pagination plugin permits you to add a custom pagination block to your web pages. The block is brought mechanically on the next pages: blog, search, archive, class, tags, creator.
All you have got to do is to prefer the role of the pagination block and configure its appearance on the plugin settings web page.
FEATURES:
Automatically add pagination.
Choose a pagination position.
Display and customize Next/Previous arrows.
Display "Page X of Y" information.
Hide pagination.
Set pagination align.
Customize pagination styles.
---
4. Page-Links Plus

A WordPress pagination plugin that helps users paginate content with ease & effectually. Whilst WordPress performs make integrating page links rather effortlessly, WordPress does not present a local single-web page alternative. Addressing this predicament, the elemental web page-links Plus plugin provides this choice to WordPress page lists.
---
5. Page Navi Slider

If you are unsatisfied with the most common navigation plugins and need a good one, fully and easily customizable, and responsive plugin with direct preview in the setting page then Page Navi Slider in the best option available in the list of Free WordPress Pagination Plugins. This plugin generates cool pagination links for your wordpress website.
FEATURES:
Easy to customize with its setting page.
Actually responsive as it displays a slider if the page numbers exceed the available width.
Touchscreens compliant.
See what you get with its preview feature.
Caption ready to be localized for multilingual sites.
---
6. Alphabetic Pagination

Alphabetic pagination is an excellent plugin to filter your posts/pages and WooCommerce products with alphabets. It's simple to use and handy to recognize. I propose just the right points which you won't see on this plugin. You can display pagination on archives, shops, categories, portfolio, or selected post/page/product/category, etc.
FEATURES:
Auto Implementation.
Alphabets Grouping.
Styles and Templates.
Hide/Show pagination if only one post available.
Manage the settings page with the Android App.
Custom Implementation.
jQuery/JS-based one-page listing and pagination.
---
7. Pagination Styler

With Pagination Styler for WooCommerce, You can customize pagination as You want without code. This plugin has some amazing features to customize pagination for your wordpress website easily.
FEATURES:
Custom Pagination for WooCommerce.
Custom Color for Pagination Elements.
Style Customization for Pagination.
Custom Text for Pagination.
Custom Horizontal Position for Pagination.
---
8. CPTA Pagination

It's a simple custom post type ajax pagination plugin and it is an easily customizable, and actually responsive plugin for your wordpress website.
FEATURES:
Easily customizable.
Custom post type ajax pagination with the category.
Lightweight.
---
Hope you like the list of best top 8 Free WordPress Pagination Plugins. Feel free to express your ideas in the comment box below.
Also, visit the list of 6+ Best Free WordPress Post Reorder Plugins 2023.