7 Best Free WordPress Page Builder Plugins In 2021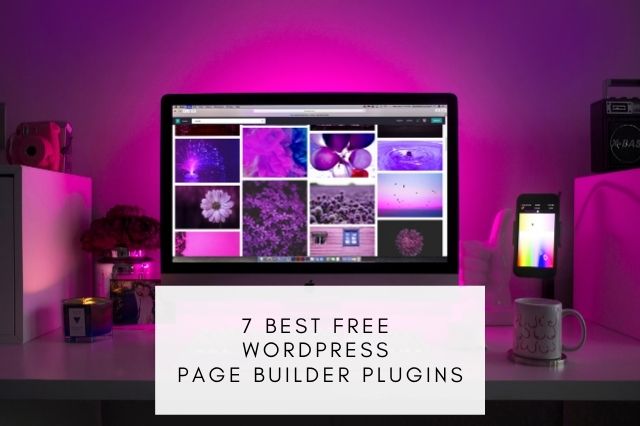 Today most of the premium WordPress themes come with page builder and drag and drop options to style custom layout. But they don't give the full control to make pages according to your needs and also however what if you employ free themes? Don't worry in this article, I have listed 7 Best Free WordPress Page Builder Plugins so that you can easily create some amazing and attractive pages for your website.
These plugins offer you a lot of features and widget o[tion so that you can easily create some stunning pages within minutes. Also, these plugins are compatible with any type of theme you are using on your website no matter it's a free or a premium theme.  So without wasting more time let's get started with our list.
1. Elementor Website Builder

One of the Free WordPress Page Builder Plugins with advanced capabilities, and fully customizable features available in the market. It offers all the advanced high design features and design options to create a unique and beautiful looking page. It helps you to easily develop high pixel perfect websites with its drag and drop functionality that offers you instant drag & drop options, instant live edit, instant page load, and much more facilities. Elementor has a highly easy to understand interface so that everyone can easily use it no matter whether you are a web developer, a marketing specialist, or a designer.  The best part of this plugin is that it offers you the option of a live preview so that you can saw all the changes live.  As I told you it has some unique and professional features and you can use that feature to create designs such as Shape Dividers, Box Shadows, Headline Effects, Animations, Background Overlays, Hover Effects, Gradient Backgrounds, and much more.
More features:
More than 100 pre-designed templates and blocks.
Translated to more than 50+ languages.
Free and open source.
More than 40+ free widgets.
Fast and flexible.
Offers typography so that you change font size, image layout, decoration, and many more.
Feature-rich.
And much more.
---
2. Page Builder by SiteOrigin

SiteOrigin Page builder is one more famous and flexible free wordpress page builder plugin available in the market. It is a mobile-friendly plugin so that your page looks great on all types of devices. It offers you a lot of widgets to create responsive pages according to your design needs. If you are familiar with the wordpress interface then you just love this plugin and you can easily use it. The best part is that it works great with any wordpress theme or you can also change the theme whenever you want your page will look awesome always. Page Builder by SiteOrigin has an easy to use drag and drop interface so that you can make your beautiful pages by drag and drop functionality.
More Features:
It supports live editing.
Free and easy to use.
It is available in 17 languages.
Offers lots of widgets.
It saves your history after any new changes you have done on your page.
And much more.
---
3. Beaver Builder

The best drag and drop and easy to use page builder plugin available for everyone no matter whether you are a designer, SEO specialist, or a developer.  This plugin has a highly interactive interface and you can easily use it no matter you are a beginner or a professional. It has more than 300,000+ Active installations which show that it is a popular plugin in the wordpress market. This plugin has some pre-built home, landing, and maintenance page templates to save your time.
More Features:
Lightweight and fast plugin.
If you love full width and column-based layout then it easily full fills all your needs.
Mobile-friendly, responsive design.
If your website has different pages and posts, don't worry it works with all Pages, Posts, and Custom Post Types.
If you have good coding knowledge then you can also add shortcodes and CSS classes to give more different looks.
And much more.
---
4. PageLayer

Pagelayer is a Unique, stunning, and highly customizable free WordPress page builder plugin. You can easily use it and compatible with every browser so that you can works on this from everywhere on any type of device. The best part is that it works with every theme so you don't have to worry about anything. It offers you complete control to make any type of website and pages within least time.  Also if you don,t have coding knowledge you can easily work on it without any hesitation.
More features:
Offers a large number of widgets.
Drag and drop editor.
Real-time design to see any changes instantly.
Offers text editing.
Offers typography so that you can easily change font-size, weight, transform, decoration, and much more.
You will also create a duplicate of any part and design just by click on it.
It also offers animation to create more attractive pages.
And much more.
---
5. Brizy

One more popular and fast free wordpress page builder on the list. Brizy has a beautiful interface with unique and advanced features to make some attractive pages for your website. You can easily use this plugin no matter you have coding knowledge or not. It has intuitive Drag & Drop functionality so that you can easily make any page just bt drag and drop items. It offers you different design elements to give a unique look to your pages such as images, text, buttons, videos, maps, icons, and much more.
More Features:
It offers more than 150+ pre-built blocks to give instant design to your pages.
Mobile friendly and responsive.
It has a smart text editor so you can easily add any text to your page.
You can also resize any column available on that page.
It autosaves every change you made on your website.
And much more.
---
6. Live Composer
Live Composer is a feature-rich and highly initiative page builder wordpress plugin with drag and drops functionality. If you have an eCommerce website then this plugin works great for you and it is totally free. If you are looking for a plugin which has a lot of features and customizable option than it will full fill all your dreams. Also, it offers you a real-time editor so you can track the live changes on your website. With this plugin, everyone can make an attractive page no matter from which field you are. It works great and compatible to easily work for every web designer, digital marketing specialist, WordPress theme developers, and freelancers.
More Features:
Mobile responsive.
Gutenberg compatible.
Easy to use.
Feature and widget rich
And much more.
---
7. Pootle Pagebuilder

Pootle page builder has some amazing features and widget options which makes a unique and famous impression on the internet. It gives complete control; over your pages so that you can edit and make changes according to your needs. It is a front-end, drag, and drops page builder which makes it easy for you to create any type of pages you want. No matter you are a professional or a beginner anyone can built a beautiful WordPress website and pages in minutes.
More features:
Drag and drop live designer.
Offers full-width rows.
Allow you to create flexible rows and columns.
Offers text editor.
If you are good at coding knowledge you can also use CSS customizations for more looks.
And much more.
---
So, that's all from this article, I hope you liked the list of 7 Best Free WordPress Page Builder Plugins In 2020. If you like this article then please share it with your friends and followers, and also tell me which plugin you like the most in the comments section down below.