18 Best Free WordPress Tabs Plugins 2023

Handpicked a collection of Best Free WordPress Tabs Plugins 2023. Tabbed sections on a website may also be very effortless. They enable you to interrupt up various know-how and put it into one small space. Readers are much less overwhelmed that means and therefore more likely to hang around and assess what you need to offer. The easiest option to get tabbed content in WordPress is with a tabs plugin.
These free WordPress Tabs plugins put a hyperlink into the bottom of the tab box, nevertheless, which you could flip off within the settings. It's the AJAXified plugin with the lazy loading influence which masses the content simplest via demand so, it's enormously rapid loading and lightweight. It enhances the default textual content editor and makes running a blog tremendous effortless. With this plugin, you may simply customize the CSS to raised suit your theme- style and you have got full manage over the number and order of the tabs.
Also See
1. Tabs With VC

Tabs With VC – Responsive Tabs with Accordions is an awesome WordPress Content Tabs Plugin with many nice features. It is a fully responsive tabs builder plugin with Visual Composer extension. This awesome plugin is for creating responsive tabbed panels with unlimited options and transition animation support.
---
2. Product Tabs Manager

With Product Tabs Manager for WooCommerce, You can create any tabs for products that you want. Create one tab for all products or custom tabs for each product. Sort default WooCommerce and custom product tabs as You want. Use WordPress native WYSIWYG editor for creating custom product tabs.
---
3. Expand Tabs lite

Expand tabs is a jQuery tabs plugin for your WordPress website. This plugin will enable awesome lightweight tabs function.
---
4. Ultimate Blocks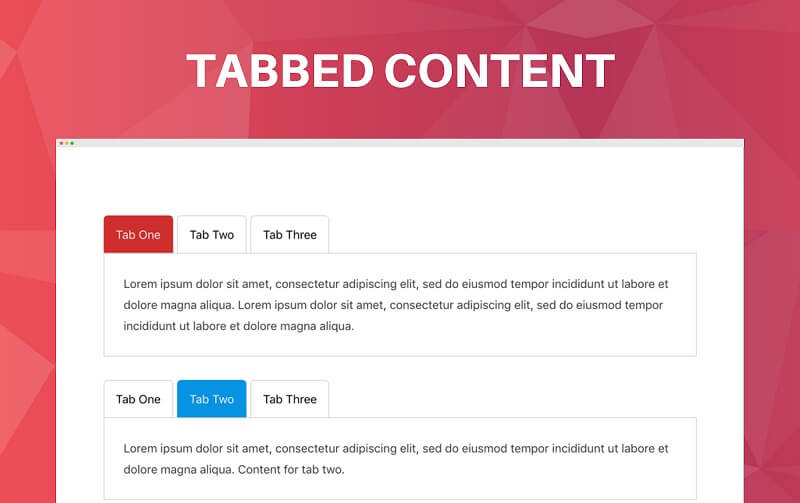 Ultimate Blocks is a great Gutenberg plugin you can use to add tabbed content to your website. The plugin comes with a tab block that lets you create horizontal or vertical tabbed content on your posts and pages.
The block is very lightweight and responsive so it works perfectly on all devices. You can customize the tabs very easily and change the colors, border, layout, alignment, and more. The best part is that Ultimate Blocks is a completely free plugin making it perfect to add tabbed content to your website.
---
5. WooCommerce Custom Tab

WPB WooCommerce Custom Tab Manager will allow you to add unlimited numbers of custom product tabs with custom content. The tabs will be added by a custom post type.
---
6. Easy Side Tab

Easy Side Tab – is a Free WordPress Side Tab plugin packaged with 2 beautiful pre-designed templates. With this plugin, you can display your Side Tab however you like and configure it to the most.
---
7. Everest Tab Lite

Everest Tab Lite is a Free WordPress Tab Plugin packaged with 3 Beautifully pre-designed templates enriched with WP Editor Components to set as tab's content and short-code implementation features.
---
8. Tabs Maker

Organize any content of your WordPress website with these convenient responsive tabs. Ready for both mobile and desktop browsing, these tabs are extremely easy to install, use and configure. Assign icons to each tab, use vertical or horizontal layout, and deploy as many tabs or set of tabs as you need in a few clicks.
---
9. Advance Tabs

Tabs for Visual Composer is a really simple WordPress plugin and Visual Composer addon that will allow a user to put any content in tabs of different styles and with different color schemes. You can also display content using shortcode. It contains really simple settings and is easy to use.
---
10. Affiliate Area Tabs

Affiliate Area Tabs allow you to add custom tabs to AffiliateWP's Affiliate Area. Each tab is linked to a WordPress page making it exceptionally easy to add and manage the tab's content. Pages assigned to a tab are only viewable to affiliates.
---
11. Tabs

Best Free WordPress Tabs Plugins "Tabs Responsive" is headquartered on the bootstrap framework, So This plugin design is responsive and user-pleasant to any mobile contraptions. That you could display each vertical and horizontal tabs variety making use of this plugin. Add more than one Tab on multiple pages and publish. Their limitless color scheme and font sort are available for the content material. You could add pictures, videos, songs, or a different shortcode in the tab description file. Page utilizing color box plugin. There Widget alternative additionally on hand, simply add Tabs Responsive Widget to your Widget subject.
---
12. WP Tab Widget

Best Free WordPress Tabs Plugins "WP Tab" plugin is the only plugin you ought to get the superb tabs for your weblog. We've got made it AJAXified, so the content is hundreds handiest when demanded, and as a consequence, it makes the plugin enormously light-weight. It masses before you could even blink your eye. If you're an internet site proprietor, you perpetually need your viewers to stay longer on your website. With the WP Tab plugin, you could do it in a simple manner. Install the plugin, configure the widget and let your viewers find the satisfactory content to your internet site in the sidebar without struggling to certainly search for it.
---
13. Tabby Responsive Tabs

Best Free WordPress Tabs Plugins "The Tabby" Responsive Tabs plugin is designed to be a convenient and lightweight method so as to add responsive tabs to your content material. There's no admin panel and skilled builders must be in a position without problems personalize how the tabs display on their site by exchanging the built-in CSS rules with a customized version.
---
14. Custom Product Tabs

This plugin extends the YIKES WooCommerce eCommerce plugin to enable website admins to add customized tabs to merchandise. Tabs are managed on the Edit Product screen and may also be delivered on a per-product basis. Tabs may also be conveniently delivered, deleted, and rearranged. Tab content material areas use the ordinary WYSIWYG WordPress editor and could contain text, HTML, or shortcodes.
---
15. Responsive Tabs

This plugin adds a Tabs part to the admin panel which enables you to create tabbed content in your website in an effortless manner. You could speedily add your content to your distinctive tabs, prefer a color, a breakpoint, re-organize them at any time and show them at any place with a simple shortcode.
---
16. Simple Side Tab

Add a global name To action on your internet site. Easy side Tab adds a vertical tab to the left or right part of the browser window that hyperlinks to any page. The tab stays in location as your traveler scrolls down the web page so it's continually obvious and capable of action. Works fine on mobile too.
---
17. Squelch Tabs

Squelch Tabs and Accordions Shortcodes presents shortcodes for adding elegant web 2.0 variety accordions and tabs to your WordPress internet site: Horizontal accordions, vertical accordions, and tabs. Once you have mounted the plugin you can use easy shortcodes on any web page or publish to add tabs or accordions.
---
18. YITH WooCommerce Tab Manager

Understanding is vital to reassure customers and with YITH WooCommerce Tab manager you're going to be equipped to customize the product pages with all the understanding you want: PDF files to download, digital maps, video tutorials, further important points, galleries… Each type of content material! An excellent technique to offer what customers want and persuade them to purchase instantly.