7 Best Free WordPress Instagram Plugins In 2021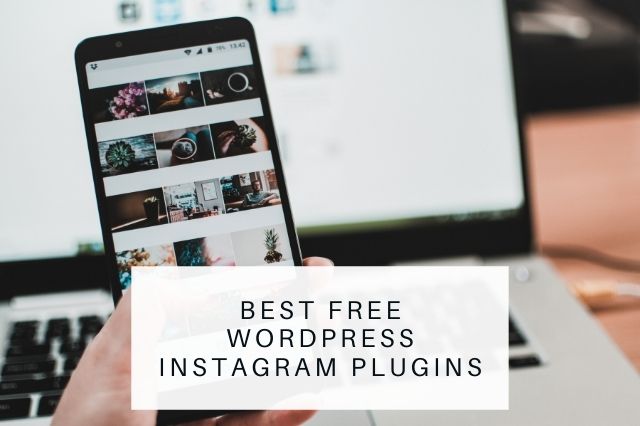 Instagram is among the fastest developing and well-known social networks. The interesting Instagram figures signify that it's equally essential to connect Instagram to your internet site like other social networks i.E. Fb, Twitter, Google+, and so on. So I have listed the best free WordPress Instagram plugins to integrate Instagram into your WordPress website.
Instagram points to the first-class picture and video sharing platform. Instagram integration in a WordPress website can add an excellent price with more enticing content material and riding more site visitors to your site.
Also guys you can use WordPress Social Sharing Plugins so that your users can easily share your content.
Now let's begin with our plugin list:
1. Smash Balloon

Starting with one of the Best and most popular Free WordPress Instagram Plugins, Smash Balloon allows you to display your Instagram posts on the same page or on different pages of your site. You can also display pictures from multiple Instagram accounts in the same feed or in separate feeds. It is a responsive plugin which means your Instagram picture layout looks awesome on any screen size and on any type of device.  It offers you multiple customization options to change the width, height, image size, background color, image spacing number of photos, number of columns, and much more.
---
2. Social Slider Widget

A super easy to set up wordpress Instagram plugin, Social Slider provides you features to display your Instagram feeds in your website's widgets, feeds, posts, pages, or anywhere you want. With this plugin, you can also display images in Slider or in Thumbnails. With this plugin, you can also show multiple Instagram feeds with no limitations. Due to its responsive nature, the layout looks great on any type of screen size and device. This theme allows you to customize the size, number of images, height, width, columns, image spacing, and much more.
---
3. Feed Them Social

Another wordpress Instagram plugins that allow you to showcase your social feeds from your Instagram account, Facebook Pages, Pinterest, Twitter, and YouTube feeds on your wordpress site. You can display multiple social feeds on any post, page, or sidebar of your site. It offers you multiple customization features just like other Instagram plugins available on wordpress. Also, this plugin creates and displays social feeds in such a way that it looks great on any type of device.
---
4. 10Web Social Photo Feed

One of the leading Instagram wordpress plugins, 10Web Social Photo Feed wordpress plugin allows you to showcase Instagram feeds with the media of your Instagram account to any of your posts and pages of your wordpress site. It offers you multiple features and full control options to display the feeds and the content on your website according to your needs.
---
5. Social Feed Gallery

The most easiest and simple plugin to display your Instagram Feed and Gallery on your wordpress website. Social Feed Gallery gives you full control over how to display images from your Instagram account on your site. Also, it has a responsive nature which means that your Instagram feed layout looks amazing on any type of screen size device. No more coding knowledge requires to use this plugin you can easily set up this plugin with just one click.
---
6. BlossomThemes Social Feed

Blossom Themes Social Feed plugin is a fully responsive Instagram wordpress plugin. It allows you allows you to show your Instagram profile, pictures, and feeds on your wordpress website. If your website has a blossom theme then it works great with your website. With this plugin, you can showcase up to 25 photos with a maximum of 10 photos in each row in your layout. Moreover, this plugin also generates shortcodes and widgets so that you can display Instagram feed inside your posts or on the sidebars of your site.
---
7. WP Instant Feeds

Easily display your Instagram feeds and pictures on your website with WP Instant Feeds wordpress plugin.  You can showcase your social feed on your website's pages, posts, and sidebars within few minutes. The layout made by this plugin is responsive in nature means it looks fabulous on every type of device. WP Instant Feeds has more than 10,000+ Active installations which reflect its popularity on the internet.
---