8 Best App Landing WordPress Themes For Boosting Downloads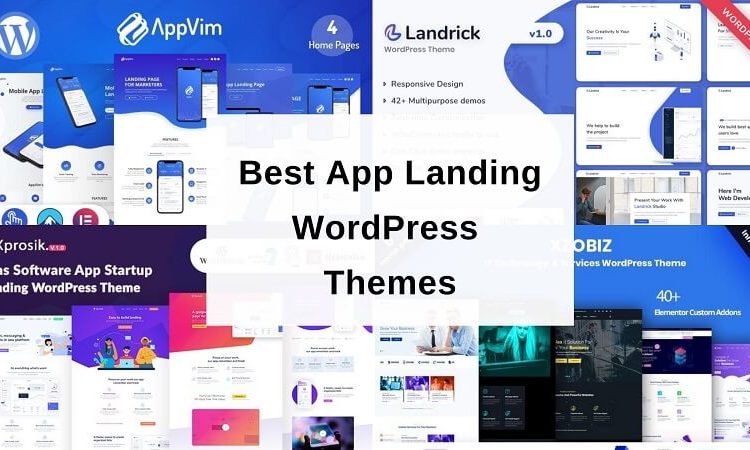 Would you like to showcase your new app with a captivating design? Are you interested in changing your landing page to a more modern and responsive form? Look no further. This blog post will show you eight of the best app landing WordPress themes that will help you to boost your app downloads.
Let's dive in right away.
Table of Contents:
1. Xprosik
2. Landrick
3. AppVim
4. Appmax
5. Appnox
6. Rocket
7.  Hisfull
8.  Xzobiz
1. Xprosik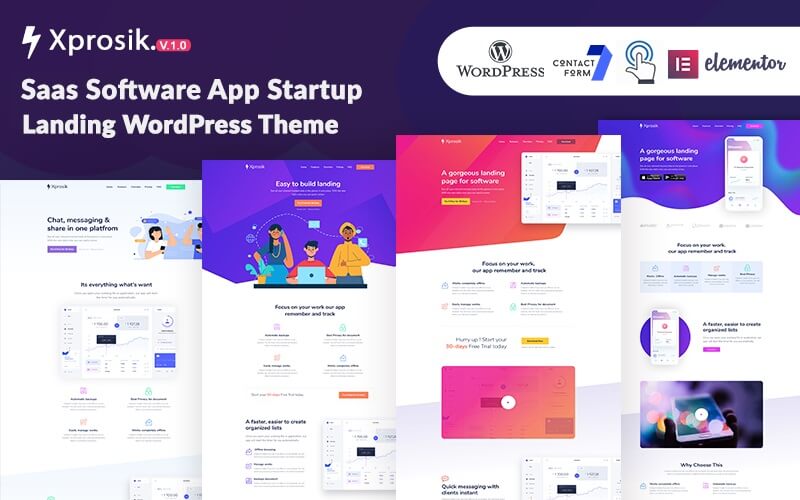 Xprosik is the best app landing WordPress theme available on TemplateMonster's marketplace at the moment. It features a super sleek and modern design as well as neatly organized sections that allow you to present your app project in the most effective way.
It is built with Elementor. As a result, with its drag-and-drop functionality, you can easily and quickly edit any existing element or section without needing any coding skills or experience. The template also features a video section on the homepage, through which you can showcase all the functionalities and features of your app, which may convince and encourage visitors to download it.
---
2. Landrick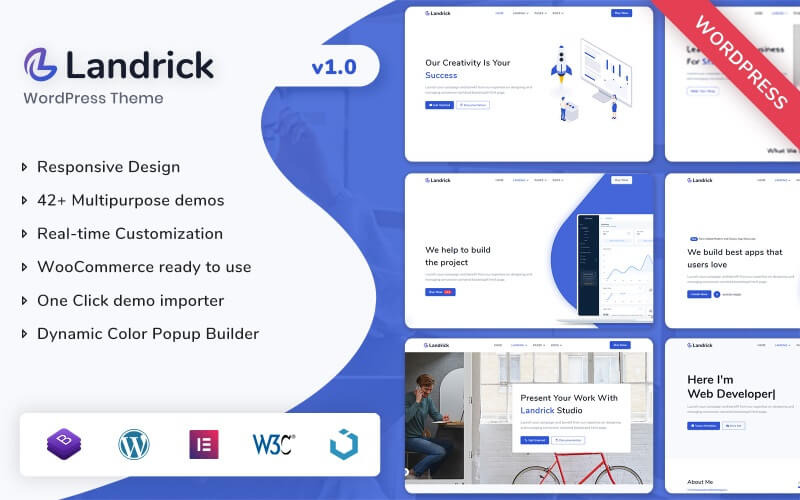 Landrik is a modern and clean WordPress theme that will allow you to present your mobile app and all its features in the best light. There are multiple demos and you can choose the one that best matches your preferences and needs. All of them are very simple and the well-organized layout allows you to direct the user's attention to the most important information.
It also comes with a testimonial block where you can add the best reviews left by your clients to persuade new users to download and use your app. In addition, it embeds a subscription form so users can sign up and you can keep them up to date with tips, new features added to your app, and the latest news about your company.
---
3. AppVim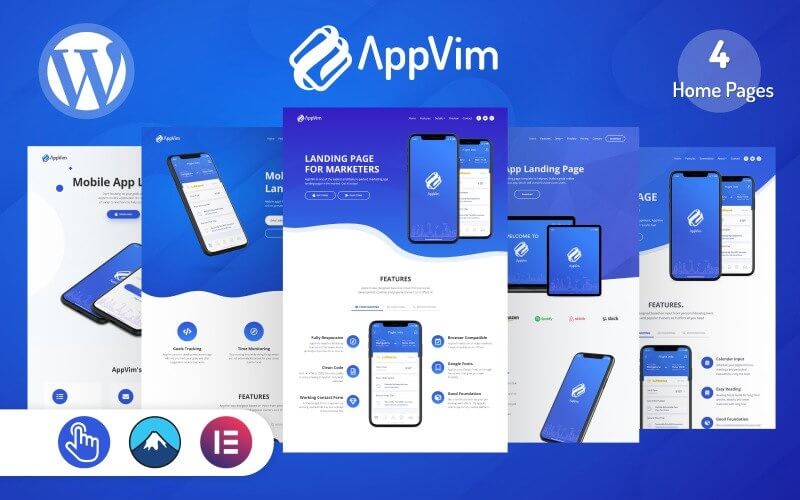 The AppVim theme is a professional and one of the best app landing WordPress themes available. It lets you choose from four different home variations to showcase your app project and features in a variety of engaging ways. The home demos include multiple sections that include animation, transitions, and interactive elements such as counters and animated text.
It also integrates social media icons so that visitors and customers can follow your social media channels and stay up to date on any news. You'll also find a contact form at the bottom of the page that users can use to ask you any questions or report any problems related to your app.
---
4. Appmax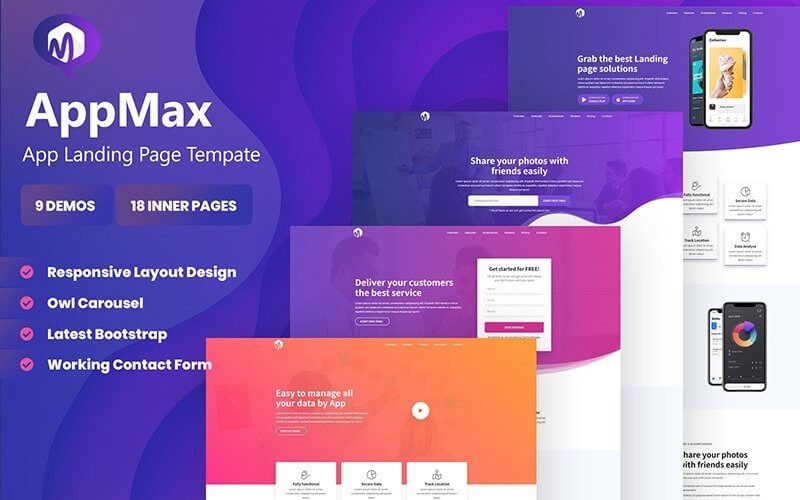 The Appmax theme is a responsive WordPress theme that allows you to showcase your app in an elegant and effective way. This theme comes with 9 unique home demo styles, giving you many options to choose from. Each page is completely customizable. Thus, you can easily adapt it to your preferences and style.
You can also showcase screenshots and some of the best reviews of your app using the image sliders. It is also compatible with WooCommerce, so you can integrate a payment system for pro versions and extra features.
---
5. Appnox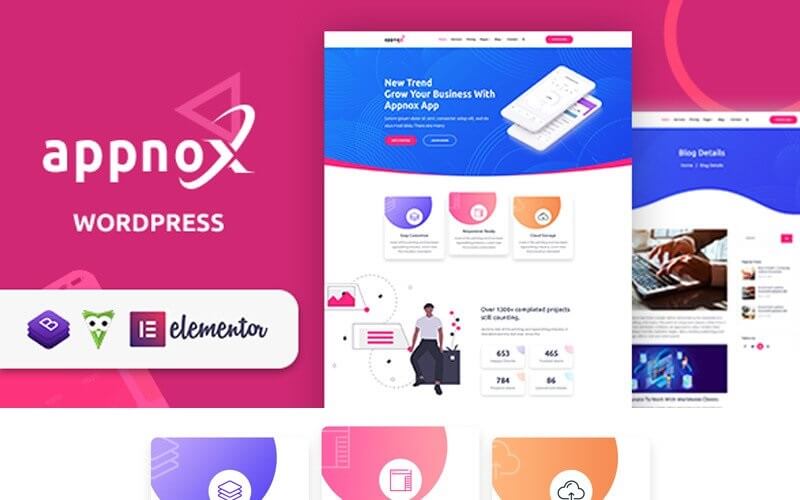 Appnox deserves to be listed among the best app landing WordPress themes for its modern and eye-catching design. The homepage features animations and transitions that will make the overall user experience on your site more memorable and engaging.
Additionally, you can showcase some screenshots of your app to give users a better idea of what they will get when they download and use it. Plus, it has a FAQ section, where you present the most frequently asked questions and provide detailed answers to help clear any user doubt or uncertainty and encourage more downloads. Additionally, Appnox has a blog where you can share valuable content about new features, news about your business, and more.
---
6. Rocket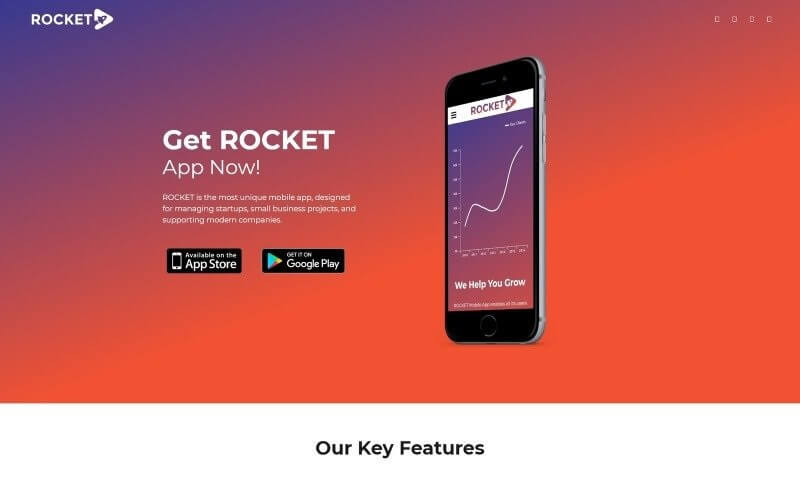 Rocket is another excellent WordPress theme for landing pages for mobile apps. The template has a trendy look with animation effects and offers a blog and contact section so users can easily reach out to you. The theme is fully SEO-friendly and responsive. Thus, users will be able to view and interact with your landing page from any device.
The SEO-friendliness will also enable your landing page to rank higher on search engine results, allowing you to increase visibility, traffic, and downloads. Moreover, this theme comes with detailed documentation and support service that will help you with any questions or doubts you may have during the installation and customization phases.
---
7. Hisfull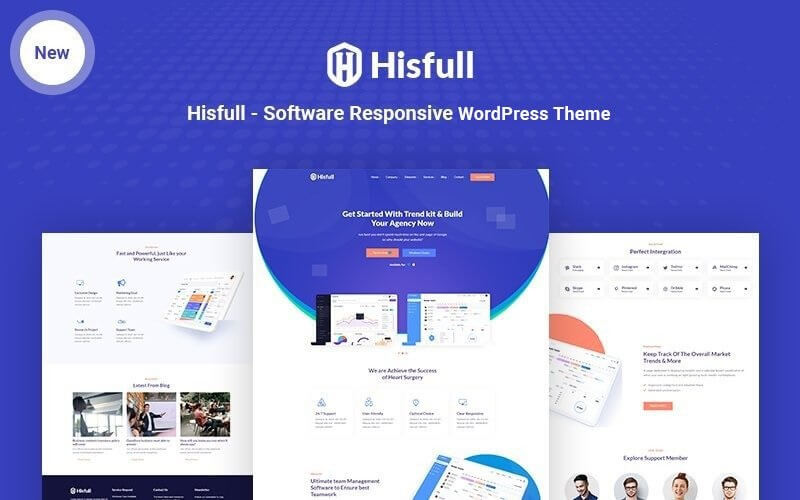 Hisfull is a professional-looking app landing page WordPress theme designed primarily for software showcases, but easily adaptable to any other project, such as app showcases. You can showcase all of the most relevant features of your mobile app clearly and ensure that users understand them all fast and correctly with its clean look.
It includes pages such as portfolio, team, slider, blog, pricing, counter, contact form, and 46+ custom widgets. Also, it includes images that you can freely use on your website, so you don't have to search for them on the web if you don't own them already. This theme is also compatible with Polylang, a plugin that will let you translate your landing page into multiple languages and make it accessible worldwide.
---
8. Xzobiz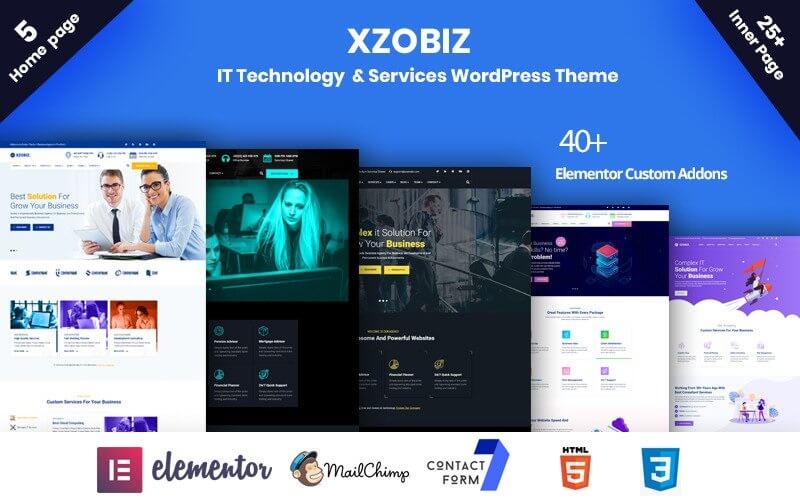 Xzobiz is a WordPress theme for IT solutions, but you can also use it for landing pages to introduce your mobile app. The theme includes five home page variations that differ in design, color, layout, and more, and you can import them with just one click using the One-click demo importer.
All of them have a fully responsive design. As a result, each element and the entire layout will automatically adapt to any screen size and resolution. Additionally, it is compatible with some of the most popular WordPress plugins such as Mailchimp, WPML, and Revolution slider, which will enhance the appearance and functionality of your landing page.
---
Conclusions
This concludes our list of the best app landing WordPress themes. Specifically, we presented you with some of the best themes based on features, responsiveness, and SEO-friendliness. Hopefully, you found a theme suitable for your mobile app presentation among the ones listed above. If you haven't already, check out TemplateMonster's marketplace. There, you can find a variety of WordPress themes and other digital products designed by experts from around the world to showcase your app.