Getting Started Online With 39 Best Free Website Templates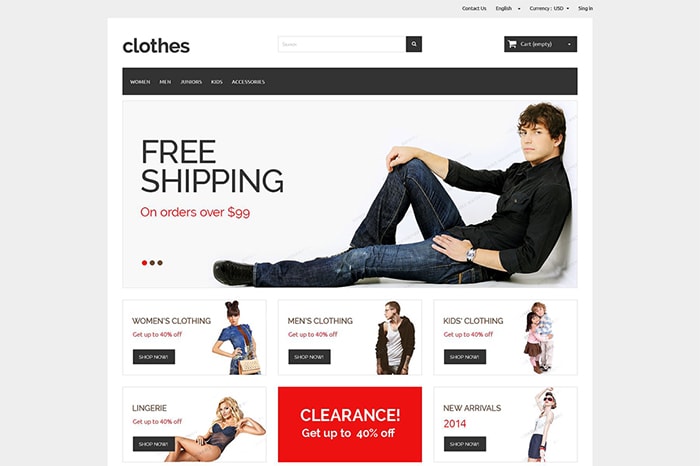 Creating and launching your first website may seem pretty daunting. You don't know what challenges to expect and how it all works. Moreover, you don't fathom what kind of template to go for as you haven't worked with any of them. For sure, it would be rather disappointing if you purchase the template that doesn't fit your needs. Fortunately, there are free themes that liberate you from all the doubts. So, today we bring you 39+ best free website templates to let you get your hands-on experience with different template types.
It's worth mentioning that not all the free templates on the web are of good quality. Of course, that's kind of sad but they are free, anyway. That's why, in this post, we bring you some of the best free website templates on the market, produced by a well-established web design giant, the TemplateMonster company. Recently, they've turned into the largest online marketplace and now accept templates from all over the globe.
TemplateMonster marketplace mainly offers premium templates, but its team is also giving out some templates free to let people eye-witness the greatness of the themes offered before making a purchase. Check out their collection of premium WordPress business themes to see the full greatness this renowned company delivers.
The 39+ best free website templates included in this article let you try out different CMS and e-commerce engines. First of all, come to the HTML and Adobe Muse themes that don't have an engine. Next, the collection of CMS freebies incorporates WordPress, Joomla, and Drupal templates for different purposes. The e-commerce pack is also impressive. You'll find free samples of PrestaShop, Magento, OpenCart, Shopify, WooCommerce, VirtueMart, osCommerce and ZenCart templates. Keep in mind that all the themes presented in this post are offered for educational purposes only. Don't try to create a commercial website with them! You'll find similar paid templates with ease and get a manifold thicker pack of features with them.
Are you ready to see what are the 39 best free website templates of this fall? Scroll down and learn more about the items you like by pressing the buttons under the screenshots.
Monstroid 2 Lite: Free Version Of Monstroid 2 WordPress Theme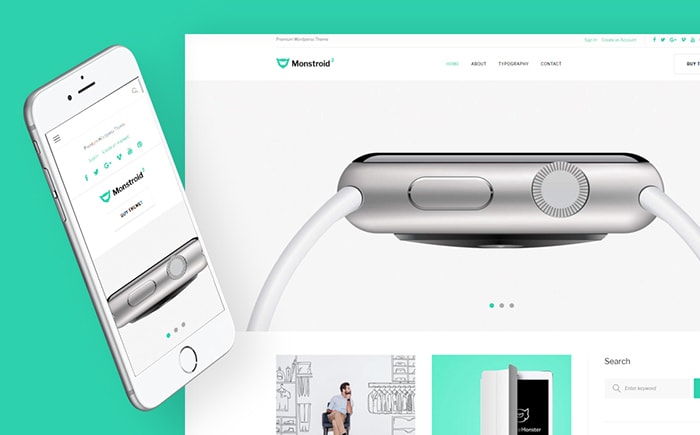 If you want to taste the legendary Monstroid2 theme before going for it, Monstroid2 Lite is an optimal solution. Having an ultra-clean, appealing design, and incorporating stunning imagery, the theme is built to impress. The theme lets you try out Live Customizer, a theme customization tool that displays all the changes right after they're applied.
---
Kustrix Lite: Fashion Blog Free WordPress Template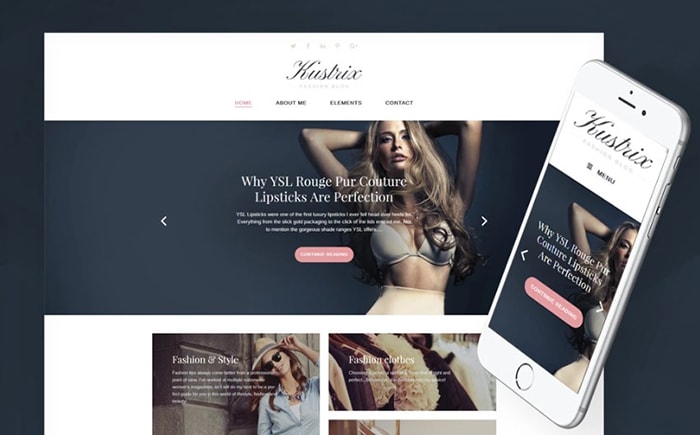 Are you into running a fashion blog or fashion agency website? Then, you should start with Kustrix Lite theme to get your first hands-on experience of customizing a website. The theme integrates a rich set of Google fonts, letting you choose from more than 600 fonts for your website.
---
Melissa: Photographer Portfolio & Photo Studio WordPress Website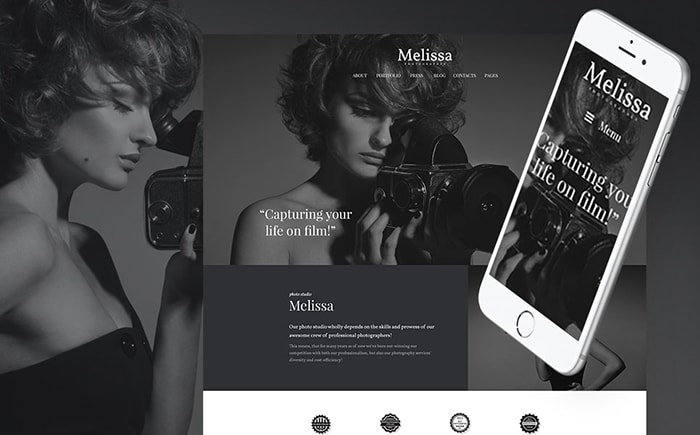 This free WordPress theme has an ultimately stylish, monochrome design that's amplified by clear-structured, unconventional layouts. The theme comes with a full-blown set of features. It comes with Power Builder and Live Customizer and incorporates the awe-inspiring TM Gallery plugin that accounts for the unforgettable presentation of the filterable portfolio of your works.
---
Mia Ittalloni: Italian Restaurant Free Responsive WordPress Site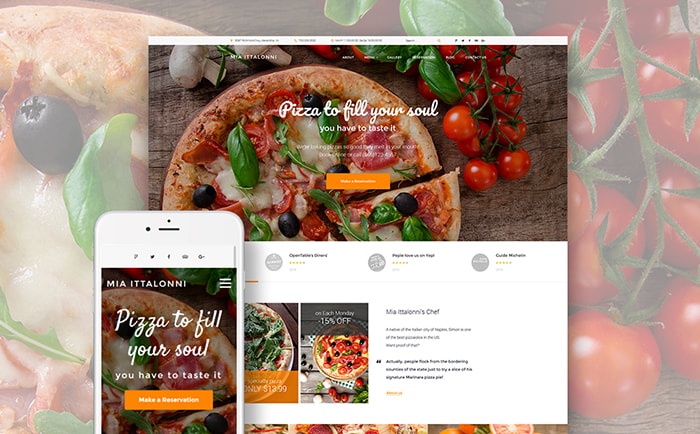 If you want to experience the feel and visual awesomeness of Italian-style restaurant website templates, then you should go for the free Mia Ittalloni theme. This template provides for streamlined and friendly website customization, as it's equipped with 2 editors, Live Customizer, and WYSIWYG Power Builder editor. Moreover, the theme is packed with a number of versatile ready-made layouts, widgets, and content modules.
---
Catwalk: Model Agency Responsive WordPress Site Design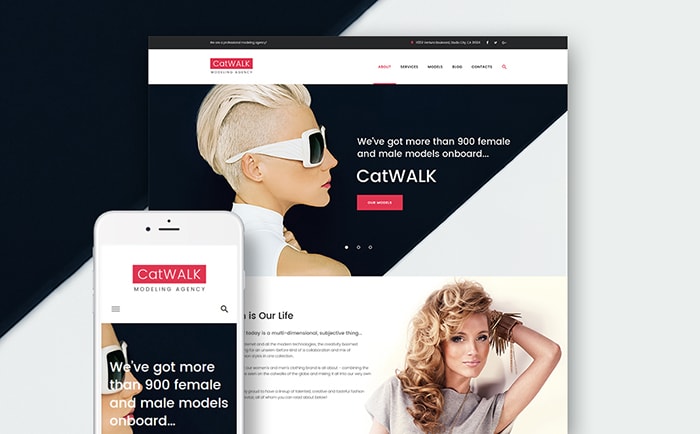 The Catwalk modeling agency theme possesses a modern asymmetric design and high-contrast color scheme. All the CTA buttons of the theme are conversion-optimized and furnished with catchy captions, bright coloring, and most appropriate positioning. The template comes with the Cherry Projects plugins to showcase your projects in the most appealing way using a wide variety of layouts and filtering options.
---
Calio: Therapy & Medical Counseling Responsive WordPress Theme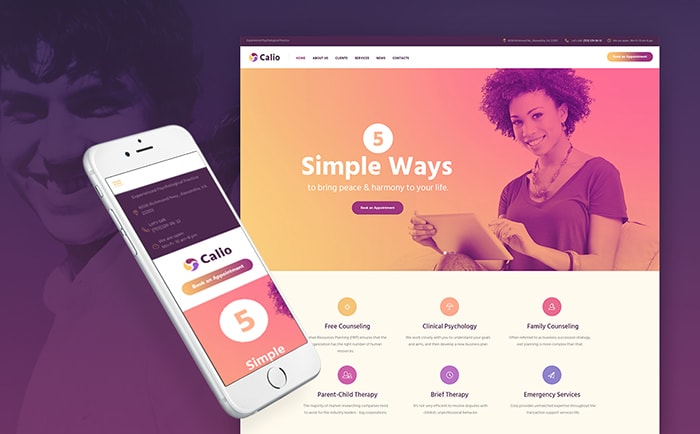 For building a high-converting medical website, you can by no means go for a theme with an obsolete, stale design. Calio theme is the one that revamps the concept of a medical website and turns it into an eye-candy that's a true pleasure to browse. To widen your target audience and spread the word about your clinic around the globe, the template comes with a rich UI, as well as multilingual support.
---
Truly Artistic: Photographer Portfolio Free WordPress Template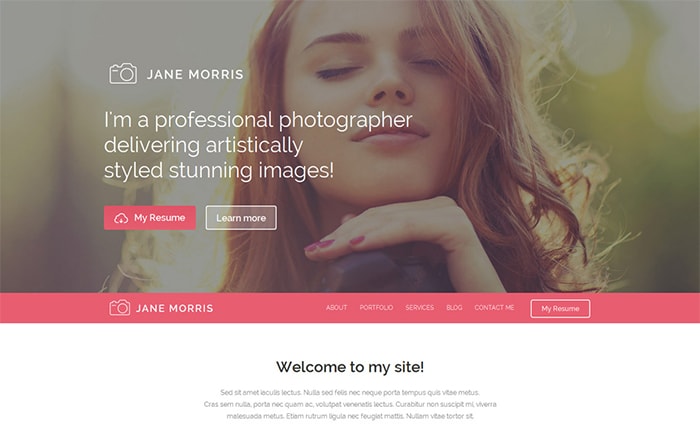 If you're looking for a neat and visually pleasing template for a photographer website that conquers the hearts and minds of your potential clients, then you can start out with the Truly Artistic theme. The top nav of the template is shifted to the bottom, allowing the full-width hero image to fully capture your clients' attention. The theme would be one of the best to showcase your services, present your resume, and showcase your best works in the Portfolio section.
---
Pettie: Pet Supplies Responsive WooCommerce E-store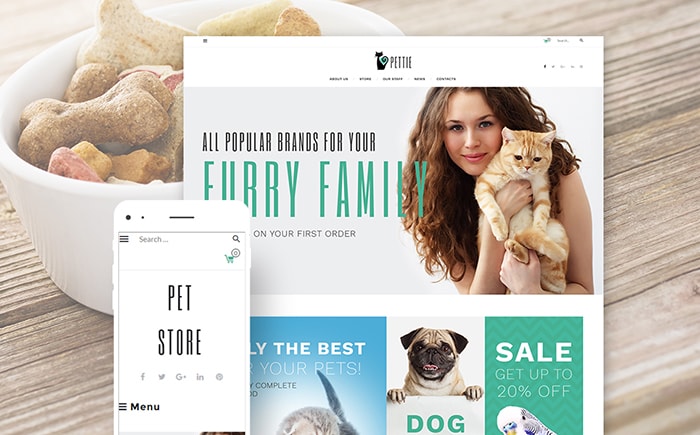 If you're about to run your first online store, you'd better start out with a comprehensive e-commerce solution, such as WooCommerce for WordPress. Installation, fine-tuning, and maintenance of your e-store are carried out in a user-friendly interface with multiple settings. So, you're bound to enjoy the process of creating your first e-store with this well-thought pet store theme.
---
Energico: Garden Care & Supplies Responsive WordPress Site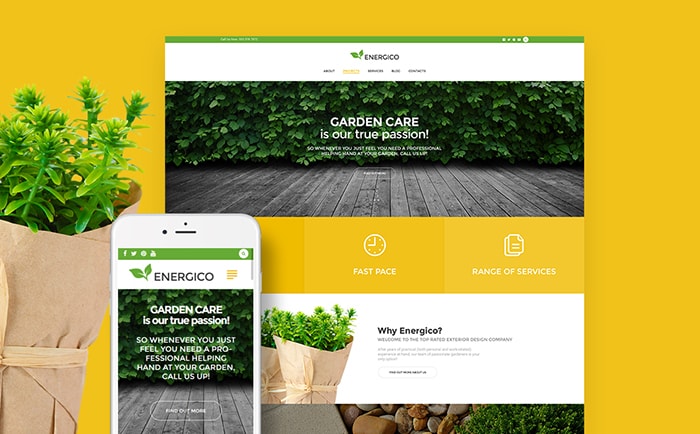 This sunlit garden & agriculture theme is bubbling with energy and fine-tunes site users for positive interaction. The template makes use of nice and flat FontAwesome icons that help you structure the content you present. Intuitively simple and fully customizable Cherry Search that comes with the theme dramatically improves the usability of your website and lets people find right what they are looking for there.
---
Toy-Top: Toy Store WooCommerce Site Design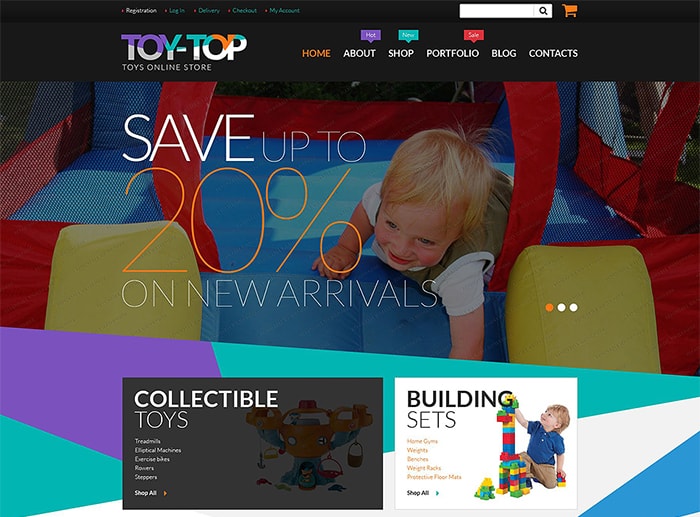 Optimistic and positive, this strikingly-colored theme is the one that creates a fairytale place to sell dream toys and make children happy. WooCommerce brings you full-blown store functionality and lets you offer your clients multiple currencies, payment, and shipment methods. What's more, the theme grants you catchy multi-colored product badges to make your store bestsellers, new arrivals, and items on sale more noticeable.
---
Stone: Free CherryFramework 4 Responsive WordPress Theme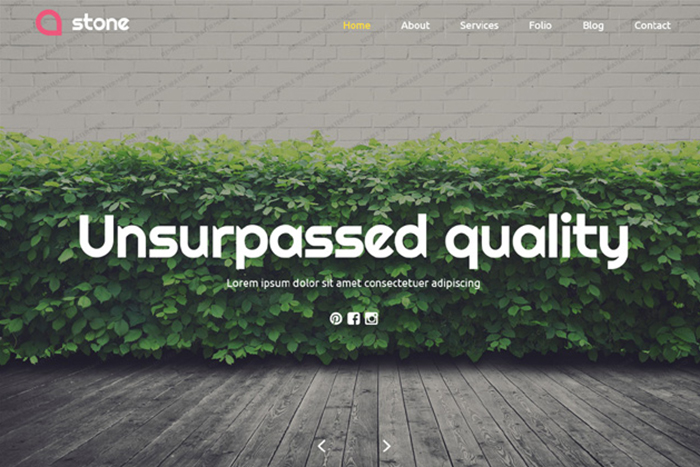 Stone is a free template from a CherryFramework4 family that lets you experience the power this framework gives to your website. It combines minimalism and simplicity with attention to details and well-thought design. Thanks to Mega Menu plugin you get a chance to substitute common-place menu drop-downs with large menu panels, displaying not only links to pages, but also post excerpts, widgets, and banners.
---
BeFlora: Enchanting Flower Shop PrestaShop Template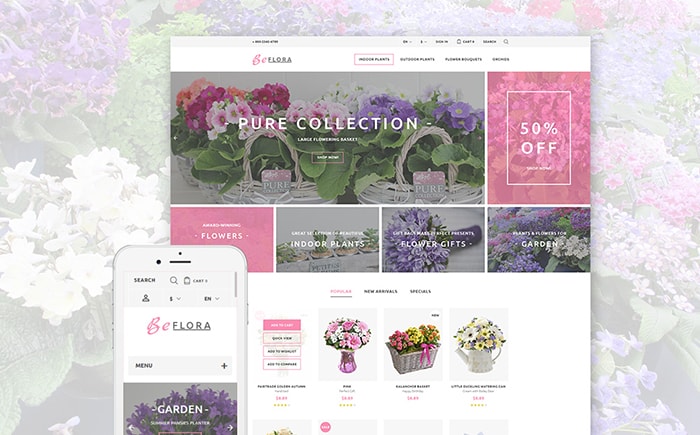 This enchanting flower shop theme combines a soft color palette with negative space that adds room for your best bouquets to shine brightly. Being ideal for small to medium stores, PrestaShop gives you a chance to build beautiful product catalogs and offer your clients handy product filtering options. The template comes with a thick pack of premium modules worth $362 if acquired separately.
---
Shine of Nature: Beauty Store Free PrestaShop Theme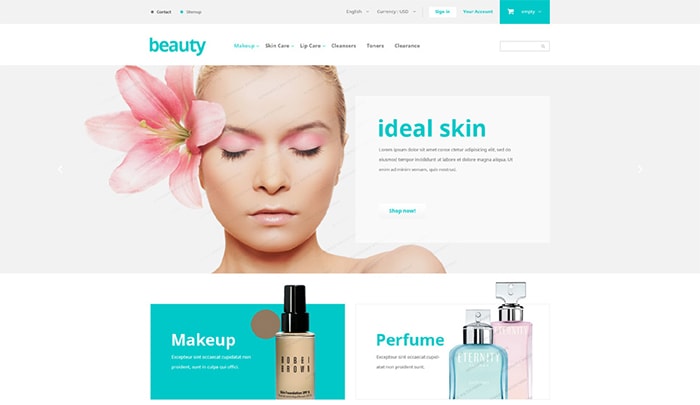 You need a minimalist template that breathes with purity for your beauty store. The Shine of Nature theme is the one that makes the layout of your store uncluttered and provides for the streamlined shopping experience on your website. What's more, the template lets your site guests choose between list and grid catalog views, as well as add the desired items to a Wishlist for purchasing them later.
---
Go Shopping: Free PrestaShop 1.6 E-store Template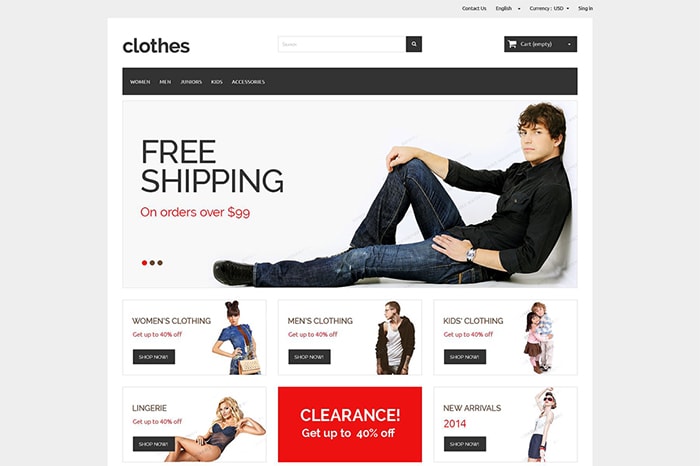 This PrestaShop clothing store theme has a well-structured layout and attracts users with its high-contrast color scheme that uses red for accents. The theme installs effortlessly within 5 minutes, so you can quickly get to the more interesting part of it, i.e. your store customization. Moreover, the coding of the theme is valid, well-structured, and PrestaShop-compliant.
---
Inflatables Store Responsive PrestaShop Website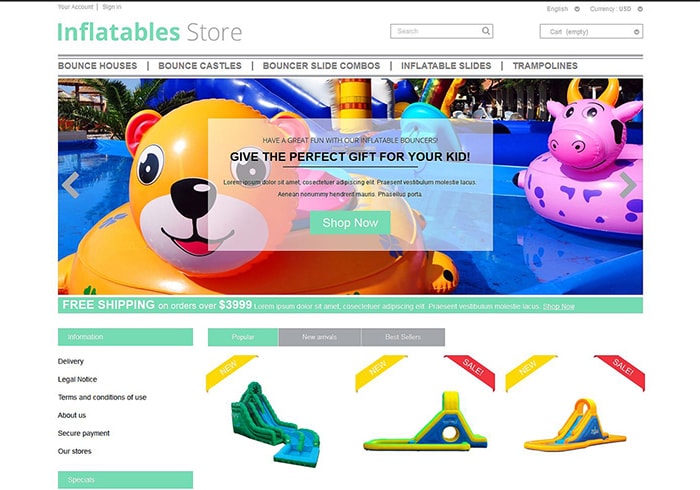 This responsive and cross-browser compatible PrestaShop template can be adapted to run literally any kind of e-store. The template incorporates Font Awesome icons and colorful product badges to make a presentation of your products brighter. Needless to say, the template is extensively documented so that you never get lost on your way to a perfect website.
---
TennisTime: Tennis Accessories PrestaShop Store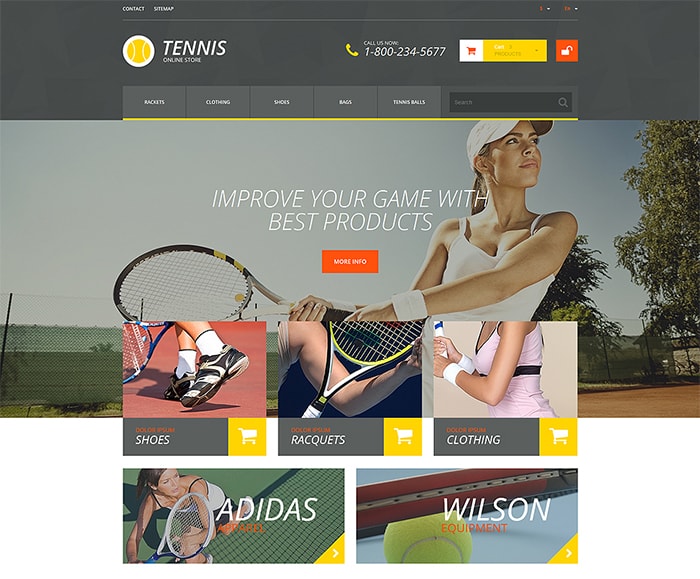 Are you into selling tennis equipment or other sports equipment? Then you need this well-delivered tennis supplies e-store theme with large cart buttons and well-thought color-palette. Switching between grid and list views, your clients will be able to shop the way they prefer.
---
MusicDrive: Car Audio Store Responsive PrestaShop Site Design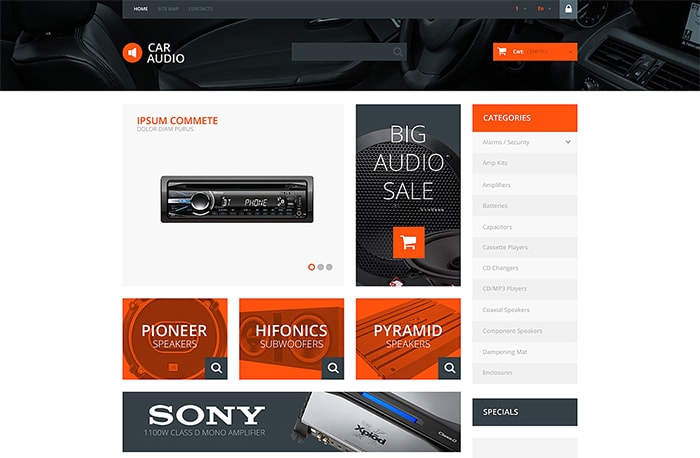 This car audio store has a blast color palette of dark shades of grey and intense orange that proves to be a high-converting one. At the same time, you can change the color palette in a couple of clicks and go for the color combination that best fits your corporate identity. The theme has a clean and well-structured layout with an additional Categories menu residing on the left to boost UX on your website.
---
ProSport: Sport & Fitness Store PrestaShop Theme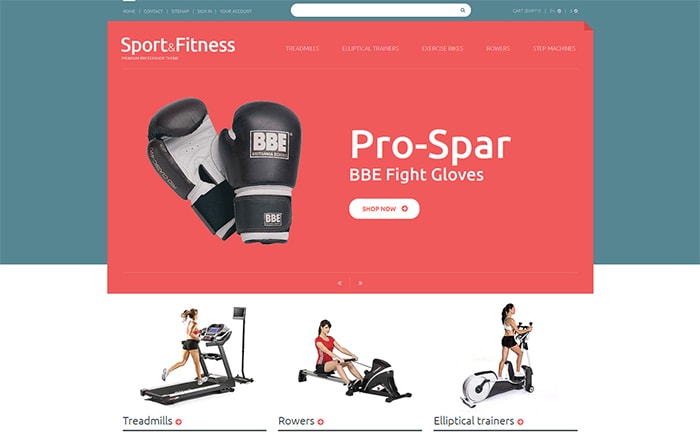 This responsive sports store template has a highly appealing above the fold section that immediately catches site guests' attention. The template also incorporates advanced search that lets users find right the product they need. Moreover, the template is natively multilingual and can be easily localized to make your target audience grow steadily.
---
SweeTella: Sweets and Cakes Store OpenCart Template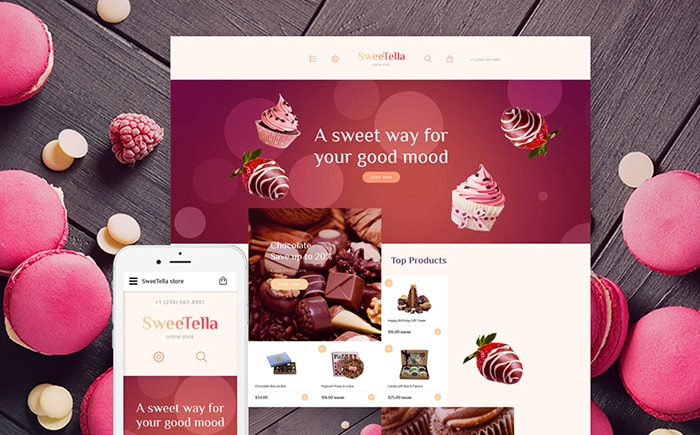 Cherishing the sweet tooth of your guests online is possible thanks to the charming SweeTella OpenCart theme. The theme's homepage makes use of asymmetric blocks that create an intricate mosaic of your store products. Taking into account that OpenCart is one of the most comprehensive e-commerce platforms, running your e-store with this theme is bound to be a true piece of cake.
---
Men's Power: Male Underwear Responsive OpenCart Webstore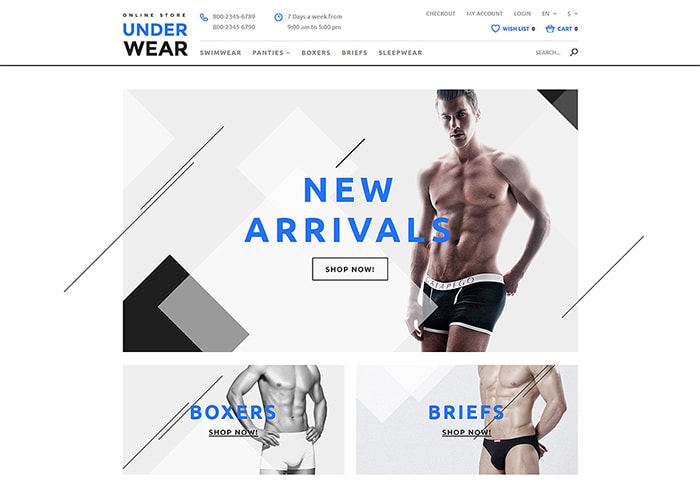 This underwear store theme reflects on the trend of incorporating geometrical elements to the website. What's more, the header of the theme is a true juggernaut, including top navigation and user menu, as well as a search bar, your contact details and opening hours. The template also brings you such features as product zoom and quick view, dramatically boosting the usability of your store.
---
Cozy Feeling: Handmade Candles OpenCart E-store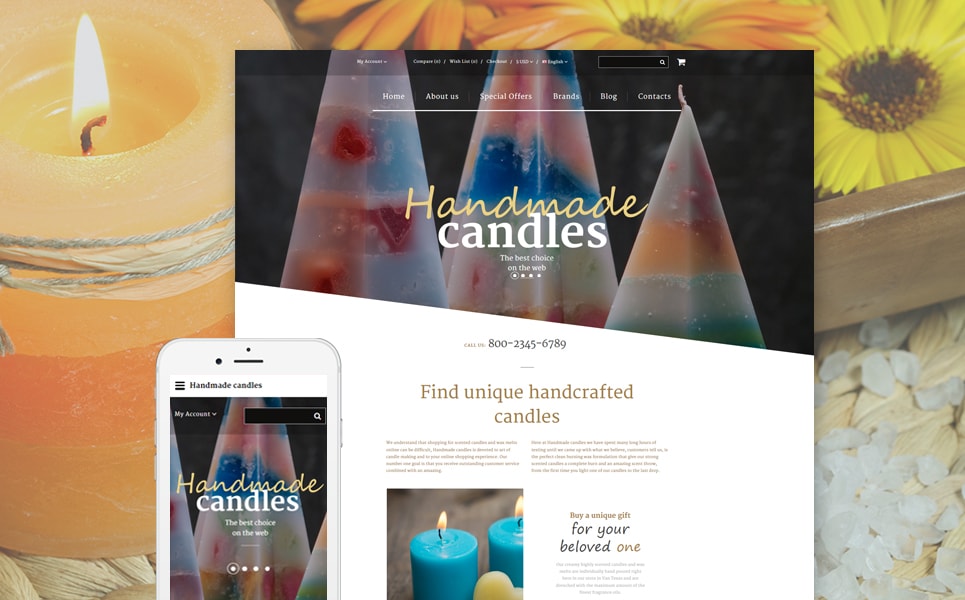 The Cozy Feeling theme is the one that turns your site into a magical abode of comfort and shimmering light. The theme incorporates trendy slanted dividers and mixes content-centered and image-centered sections. Moreover, the template brings you such functionality as Swiper Slider with video slides, MegaMenu, Ajax Search, custom promo banners, newsletter subscription form, etc.
---
ChickHome: Poultry Farm Responsive OpenCart Site Design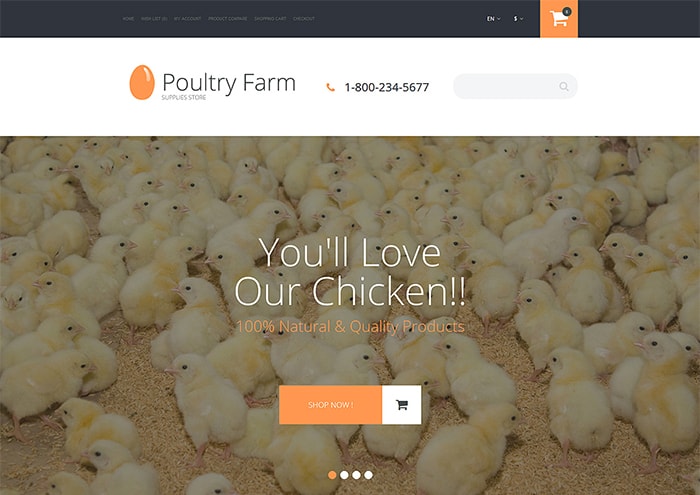 This poultry farm template has a clear-cut content-driven homepage that opens with a winning fullscreen slider. The template offers your site guests a drop-down cart functionality that lets them see the items added to the cart without opening a new window for this. The ChickHome template is powered by the Bootstrap framework that ensures optimal display on small screens and in different browsers.
---
DreamKitchen: Kitchen Essentials OpenCart Theme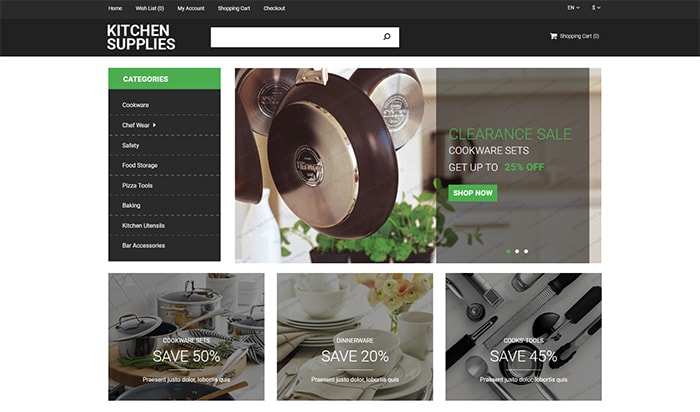 This template for a kitchen essentials store opens with an impressive mosaic of slider, banners, and Categories menu. The banners are there to let you uncover our store's new arrivals, best offers, and discounts. Working with the theme, you'll discover a pack of customizable modules, rich commenting system, multi-currency support, advanced search, integrated online chat, and much more.
---
FlyLine: Private Airline Responsive Joomla Template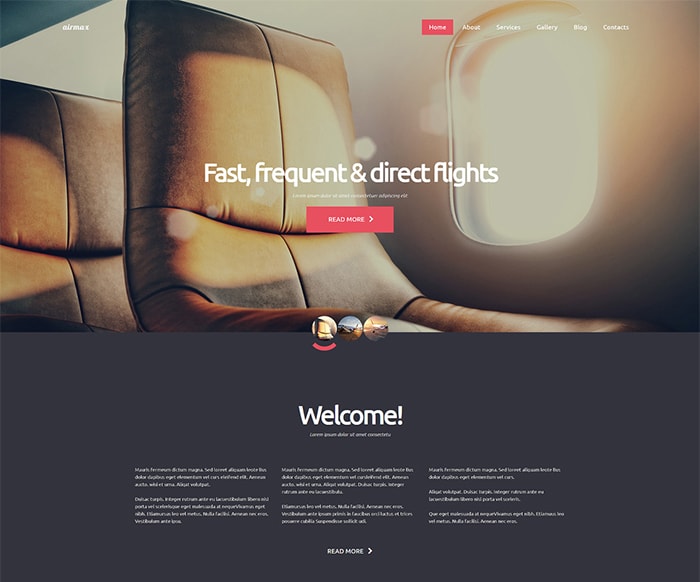 This modern private airline company theme opens with a sleek slider with appealing circular image previews. The template comes with a thick pack of modules, such as Articles – Newsflash, Articles Single, Camera Slideshow, CarouFredSel, TM Ajax Contact Form to boost the UX on your website. Fortunately, you don't need to install these modules one by one as they are all installed in one bundle.
---
Atlantica: Education Center Responsive Joomla Website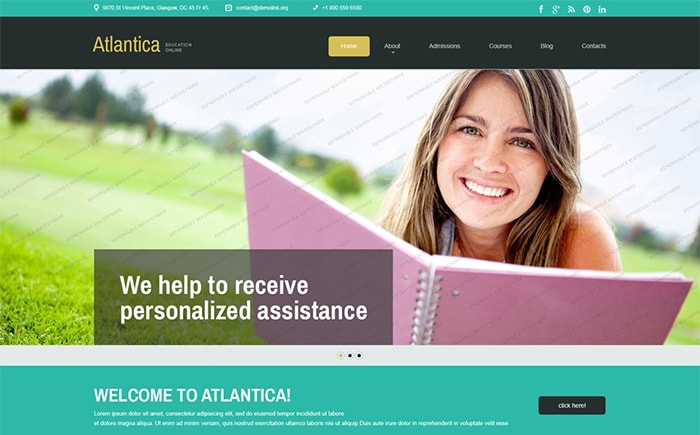 Atlantica free Joomla theme is ideal to try out building your education website with Joomla. This CMS is natively multilingual, so you can start building your website using two different languages from scratch. The Atlantica theme is the one that lets you build animated portfolios with multiple filtering options, as well as pages of different prebuilt page types.
---
Best Attire: Clothes Store Free Magento 1.9 Site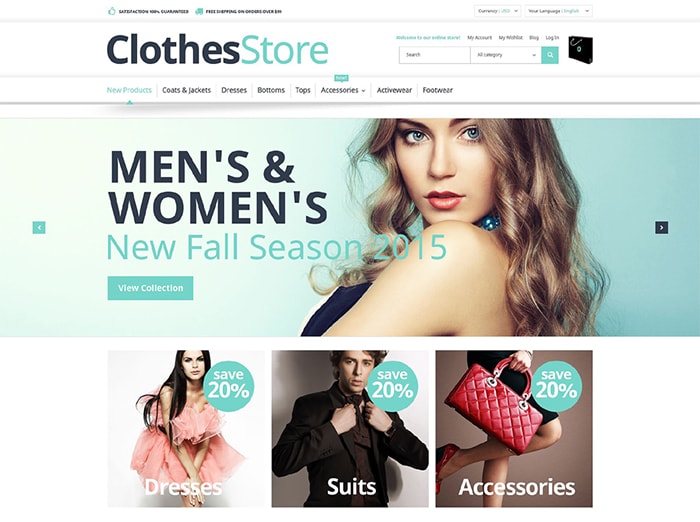 This clothes store theme has a light and airy white-and-blue design that keeps users eager to shop at your e-store. Being a Magento theme, this template lets you build extended product catalogs and rich category hierarchies, so you can power a store of any size with this theme. Moreover, with Magento, you can go multistore and power several e-stores using one Magento installation.
---
DineOut: Restaurant Free Landing Page Website Design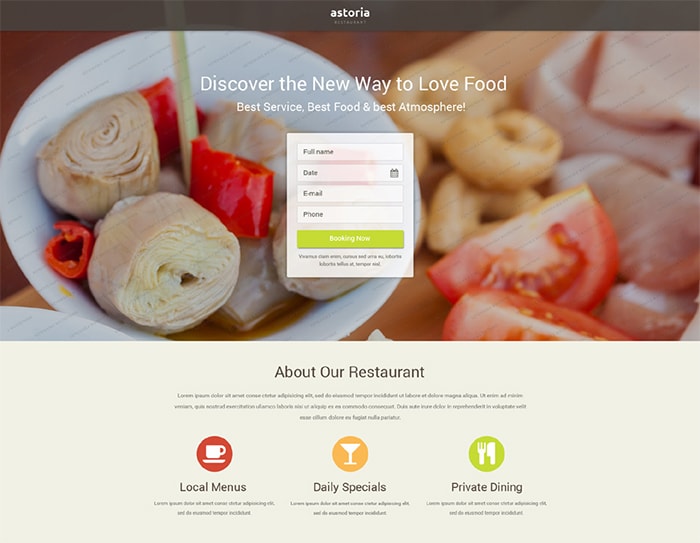 Do you want to build a thrilling landing page for your restaurant that makes people eager to visit your place? Then, you need the DineOut theme that incorporates Parallax imagery and displays attractively on smartphones, tablets, and PC screens. This landing page theme is conversion optimized, so you're bound to see more guests in your restaurant.
---
Flag Store Responsive VirtueMart Template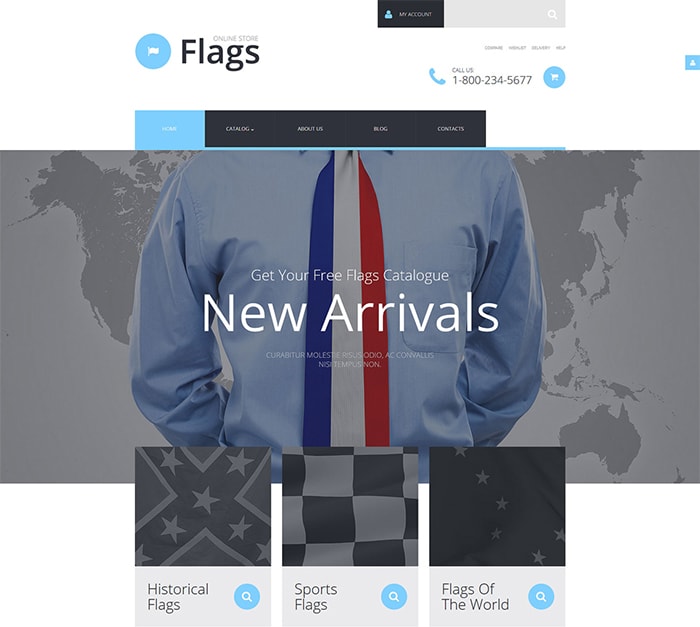 This flag store theme has a reserved, neutral design that lets your website guests center on shopping. Being a VirtueMart template, this theme lets you run a full-fledged e-store based on Joomla. Thanks to Cloud Zoom functionality, the users get a chance to preview even the smallest details of your products inside a modern magnifying lens.
---
CarPoint: Car Market Free VirtueMart 2.0.22 Site Design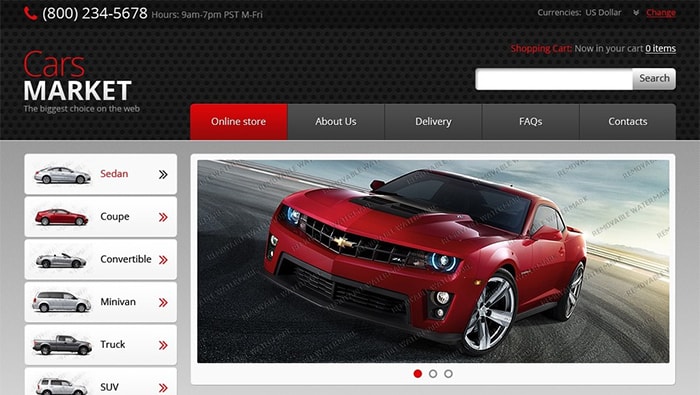 This car market template has a powerful, passion-driven design that appeals to male auditory. The theme's homepage has a left-side category menu with neat car icons that depict different car types. The theme is based on clean, valid and well-structured coding that ensures the stunning and glitch-free performance of your e-store.
---
Success: Business & Consulting Free Responsive Template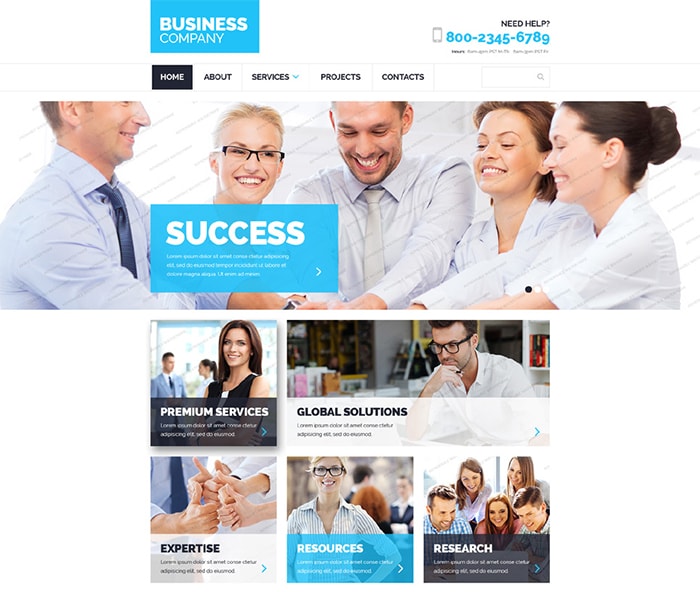 Success is a corporate template to let your company make it to the top online. The template has a professional, balanced look and reflects the best traditions of corporate web design. It brings you impressive slider and winning banners, the appeal of which is amplified with the Parallax effect and intricate hover animations.
---
Corporation: Business Free Full JavaScript 2 Website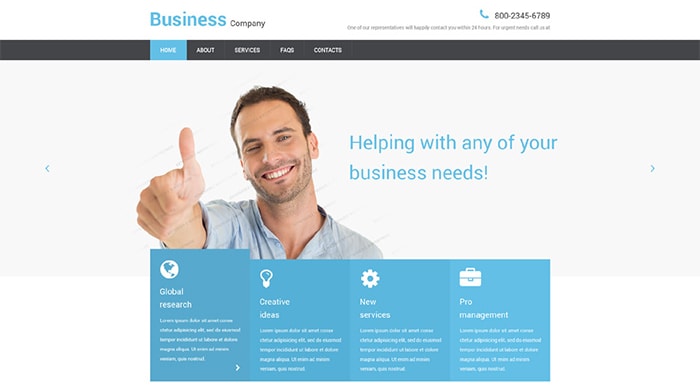 If you want to establish a strong online presence for your company, then you need a down-to-earth business theme that's developed by professionals. A corporation is a theme for you to fall in love with. It's fully animated with JavaScript and ensures the great performance of your highly professional website.
---
Plam: Plumbing Supplies Responsive Zen Cart Site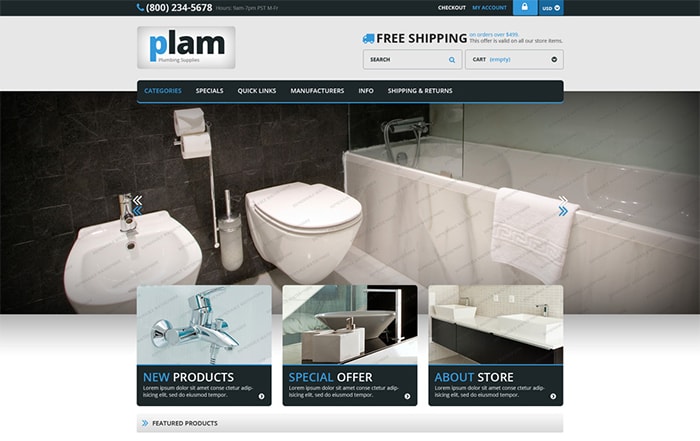 This plumbing store template combines simplicity, elegance, and professionalism. The theme incorporates all the needed trust signals to make people go for shopping from you. To boost the user experience on your website, the Plum theme not only brings you comprehensive catalogs but also takes top website navigation up a notch with MegaMenu.
---
CookRoom: Kitchenware Free ZenCart 1.5 Site Design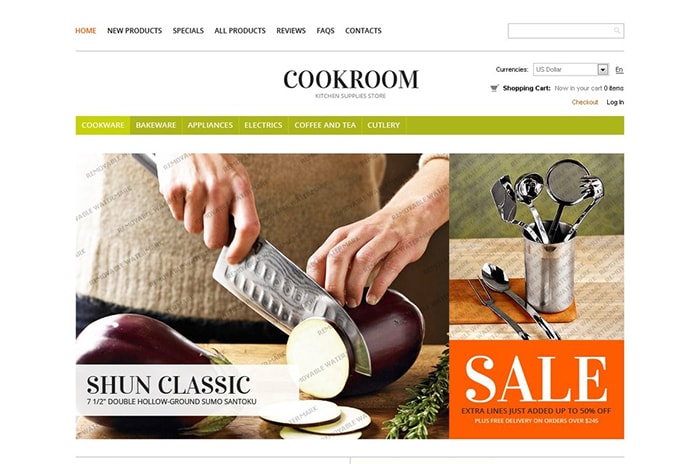 If you want to understand the principles of working with Zen Cart before purchasing a theme, then you can go for CookRoom free theme. The template is simple in installation, and its customization won't be rocket science as well thanks to extensive documentation that comes with the template.
---
Sporty: Sports Store Responsive Shopify Theme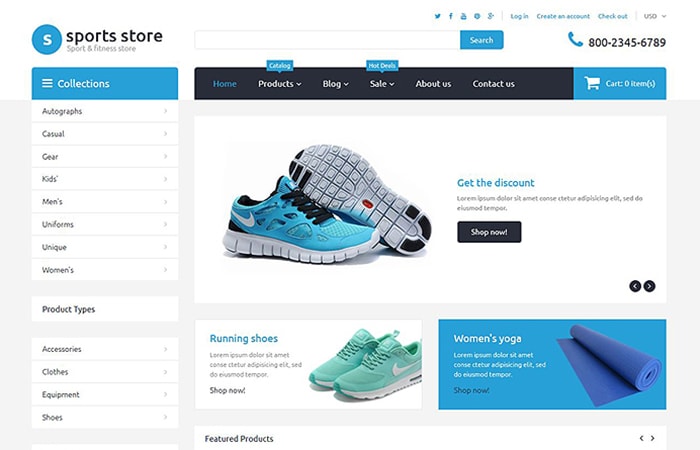 This theme lets you build a beautiful sports store with Shopify. This paid engine frees you from the turmoil of template installation and comes with fast and secure Shopify hosting. At the same time, the template provides for delivering comfortable shopping experience, with categories menu, filters, and product search available.
---
DaVinci: Museum & Art Gallery Free Drupal Template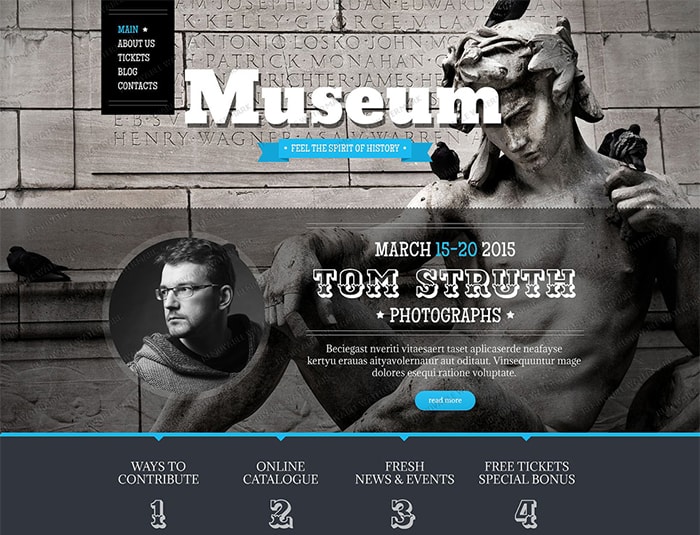 The DaVinci theme is the one that immerses your site guests into the mysterious world of the past. Built for Drupal fans, the template brings you multiple customization options available in the extended Drupal admin panel. What's more, you'll enjoy the beautiful hand-crafted fonts that the theme uses to make your website more striking and memorable.
---
HomeDeco: Interior Design Free Responsive Drupal 7.x Site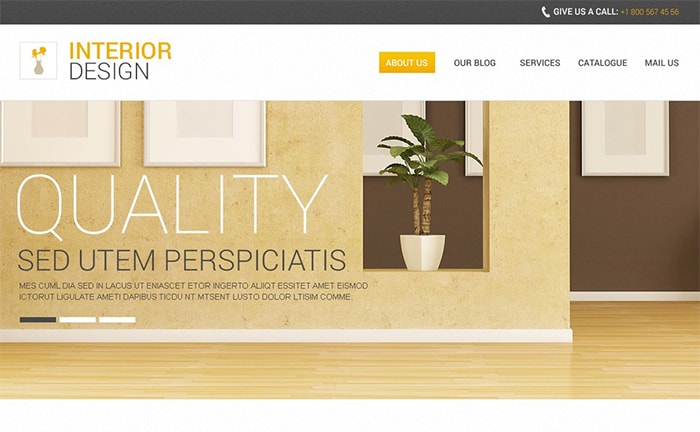 This interior design template has a solid layout and makes use of an eye-pleasing color palette. If you have any doubts, whether you'll handle launching your website on Drupal, this free theme is great for you to give it a try. Moreover, the documentation folder is attached to the template, so you'll always have step-by-step guidance to rely on.
---
Fine Furniture: Free Drupal Template With Extra Features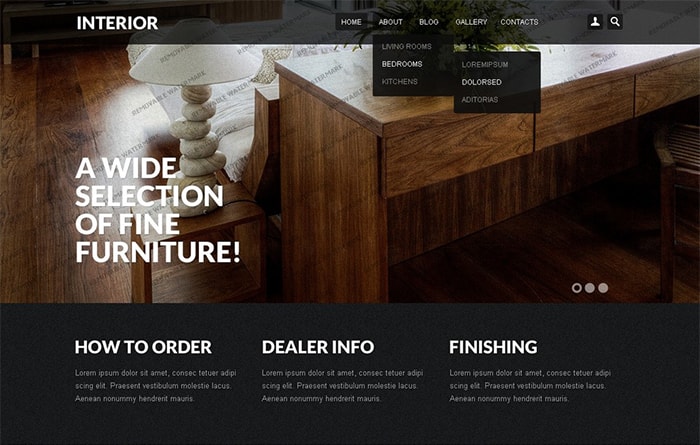 Fine Furniture theme has a balanced design and makes use of a subdued color palette. The template is built with pure and well-tested HTML and CSS coding and includes a set of top-notch features. It provides for trouble-free automatic installation, rich backup functionality, WYSIWYG editing, and social media integration.
---
Precious Presents: Gift Store OsCommerce Site Design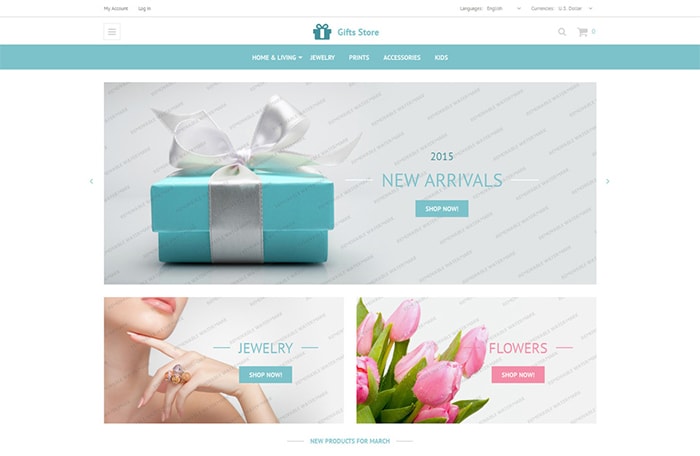 If you want to try what OsCommerce is, then this tender gift store theme will come handy. It impresses with a beautiful auto-advancing slider, product previews that display the 'Add To Cart' button on hover and rich galleries that show the gifts you offer in real life.
---
Construct: Architecture Company Free Adobe Muse Website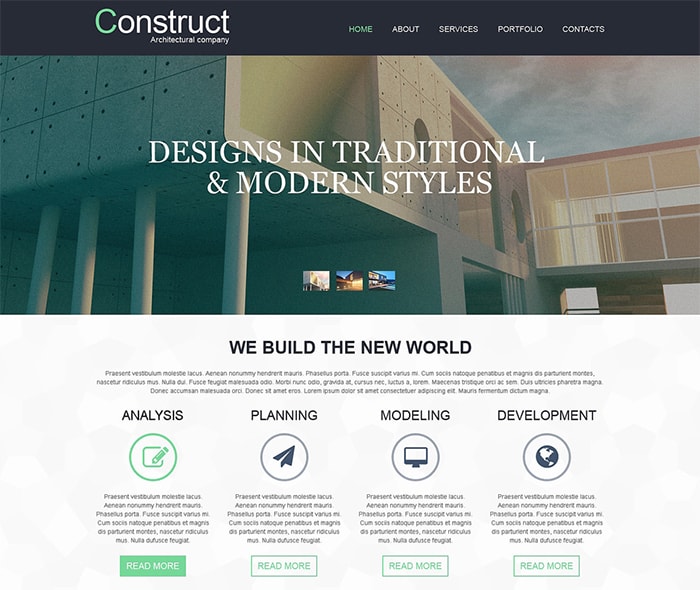 Have you ever heard about Adobe Muse? It's a wonderful website composer that lets all the newbie's build websites with simple drag-n-drop. At the same time, you'll be amazed by the features the theme delivers. So, don't hesitate to give it a try!
---
Are you amazed by the blast of website greatness that's available free of charge? Here you don't have to go for just one theme. Pick a couple of themes to get your first hands-on experience with different CMS and e-commerce website engines. Tell us about your experience in the comments section below.
I wish you find the type of templates you like most of all and go for a premium template to create a website of your dream!
Take care!