29 Best Responsive HTML5 Templates 2020 For Web Development & Applications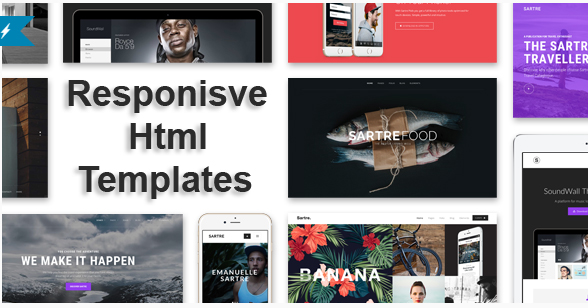 Are you looking for the Best Responsive HTML5 Templates 2020? Here you can get the Best Responsive HTML5 Templates for Web Development & Applications.
1. Sartre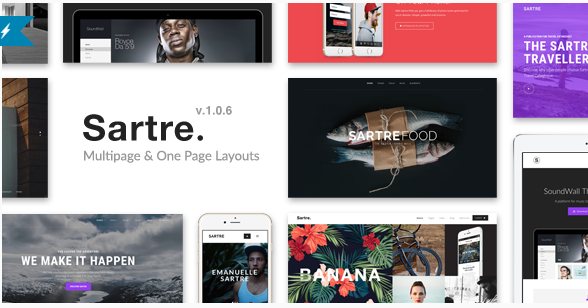 Sarte – One of the Best Responsive HTML5 Templates. Sartre is a flexible, well-crafted template that offers a range of unique concepts, pre-design blocks, a bunch of components, and plug-ins. Build a unique and solid website that functions well on desktop, tablet, and mobile.
---
2. CityTours – City Tours, Tour Tickets and Guides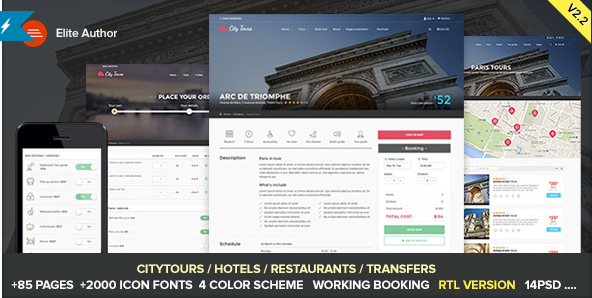 CityTours is an HTML5 site template suitable for companies/agencies that provide services for tourists: can be used to provide general city attractions information, buy tickets, tours, tour guides, hotels and transfers, travel.
---
3. Material Design Admin with AngularJS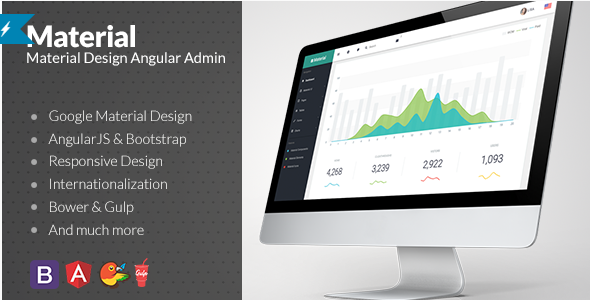 Material admin is a Google Material Design-inspired admin dashboard template built with Bootstrap and AngularJS.
---
4. Packet – AngularJS + HTML Web App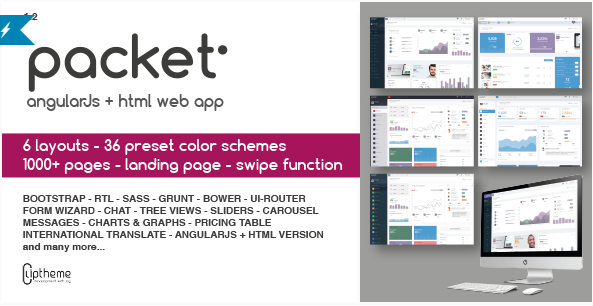 Packet Admin Theme is an AngularJS admin dashboard template specifically designed for developers and conceived to offer you unlimited resources for any project, from a management system to a backend, a CMS, a CRM, or simply a welcome page.
---
5. Sitebar – Mobile & Tablet Responsive Template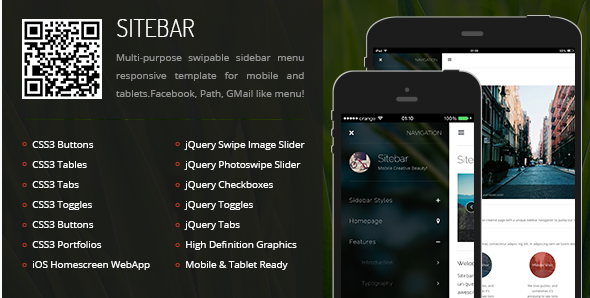 Sitebar is a Mobile Template and a Tablet Template offering all mobile compatibility. It's a sitebar, a sidebar that is activated by swipe gestures and has the ability to use multiple solid color backgrounds and also background images.
Sitebar is a template like no other, in the sense that the sidebar can harvest your product as an image and gives you the ability to use different product backgrounds for each page.
---
6. Salt – Multi-purpose HTML5 Template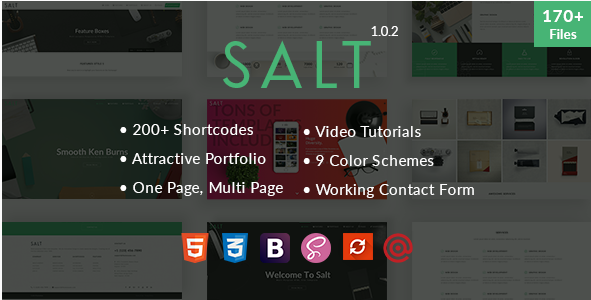 Salt – One of the Multipurpose Responsive HTML5 Templates. 'Salt' is an awesome HTML theme. It is a versatile, high-performance template comprising an extensive array of styled elements to fulfill all your website requirements.
Create an attractive and user-friendly website in a snap. The bundled features will make a clean and modern design for your website.
The portfolio range is vast and diversified to cater to all sets of customers and meet the requirements of the clients.
---
7. BOOKRA – Multi-Purpose HTML5 Template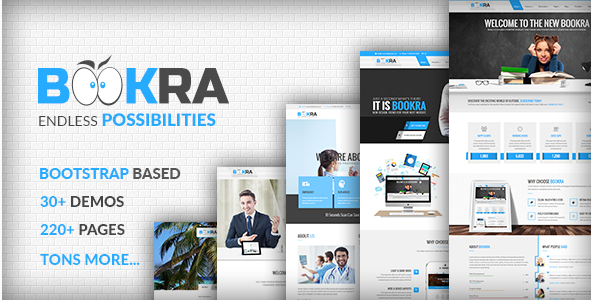 BOOKRA is a Bootstrap-based Multi-Purpose Responsive HTML5 Template built using HTML5/CSS3 features and suitable for creative companies, agencies, and freelancers that need a professional way to showcase their projects, services, and sell their products.
BOOKRA is fully responsive and retina-ready so it works nicely on smartphones, tablet PCs, and desktops.
---
8. Borano – Photography / Portfolio Template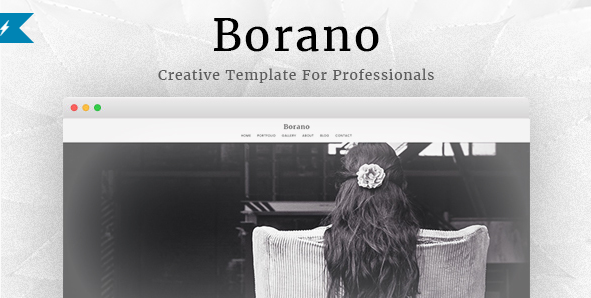 Borano is one of the Best Responsive HTML5 Templates for Photography & Portfolio powered with Bootstrap.
It is easy to customize & fully responsive with multiple slideshows, light/dark Theme, keyboard and mouse wheel navigation, horizontal gallery square measure a number of the value of the superb option for empowering your business.
---
9. Advisor – Consulting, Business, Finance Template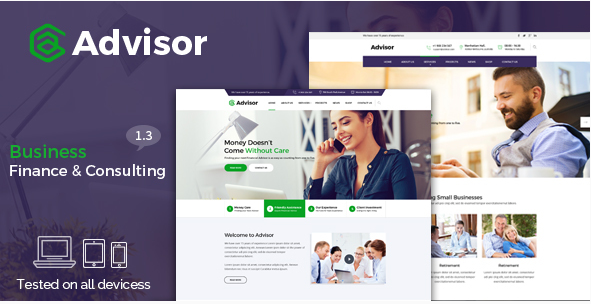 An advisor is a Clean, Modern, and HTML5 Template. An advisor is best suited for a corporate website like Financial Advisor, Accountant, Consulting Firms, insurance, loan, tax help, the Investment firm, etc.
This is a business template that is helpful for online presence for Corporate Business and Financial Firms.
Its fully Responsive HTML5 Templates design and clean were tested on all major handheld devices. Unlimited possibilities & flexible that will easily be able to support every site development.
---
10. Treson – One Page Agency, App, Startup Responsive HTML Template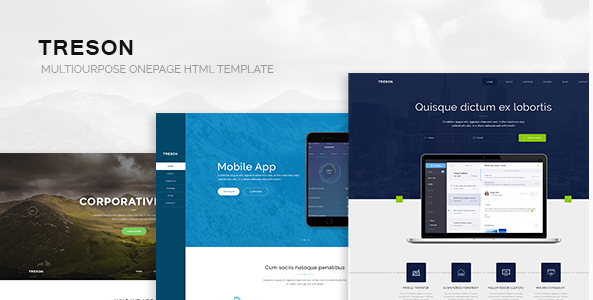 Treson is a one-page business HTML/Bootstrap template. The design has an elegant and modern style and can be used for a digital agency, freelancer, app, startup, business, services, software.
It has a responsive layout and comes with 3 completely different landing pages with blog layouts, galleries, FAQ, pricing tables, working PHP contact forms, testimonials, sliders, features, portfolio.
This HTML/Bootstrap template can be easily customized – it has a well-commented and structured code with extensive documentation.
---
11. Pillar – Multipurpose HTML with Page Builder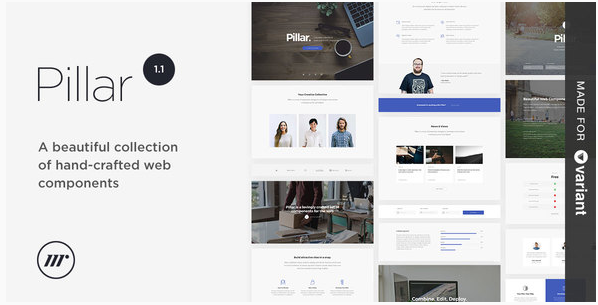 Pillar, A versatile multi-purpose Responsive HTML5 Template for Discerning business. It has 100+ Fully responsive HTML template files, 20 Uniquely designed and styled home pages, 150+ Blocks in Variant Page Builder, Boxed or wide layouts via a single body class & Square or Round buttons via a single body class.
---
12. Buro – Minimal Bootstrap & Typography Portfolio Template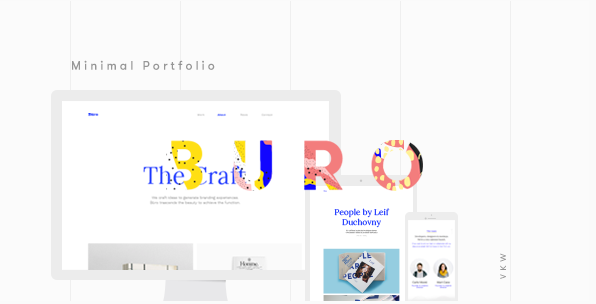 Buro is a minimal portfolio HTML5 template focused on solving small agencies, studios, and freelance needs.
With Buro, you´ll be able to create your own layout by working with the flexibility provided by Bootstrap 3, the most popular framework created by Twitter.
With a few classes and some in-built code modules (pre-written snippets), you can add many different elements in order to create your own layouts and compositions.
An easy but powerful template focused on doing things easy, not bloated with thousands of confusing options and features, only the necessary to set up your site easy and fast.
---
13. Infinity – Responsive Web App Kit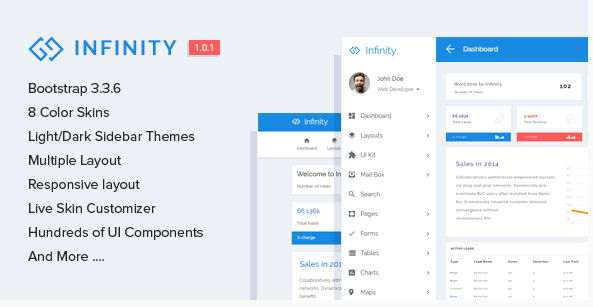 Infinity is a responsive Bootstrap 3.3.6 Admin Template. It provides you with a vast collection of ready-to-use code snippets and utilities many custom pages and a collection of applications and widgets.
---
14. Elementy – Multipurpose One & Multi Page Template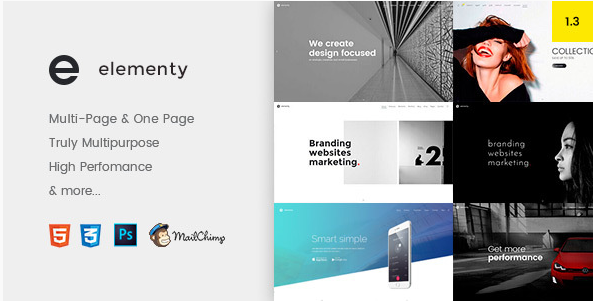 Elementy is one of the Powerful Multipurpose One & Multi-Page Responsive HTML5 Templates.
Elementy is a cross-browser compatible, retina-ready, responsive multi-purpose template that is suitable for a wide variety of websites. Elementy has 270+ pages, free premium plugins, and tons of customizations, that'll help you create your unique website.
Elementy has been built using a modular, responsive block that makes designing easier.
---
15. Builder – Building & Construction HTML Template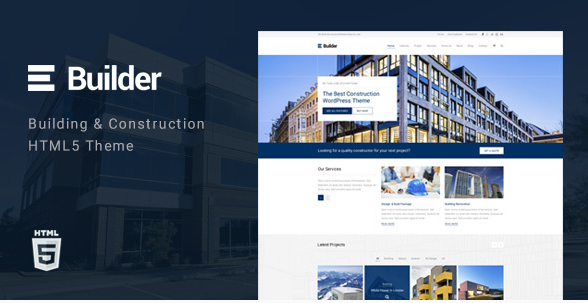 BUILDER is one of the premium Responsive HTML5 Templates designed to showcase your building and construction business in the best way possible.
A builder is designed to showcase your services and help your business grow.
---
16. SoftEase – Multipurpose Software / SaaS Product Template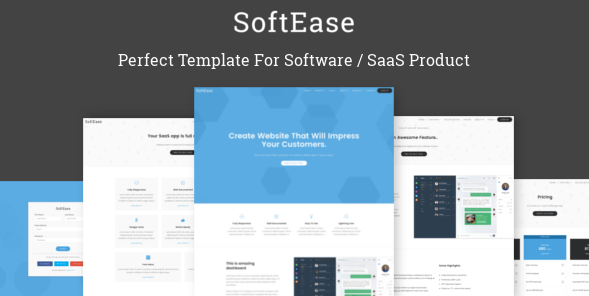 'SoftEase' is specially designed and developed for software / SaaS products. It is a fully responsive template based on Bootstrap's latest version.
SoftEase provides a wide array of usable & flexible features that are fun to use in itself.
---
17. Trade – Modern Classified Ads HTML Template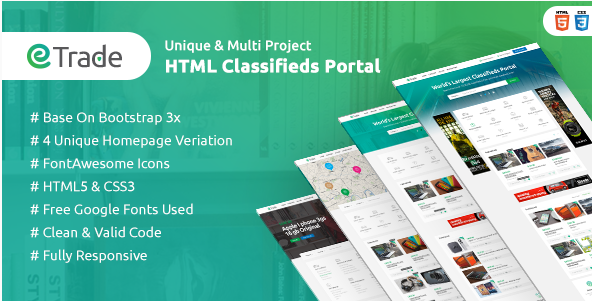 Trade is one of the modern Classified ads Responsive HTML5 Templates. Built with Bootstrap 3x. Trade is the most complete template for classified ads.
It's very easy to customize according to your needs.
---
18. HostHubs – Responsive Site Template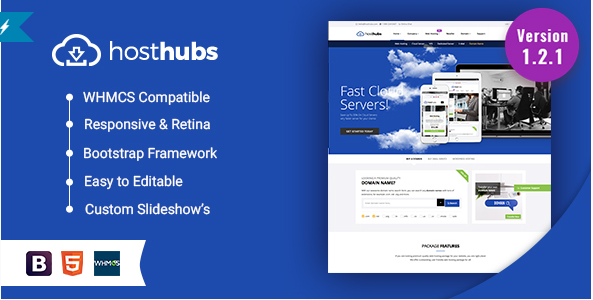 The HostHubs template ideal for web hosting, business, company, multipurpose, domain sale sites, education, university, online business, technology blogs, paid membership sites, personal blogs, and similar sites.
You can build powerful web hosting sites with our awesome pricing tables and custom hosting page examples.
---
19. NowaDays – Multipurpose One/Multipage Creative Agency HTML5 Template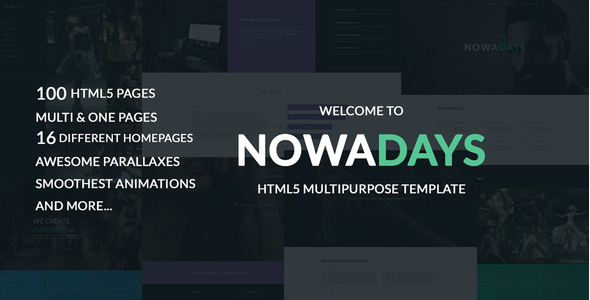 NowaDays is one of the powerful One/Multi-page Multipurpose Responsive HTML5 Templates that help you create Creative/Agency/Portfolio/Blog/Showcase/Whatever site to present your product or service best way.
It includes One page and Multipage layouts, a lot of options, and possibilities to customize which guarantees that your site will be stand out from the crowd.
---
20. Adios – Modern & Clean, Creative HTML Template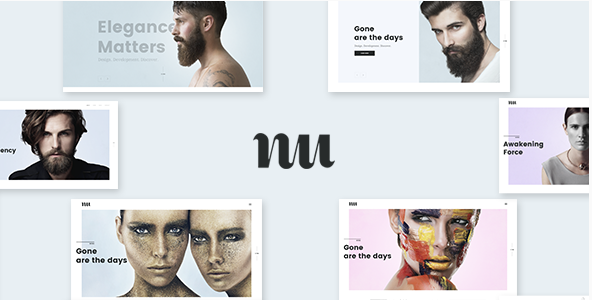 Adios is one of the minimal, clean, and modern Responsive HTML Templates for anyone who wants to build an amazing & modern portfolio website.
It is suitable for any corporate, creative freelancer, or business agency. You can get portfolio websites of any niche designed with Adios.
This template is crafted with care for each pixel and consists of well-organized PSD files. Feel free to contact us regarding any issue with this template.
---
21. Porto – Responsive HTML5 Template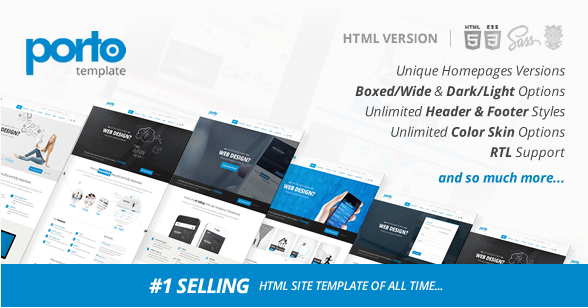 Porto is best for any business or portfolio website, it's fully responsive, able to look beautiful on any device.
Customize your website the maximum amount as you wish, you've got a lot of layout prospects with unlimited variations and colors.
---
22. Canvas – The Multi-Purpose HTML5 Template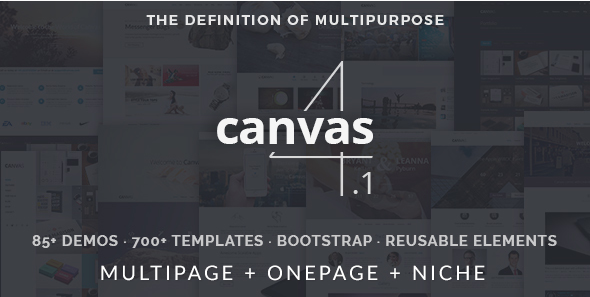 Canvas is one of the Powerful, Raw Multi-Purpose Multi-Page & One-Page Responsive HTML5 Templates.
Build whatever you like with this Template. Be it Business, Corporate, Medical, Travel, Construction, Real Estate, Media Agency, Portfolio, Agency, Magazine, Parallax, Wedding, Christmas, Restaurant, Blog.
---
23. Pivot – Multi-Purpose HTML with Page Builder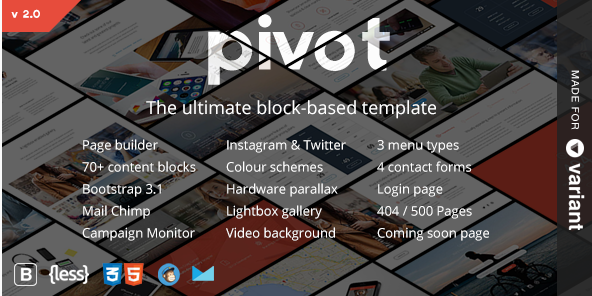 Pivot is one of the fully-featured multi-purpose, Bootstrap-based Responsive HTML 5 templates that looks effortlessly on-point in business, education, agency, portfolio, or resume template applications.
---
24. Foundry – Multipurpose HTML + Variant Page Builder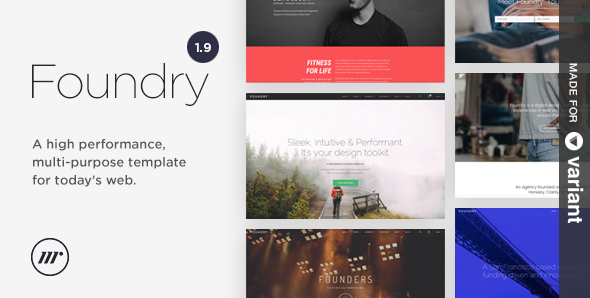 Foundry is a versatile, superior model activation an intensive array of titled components for all occasions victimization clean, linguistics markup, and well-structured CSS and fewer that developers love.
The manufacturing plant can feel the right reception on any business website and excels in a portfolio and private website applications.
---
25. Nevia – Responsive HTML5 Template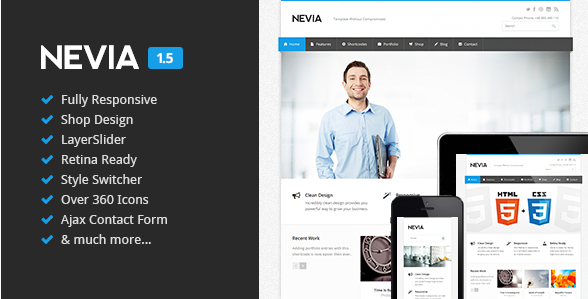 Nevia is one of the awesome Responsive HTML5 templates created for corporate and portfolio websites – business sites needn't be boring!
It features a very clean and minimal design that is perfect for showcasing your work. It is also optimized for Retina Displays (used in iPhone, iPad, and MacBook Pro Retina).
---
26. Centum – Responsive HTML Template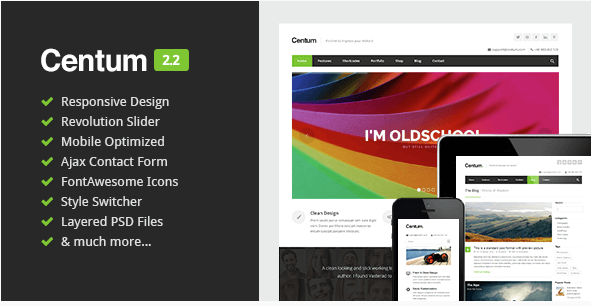 Centum features a very clean and minimal design that is perfect for showcasing your work.
It is very intuitive to use and completely ready to operate out of the box – a lot of thought and care went into this theme making it a pleasure to use.
---
27. Unite – HTML Business, Magazine, Community Site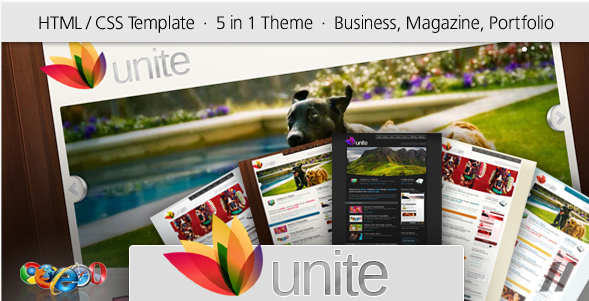 Unite is a merger of crisp design and powerful communication. It takes a clean, organized approach to present content so it's easier to find what you want. The theme includes page layouts for a full-page, 2 columns, 3 columns, blog pages, portfolio, HTML contact form, and 2 administrative login styles.
This is an HTML template with 5 pre-made skins including a dark theme and textured background theme.
The theme is easy to modify and ready to be up and running out of the box. The PSD files included have been customized to allow fast skinning.
---
28. Travelo – Travel, Tour Booking HTML5 Template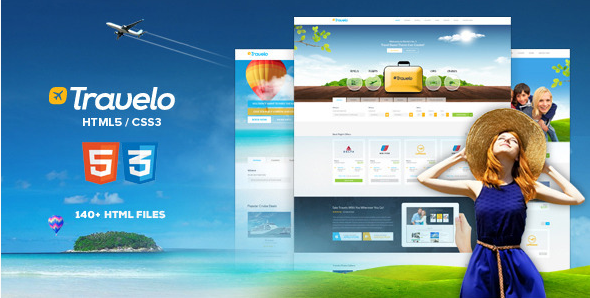 Travelo – One of the Travel, Tour Booking Responsive HTML5 Templates is one of the best Travel & Tour booking templates in the world.
This template is suitable for companies and agencies that provide services of a hotel, car rental, flight, cruise, and tour. You will have tons of color skins, layout possibilities with unlimited variations and colors.
---
29. Book Your Travel – Online Booking HTML Template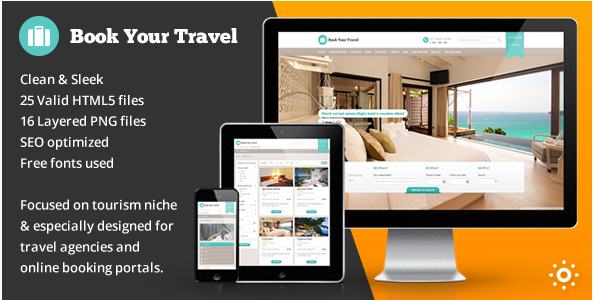 Book Your Travel is one of the Responsive HTML Templates ideals for booking portals, travel agencies, hotels, bed and breakfasts, guest houses, villas, etc. or travel blogs, but it would suit any business with slight customizations.
---
Thanks for readout the entire list. Have any query in your mind then please share in the below form.
Conclusion:
This collection of 29 Best Responsive HTML5 Templates of 2020 will surely gonna meet your expectations. Please feel free to give us your feedback in case if you face any issues. Enjoy!!