6 Best Responsive Shopify Themes & How To Work With Them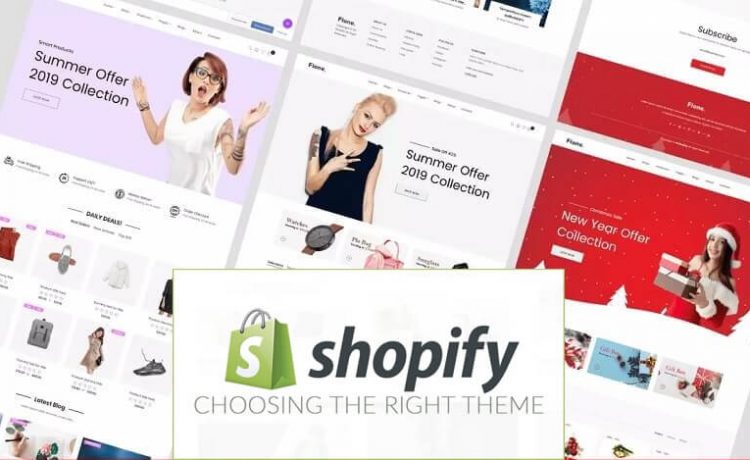 Do you want to know what are the best responsive Shopify themes and how to work with them? If yes, then keep reading this article.
Recently, we hear a lot about responsive design, websites, and applications. Everyone emphasizes the importance of user experience on any platform, its focus on the needs of the client. It is essential to adhere to these principles regarding digital commerce.
Due to the great competition in the field of online stores, it is not enough to simply place your products there with their detailed description and provide minimal functionality. This is exactly the mistake e-commerce business owners make when creating a site in builders like Shopify.
The site of a successful online store should be as responsive as possible and oriented to all user requests. This can include different device screen formats, browsers, and many other aspects. We have collected a few more important tips, without which it will be difficult for you to achieve the desired result in your work on the Shopify platform.
Also, you can check: How Many Store Owners Make A Profit On Shopify?
How To Create An Effective Responsive Site Design.
1. Start With Functionality and Finish With Visuals.
In order not to miss any important function that may be needed by your potential users, you should start working on the site with functionality. Outline all the key and additional points and needs that may arise while using the online store. Then integrate it into the most user-friendly and intuitive form and design solutions.
2. Look For Solutions On Reliable Resources.
Of course, most of the work will depend on you, but in the process of creating a website design, you can use ready-made solutions. Find a Shopify theme platform like MasterBundles and choose the responsive option you want. Already based on a ready-made theme, it will be much easier to achieve an adapted and user-oriented site.
3. Consider All Formats and Browsers.
When we say all, we mean all popular screen sizes of both smartphones and laptops or personal computers. The site must adapt well to the screen format of your target user, so you can start by studying the regional features of using devices. You also need not forget about browsers. Here it is easier because there are not so many of the most common ones, but this point should not be neglected either.
4. Edit Themes For Shopify.
Even the best templates don't always take into account all the needs of your target audience. Therefore, editing and changes even in every second function or detail will never be superfluous. Use the colors of your brand, leave the necessary functionality, and do not forget about responsive themes. Here you can familiarize yourself with effective templates for various topics: https://masterbundles.com/templates/shopify/.
5. Test and Test Again.
Defects can only be detected by checking the site in action. To bring the user experience to the ideal, you need to become that user yourself and evaluate the user experience in practice. The more qualitative and detailed you test the finished site, the more effective changes you will make, and the better the result will be.
Now let's move on to the Shopify themes themselves. There are a lot of them, they are thematic and satisfy different purposes. All templates with responsive design are collected here: https://masterbundles.com/templates/shopify/responsive/. We have selected some of the best positions in this category.
Top 6 Responsive Shopify Themes.
1. Minimal Shopify Theme – Flone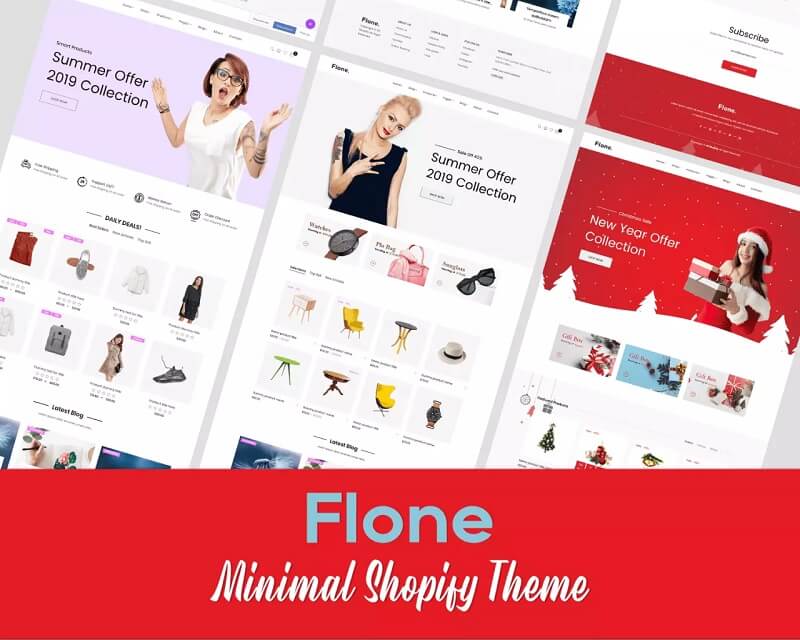 This template looks simple at first glance, but its functionality will amaze you. It includes different types of menus, 25 sections, many options for sorting products, and different ways of designing products on the page. The best thing is that this template fully adapts to different screen formats and guarantees fast loading, which will ensure an efficient user experience.
---
2. Single Product Shopify Theme – Sinp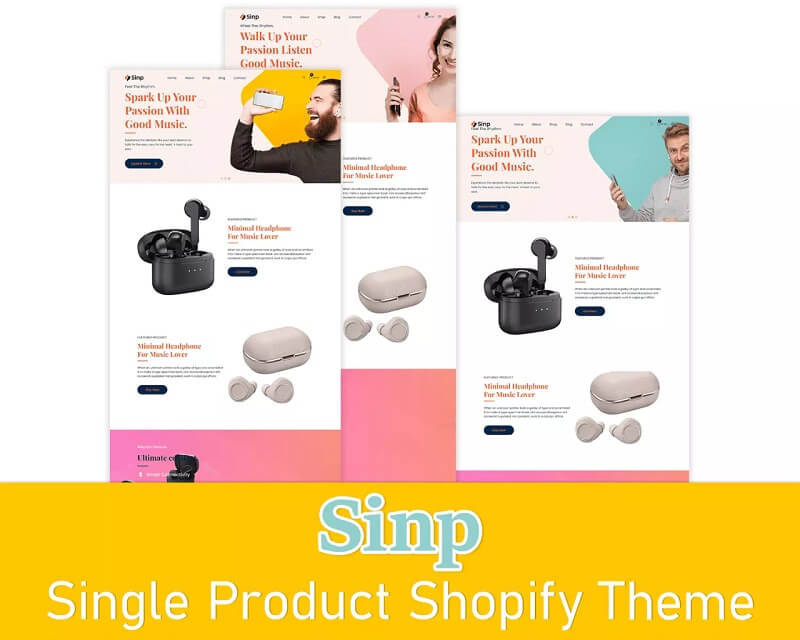 It is a versatile Shopify theme with a simple and effective design. This an ideal option for sellers who want to minimally interfere in editing the appearance of the site. Every detail of the template is well thought out – user experience was taken care of for you. The theme offers 4 variants of the main page, a convenient menu, and different ways of presenting products on the page. Besides this, the template is compatible with all browsers and devices.
---
3. Shopify Theme Colorful – Studio Joy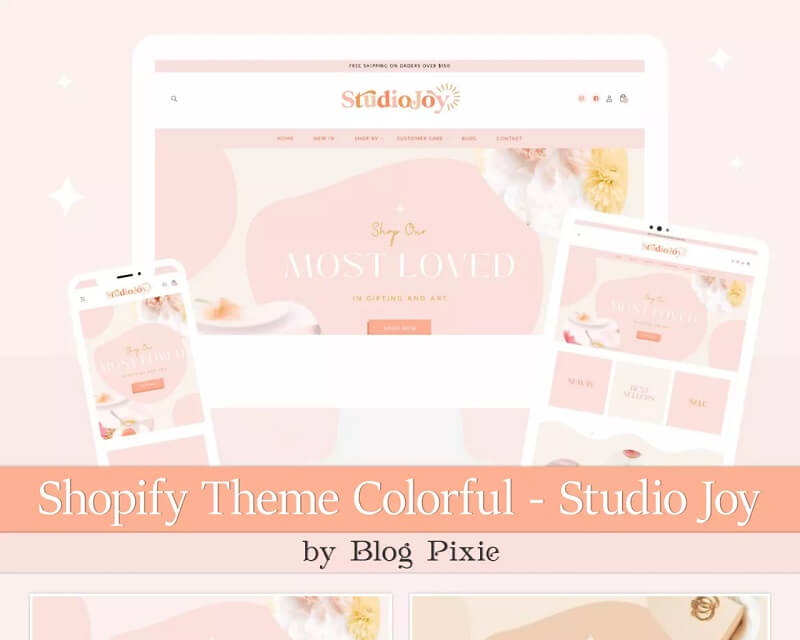 If you want to personalize the ready-made template as much as possible, this option is for you. In this theme, you can edit sections of pages, create customized versions of any part of the site, and fully control fonts and colors. Moreover, the template is sold with a step-by-step Installation Guide to simplify this preparation stage for you.
---
4. Earthy | Neutral Boho Shopify Theme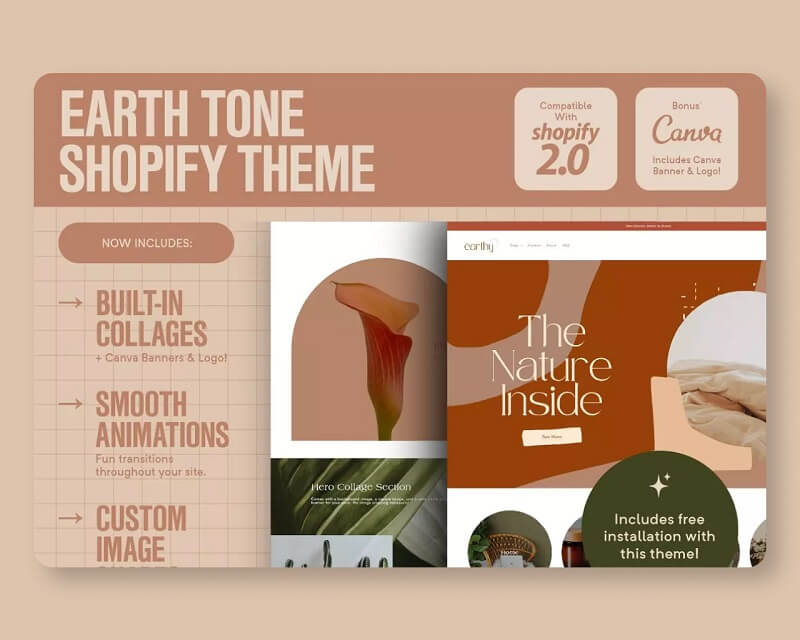 The main difference of this template is that it is developed by a seasoned and expert Shopify Developer. This guarantees its efficiency for your customers' use and a simple editing process. The theme combines interesting fonts, animations, and color solutions. Besides this, the template ensures the creation of an intuitive design in the final result, which is the basis of a successful user experience.
---
5. Shopify Theme | Luxury Streetwear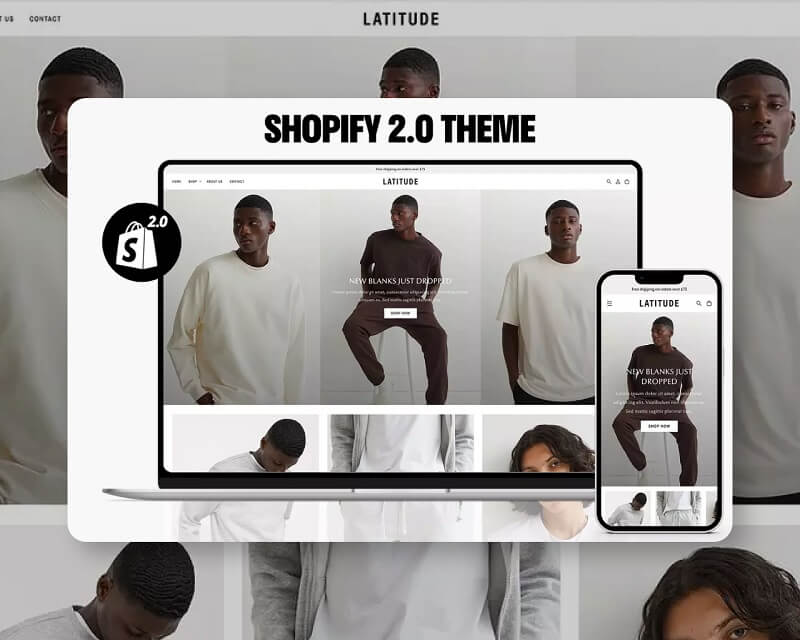 This template comes with video tutorials to help you customize your site successfully. The theme is fully optimized for Shopify's Online Store 2.0 OS. The template has ready options for the main page, blog, contact design, and other important elements. Also, you can add a lot more to existing pages if needed.
---
6. Colorful Shopify Theme | Sunburst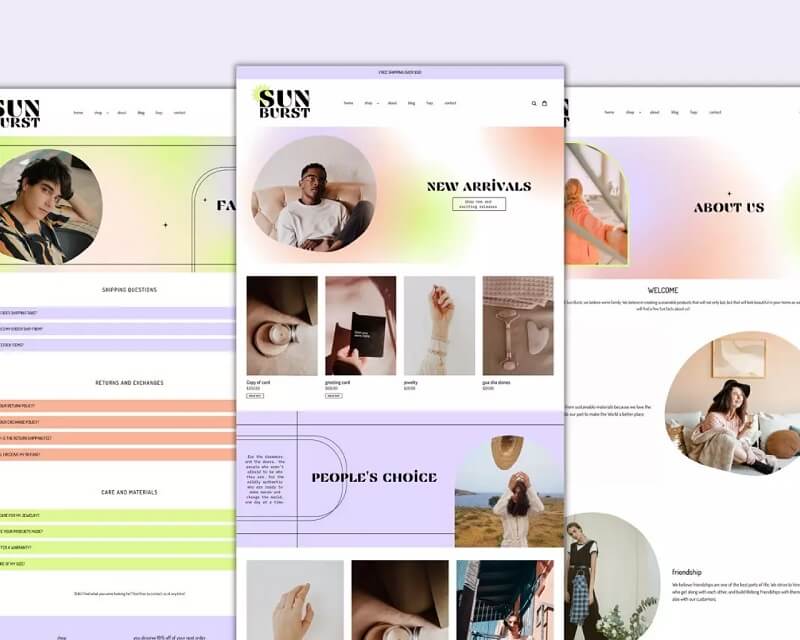 It is a colorful and stylish template with functional design solutions. Also, it is ideal for creative businesses that need an effective website. The theme has all the key elements of an online store created and also has a wide range of editing options to suit your needs. The finished site will be adapted to all screen formats and browsers in the best principles of responsive design.
---
In The conclusion: Responsive Shopify Themes
There are a lot of responsive Shopify themes, but not all of them guarantee a responsive result, which is an essential aspect of a successful e-commerce business. Do not neglect the functionality of the site and always check it for compatibility with different screens and browsers. By doing this you can reach more potential customers and develop your online store more actively.