6 Best WordPress Calculator Plugins For Your Website In 2023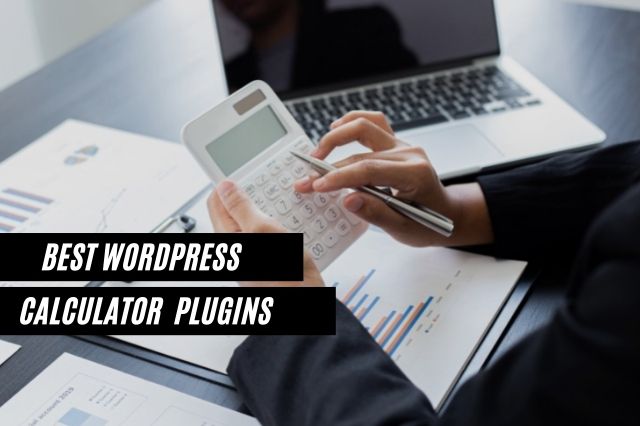 WordPress calculator plugins are simple yet very useful plugins for your website. People usually don't see much in calculator plugins besides general arithmetic operations but they can do much more than you think. They can calculate your health and Fitness, Financial, Estimate & Quote, Mortgage, Investment, eCommerce Price, Form fields, and more.
Calculator plugins can also be used to collect email addresses and lead that further can be converted into higher traffic and paying customers by sending them intriguing offers. Some calculators are specially designed to do only certain tasks and functions. So, finding the right calculator plugin that enhances your and your website visitor's experience, might be confusing. So, In this article, we have listed some Best WordPress calculator plugins for your website.
List of Best WordPress Calculator Plugins:
1. EZ Form Calculator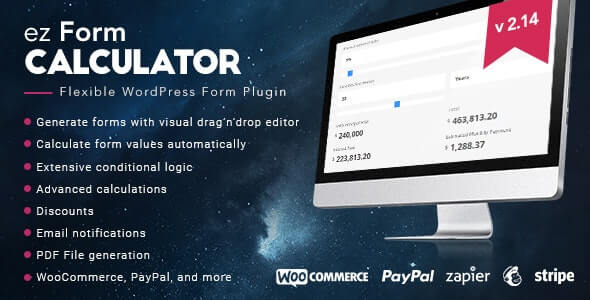 EZ Form Calculator is the first to land on our list. This powerful plugin lets you create form calculators, Project cost estimators, loan calculators, advanced cost estimators, extensive contact forms, amortization forms, or payment forms for your website in no time. You can add elements such as date pickers, dropdowns, radio buttons, and checkboxes to your calculators easily with the help of visual drag and drop builder. Furthermore, you can also create a PDF file and response email for submissions, using this plugin.
The best features of the WordPress plugin are quick and easy calculations, great flexibility, and extensive conditions. This plugin can also be used in Backend verification for increased security, Visual email handling, and Import/export forms for easy backups. You can also integrate this plugin into your Woo-commerce website, and PayPal and Stripe payment. since it's translation-ready, you can extend your reach to customers across the globe.
This versatile WordPress calculator plugin offers both free and paid versions. The price of paid version starts from $49.
Features:
30+ different form elements.
Translation-ready.
WooCommerce integration.
Visual drag and drop editor.
100+ form options.
Conditional logic.
Action Hooks and Filters.
SMTP.
---
2. COST CALCULATOR PLUGIN FOR WORDPRESS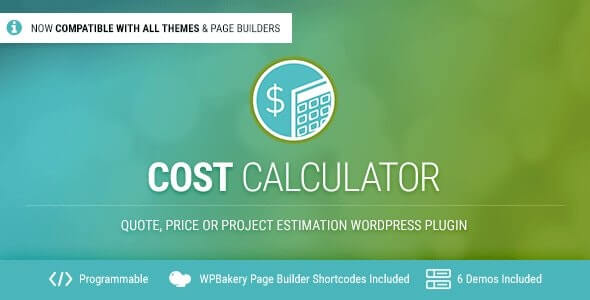 If you want to create a beautiful, stylish, and powerful estimation form on your WordPress website then this plugin is a perfect one for you. This smart plugin is specially designed so that you can easily create item pricing forms for your clients and allow them to get information about your services and product costs. You can also use this plugin for your car rental website, booking website, delivery service, or freelance services. Its drag 'n' drop calculation builder allows you to build an unlimited number of estimations and Step by step forms.
This plugin offers elements like drop-down box, switch box, input box, checkbox, range slider, horizontal line, etc. Furthermore, this plugin also offers a pricing table option and built-in inventory support. This plugin is perfect for those who want to create amazing and good-looking yet professional estimation forms.
The cost calculator plugin offers both free and paid versions. The price of paid version starts from $29 per site.
Features:
ReCAPTCHA.

Contact Form 7.

Drag and drop builder.
User-friendly UI.
Stripe and PayPal Integration.
Woocommerce integration.

Calendar field.

Conditional logic.
---
3. Calculated Fields Form

This powerful plugin lets you create web forms with calculated fields. The value of these calculated fields is calculated dynamically based on the other field's value. It comes with an intuitive form and logic builder which you can use to add varieties of fields, assign values to those fields, and define arithmetical and logical operators to run across those fields. Once you created the fields, it can automatically add rows or columns according to the data users input.
Calculated Fields Form is packed with elements like radio buttons, drop-down, input boxes, checkboxes, dates, and numbers. Furthermore, this plugin also offers 5 built-in sample calculators, predefined templates, contact and booking forms, form processing, and add ons.
Calculated Fields Form is one of the Best WordPress calculator plugins you can choose for your website. It also offers both free and paid versions as well. The paid version starts from $59.
Features:
WooCommerce integration.
Payment gateway Integration.
Form builder.
Multi-page forms.
Email delivery.
Form formatting options.
Dependent fields.
Built-in Captcha.
Messages Section with CSV Exporting.
---
4. Formidable Forms

Formidable Forms is one of the best drag and drop form builder calculator plugins that comes with intelligent form fields. This calculator plugin performs calculations within your form or website dynamically. You can match the visual appeal of your website with the design of the calculator. Formidable forms let you input eCommerce pricing, and show calculated data to users without using a PHP. You can also create forms with dynamically calculated fields.
With Formidable Forms, you can build Advanced Mortgage Calculator, BMI Calculator, WooCommerce Product Configurator, Percentage Calculator, Car Payment Calculator, Life Insurance Calculator, Amortization Calculator, Compound Interest Calculator, Order/Billing Form, and more.
All Formidable Forms calculator layouts are highly responsive and work great on mobile devices. Its pricing starts at $39.50 per year which can go up to $299.50 with upgraded plans.
Features:
eCommerce calculators.
Advanced math calculation.
Drag and drop calculator builder.
Visual form styler.
Bootstrap form styling.
Smart forms with conditional logic.
Calendar field.
Integration with Zapier, MailChimp, and API Webhooks.
Payment Gateway Integrations.
---
5. Mortgage Calculator

The mortgage calculator is another famous calculator plugin that shows you graphs for the PI interest, SI interest, and remaining balance across the terms of the mortgage. It can handle calculations related to a mortgage, loan, real estate, down payment, PMI, or even property taxes.
This simple-to-use calculator plugin can be placed anywhere on your site, including the posts, pages, or sidebars. The Mortgage calculator also offers a shortcode generator and from. With this feature, you just need to copy-paste the code on your site and the plugin will do the rest of the work automatically. This plugin is translation-ready so, you don't have to worry about your global audience.
This useful plugin is completely free to download.
Features:
Shortcodes.
Beautiful chart representations.
Amortization schedule.
Easy to install and use.
Can be added to any website.
Advanced math calculation.
---
6. Forminator

The Forminator is a drag and drop visual builder that works similarly to the Calculated Fields Form plugin. It offers a high-powered calculation creator that lets you build anything from an instant quote calculator to an ROI calculator for B2B stores. This amazing calculator plugin offers drag-and-drop module features like number fields, website fields, calculated fields, and pre-built calculations.
It's a great choice if you need customizable forms and both a form-builder and a WordPress calculator plugin. Furthermore, you can add or create any form likes contact form, payment form, order form, email form, feedback widgets, Buzzfeed-style "no wrong answer" quizzes, interactive polls with real-time results, and registration forms with payment options.
The pricing of Forminator forms is free to use however, its premium version will cost you $5 per month.
Features:
Drag and drop visual builder.
Stripe and PayPal Integration.
Form formatting options.
Conditional logic.
Contact Form 7.
Custom login and registration forms.
Google ReCAPTCHA.
---
Conclusion:
There are a lot of Calculator plugins out there. Some of These plugins can help you in lead generation and email collection. This can lead to higher traffic and paying customers by sending them attractive offers. So, finding the right calculator plugin that increases your overall wealth is necessary.
I hope this article will help you to find the right calculator plugin for your WordPress website. If you have any further queries regarding calculator plugins, you can ask me in the Comment section below.