13 Best Blogging WordPress Themes to Start a New Blog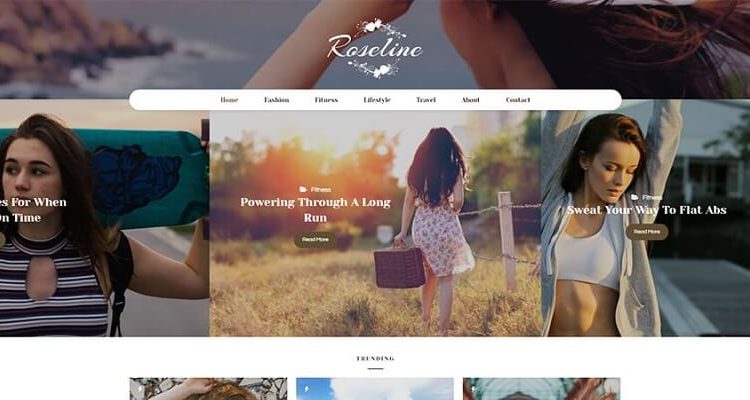 There are thousands of WordPress themes blog available on the modern-day web. How can you choose the best ready-made design that will be the perfect fit for your personal online project and make it stand out from the competition? The choice of the best Blogging WordPress Themes may seem to be rather simple. Still, it requires certain knowledge and clearly-specified objectives that will keep you on the right track.
It's important to find WordPress themes that will give your content pizzazz, keeping it responsive, well-structured, and quick-to-scan no matter what device a person selected to access your data.
Before buying a new WordPress theme or customizing it according to your own preferences, be sure you keep in mind the following list of to do's that assist you with the proper decision-making.
Determine a list of features that are essential for your blog. First of all, it's important to make your blog fully responsive. Making all pieces of your site's data adjust to a variety of screen sizes frees you from the need to create separate versions of your blog for smartphones, tablets, and desktop devices. More importantly, mobile-friendly blogs get higher rankings in search engines.
Consider working with a premium WordPress theme. Unlike freebies, paid web designs deliver pro-quality functionality and unique layouts that will make your WordPress blog an eye-catcher. More importantly, premium WordPress themes come loaded with around-the-clock support that delivers quality technical assistance whenever you need it.
Working with a theme that's integrated with a drag-and-drop page builder will save you lots of time and effort as you personalize a ready-made design in a way that matches your own project. Such themes are easy-to-manage even without any special coding skills. So, a web design newbie shouldn't face any issues while bringing the desired look and feel to their blog or portfolio site.
These are the fundamental tips that are recommended to keep in mind while choosing a theme for your blog. Of course, there are a number of functional and visual elements that can be considered to achieve the maximum performance of your WordPress-based project.
Take a look at the following collection of blogging WordPress themes. Watch them live as you check out the free demo versions.
Gutenberry – Top Blogging Gutenberg-based WordPress Theme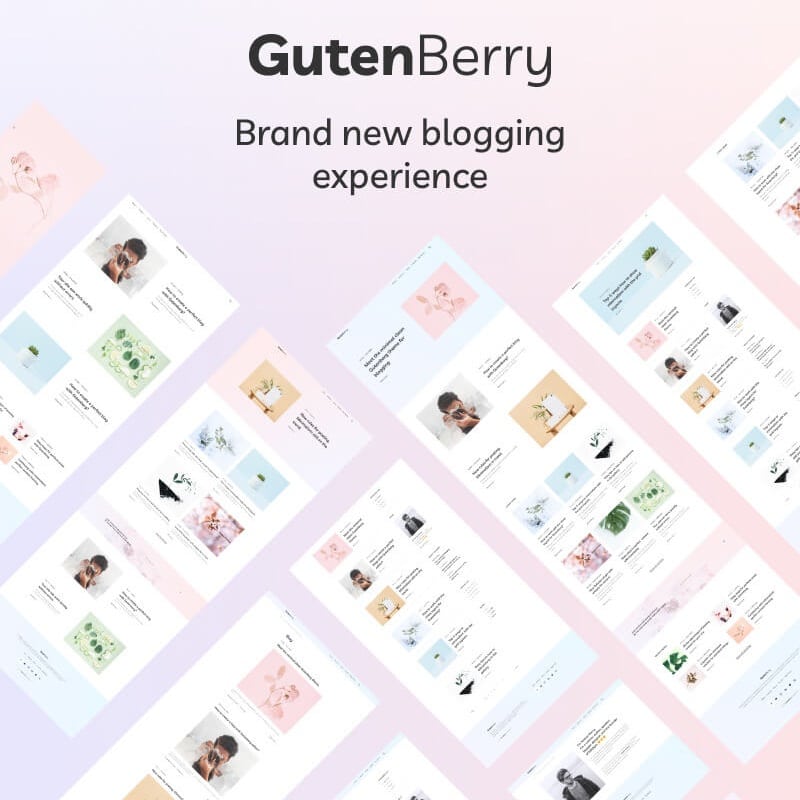 Searching for a top theme for blogging with WordPress? You should definitely check out Gutenberry. This recent theme has an eye-pleasing minimal design and is extremely simple to edit. Designed with and for Gutenberg editor, this theme lets even a complete newbie gain full control over their website design and content. You're welcome to adjust the pages of Gutenberry with drag and drop thanks to this editor. Extended posts, widgets, and block display options are also provided. Gutenberry sports 6 clean homepages, allowing you to choose the layout and design that best match the purposes of your blog.
Here are the notable features of this theme:
WYSIWYG theme editing;
Responsive & Retina-ready;
Over 10 additional widgets;
Novice-friendly Interface;
Well-documented;
Working Ajax Forms;
3 Dynamic Blog Layouts;
24/7 Tech Support.
---
Mafiaso – Blog WordPress Theme
Mafiaso WordPress theme is a clean and modern-looking product that is ready to handle content-rich blogs perfectly well. It contains a drag-and-drop page builder. With its help, you can create unique and impressively usable pages code-free. The theme's pack contains a number of pre-designed pages for About, Portfolio, Contact details, and other pages of your site. With the purpose to improve your site's usability, the theme contains live search, categories menu, and a bunch of other widgets.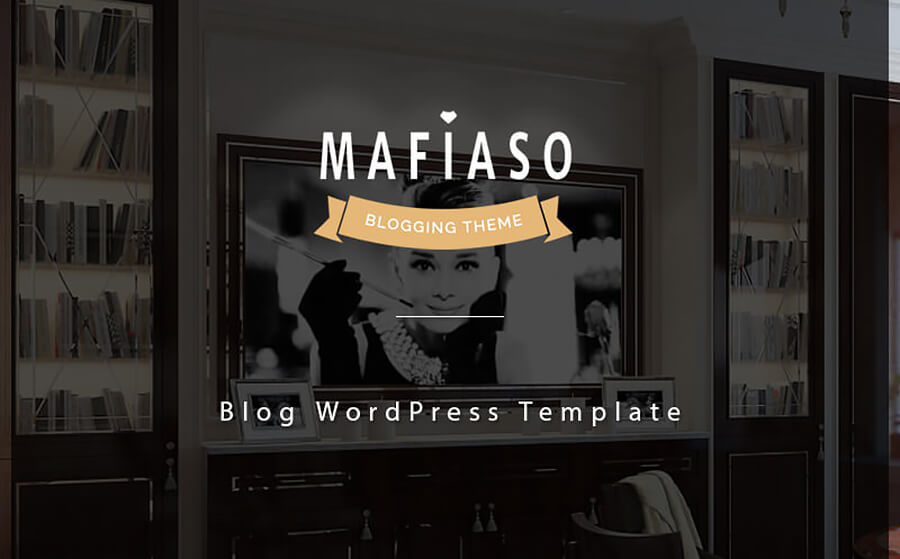 ---
Henry Stoun – Personal Website WordPress Theme
The WordPress theme is well-suited to become a foundation for catching portfolio sites. It is fully responsive and retina-ready. The theme contains a set of pages that are suited to be applied for a range of different purposes. The theme is based on an Elementary page builder. A number of Jet plugins are delivered as part of the theme's pack.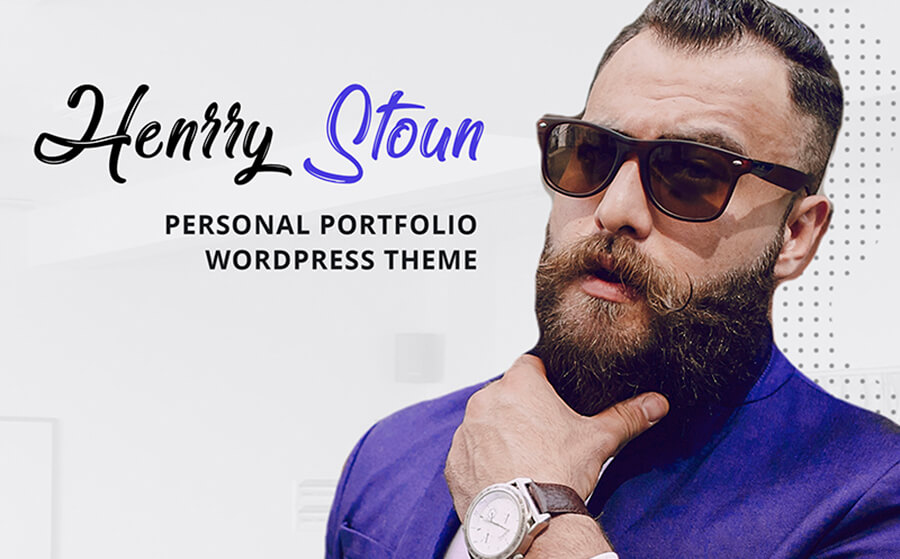 ---
KingNews
Kingnews is a premium and features a rich WordPress theme for magazines and newspapers. If you are in the publishing business or just want to create an eye-catching news portal at a minimal cost Kingnews theme is exactly what you need. The front page of the theme contains a thought through widget areas structure.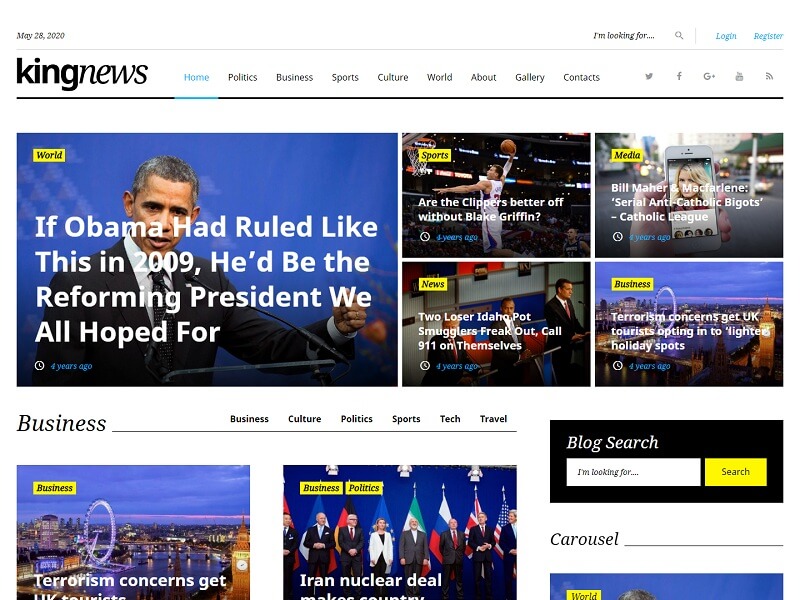 ---
Sprout – Personal Blog WordPress Theme
Sprout WordPress theme features a clean, modern-looking, and creative layout that will become a great fit for building personal blogs and portfolio sites. A fully responsive layout of the theme is 100% customizable. You can adjust the theme's pages, its header, and footer just the way you need it. The theme contains a collection of custom widgets for Post Author, Featured Post, Social, Posts, etc.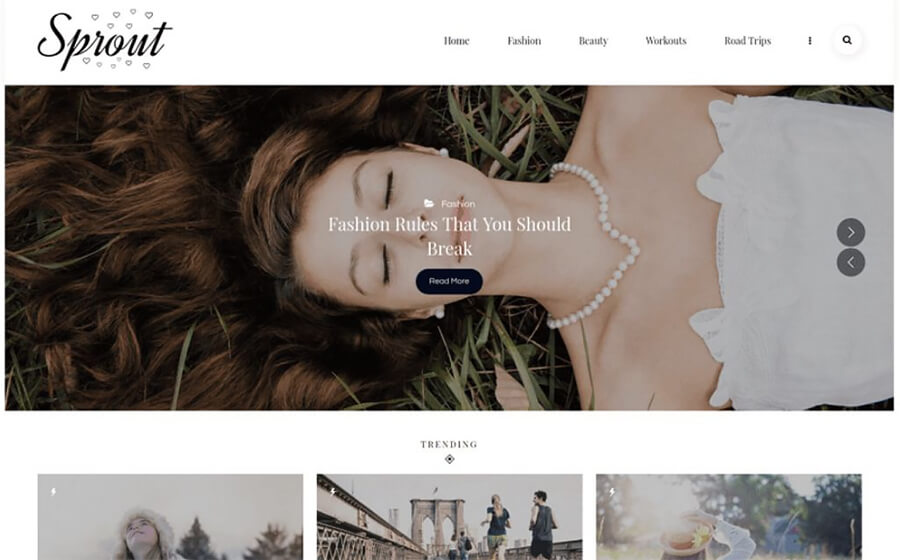 ---
Hanna – A Beautiful Blog & Magazine WordPress Theme
Hanna WordPress theme is ready to handle content-rich web projects perfectly well. It's ready to be used for the launch of personal blogs and online magazines. The fully responsive layout of the theme is enhanced with 8 ready-to-go demos. It is compatible with all the major WordPress plugins and extensions. The theme is WooCommerce-ready. It's integrated with all the major social media options.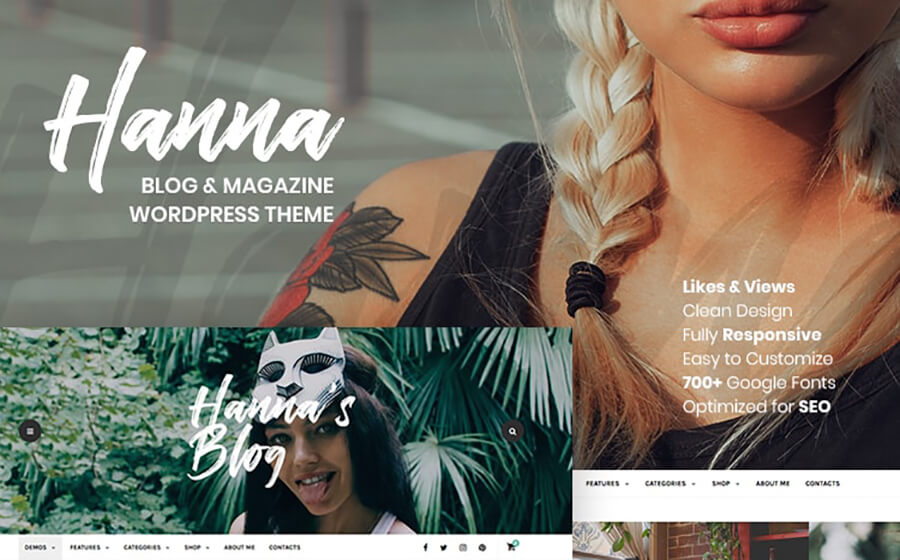 ---
Speaker – Life Coach WordPress Theme
Speaker life coach WordPress theme is built using a mobile-first paradigm. It's based on the Elementor page builder. The intuitive drag-and-drop interface allows you to apply all necessary changes to the ready-made layout of the template in real-time. Additionally, the theme comes loaded with premium-quality Jet plugins and a set of images from the live demo.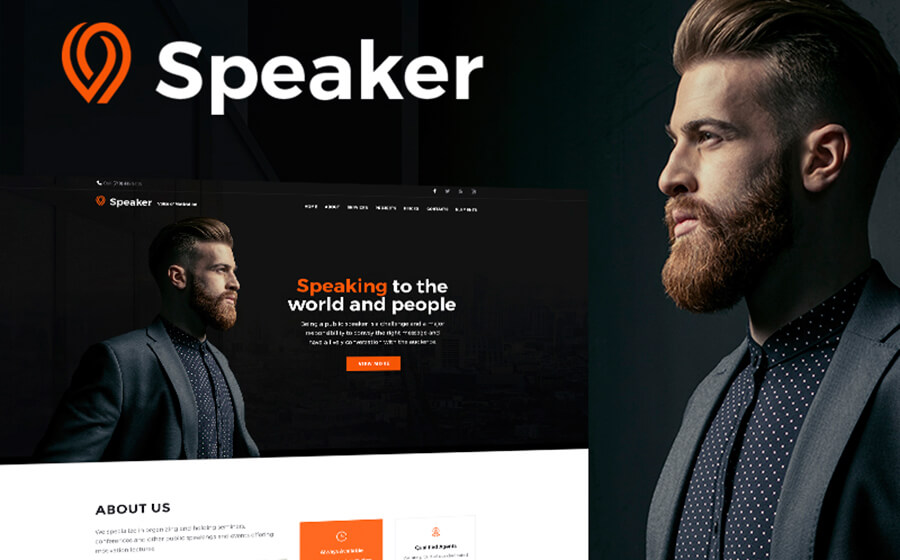 ---
NF Book Worm – FullScreen Book Authors WordPress Theme
NFBookWorm WordPress theme is designed to be used by authors and publishers. This is the ultimate solution to display a portfolio of your works in a catching and usable style. The fully responsive layout looks stunning on small and large screens. It includes features like author profile, previously published book sections, author's blog, Recently published or upcoming book release details, etc.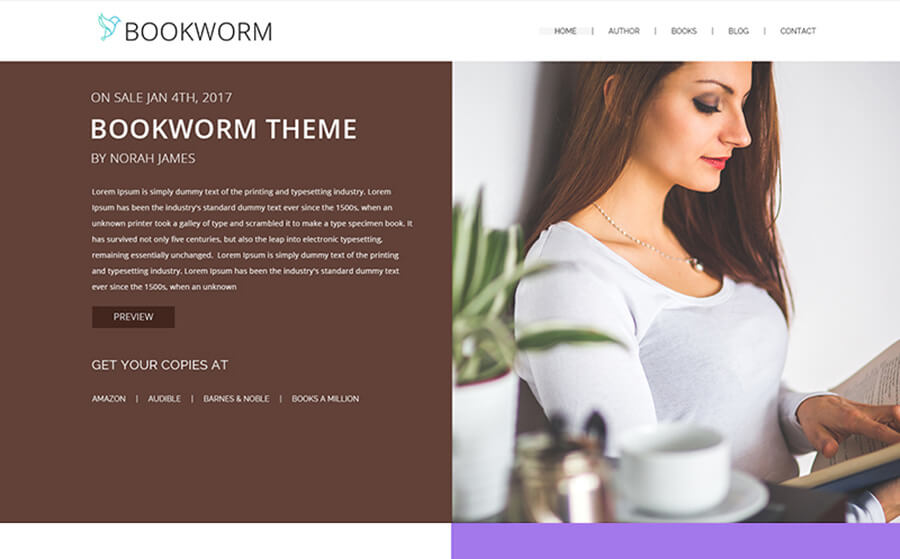 ---
Hayes – Travel Blog WordPress Theme
Hayes WordPress theme is the ultimate solution to get started with travel and tourism-related sites. Downloading the pack you will get a master theme and a child theme included in one pack. Revolution Slider is bundled at no cost as well. Building a travel site that meets your business expectations gets easier using this feature-rich WordPress theme.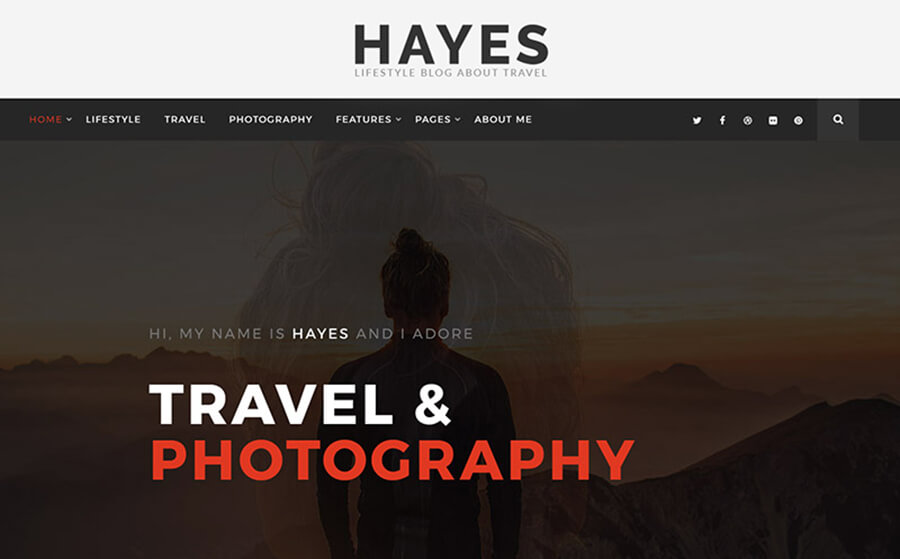 ---
Iggy – Clean Blog & Magazine WordPress Theme
Iggy WordPress theme features a clean modern-looking layout. The theme's pack contains 5 different blog layouts, 2 header variations, and 5 variations of a featured slider. The fully responsive layout of the theme's pages adjusts all elements of your blog to all screen sizes. A sticky sidebar and sticky navigation provide web users with a seamless browsing experience.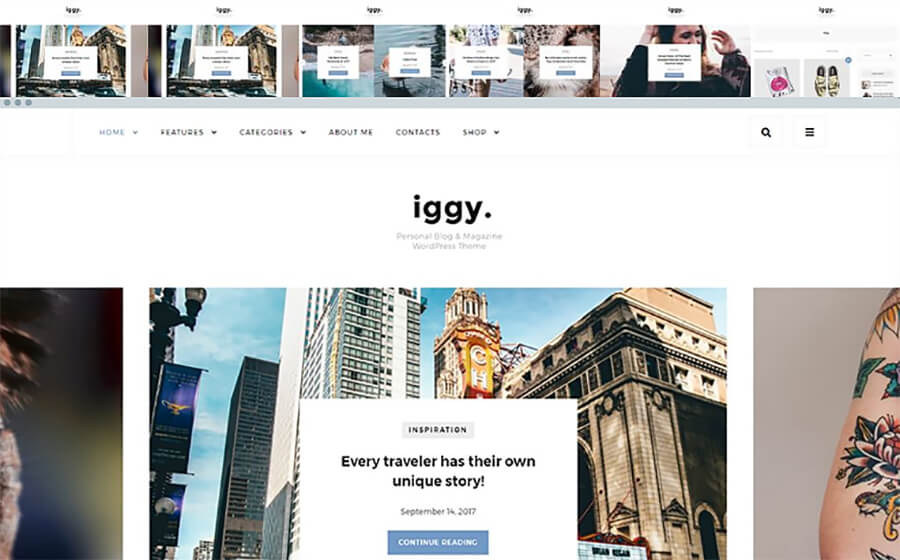 ---
Everly – Hipster Blogging WordPress Themes
If you want your blog to stand out with a catching and usable design, then the hipster blogging WordPress theme is the ultimate solution for you. The 100% responsive design of its pages is optimized for fast loading speeds. Using an Everly WordPress theme, you can choose from 4 homepage and blog layouts. thanks to the valid code and SEO-friendly pages, your blog will be easy-to-find in search results.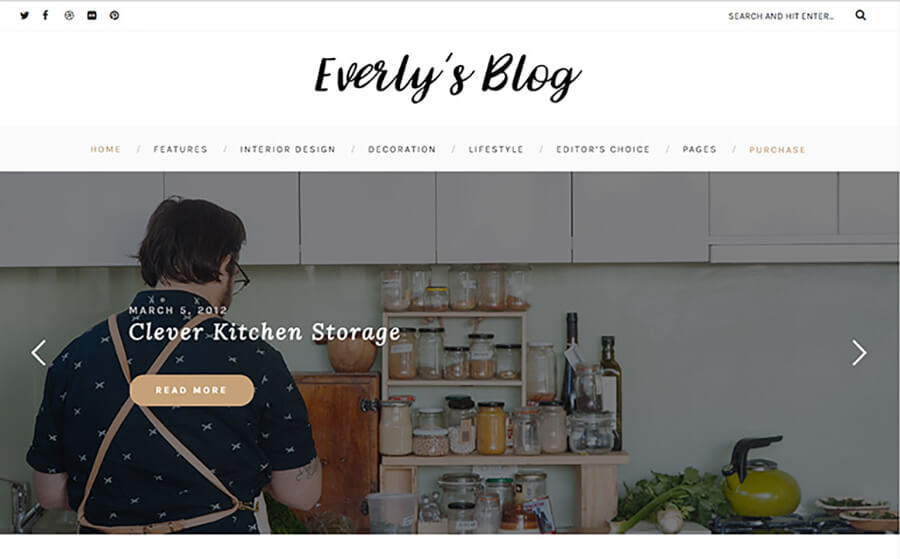 ---
VicHax – Blogging WordPress Themes
Designer and photographer portfolio sites will stand out with catching online presentation if you choose the VicHax WordPress theme as their foundation. The theme is based on a Power page builder that's loaded with more than 25 modules and a library of presets. The theme features a streamlined 5-minutes installation. A bunch of content modules, header layouts, and custom widgets are available to build a noticeable presence on your portfolio site.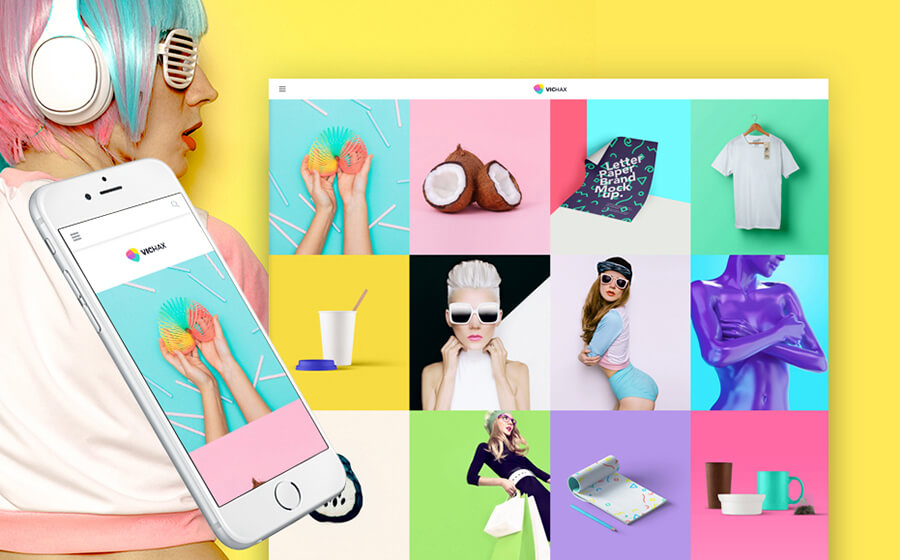 ---
Identiz – Blogging WordPress Themes
Here comes the last but not the least impressive personal blog WordPress theme from this showcase. It is a clean and modern layout that is ready to be modified in real-time using WordPress Live Customizer. The theme's header is ready to be personalized using 7 ready-made header layouts. All of the theme's elements are ready to be imported to your site in a couple of minutes.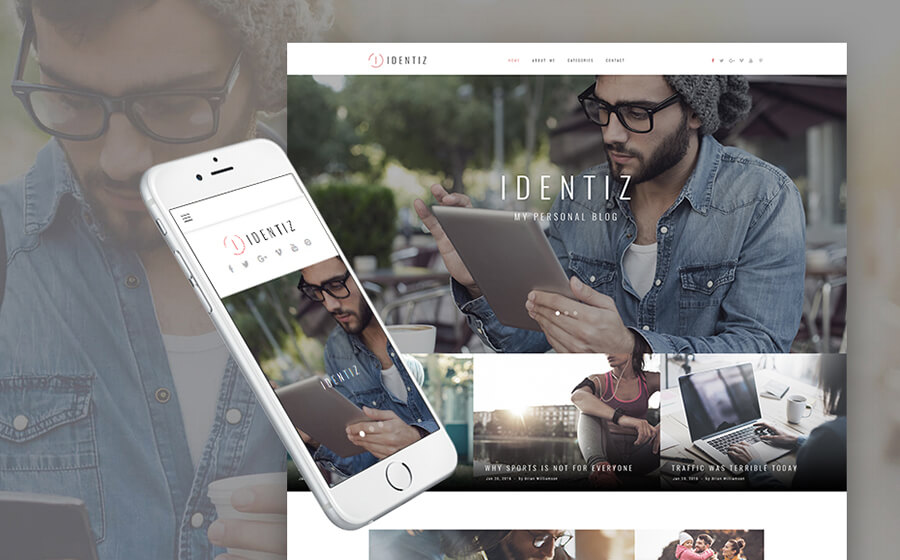 ---
Final Words
Launching a blog or online portfolio site can be both time and cost-effective if you choose the right WordPress theme for the quick start of your project. Luckily, the contemporary web offers a wide choice of themes of different styles, costs, and functional filling.
Most of the modern-day web themes come loaded with intuitive page builders that allow you to modify pre-designed layouts without tweaking a single line of code. All themes from this showcase are fully-fledged web solutions that are ready to be brought online with a few modifications.
Check out their live demo versions and take a closer look at the specs lists in order to select the best starting point for your new blog.