25 Best Free Tumblr Themes 2020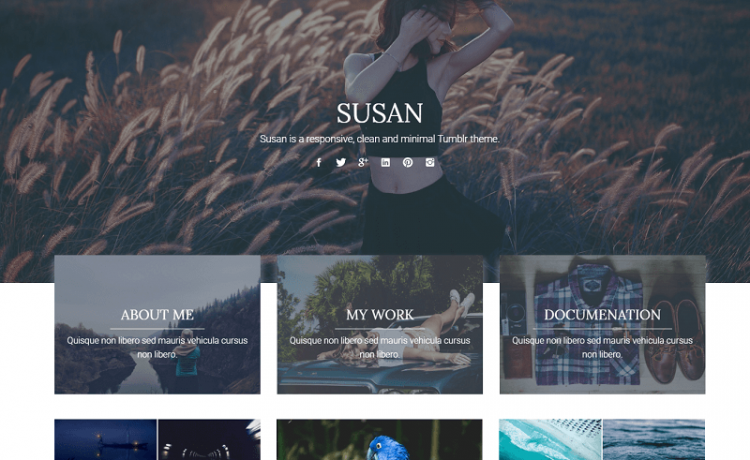 Blogging is to express your ideas, experiments, your thoughts online on the web. A blog is basically content that is represented on the web. Tumblr is a social networking & microblogging website to discover yourself, express yourself, and your stuff. Tumblr, where you can connect with people, share some ideas, blog. In this article, we have collected some of the greatest best Free Tumblr Themes from the entire web.
On tumble Daily Hundreds of millions of blogs published, more than 100 million active monthly users, and more than 400 million are daily sharing blogs, quotes, visual content, and links. If you are searching for good Tumblr themes for your Tumblr blogs then these free Tumblr Themes will help to set up a clean and good-looking Tumblr account.
Also See
Sugar – Free Tumblr Themes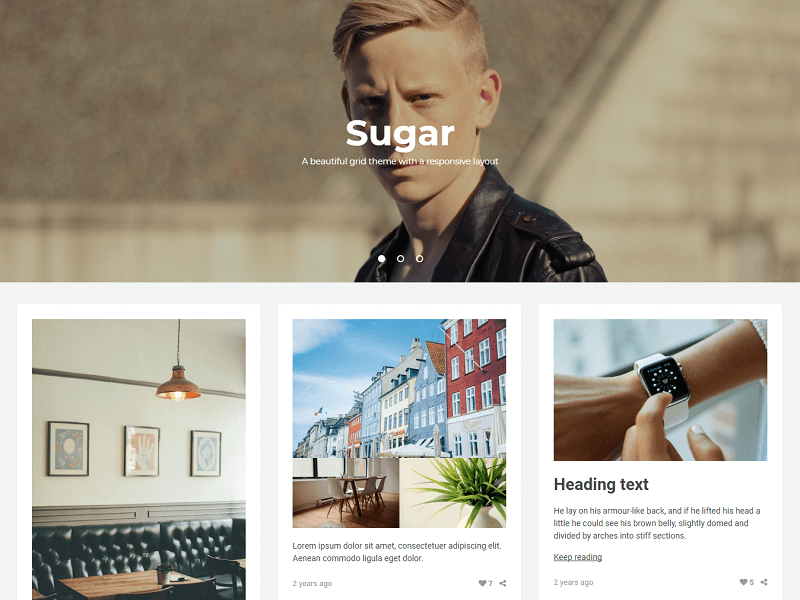 Sugar is a Tumblr theme using a Variable Grid Layout. Your collection will be beautifully displayed on any device. It works just like your own Look Book!
---
Wallstocker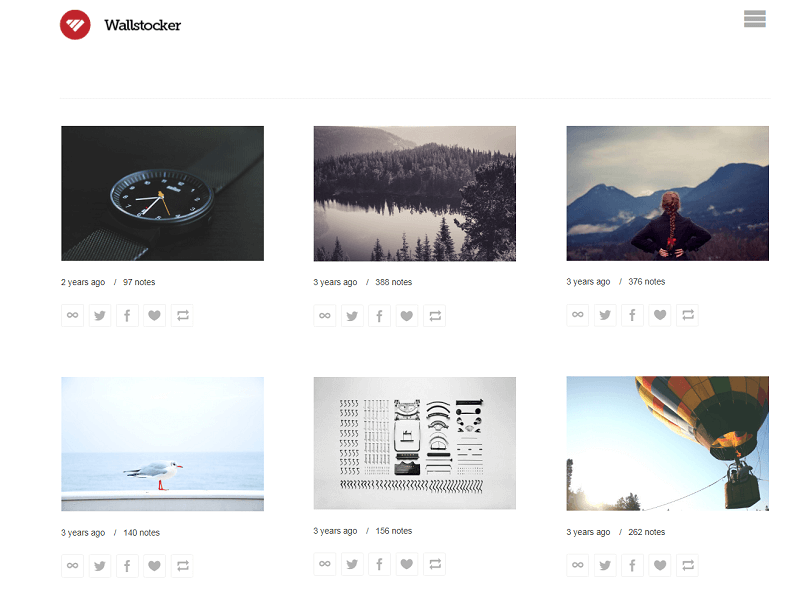 Wallstocker (Wall Stocker) is a Tumblr theme for a simple and clean portfolio. Supporting basic usability such as mobile tablet correspondence with responsive web design.
---
PopGallery Lite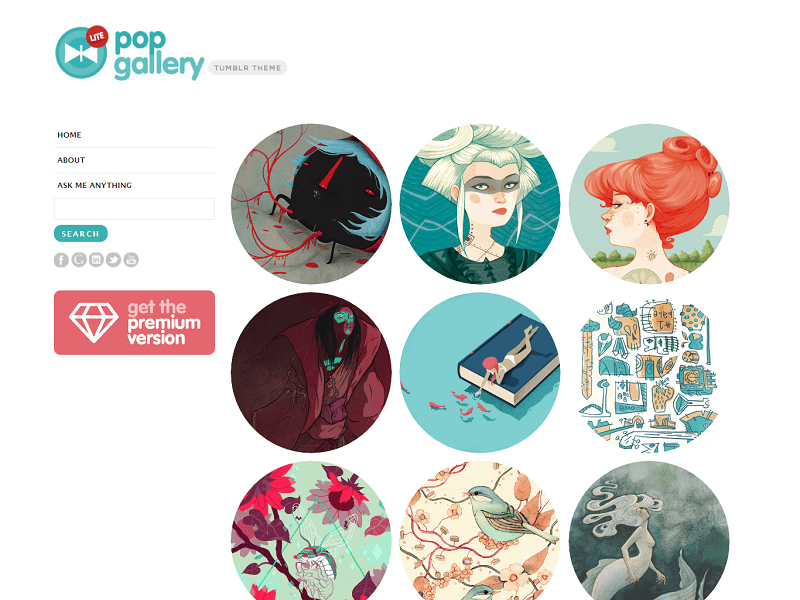 PopGallery Lite is a Tumblr theme for visual portfolios, galleries, handcraft shops, with the unique possibility to present distinct thumbnails on the front page.
---
Pation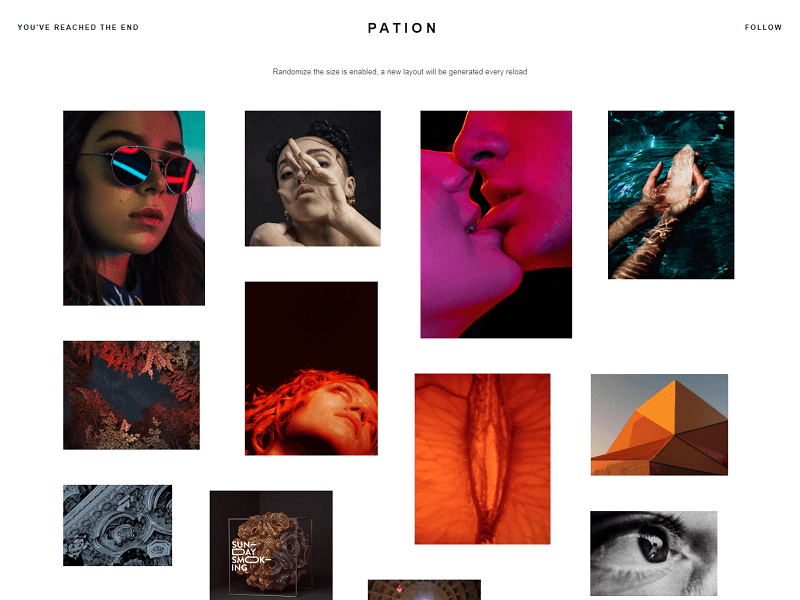 Pation comes with sticky navigation and a minimal grid layout. When the option "Randomize Post Size" is turned on, a new layout will be generated with each reloads.
---
Level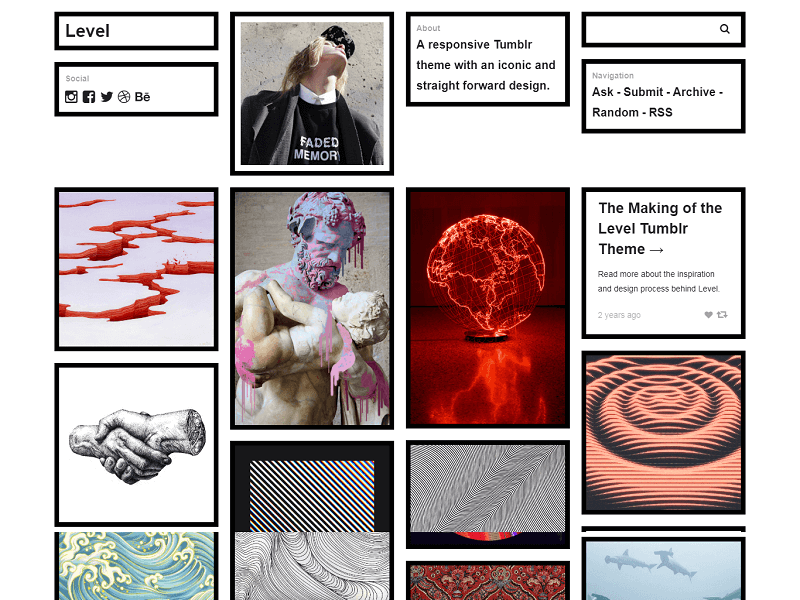 A level is a Tumblr theme with a heavy "user experience approach", the simple and straightforward design allows your audience to browse your blog in a direct matter.
---
Carter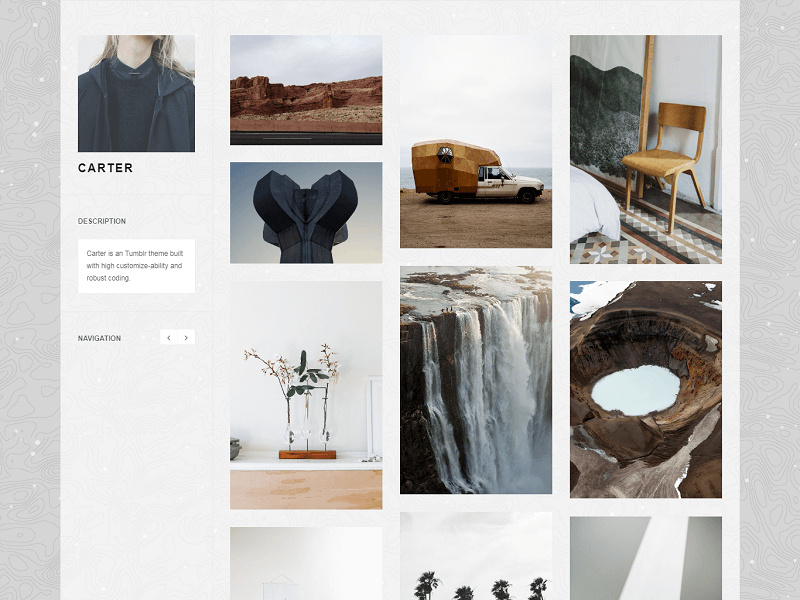 Carter is a Tumblr theme built with high customize-ability and robust coding, equipped with a smart sticky sidebar (sticks different sections according to the height of your sidebar) and a clutter-free layout.
---
Melvin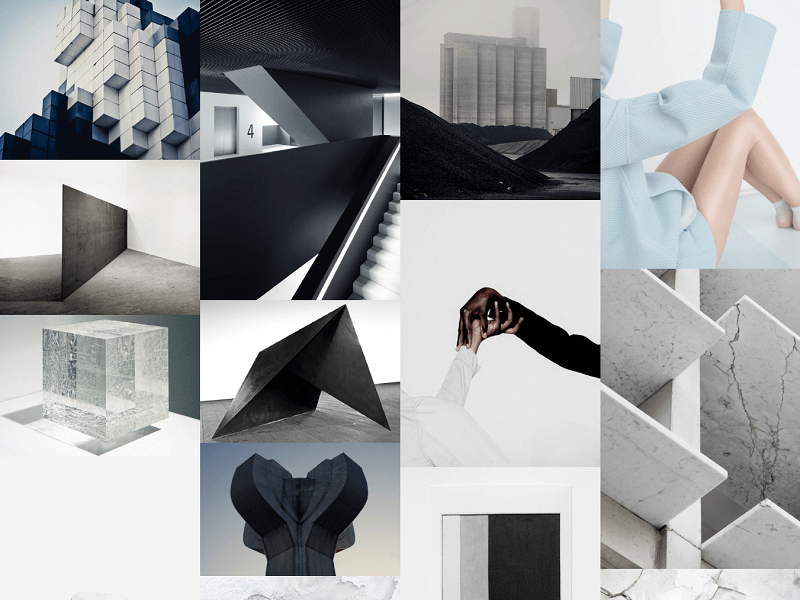 Designed and built as a photostream, use Melvin to create a stunning photography showcase. With its contemporary and elegant layout, every distracting element is stripped out leaving only the important things in sight – your content.
---
Ascent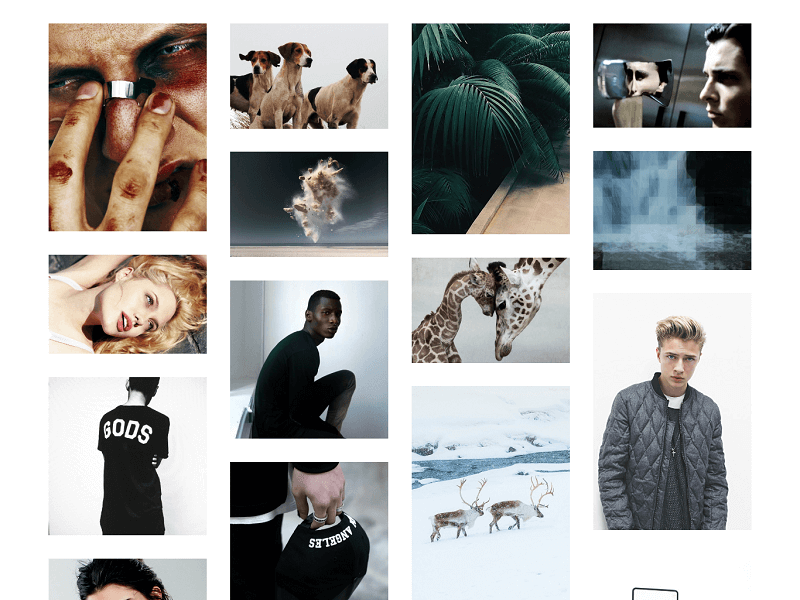 Ascent is the minimal grid theme for creatives of all sorts. It offers complete freedom to adjust post sizes and gutter space, paralleled with four unique post-loading effects.
---
Revolve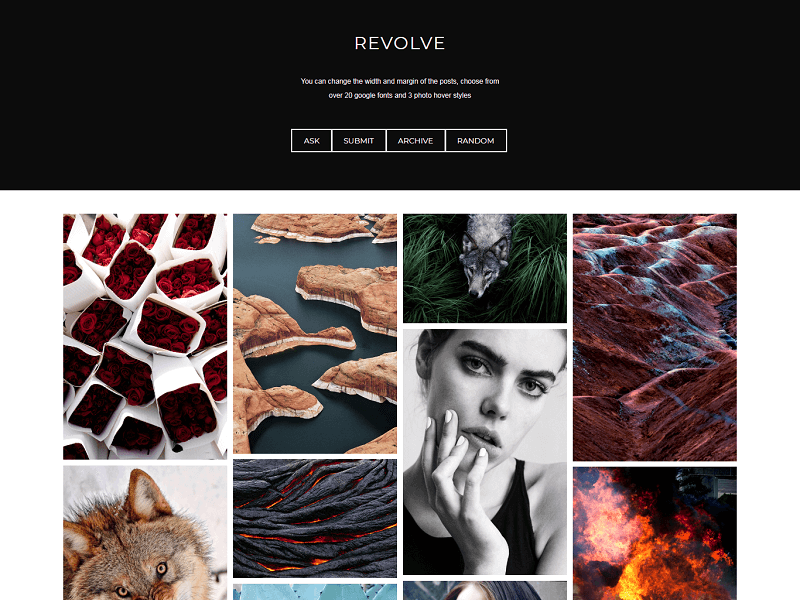 Built for the modernist, designed for the minimalist. Revolve offers the header and sidebar layout that can be changed at a switch. Its wide array of customizing options offers a stunning cover photo, adjustable post width and margin, over 20 Google fonts, and 3 separate photo hover styles
---
Alumia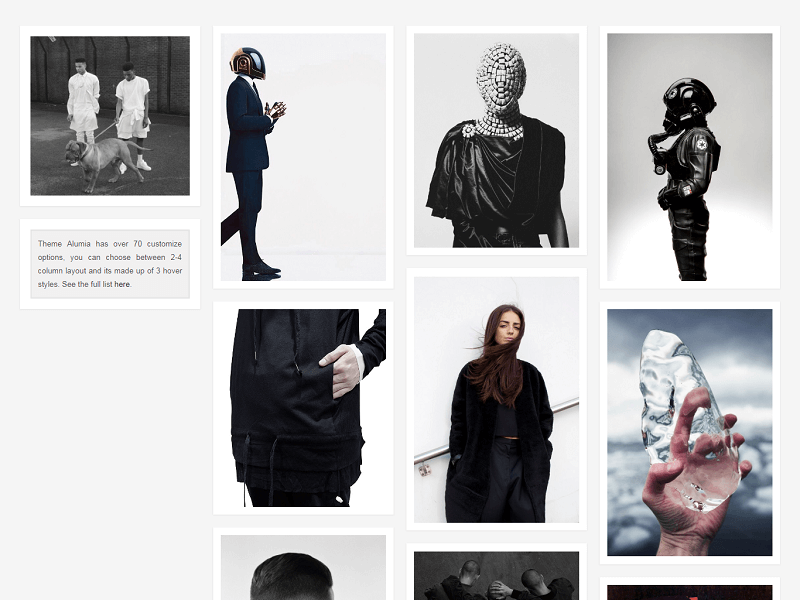 Alumia offers a great deal of simplicity, at the same time polished with gradient photo overlay, Twitter feed, multiple photo hover styles, as well as a remarkably versatile layout.
---
Stamp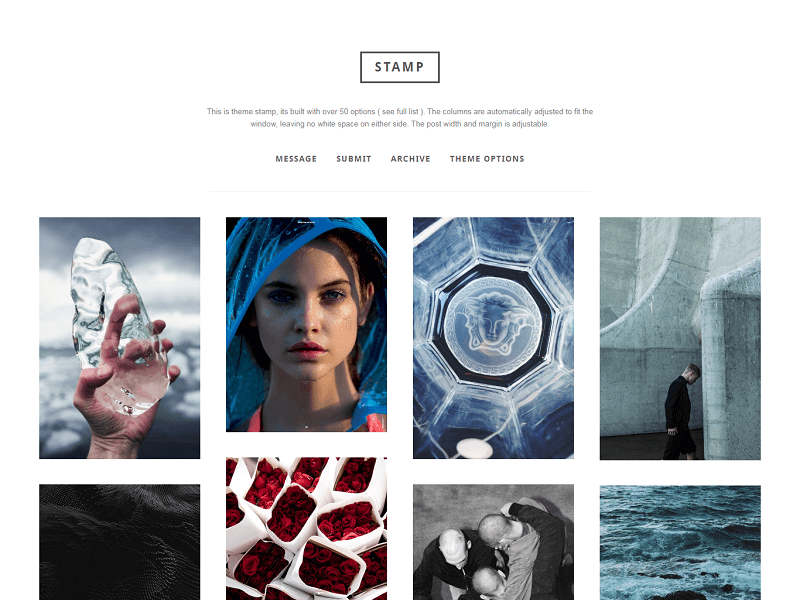 Built with a header and sidebar version, it has a minimal touch as a base. It's clean, timeless yet versatile. With this theme, you are able to change the post width/margin, over 20 font types, 3 photo hover styles, infinite scrolling, and much more…
---
Prestige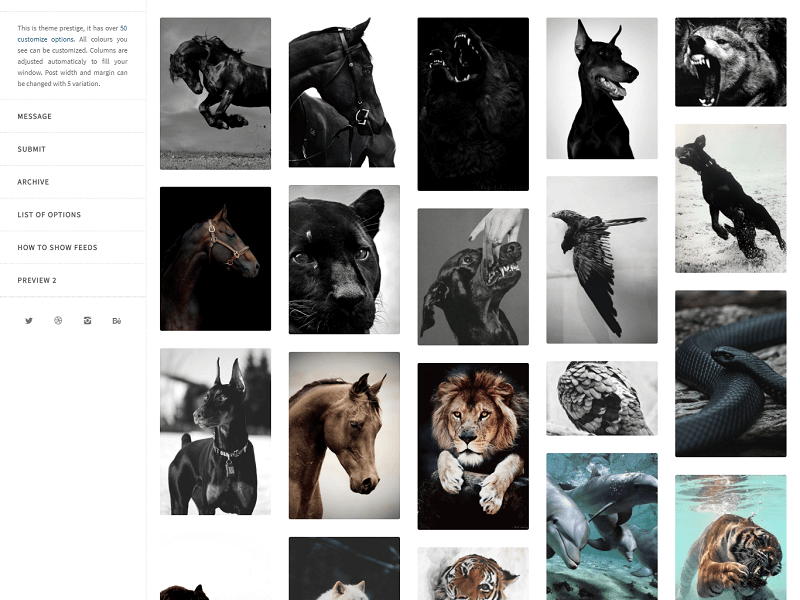 A minimalistic sidebar theme with an optional social sidebar. With the social sidebar, you are able to insert social feeds (Twitter and Instagram) and display them to your visitors.
---
Vienna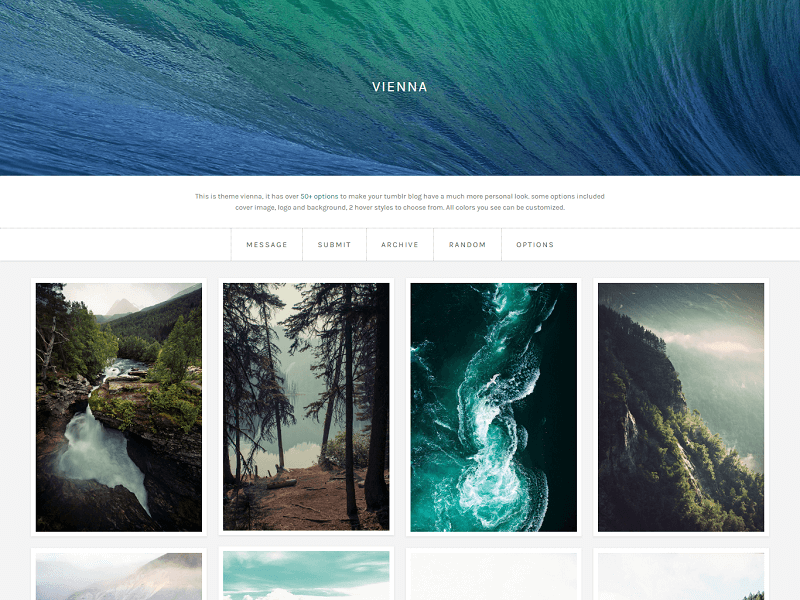 Vienna offers the ability to add a customized cover, it's designed to help you give your site a much more personal look. The post size and margin can be changed on this theme with just a few clicks.
---
Fusion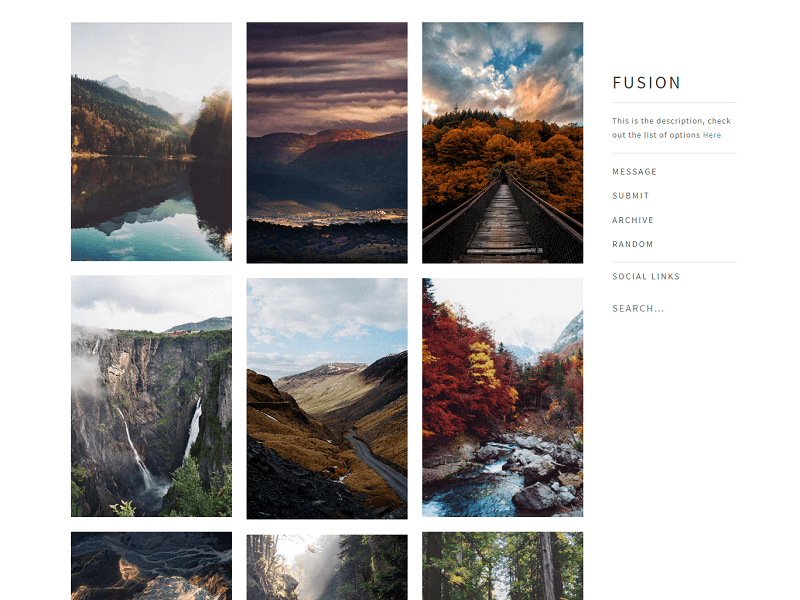 Fusion is a sidebar theme built as minimal as possible. With its code loaded with over 20 customized fonts, 2 hover styles, adjustable sidebar (fixed or static/left or right side), and away, way more.
---
Hipster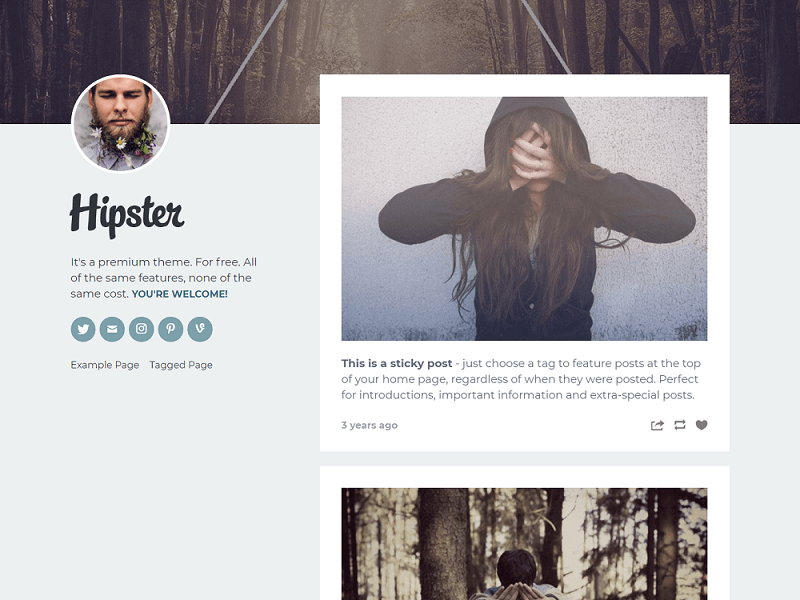 Hipster helps you set the scene for your blog with a large header image, with your avatar and first post overlapping to create a sense of depth.
---
Indy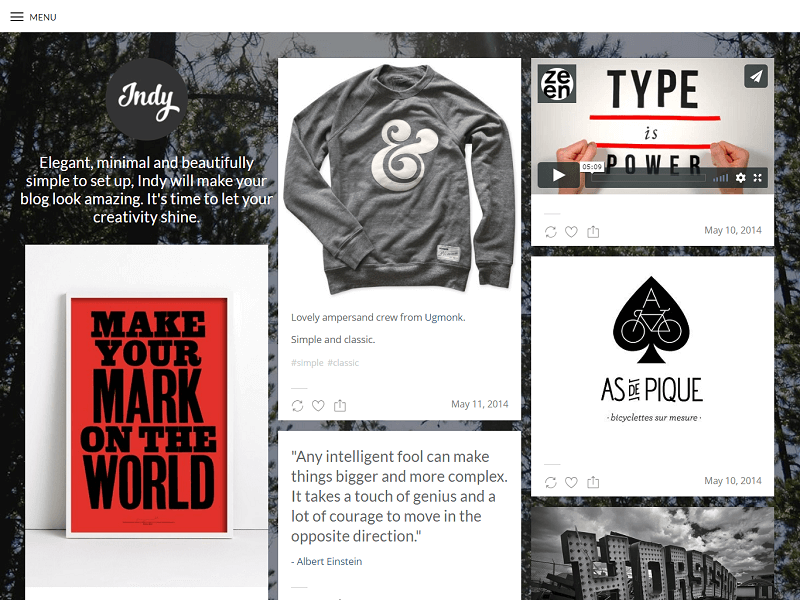 With its impressive design, expertly chosen fonts, and clever layout options, Indy has everything you need to make your Tumblr blog look stunning.
---
Candice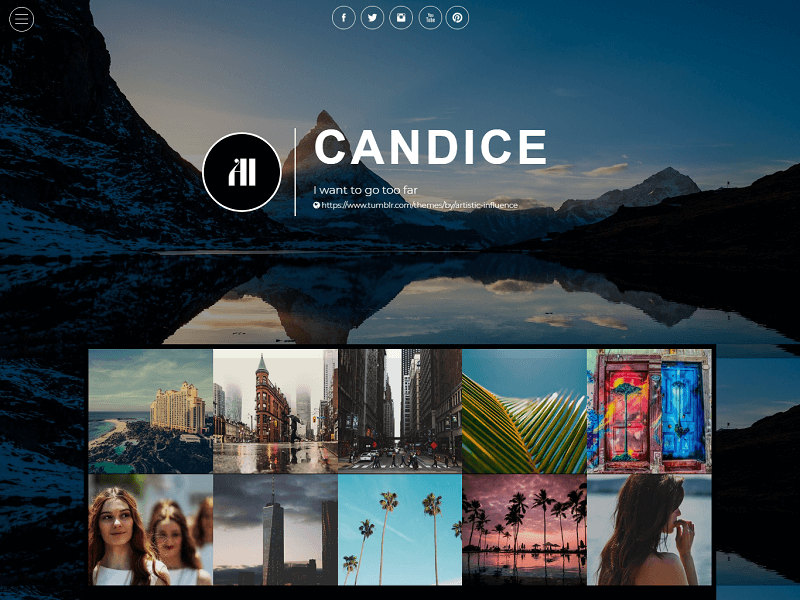 Candice is a single-column Tumblr theme created with both visual and text posts in mind, which is why no matter what post type, your posts are displayed beautifully.
---
Oscar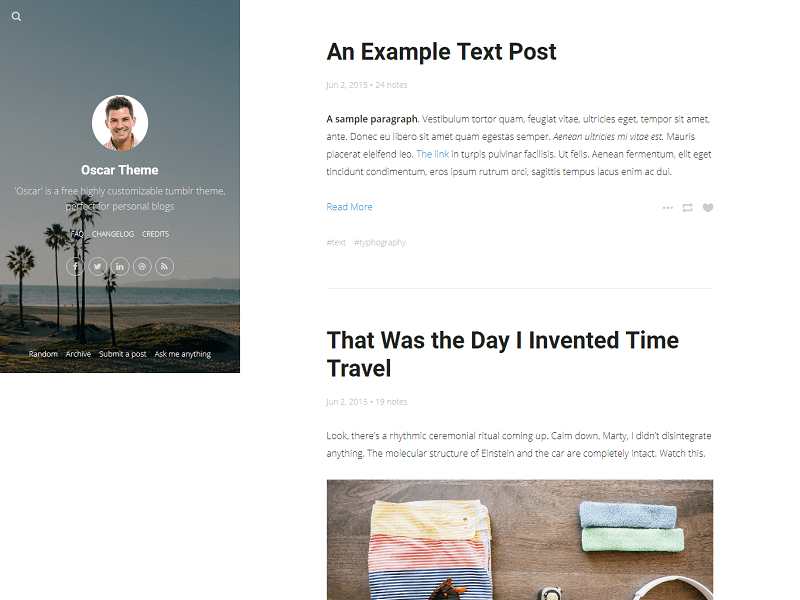 Oscar is a free highly customizable Tumblr theme for personal blogs.
---
Ten Toes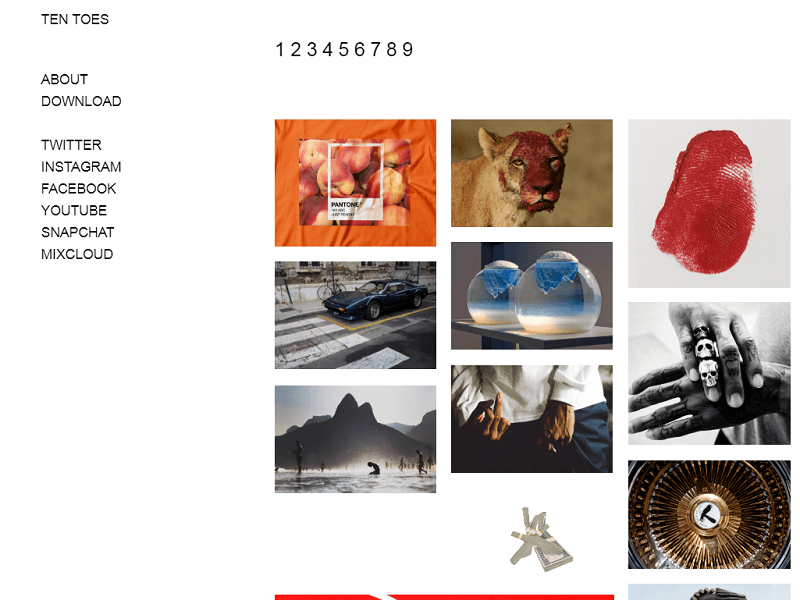 A narrative is a boutique theme designed for visual storytelling.
---
UltraZen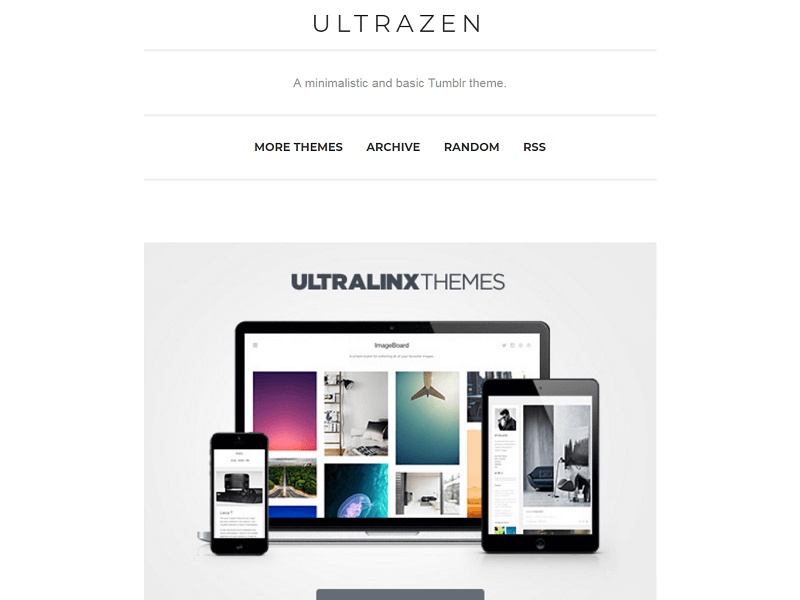 UltraZen is a very simple and minimalistic single-column Tumblr theme. It has basic color options, infinite scroll, a wide-view option, and logo upload.
---
Belfort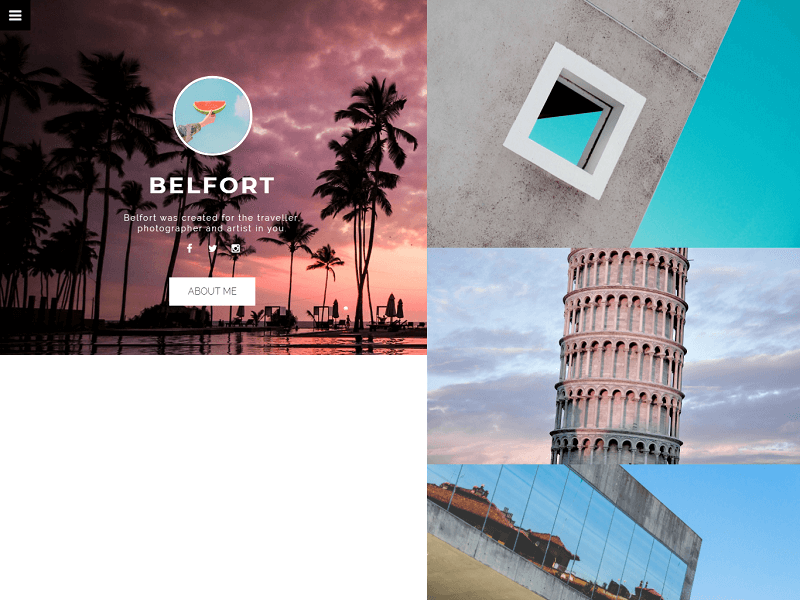 Belfort is a unique single-column theme that supports all post types including high-res photos. It has an unbelievable amount of different customization and color options.
---
Yuki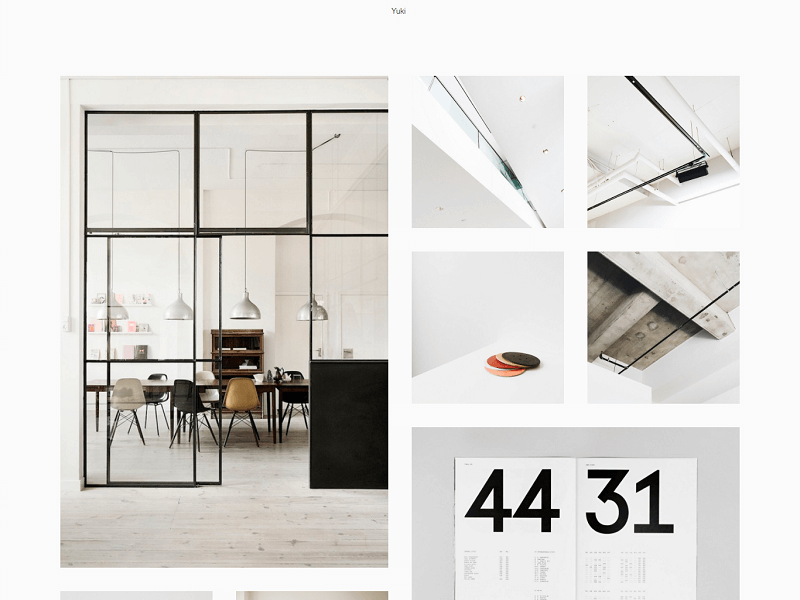 Yuki is a responsive masonry-style theme for Tumblr. Currently, the theme works best for photo-based blogs.
---
Verse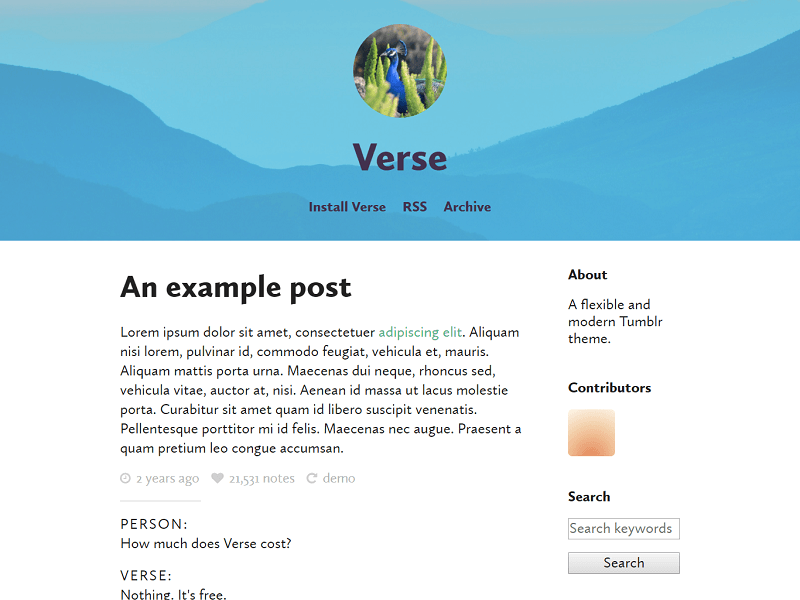 The verse is an excellent choice for creators with post author and group blog support, thoughtful typography design, and tailored designs for each of Tumblr's post types.
---
Susan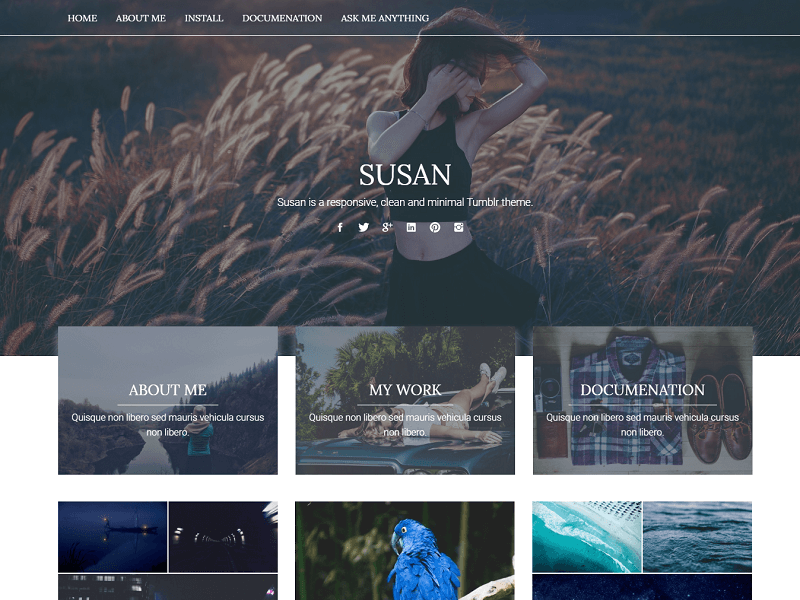 Susan is a responsive, clean, and minimal Tumblr Theme. It will look great as a magazine, portfolio, or photoblog.
---
Bitter Fruit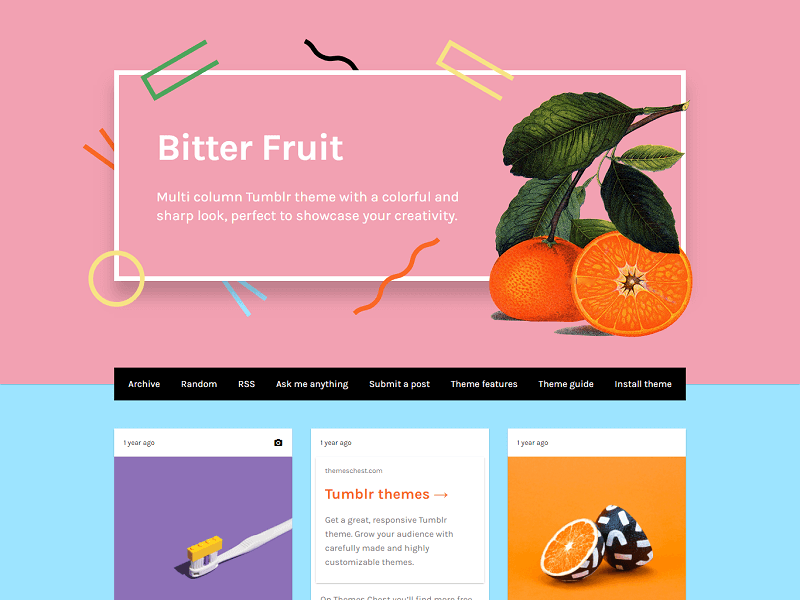 Bitter Fruit is responsive, retina-ready, and supports all Tumblr post types, including many options that give you great flexibility in order to make it look the way you want. Let your theme reflects your own taste and personality through easy options to set up.
---