11 Best Free WordPress Event Calendar Plugins In 2021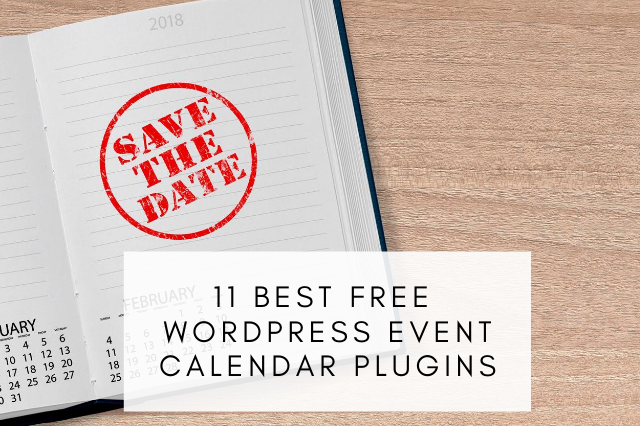 These Best Free WordPress Event Calendar Plugins can be utilized to agenda and record the upcoming pursuits by means of a widget or a shortcode. Every plugin supplies another set of choices, however, the core performance is typically the same. These are the best free event calendar plugins to be had for WordPress. The plugin might be used to create and manipulate small to colossal scale events like workshops, conferences, seminars, webinars, live shows, events, get-collectively, and so on.
Let's start with the trendy list of free WordPress event calendar plugins;
1. The Events Calendar

The Events Calendar plugin helps you to easily create and manage events on your WordPress website. This plugin provides professional-level quality and features backed by a team you can trust. You can simply install the plugin, configure your settings, and start creating events in minutes.
FEATURES:
Easily create events.
Event List view.
Calendar month view with tooltips.
Increase your website's SEO with JSON-LD Structured Data.
Internationalized & translated.
Completely responsive from mobile to desktop to tablet.
And much more.
---
2. Events Manager

Event manager plugin is a fully-featured, responsive, flexible, and powerful Free WordPress Event Calendar Plugins based on the principles of flexibility, reliability. You can easily create and manage versatile events on your site.
FEATURES:
Easy event registration.
Bookings and events Management.
MultiSite Support.
Guest/Member Event submissions.
Assign event locations and view events by location.
Easily create custom event attributes.
Widgets for Events, Locations, and Calendars.
Compatible with SEO plugins.
---
3. All-in-One Event Calendar

The All in one event calendar plugin is a beautiful and easy to use the plugin to list your events on your WordPress website and easily share them on the internet.  This plugin comes with a visual design and a powerful set of features to create and manage the most advanced event calendar system available for WordPress.
FEATURES:
Color-coded events based on category.
Featured event images and category images.
Upcoming Events widget.
Theme options to customize your calendar appearance.
The plugin can also be easily imported.
Each event is SEO-optimized.
And much more.
---
4. Modern Events Calendar

If you are running an event website or you want to provide a website with booking services on WordPress, you will need a strong and practical plugin for it which can provide you all possible features. MEC is easy to use a plugin that you can add and publish your events easily to your WordPress website and also, organize and categories them in the best way. Also, you can sync it with lots of other features to have the best outcome.
FEATURES:
A shortcode which is fully compatible with your Page Builders.
Event Schema markup to a single page and shortcodes recommended for SEO.
Breadcrumbs for the Single Event Page.
Choose several locations for an event and display these widgets on the single event page.
Easily transfer your events from Meetup to MEC, by only a single click.
And much more.
---
5. My Calendar

My Calendar plugin is the best way for WordPress event management, with highly customizable ways to display events. It is easy to use for anyone, My Calendar comes with enormous flexibility which helps designers and developers to customize the event calendars.
FEATURES:
Calendar grid and list views of events.
Mini-calendar for compact displays.
Custom templates for event output.
Editable CSS styles and JavaScript behaviors.
Managing locations.
Shortcode Generator to create customized views.
And much more.
---
6. Event Calendar WD

Event Calendar WD is the most powerful and flexible WordPress plugin to create events and organize them into calendars. It's a highly flexible event managing plugin to create both, simple one-time events or multiple events. Event Calendar WD has a simple and decent admin panel, where you can easily create and manage your events, add new themes, and customize your calendars.
FEATURES:
Organize as many events as you wish.
Events are easier to findFull Control and flexibility.
Responsive layout.
Unlimited events and calendars.
Calendar widget.
Customizable Themes.
And much more.
---
7. The Events Calendar Shortcode and Templates

Extend The Events Calendar (by Modern Tribe) free plugin template design limitations by using The Events Calendar Shortcode and Templates addon. This WordPress plugin provides free stunning design templates and shortcode/block generator for The Events Calendar free plugin (by Modern Tribe). You can easily manage events on your WordPress website.
FEATURES:
Easiest Design Settings Panel.
Custom Colors & Fonts.
Powerful Shortcode Generator
Compatible With Elementor
Responsive Designs
Events by Organizer
Events Schema SEO Support
And much more.
---
8. Appointment Booking and Online Scheduling

This plugin for WordPress presents a self-carrier scheduling method for 1-on-1 appointments and group hobbies. Appointment booking and online Scheduling with the aid of vCita speedily integrates into any WordPress internet site, and eliminates the back and forth communications in appointments reserving and pursuits registration.
FEATURES:
Enable online booking and rescheduling.
Register for events, sign up for classes.
Business calendar for you and your staff.
Personalized branding and online appearance.
Sync with Google Calendar / iCal / Outlook.
Available in 11 languages.
And much more.
---
9. XO Event Calendar

XO Event Calendar is a simple and decent event calendar plugin that helps you to manage events on your site.  Other events can set holidays and much more in your calendar.
FEATURES:
Events & holidays widget.
Displays holiday on the calendar.
Supports custom post type template.
Adds an event custom post type and taxonomy.
And much more.
---
10. Event Calendar

Event Calendar plugin is a flexible and responsive WordPress calendar plugin that allows you to connect to your database and show up your event days on a view. A calendar can render a Day, Week, Month, and Resource calendar view. This plugin also provides an interface for manipulating and formatting dates and times. Each event box has a link to the original event you defined in your calendar.
FEATURES:
Plugin for creating a calendar with events.
Easy to customize.
10 free themes.
You can easily list your events.
The ability to display multiple events for a single day.
Each species has unique customizable settings.
You can add photos to the events.
And much more.
---
11. Booking Calendar

Booking Calendar plugin enables an awesome booking system calendar for your wordpress website.
FEATURES:
Extremely easy to use.
Very flexible functionality.
All bookings and settings are stored in your DB.
Responsive front end and back end design.
Easy to install and integrate.
The sleek and customizable design of calendars.
And much more.
---
I hope you liked the article, Feel free to share your thoughts in the comment section below.