5 Best Free WordPress CRM Plugins In 2021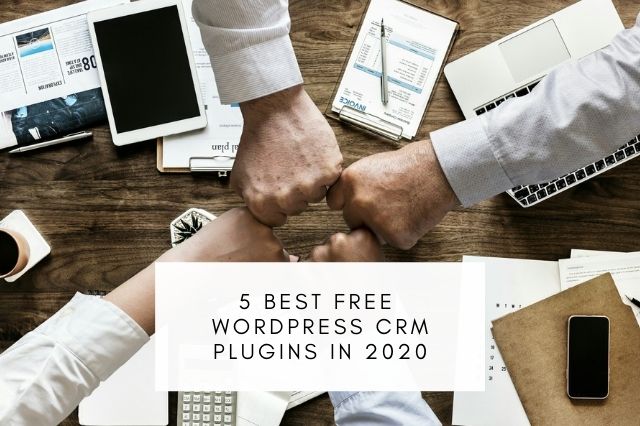 Hello, if you guys are looking for some good Free WordPress CRM Plugins to manage the customer relationship on your WordPress website then you are in the right place. In this article, I will share the list of 5 best WordPress CRM (Customer Relationship Management) plugins so that you can easily install and use them for your WordPress site.
Also if you want to improve Navigation and Technical SEO of your WordPress website you can also use the best free WordPress Sitemap plugins.
What is CRM?
CRM stands for customer relationship management. It helps you to manage your interactions and relationships with your website visitors and customers. Also, it helps you to collect and track the information of your customers and users to provide valuable information to you. It helps you to convert new website visitors into your potential customers by interacting with them. So using a CRM helps you to manage your business and increase your sales.
Now, let's start with our list: 
1. WP ERP:

Start with the best one in the list, WP ERP is one of the most famous Free WordPress CRM Plugins available for your WordPress website. It has more than 10,000+ active installations that make it one of the best CRM, HR, and accounting solution for your business. With the help of this plugin, you can easily manage your business and maintain relationships with your customers.
This plugin offers integration with the most famous tools such as Mailchimp, Gravity Forms, Salesforce, HubSpot, WooCommerce, and much more.
Key Features of CRM module.
Build unlimited contact groups.
Make notes for each customer.
Build an awesome company profile.
Import and manage unlimited contacts.
Tracks unlimited data.
Send emails to notify directly from your wordpress dashboard.
and much more.
---
2. WP-CRM:

Another famous plugin WP-CRM makes it easy for you to improve or boost user management of your WordPress site. It is available at free of cost and one of the trustworthy plugin with more than 3,000+ active installations. This plugin manages all your business with its awesome user management functions.
Key Features:
Awesome user management, organization, and editing.
Manage unlimited user data.
Custom form to collect more information about your website's visitors.
Send emails to your user's contacts from your WordPress dashboard.
Tracks user activities and note them.
Send group messages.
Manage notifications from your users.
And Much More.
---
3. Hubspot All-In-One Marketing:

Hubspot is the most powerful and flexible CRM, Email Marketing, Live Chat, Forms & Analytics solution for your wordpress website. It helps you to manage your business and turns your website's visitors into your permanent customers. With this plugin, you can easily engage with your website visitors and build a trust value among them. You can also build a contact form and newsletter to provide and receive more information.
Key Features:
CRM and Contact form management tool.
Create Newsletters, Contact Form, Popups, and Marketing Automation.
Interact Visitors with Live Chats and Chatbots.
Built-in Dashboards and analytics to track data.
And Much More.
---
4. UpiCRM

UpiCRM is one more free wordpress CRM plugin to manage and maintain the user experience of your wordpress website. It has all the functions to collect the user data and helps you to improve your user management. It creates contact forms to generate leads and convert them into your potential customers.  This is an all in one plugin to manage, track, collect, and protect all your user data and new visitors entries from all your website.
Key Features:
It has a database to collect leads from all types of contact forms such as Contact Form 7, elementor Forms, Wp-Forms, Ninja Forms, and much more.
Track the user data.
Manage all your leads and Notify you whenever a new lead comes in.
Dashboard to show all the data adequately.
You can set up automatic functions to manage immediate actions.
And much more.
---
5. Jetpack CRM

Another famous and powerful CRM Plugin, Jetpack CRM is all in one finest choice to manage your customer relationships, earn more leads, and maintain happier business relations. If you want to maintain a good relationship with your users then you have to use a powerful CRM for your WordPress website, so for that purpose Jetpack CRM is the finest choice available for you. You can use it for any type of website such as eCommerce sites, Start-up, Local & Small Businesses. Agencies & Freelancers and much more.
Key Features:
Manage unlimited users.
Create and manage contact forms to grab more leads.
Track all user data.
Send emails and notifications directly.
Create and manage automation.
And much more.
---
So, that's all from this blog, I hope you liked the list of 5 Best Free WordPress CRM Plugins In 2021. If you like this article then please share it with your friends and followers, Now it's your time to tell me which CRM plugin you like the most in the comments section down below. Also If you have any questions related to this blog you can also ask me in the comments section down below.