6 Best Free WordPress Post Reorder Plugins In 2021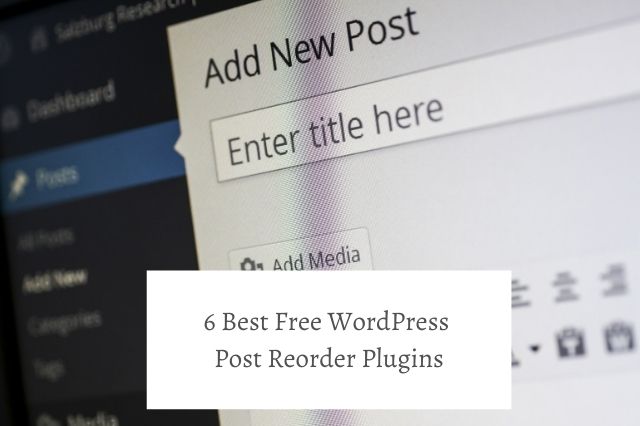 Reorder are the part of any website, and it constitutes the gateway between the readers and the site owners. Good-designed varieties normally play a massive role in any internet site and supply the correct aesthetics. However, varieties additionally signify the most important signal to the viewers of the internet site. It is an assortment of best free WordPress Post Reorder Plugins for WordPress users. Put up Reorder is priceless for the sales point of view, the internet site can snatch the attention of the advertiser and bring extra traction to the website's online earnings.
In this article, I will share 6 Best Free WordPress Post Reorder Plugins that will help you to reorder your custom post. So let's start;
1. Post-Types Order

Post types order is a powerful and most famous plugin with 500,000+Active installations and a near PERFECT rating out of 200 REVIEWS. It is used to reorder your Posts and Post Types Objects using a Drag and Drop Sortable JavaScript AJAX interface or default WordPress dashboard. The order can be personalized within the default WordPress post type archive list page or a separate Re-Order interface that displays all objects. It allows you to reorder the posts for any type of order you define in an easy way.
---
2. Reorder Posts

Reorder Posts helps you to reorder your wordpress custom post-type posts in an easy and fast way. It provides drag and drops functionality for post ordering in the WordPress admin panel so you can easily reorder your post just by drag and drop. Reorder Posts comes with some cool features such as it allows you to re-nest hierarchical posts, adds "Reorder" sub-menu, Auto-saves order, Translation ready, and much more.
---
You can also check the list of 8 best Free WordPress Pagination Plugins to improve your website navigation.
3. Simple Page Ordering

Simple page ordering plugin is simple and very easy to use for reordering your WordPress post or custom post types with a simple drag and drop feature. You can easily reorder posts just by simply drag and drop the page into the desired position. One of the most important note is that this plugin is not compatible with Internet Explorer 7 and earlier, due to limitations within those browsers.
---
4. ReOrder Post Within Categories

ReOrder Post Within Categories plugin is used to reorder your posts and custom post type in any type of order you want just by drag & drop facility. It works with a selected category, each category can have a different order of the same post. It is a powerful and simple plugin to reorder your post easily.
---
5. Reorder by Term

Reorder by Term plugin for WordPress allows a simple and easy way to reorder your post and custom post-type posts. This plugin uses custom fields, which means you can reorder by term within each taxonomy and post type. It works with custom-post-types and regular posts.
---
6. Custom Posts Order

Custom Posts Order plugin helps you to reorder your website's posts with easy Drag and Drop capability. A plugin that makes it possible for you to order your custom post in a quick and powerful way. You can also add a different list of sections of particular posts.
---
I hope you liked the list of free WordPress Post Reorder Plugins. Also, Share it with your friends so they can also reorder their website's posts.