7 Best WordPress Automation Plugins To Use In 2023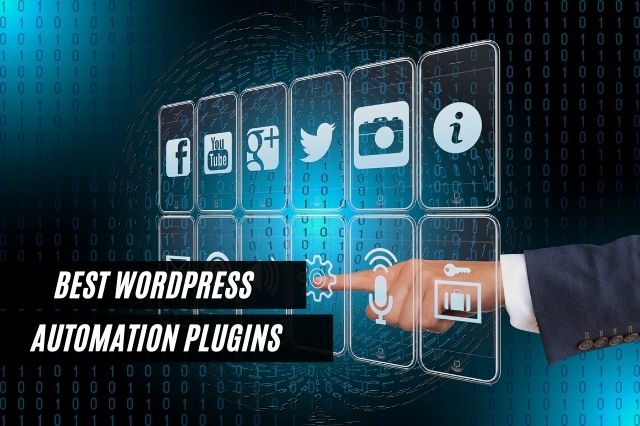 Nowadays, WordPress automation plugins are growing popular among developers and Webmasters as it saves both time and money and increases lead generation and website traffic. The development and marketing team can utilize these to save time to increase productivity and marketing. Furthermore, you can use these plugins to automate beneficial tasks such as email marketing, lead generation, organic traffic generation, social media marketing, customer support, brand awareness, etc.
However, there are lots of automation plugins out there, and finding one that meets your requirements can be a tricky task. Therefore, to help you in this, we have gathered some best WordPress automation plugins and created a list that will help you find the right one for you.
1. Constant Contact Forms Plugin
2. Uncanny Automator Plugin
3. ChatBot Plugin
4. OptinMonster
5. HubSpot Plugin
6. Warfare Plugin
7.  MonsterInsights
1. Constant Contact Forms Plugin

We are starting our list of the best automation plugins with the Constant Contact plugin. It is one of the most useful automation plugins that add a contact form to your WordPress site. This form quickly captures the information of visitors. With Constant Contact Forms, you can create branded emails, build a website, sell online products and services, and increase your brand awareness so people can find you easily.
Besides this, the Constant Contact Forms plugin is the easiest way to connect your WordPress website. You can create various forms like sign-up forms to add website visitors into mailing list contacts effortlessly. All the captured email addresses are then automatically added to the Constant Contact email lists. The Constant Contact Forms plugin also lets you create Customized data fields.
---
2. Uncanny Automator Plugin

The next automation plugin that lands on our list is the Uncanny Automator plugin. Its easy-to-use interface and powerful features let you automate your WordPress site in any way you want with no code. This plugin automatically passes buyers' data to Google Sheets when they buy products, and it also enrolls them in a membership level and courses. With the Uncanny Automator plugin, you can automate things such as Automator Core, Elementor, Events Manager, Integromat, myCred, Popup Maker, Restrict Content Pro, The Events Calendar, and Tutor LMS in just a few minutes.
Furthermore, if you have Zapier or Integromat already, setting it up will be reflexive. Uncanny Automator also lets you connect your WordPress websites, plugins, and external apps in various suitable combinations. In the Uncanny Automator plugin, when one thing happens, it lets other things happen automatically.
---
3. ChatBot Plugin

The ChatBot is another great plugin for automation. It is an all-in-one automation tool that allows you to create, track, and deploy chatbots across all mediums. The ChatBot plugin is best for automating various tasks simultaneously by creating multipurpose chatbots. You can build these chatbots with an easy-to-use Visual builder and different ready-to-use templates. Just drag and drop the elements, and your desired chatbot is ready.
Furthermore, these ChatBot comes with AI algorithms that help you improve your response time. This plugin offers features like a fully Customizable Chat Widget, One-Click Integrations With Facebook Messenger, Slack, etc. Visual Builder, Training Tool, Visitor Engagement Booster, etc. ChatBot plugin uses AI algorithms to provide better support, engage, and sell across all mediums. These algorithms adopt chatbots according to customer needs.
---
4. OptinMonster

OptinMonster is known for its email marketing and popup building. This plugin helps you get email subscribers, build popups, increase sales, and many more. Its easy-to-use popup builder allows you to make attractive campaigns, subscription forms, sticky announcement bars like a gamified spin-a-wheel, and other kinds of interactive popups. With the OptinMonster plugin, you can turn visitors to the abandoned website into valuable customers and subscribers.
Furthermore, popups generated from this plugin are not as annoying as other WordPress popup plugins. The best thing about this plugin is its smart audience targeting features that show your message to the right audience at the right time. In addition to this, this plugin's popups are so responsive that your promotional messages will always look great on all devices and it is also optimized for SEO, marketing, and conversion rate.
---
5. HubSpot Plugin

The HubSpot plugin is the next powerful automation plugin that lands on our list. This plugin builds its reputation for its most powerful & easy use contact management (CRM), email marketing, live chat, forms & analytics features. The HubSpot plugin helps you turn your visitors into leads or customers and measure the growth of your business. With the HubSpot plugin, you can easily manage your entire contact and group contact database with its CRM and built-in list builder.
Furthermore, the HubSpot plugin lets you engage visitors through live chat and chatbots, generate leads with forms & popups, build stunning, responsive email newsletters, and host marketing automation campaigns. This plugin is best for measuring the real-time growth of your business with its easy-to-use analytics dashboards.
---
6. Warfare Plugin

Social sharing is one of the best ways to increase brand awareness and generate good free organic traffic. With the Warfare plugin, you can create a more powerful, good-looking promotional message for your visitors. It is not just a good-looking plugin but also works lightning-fast, and it does not slow down your website. Also, Social marketing experts and developers created this plugin. So, it is specially designed for marketing purposes.
Furthermore, the Warfare plugin lets you add beautiful social sharing buttons to your WordPress website and also lets you select which icons and pages appear on your website automatically. With this plugin, you can even customize visitors' shared messages too. That way, you can ensure your brand awareness on the social media platforms, Comment sections, or Posts. It is one of the powerful automation plugins, so try it now.
---
7. MonsterInsights

The last plugin that comes in our list of the best free automation plugins is the MonsterInsights plugin. It is a Google Analytics plugin for WordPress. Unlike other WordPress plugins, this plugin allows you to access advanced features such as Google Analytics tracking with just a few clicks. Moreover, with all these features, you can increase your traffic and sales drastically.
Furthermore, MonsterInsights offers you an analytics dashboard that shows you actionable analytics reports. It is a powerful yet easy-to-use plugin that connects your WordPress site with Google Analytics. This plugin is very popular and used by many well-known companies such as Bloomberg, FedEx, and Subway to set up their Google Analytics on their WordPress websites. MonsterInsights only shows you the analytics stats in reports that matter. This report helps you to make decisions that grow your business even further.
---
Conclusion:
First of all, thanks for visiting our site. I hope you like this article. Try these WordPress automation plugins and share your experience with us. If you have any other plugin that you want us to add or we miss, please write in the Comment section below.
Furthermore, if you have any questions regarding this article or have any kind of suggestions, you can also Comment in the comment section below.