20 Beautiful Holiday and Gifts Templates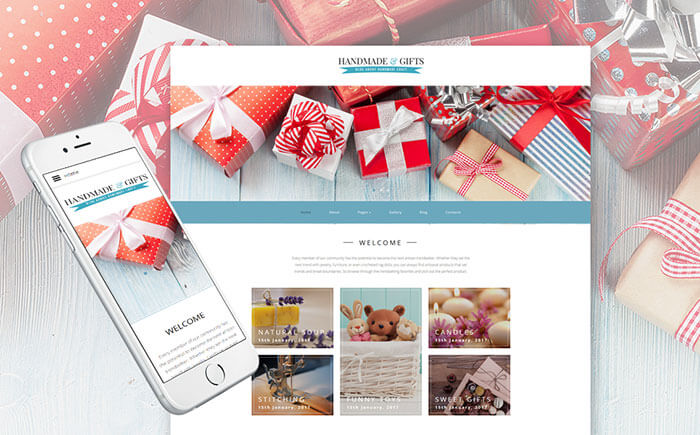 To say the truth, gifts wield incredible power. They can recreate all your memories connecting with someone who gave you this present. Sometimes it takes only one glance at it to remember that very moment when your mother, brother, or beloved one stood at the front of you and, finally, made a gift. Probably, you remember every single emotion that you felt that minute or, perhaps, you remember only this happiness that cannot be put into words. Anyway, a gift is something extremely joyful and memorable. It's something that reminds you of the best moments of your life.
Why Do You Need A Ready-Made Holiday & Gifts Theme
Actually, sometimes it can take too long to find out the most amazing gift. There are a lot of websites on the Internet that offer high-quality and pleasant presents that definitely catch the eye of various people who are in search of hansels. In order to help those people who sell gifts online, TemplateMonster decided to make a collection of 20 wonderful holiday and gifts templates. All of them will provide you with a chance to stand out from the crowds of different online-shops. All of them are extremely colorful and even magical that you cannot even wish better.
If we were to talk about functional part of this ready-made eCommerce website templates (made for various eCommerce platforms like Prestashop, Shopify, Magento, OpenCart and so on and so forth), all variants presented below include all essential features to make your online-store the most well-known and reliable one. You can easily give a proper presentation of your goods and services, provide your potential customers with various details and pictures of them, and even tell more about your company and amazing staff. In addition to this, multiple options will allow you to make eye-catching promo-campaigns that will make your goods be sold like hotcakes.
If you have any questions, our wonderful support is already waiting to answer them and help you with every possible issue. So, we're not going to make you dangling – let's take a look at these amazing templates here and now!
Giftior – Amazing Magento Template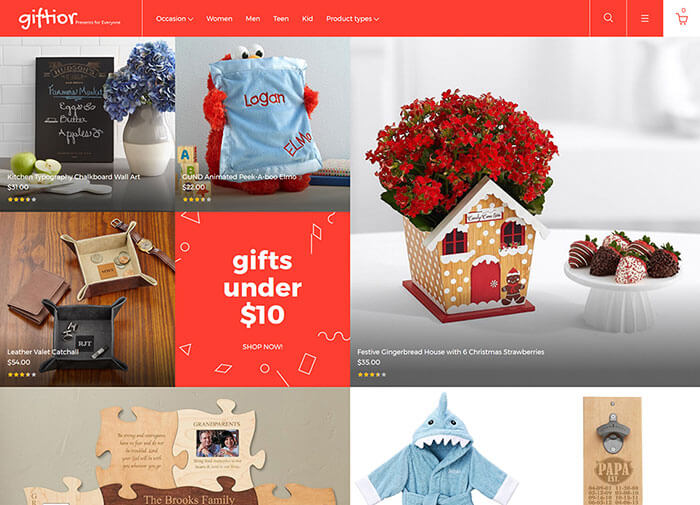 To say the truth, this template is too beautiful for words but we will try to find proper words to describe it. If we were to talk about a functional part of Giftior, it would crucial to mention TM Modules that allow you to save a great amount of money and, in such a way, spend them on joyful gifts. In addition to this, it includes a tremendous mega-menu – a powerful extension that will assist you in making customized and tailor-made menus.
---
Handmade Gifts – Crafty Joomla Template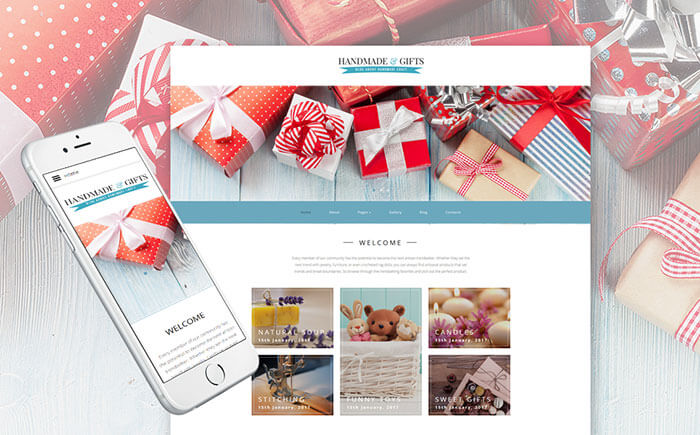 A handmade gift made out of the goodness of one's heart is an almost matchless thing. This lovable theme is designed to present your nifty-looking works on the web. It comes with a vast number of pre-made pages and attractive layouts that will reveal your brand in the best possible light. Furthermore, it's possible to let customers get acquainted with your talented team using Our Team feature and showcase feedback in an out-of-the-ordinary way using Testimonials.
---
Joulupukki – Magnificent OpenCart Template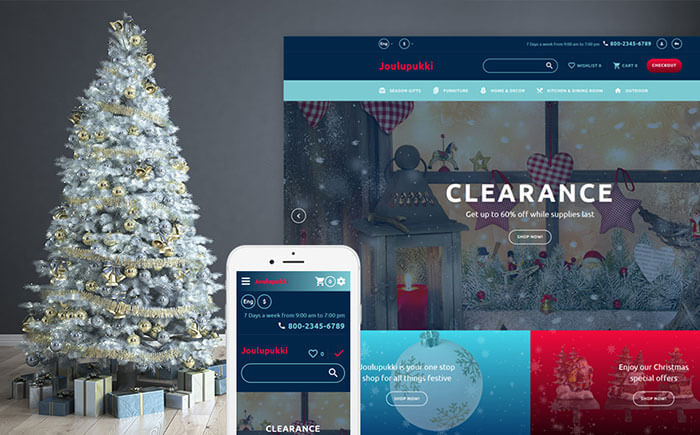 Joulupukki is a festive template that was definitely designed with the help of the magic wand. It takes aim at turning a holiday shopping into the most comfortable and happy process ever. An adorable mix of colors that come alongside with warm illustrations looks extremely wonderful. Ajax search and various shopping cart modules will allow your customers to find the desired products just in a few clicks and, what is more, easily manage their carts.
---
Jingle – Adorable Shopify Theme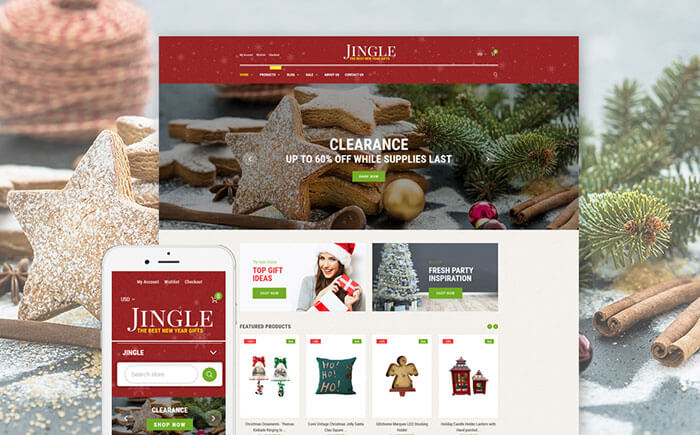 Jingle is a remarkable theme that catches the eye of various people on the Internet with the help of the design made in jazzy colors mixed with lovable typography. It also includes a newsletter subscription pop-up that will allow your customers to receive all news, updates on new arrivals, and special offers on their emails. In addition to this, an engaging Parallax animation will turn their shopping experience into something memorable and cozy.
---
Xmas – Lovable Magento Theme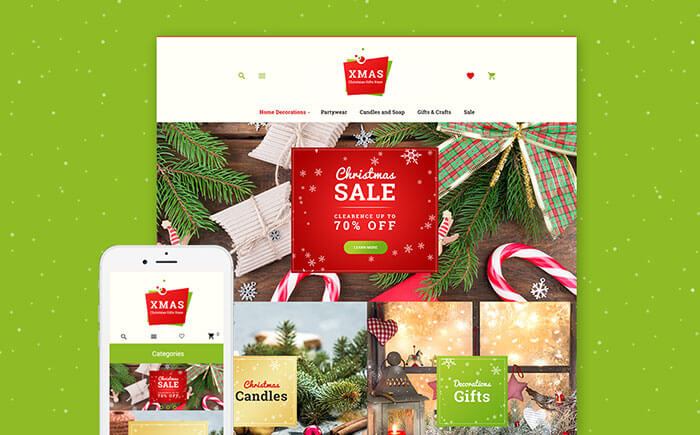 A well-loved Christmas template designed for those who make pleasant holiday gifts. It comes together with positive festive backgrounds and a mixture of warm and bright hues. Moreover, a fine-featured Product Carousel will make your customer agape with wonder and scroll through various items. In addition to this, multiple sorting options with wonderful Ajax plugins will provide people with a comfortable and quick process of shopping on the eve of holidays.
---
ClassyGift – Stylish Shopify Theme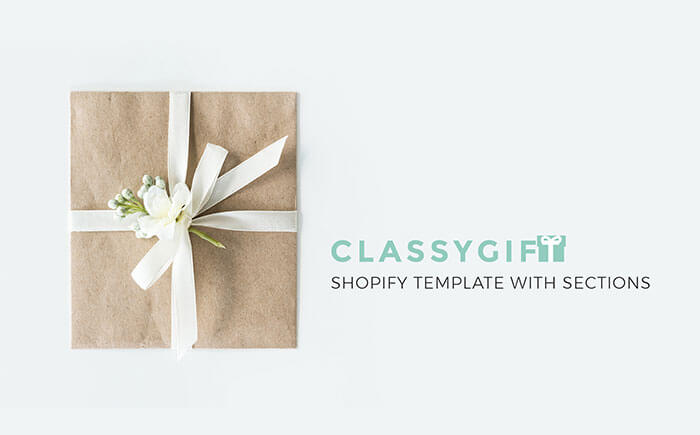 ClassyGift is a marvelous holiday, gifts & flowers Shopify theme that comes with various useful sections. With the help of slideshow and product carousel, you can showcase your presence in the most refined way, while using featured products, it's possible to highlight top-rated goods. In addition to this, different sorting options will provide you with a chance to divide your assortment into various categories and, in such a way, make people feel at ease while choosing gifts.
---
Giftior – Hearty OpenCart Template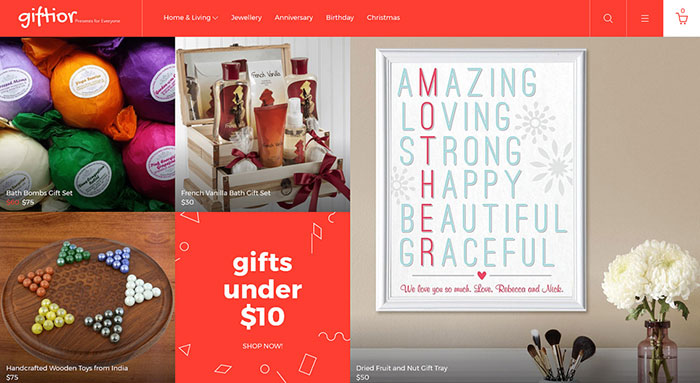 Giftior is a heartwarming template that will assure you that it would be nice to express your love for your friends and family by giving tiny presents for them. A great wishlist & compare will allow you to choose the best gift for beloved ones. Moreover, in order to help customers be aware of the latest updates on your assortment, this theme comes equipped with a nice-looking newsletter subscription pop-up.
---
Deluxe Card – Amiable Magento Theme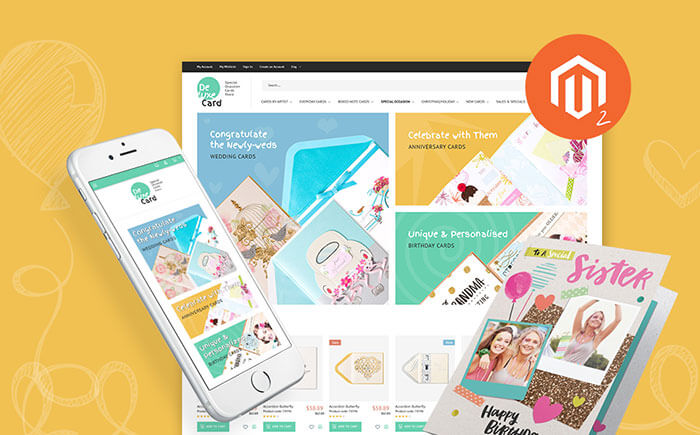 Weddings, birthdays, anniversaries – all of these red-letter days are considered to be reasons to congratulate your relatives and make them presents. This theme designed for those people who adore making handmade cards and, in such a way, make people's holidays even more bright. It includes a wondrous mega-menu and a powerful live-search that will certainly hit the mark. In addition to this, engaging animated banners that come together with product badges will capture customer's attention to your promo-campaigns.
---
Giftters – Remarkable Prestashop Theme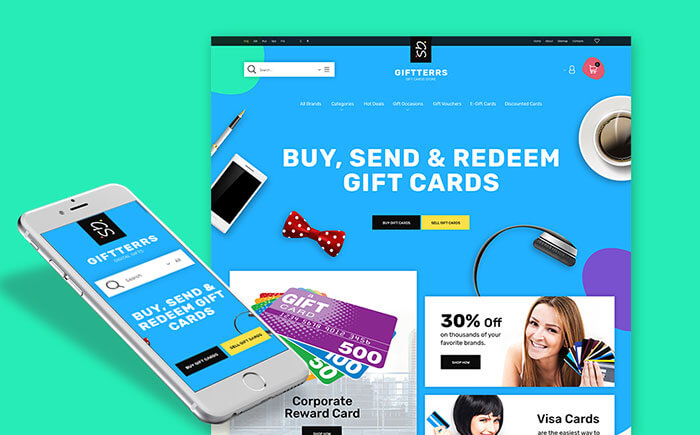 Giftters is one more template that will spread the word about gift-cards on the Internet. It comes packed with a huge number of modules that will definitely help you to draw the attention of your target audience. Moreover, such a feature as TM Collections gives your customers a chance to make unique collections of your goods and share them on their social networks.
---
Florist – Blooming Shop OpenCart Template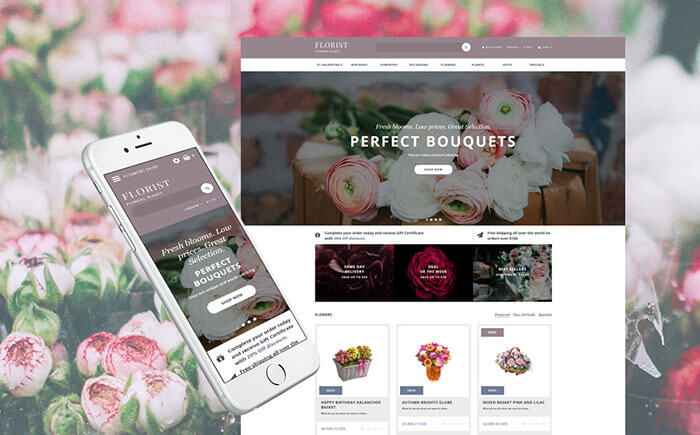 A flourishing template that looks like a bouquet of the marvelous design, rich functionality, and remarkable shopping experience. With the help of eye-catching product badges, you're able to showcase the price and status of your goods. In addition to this, multi-language and multi-currency options will make it possible to get customers from every corner of the world.
---
Fireamax – Sparking OpenCart Template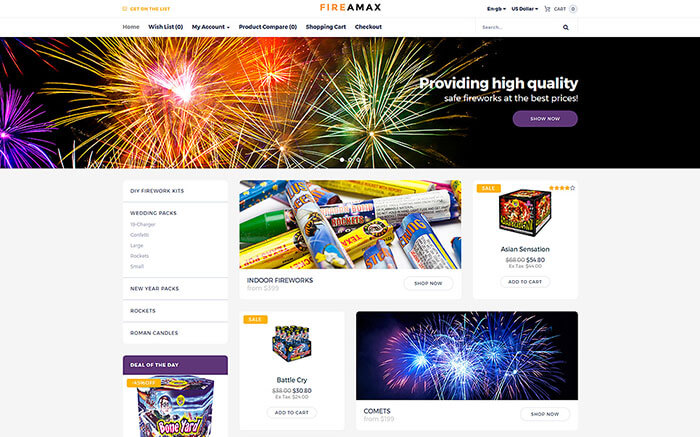 Have you ever thought that it's possible to make a firework on the Internet with the help of one single template? This shining theme comes alongside with a dazzling design that certainly distinguishes it from others. A wonderful drag-and-drop builder will provide you with a chance to not waste time on customization. Furthermore, multi-currency and multi-language features will help you to reach out to customers from various cities and countries.
---
Christmas Tree – Outstanding MotoCMS Template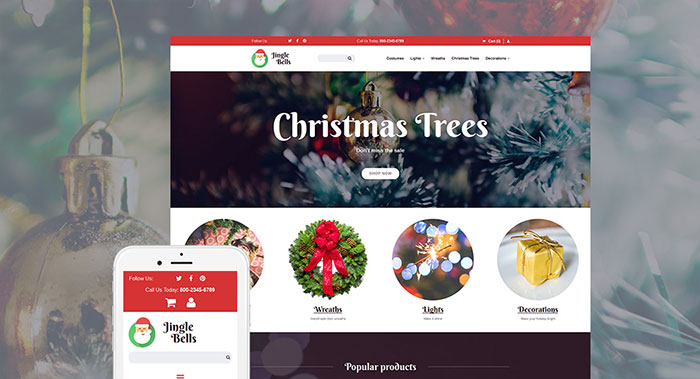 What kind of Christmas can be possible without its main symbol – a magnificent Christmas tree? This template certainly won't leave you without a pine odor. It includes slider & audio player widgets that allow you to present your content in the most creative and thrilling way ever. In addition to this, it comes with a collection of 500+ Google Fonts that gives you a great opportunity to make your online-store more elegant and grand.
---
Alleando – Splendid PrestaShop Theme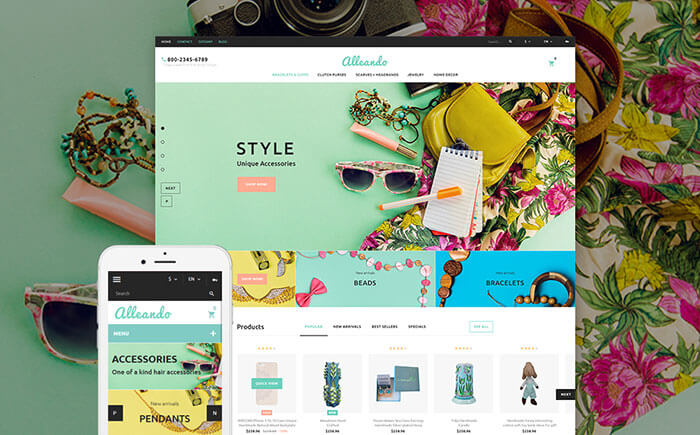 Alleando is a stylish and modish template that comes together with a superb design made in fresh colors. A powerful mega-menu will definitely turn into a guide that will help your customers to find the desired products. Furthermore, a vast number of banners and sliders (mixed with engaging animation and featured products) will make your promotion even more rich and spectacular.
---
Gifts – Grand OpenCart Template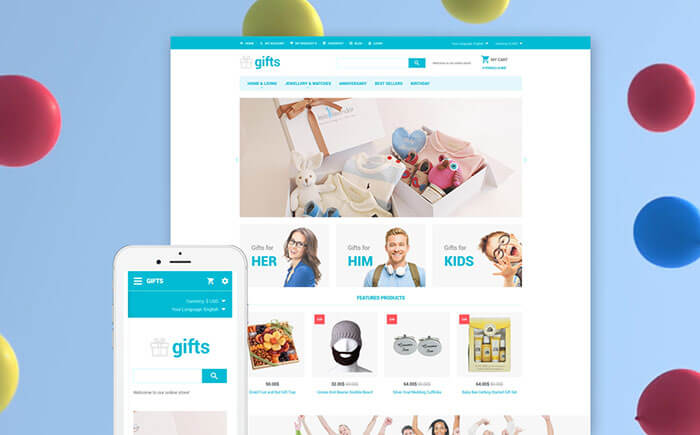 A sublime template that will help you to make your online store stand out of the crowd of others. Multiple layouts options that come alongside with impressive header and footer styles will turn your website into a one-of-a-kind one. In addition to this, a remarkable website slider will make your customers fall in love with the presentation of your goods at first sight.
---
Christar – Magic VirtueMart Template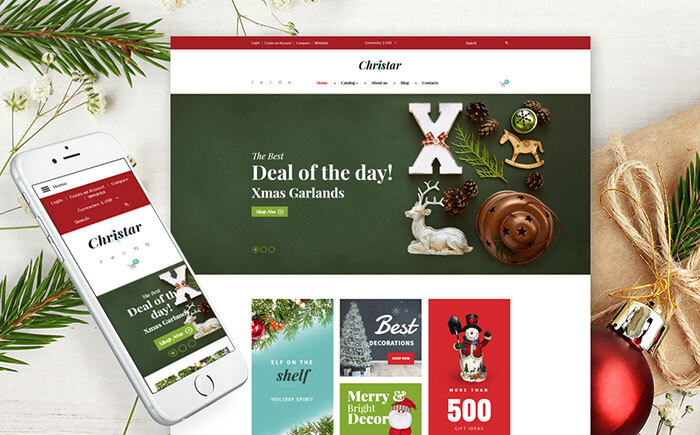 Christar is a brilliant Christmas template made for presenting holiday decorations on the web. It includes a categories accordion and drop-down menu that makes a website visiting more comfortable and pleasant. Moreover, multi-currency support will make it easier for customers to purchase the chosen goods.
---
Lantiana – Stunning Magento Theme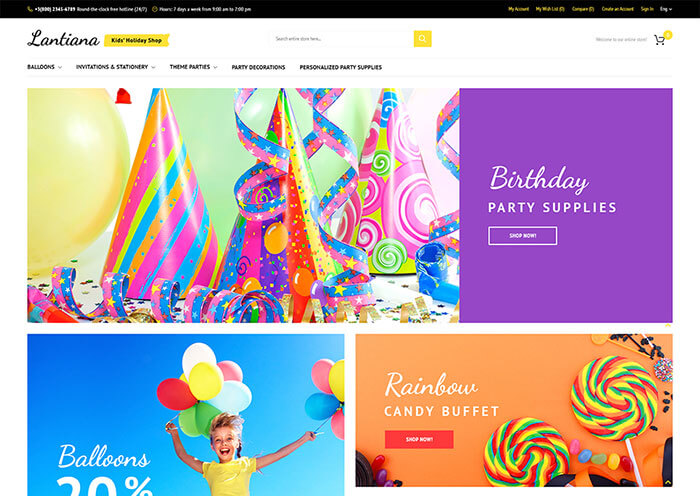 Lantiana is a striking template that will help you to make a true party on the Internet. A huge number of additional pages will help you to display various types of content – tell some details about provided services or even write about tips that will make a celebration more memorable and cheerful. In addition to this, this theme comes packed with spectacular banners and sliders that will certainly bring to people's notice different promotions and discounts.
---
Alleando – Creative MotoCMS Ecommerce Template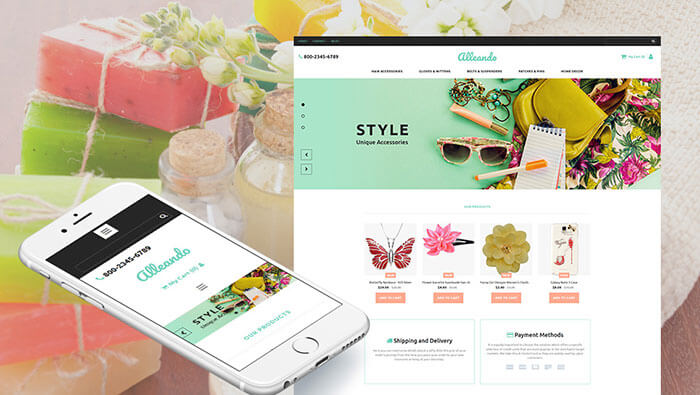 Alleando is a joyful and gorgeous template that allows you to build a well-loved and recognizable gift-shop on the web. With the help of impressive extensions, you can make your goods even more valuable and attractive. Furthermore, a wonderful store search and various product filters will give you a chance to capture customer's attention with a simple and cozy shopping process.
---
Florabido – Rosy PrestaShop Theme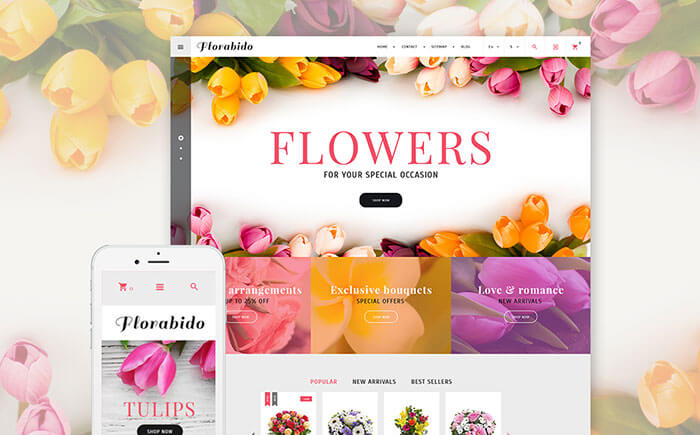 Let's add some blooming hues to your florist shop with the help of this stunning template. It comes alongside three ready-made layouts all of which look extremely attention-getting and fresh. Moreover, your bouquets will look even more bright with various product badges, star ration, and quick preview that allow you to build a trustful relationship with your customers.
---
PinkFlora – Blooming PrestaShop Template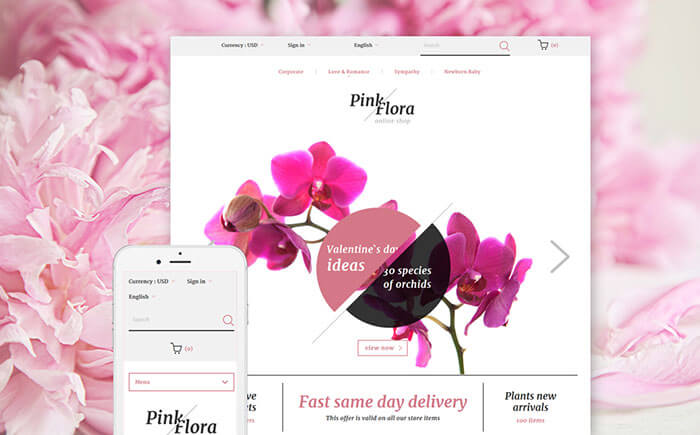 PinkFlora is an incredible theme designed in a palette of tender white and pink colors. It includes a wonderful gallery that comes together with a powerful hover effect and remarkable stickers. Using multiple types of social media block, additional links, and company contacts, you can make your online-shop look more reliable and trustworthy in the eyes of your clients.
---
Surprise – Classy OpenCart Template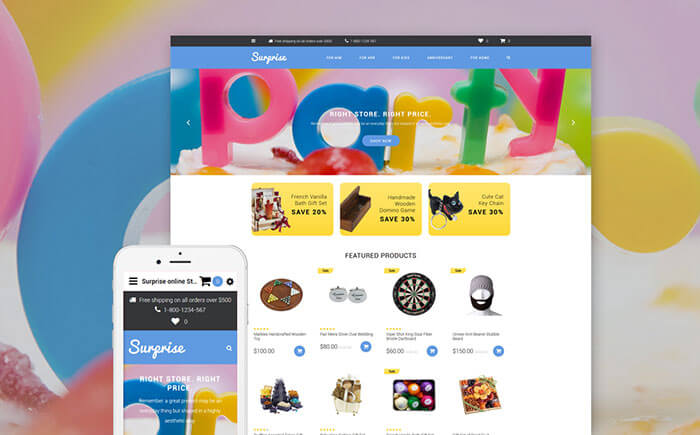 An unexpected surprise in the form of the cherished present – what can sound even more fantastic? This multi-lingual and multi-currency template will be a great discovery for those who sell these unexpected surprises like hot pies. In order to help you present the most important information about your goods and services, this theme comes together with a stunning slider that allows presenting various promos, offers, or everything else that you want to highlight.
---
We hope that we've stolen away from you with the help of these remarkable templates. If you want to put a smile on people's faces, just start selling gifts on the Internet and, of course, use one of the themes for such a purpose. Believe us, you will feel an unthinkable joy when you decide to share your marvelous gifts with others. We wish you good luck and thanks for reading!