Top SEO WordPress Plugins to Boost Website Traffic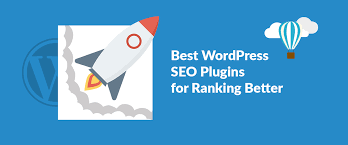 There are over 455 million websites out there that use WordPress. After you've invested time into building the best site you can and crafted high-quality content, the next step is ensuring it gets seen. However, in order for your site to receive any significant amount of organic traffic, you need impeccable search engine optimization. In this article, we've compiled a list of the top ten SEO plugins for WordPress
SEO is what helps to improve your site's ranking on the search engine results page. The learning curve for SEO is steep. That's why most people turn to SEO WordPress plugins.
1. Yoast SEO
Yoast is a comprehensive plugin that will help you handle both on-page SEO and off-page SEO. It can assist you with managing aspects like URLs, page titles, meta descriptions, and more. Yoast will let you customize and optimize the title to any of your web pages. Beyond that, it will also help you to write a unique meta description and then change the slug into a URL that's more SEO-friendly.
With Yoast, you can also go into the WordPress plugin settings for the plugin and enable its ability to create an SEO report card. This SEO report card will aid in giving an overall summary of your blog posts and what you can do to improve optimization for them.
On top of that, Yoast is also able to help with Google Search Console, creating automatic XML sitemaps, and changing the robots.txt file. All of this together is why Yoast is one of the top WordPress plugins out there.
2. HubSpot
You won't have to worry about hiring a WordPress SEO expert with the HubSpot WordPress plugin.
The HubSpot plugin can help you build an SEO strategy that is high-quality. The plugin offers built-in analytics that will study your marketing efforts and give easy-to-read summaries in multiple dashboards.
3. All in One SEO for WordPress (AIOSEO)
AIOSEO is another top WordPress plugin that over 2 million users make use of at the moment. It offers a comprehensive SEO toolkit that will help you boost your website traffic.
This plugin has an easy setup wizard that will choose the best SEO settings for your website. With AIOSEO, you'll get an on-page analysis to customize settings and also rich snippet schema markups, XML sitemaps, and much more.
4. SEOPress
If you're new to SEO and need something that's beginner-friendly, then look no further than SEOPress. It's a free plugin that will help you with making XML sitemaps, HTML sitemaps, image SEO, content analysis, and much more.
If you do decide to spend money on SEOPress, then it allows you to dive much deeper into the SEO of your site. With the pro paid version, you'll have assistance with local SEO, breadcrumbs, schemas, finding broken links, and a whole slew of other features.
5. MonsterInsights
There's no doubt that you need to track the analytics of your site if you want to make informed decisions to improve the SEO. MonsterInsights specializes in doing that.
MonsterInsights helps to bring Google Analytics into your WordPress dashboard and then parses the information to give you step-by-step insights on what to do to improve the site's performance.
With MonsterInsights, you'll be able to see how people find your website, what pages they're visiting the most, and much more.
6. WP Rocket
Google made page speed a ranking factor back in 2018. The longer it takes for a website to load, the more visitors will leave. This leads to a higher bounce rate, which can drop your ranking factor. On top of that, if you're losing site visitors, then you're missing out on revenue.
WP Rocket is a plugin that helps boost the performance of your site pages. Once you've installed this plugin, it automatically sets about optimizing files, databases, and media to ensure the site is as fast as it can be.
7. Rank Math
Would you like real-time insights into the content you're writing? Rank Math does just that.
Rank Math will let you optimize the titles and meta descriptions for a post before you're even done writing it. It'll also give you a snippet preview before you publish so that you don't have to risk there being a display error in the SERPs.
8. SEMRush
If you're looking for something a bit more advanced, SEMRush will be right up your alley. It's what many expert marketers utilize to help them optimize a website.
SEMRush can assist with finding keywords, doing competitor research, and a whole host of other comprehensive tools to help grow organic traffic.
9. Premium SEO Pack
This plugin is set apart from others because Premium SEO Pack deals with advanced features that most other plugins don't address. Premium SEO Pack offers insights into Google Analytics, page speed, 404 checking, link building, rich snippets, and more. This plugin is most ideal for users who have a more expert-level grasp of SEO.
10. WP Meta SEO
If you're looking at needing to restructure an entire site, then WP Meta SEO might be a good fit for you. It allows you to handle meta information bulk editing across the entire site at once. That means you can avoid going into individual pages and editing them one at a time.
On top of that, this plugin is able to integrate with Google Search Console and give keyword suggestions. Some of the other SEO features it offers include a sitemap generator and a redirections manager.
Choose SEO WordPress Plugins That Are Right  for You
Your options for SEO WordPress plugins are almost limitless. There are hundreds of plugins out there on the market, ranging from free to paid. The plugin that you need for your website will depend upon the scope of your site and your own level of SEO expert. Some plugins are perfect for SEO beginners, while others are meant for users with a more advanced understanding.
We hope you found this article on SEO WordPress plugins helpful. If you liked what you read, be sure to browse our site for other great reads on this topic!