7 Best Bakery WordPress Themes To Effectively Present Your Baker Shop Online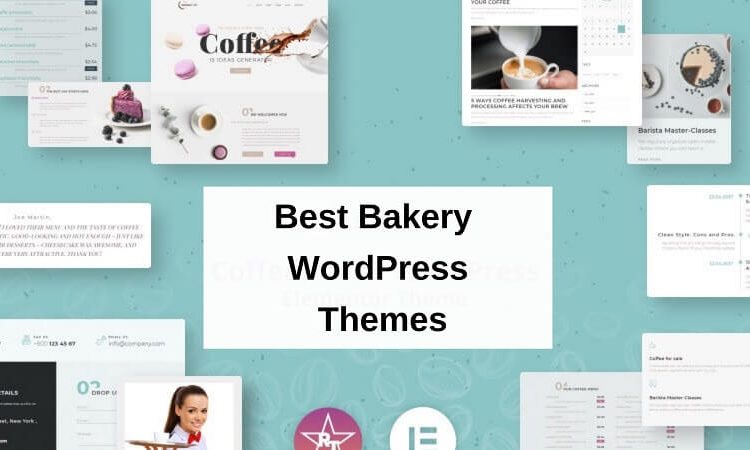 Do you want to give your bakery or cafe website an eye-catching look? Or maybe you're looking for a ready-to-use template designed by an expert to modernize your website quickly and easily? Regardless of your need, you've come to the right place. In this blog, we will provide you with the seven best bakery WordPress themes available on the web.
Let's get right to it.
Table of Contents:
1. Jumbo
2. Bakery and Pastry
3. Yamiz
4. Patisserie
5. Chateau
6. Muffin
7.  Arabusta
1. Jumbo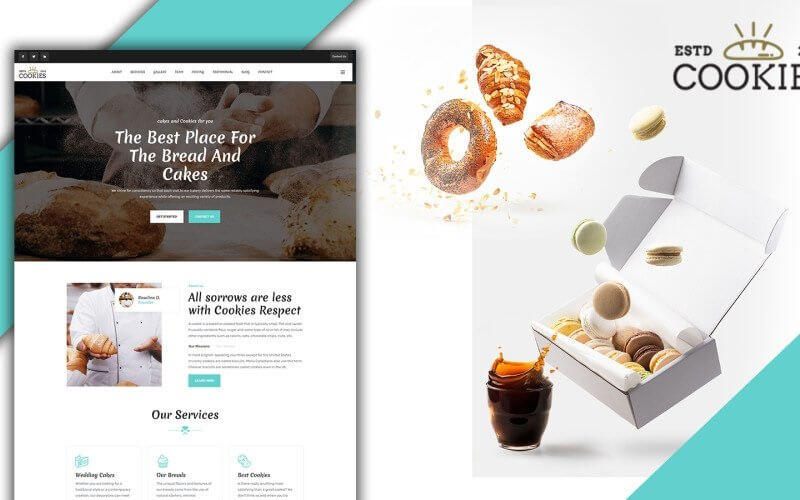 Jumbo is a modern and premium WordPress bakery theme that lets you showcase your bakery activity online in the best light. The design presents a clean, fresh look that clearly separates each section and allows the user's focus to be on the most relevant information. Furthermore, it includes a blog section so that you can share your bakery recipes and the latest news about your shop. It integrates with WooCommerce. Consequently, potential customers will be able to purchase your products directly on your website. The template is also completely responsive. Thus, users will be able to visualize and interact with your website from any device (desktop, tablet, mobile).
---
2. Bakery and Pastry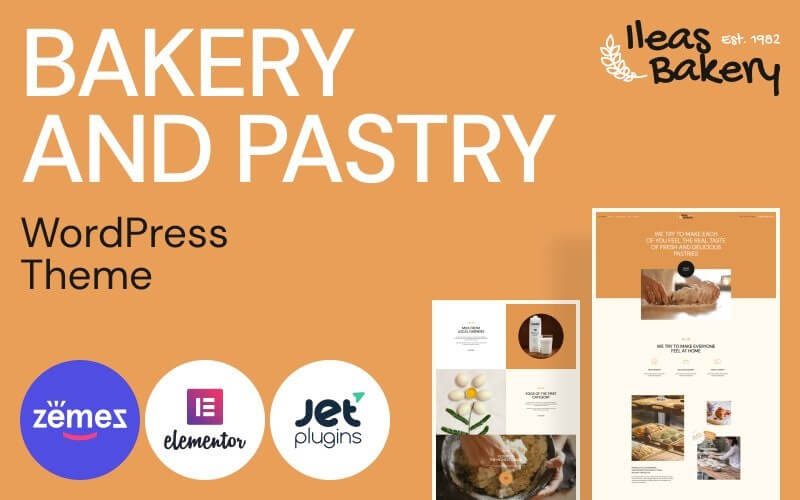 Bakery and Pastries template deserves a mention as one of the best bakery WordPress themes. Featuring a modern design and multiple interactive elements, it will make the overall user experience engaging and memorable. Through the header video and video backgrounds on the homepage, you can get the attention of users by sharing a recipe or a feeling-inspiring baking video. It also includes a FAQ section where you can provide detailed answers to the most frequently asked questions about your products or activity. It also includes social media icons and a newsletter subscription button, so that users can follow you on your social media pages and you can strengthen your relationship with them.
---
3. Yamiz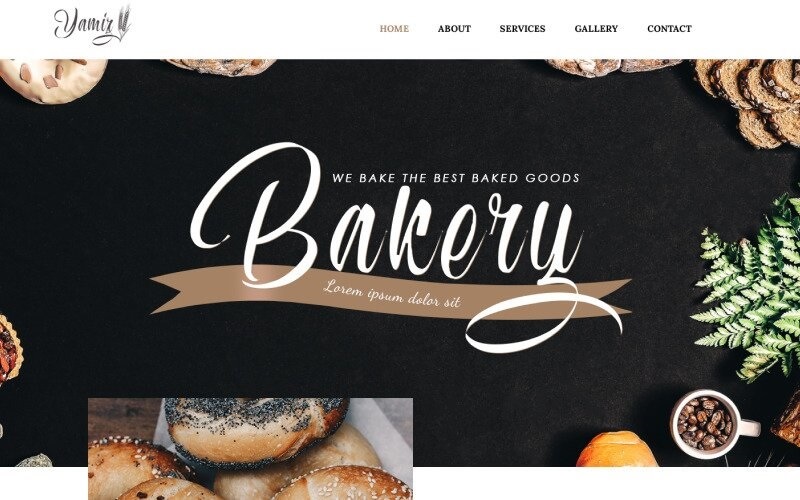 Yamiz is a bakery WordPress theme that lets you create or update your bakery website quickly and easily. It includes multiple ready-to-use pages that you can import with one click and customize according to your preferences and needs. It is built using Elementor. Therefore you won't need any coding knowledge, and you will be able to edit it using the drag-and-drop system. In addition, the template incorporates multiple transitions and animation effects that will create a memorable experience on your website. To make its appearance more appealing, it also embeds a gallery element where you can add images of all your pastries.
---
4. Patisserie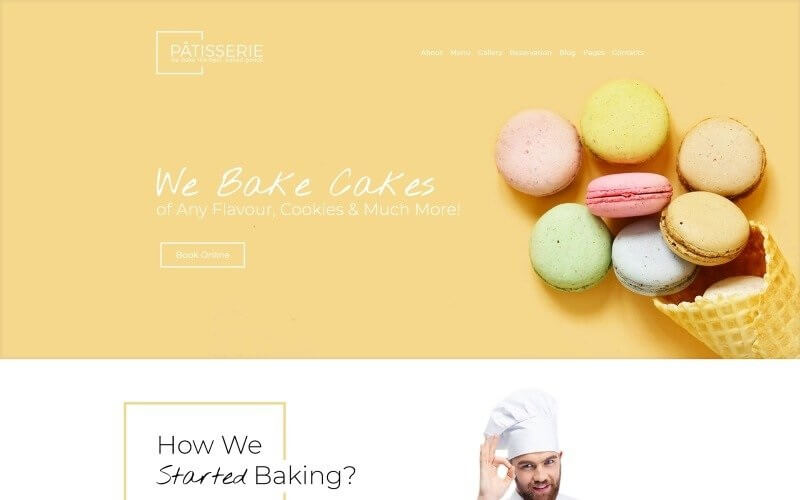 Pastisserie is a fresh and clean bakery WordPress theme that lets you showcase your bakery online in the best and most effective way possible. It presents an original style with transitions and eye-catching images. It provides you with a variety of pages such as an about page, menu page, and blog page, where you can share information about your bakery's history, your team, and your products, and showcase everything you sell. Additionally, it integrates a booking system that will enable users to reserve a table easily and directly through the website.
---
5. Chateau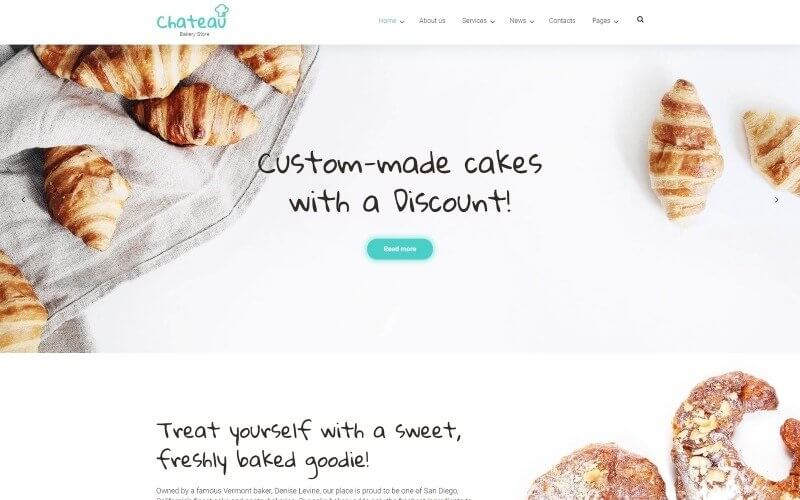 Chateau is an SEO-friendly and responsive theme that deserves a place in the list of the best bakery WordPress themes. Its sleek and clean design inspires freshness in every web visitor. You can use large and high-quality images on your homepage to inspire users and encourage them to buy your products. It also incorporates a services page where you can list everything your bakery shop has to offer (e.g., cakes for any occasion, salty pastry, bread, and more). Additionally, it boasts a contact form that simplifies the process for visitors to reach out to you swiftly and simply.
---
6. Muffin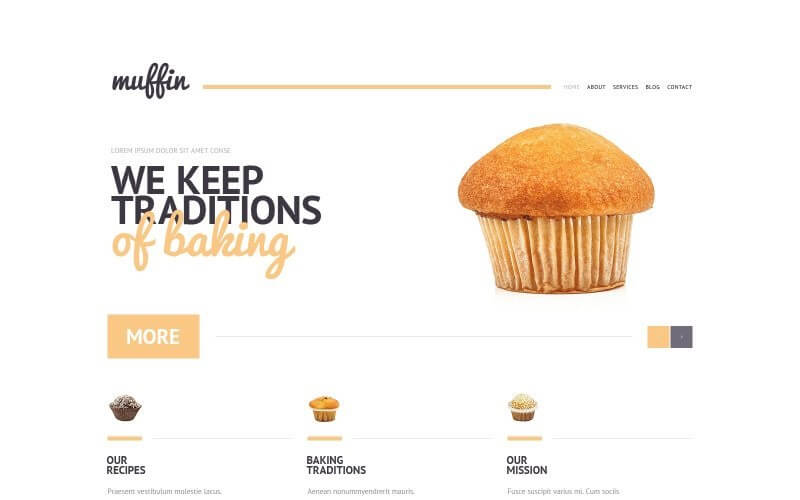 Muffin, as its name implies, is a minimal WordPress theme specifically designed for bakeries that specialize in muffins. There is a clean look that allows you to display essential information in an effective manner. By using this template, you'll be able to share information about your mission, your recipes, your traditions, and much more. By integrating social media buttons and an email newsletter form, you can also build and maintain relationships with both loyal customers and potential customers. The theme is SEO-friendly and fully responsive. As a result, your website will be visible on any device, and it will also have a better chance of ranking higher on search engine results.
---
7. Arabusta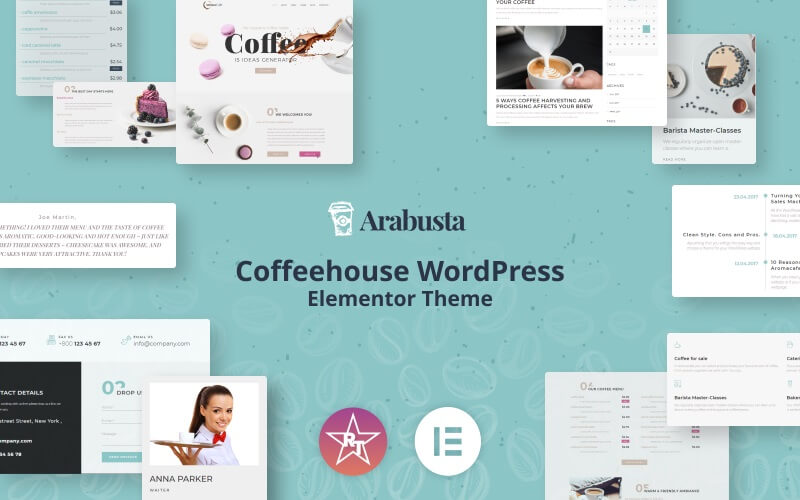 Arabusta is one of the best bakery WordPress themes available on TemplateMonster's marketplace. This can be used not only for a bakery shop but also for a cafe, confectionery, etc. It is built with Elementor. So, you'll be able to use its library of ready-to-use sections and elements that will make your website customization and editing easy and quick. You can showcase a menu of all your products with respective prices, as well as big eye-catching images to captivate your site visitors. In addition, your bakery shop's opening hours will be shown on the footer, along with contact information and the location.
---
Conclusions
Here is the end of this blog post on the seven best bakery WordPress themes available online. Hopefully, you found one that suits your needs and preferences among the ones listed above. If you haven't yet, check out TemplateMonster's marketplace. There you can find thousands of WordPress themes and many other digital products designed by experts around the world.