Monstroid2 vs Divi vs Avada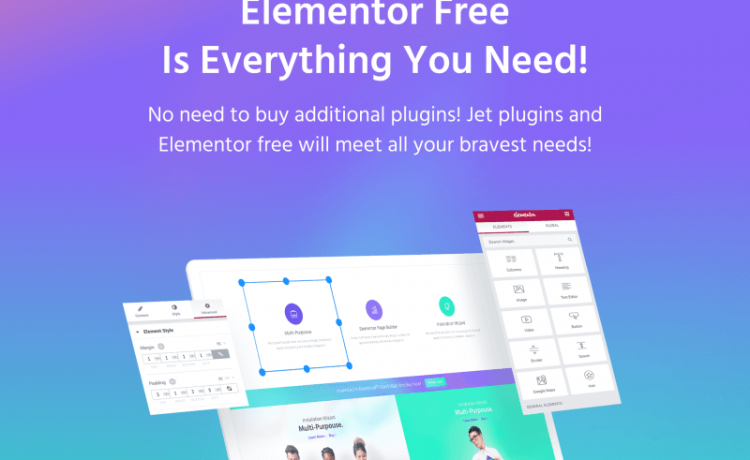 In today's highly competitive world and fast-paced market, here's a good reminder of the importance of building a professional website that can meet ever-changing business goals. We all get used to universal solutions that can ease our pain when creating websites. When in fact, only a few multipurpose ready-made solutions have the magic touch that saves the day.
At this point, we all know that WordPress is one of the best ways to start building websites. We all know where to find them worthwhile premium WordPress themes. Moreover, we all know several best solutions that have stolen the hearts and minds of users all over the world.
Of course, we're talking about Monstroid2, Avada and Divi. The thing is that these 3 powerful multipurpose solutions are considered to be the most popular mega themes on the digital market. Indeed, each of these has its own pros and cons, but when it comes to creating fully-fledged websites, each of these can really ease the pain.
Let's compare these powerful mega themes and find which one deserves the user's attention most.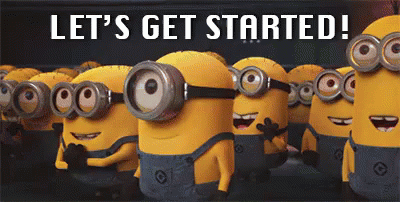 1. Meet Super Updated Monstroid2
Let's get started from super updated WordPress theme – Monstroid2. As the theme's provider claims, a super updated version of Monstroid2 offers you everything you've ever dreamed of. Taken into account that Monstroid2 was introduced in 2017, today is the day when we meet a reborn star with a complete makeover.

Here are some basic features (the prices, the licensing) of Monstroid2, Avada, and Divi to help you understand the whole picture.
| | | | |
| --- | --- | --- | --- |
| | Monstroid2 | Divi | Avada |
| Author | ZemezJet TemplateMonster | ElegantThemes | ThemeFusion |
| Price | $75 (pre-order $53) | $89 месячная подписка | $60 |
| Category | Multipurpose | Multipurpose | Multipurpose |
| Builder | Elementor | Divi Builder | Fusion Builder |
| Size | 250KB | 415KB | 388KB |
| WooCommerce | + | + | + |
| Speed and Performance | Very high 1,2 sec | High | Very high |

Now, let's look into the topic more deeply.
1.1 What's New? The all-you-need-to-knows about Monstroid2
Elementor + Monstroid2

With a focus on improving ease-of-use and performance, Monstroid2 2018 comes jam-packed with Elementor Page Builder to give users more freedom to modify their tasks. With Elementor, even a newbie will have the magic touch when it comes to building a website.
First, its powerful functionality allows users to get the best experience from it. Next, taking into account that Elementor has both powerful free and pro versions, it's easy to extend its functionality with free add-ons. Finally, it offers limitless design possibilities. Well, that's something, right?
Besides, to get you up to speed – Elementor marketplace welcomes you. Don't miss out on a great collection of Elementor themes, Elementor templates, and plugins. All of them gathered in one digital spot. Poke around. It's fun.

500+ templates (sections)

All right, let's move on.
The updated version of Monstroid2 includes 500+ pre-designed sections or templates ready to do all the magic. In other words, there are over 500 ready-made templates which you are free to edit, save, and use in your next projects. This means that you are able to create your own unique templates, collect them in your own library, mix them, and use them every time you need it.

Well, in order not to go beyond lip service, let's start with some examples. Once you create a block 'Our Team', you can save it and use it for another project built with Elementor. First, you save a ton of time. Second, you don't need to reinvent a wheel. Simply take the right one and make it look unique easily.

Besides, developers claim that the collection of pre-designed templates will be extended on extra 500+ designs in one month. Well, that's very tempting.

Speed and Performance

When it comes to speed and performance, updated Monstorid2 makes a big difference. It definitely works much faster and weights 250KB only. Looking to make new version download faster, developers simply ignore adding CSS nor third-party plugins. Sure thing, this increased page speed and decreased the number of requests to the database.
Now, let's take a closer look at Monstroid2 and Divi.
3. Monstroid2 vs Divi
As it was mentioned previously, Monstroid2 includes only Elementor-compatible plugins which offer more creative freedom to customize the pages as per your liking. At this point, there are 9 of them, yet, new plugins will be available with every update. That's something, right?
• GPL License
The thing is, that Monstroid2 is no longer 100% GPL licensed theme. Yet, it makes sense to use Monstroid2 for your business project and successfully meet the challenges that the faced-paced market brings.
Yet, Divi can be still used under the GPL license with no restrictions.
• Installation
Both themes offer quite a hassle-free way of installation with only one difference – a friendly TM Wizard included in Monstroid2 does all the work for you. This means that you just hit the button to follow the TM Wizard and that's it. Thus, your installed template looks just the way its demo version.
Divi in its turn offers you to follow step by step guide to get the theme up and running. To do so, log in to the Elegant Themes account, select the Download tab from the menu, navigate to the Divi product option, and hit Download.
What's more, in order to change the skin you need to open a page builder first, and then only edit previously downloaded pre-designed pages.
• Pricing Policy
The regular price for Monstroid2 will be $75, yet, pre-order Monstroid2 today and get it with 30% discount. So, once you pay for the theme, you get free lifetime updates and amicable support.
If you need to build one website a month, after one year, Divi is going to cost you $89. In case you need a theme for a single site, keeping it updates for 5 years, get ready to one-time payment $249.
In other words, if you want to get access to all Elegant Themes' themes, plugins, and Photoshop files, 12 months of support and updates, Divi is going to cost you $89/year. At the end of the day, it becomes evident that the more sites you build, the more affordable the Divi becomes.
• Skins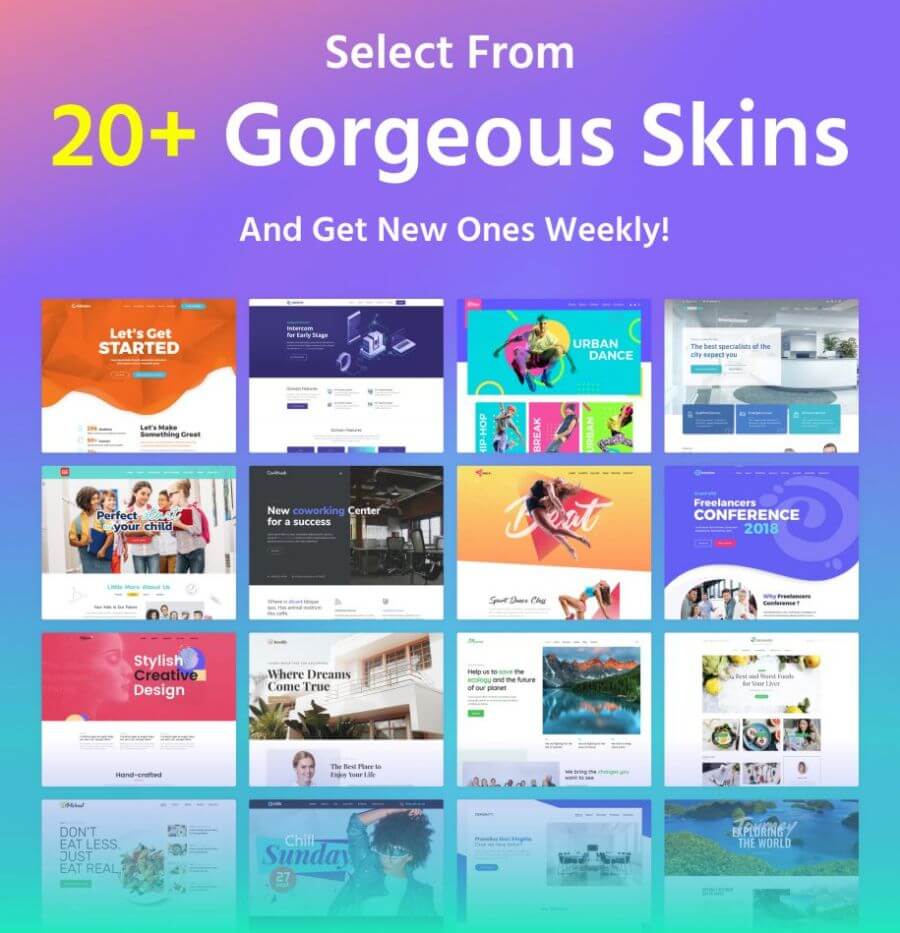 Facing that a multipurpose theme allows a user to build several web projects, a collection of top-notch skins makes this product more valuable. Both Monstroid2 and Divi developers did a great job and jam-packed their digital products with beautiful skins suitable for multiple niche projects.
To get to the point, super updated Monstroid2 comes with 20 first-class skins that fit great for restaurant, IT project, coworking, travel, nightclub, and more. Better yet, the TemplateMonster team claims to add new skins every week. That sounds great. We'll see.
Divi theme also includes 20+ beautiful skins that come ready to go out-of-the-box. Yet, keep in mind, that if you get a Developer License for $89/year, you get access to all ElegantThemes themes. And this is nothing less than 88 awesome designs.
• Plugins
Looking to make Monstroid2 work faster, developers made a smart move. They simply extended the functionality of Monstroid2 with Elementor-compatible plugins. That's it. That's why it downloads faster, and weights btw 250KB only. These are 9 Jet plugins that come jam-packed in Monstroid2:
1 JetBlocks
2 JetTricks
3 JetWoo Builder
4 JetTabs
5 JetParallax
6 JetReviews
7 JetMenu
8 JetElements
9 JetBlog
At the end of the day, Monstroid2 is best for newbies in terms of customization and maintenance. The user gets the freedom to create absolutely unique designs, all without digging into code. Really, what for?
The key thing is that Monstroid2 comes with free lifetime updates, so all new Jet plugins will be available for installation directly from the section Theme Core.
Divi comes compatible with 6 premium plugins, developed by ElegantThemes team. It goes without saying, that Divi has a whole shop module, which the user can additionally include on any page. Both free and paid, in fact.
• Elementor vs Divi Builder
Well, with the simple idea to give the user more customization freedom, updated M2 is powered by Elementor. That's great just because it offers a more user-friendly interface and over 500+ pre-designed sections for customization.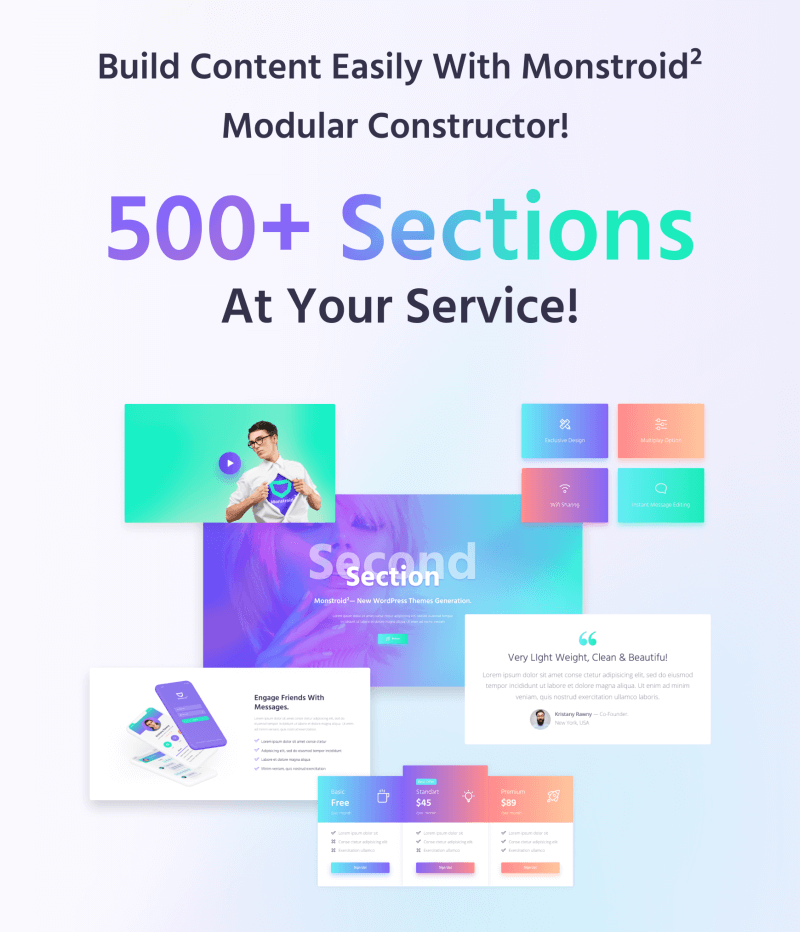 To coin a phrase, sections or templates are sets of basic elements or actual building blocks of your design. Thus, you can easily edit, mix, save and what's more, even use for your future projects. The only thing to do is to hit the Magic Button and let the show begin. Say, if you need a block 'Contact Us', just make the changes you need, save it and be free to use it for your next project built on Elementor. Better yet, developers claim to add 500+ sections more in a short time.
To begin with, Divi Builder is a premium plugin that comes included when purchasing a Developer License for $89. This visual builder is quite simple in use, offers in-line editing and a backend editing interface. Like Elementor, Divi Builder gives you plenty of control over specific modules on your site.
Yet, it's easy to draw a meaningful divide between Elementor and Divi Builder.
• Technical Support and Documentation
It's not a secret that Monstroid2 comes with a free lifetime support and all-around documentation that covers all ins and outs of its installation, customization, and use. Moreover, it's safe to say that no other template provider can offer the same support services.
Elegant Themes, though, can offer to get support from the team forum.
When it comes to documentation, both themes offer extended documentation to help get started with their products.
3 Monstroid2 vs Avada
• License
Both WordPress themes are being distributed under a Single Site License model. This means that if a person plans to build one website for himself or his business, in this case, there's no need for multiple design variations. Otherwise, in the case of custom websites for his clients, he needs to purchase additional copies of the theme.
• Installation
As it was mentioned earlier, Monstroid2 offers a simple way of installation with the help of TM Wizard. Yet, there is one more way via uploading an archive with your theme to your server. It depends on your experience which one way to choose.
Avada is also quite easy-to-install. First, you need to go to the Appearance, then Themes tab in your dashboard and upload it to your WordPress site. Finally, install all the needed plugins and voila. Everything is easy as one, two, three.
• FusionBuilder vs Elementor
Well, Avada is powered by the latest version of Fusion Builder. This is a drag-drop page builder optimized for performance. In collaboration with Fusion theme options and Fusion page options, the user is free to customize the layout of his website, as well as its content.
Monstroid2 offers you to boost your WordPress creations to the next level using the Elementor page builder. In fact, Elementor has done a great job creating unique features that simply pale in comparison to other builders.
• Skins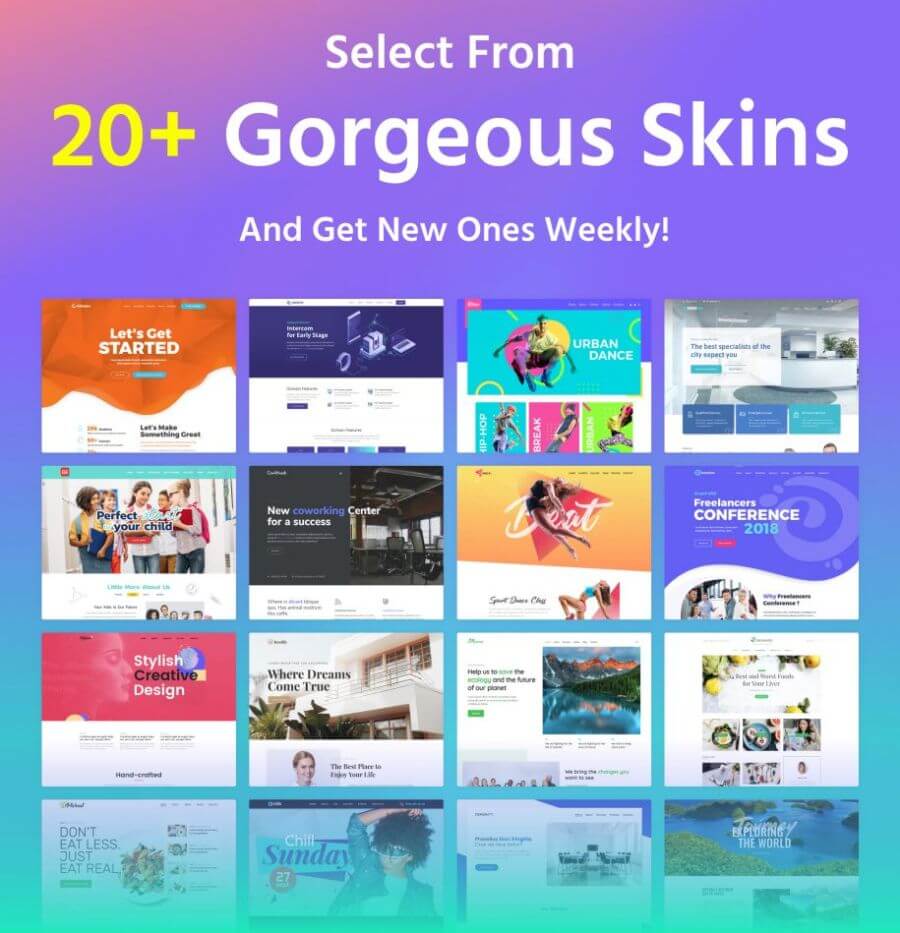 Indeed, both WordPress themes offer an amazing collection of skins on different topics. As of today, Monstroid2 comes with 20 first-class skins but more will come with the updates. In its turn, Avada features 22 pre-designed designs, built using the theme's customization capabilities.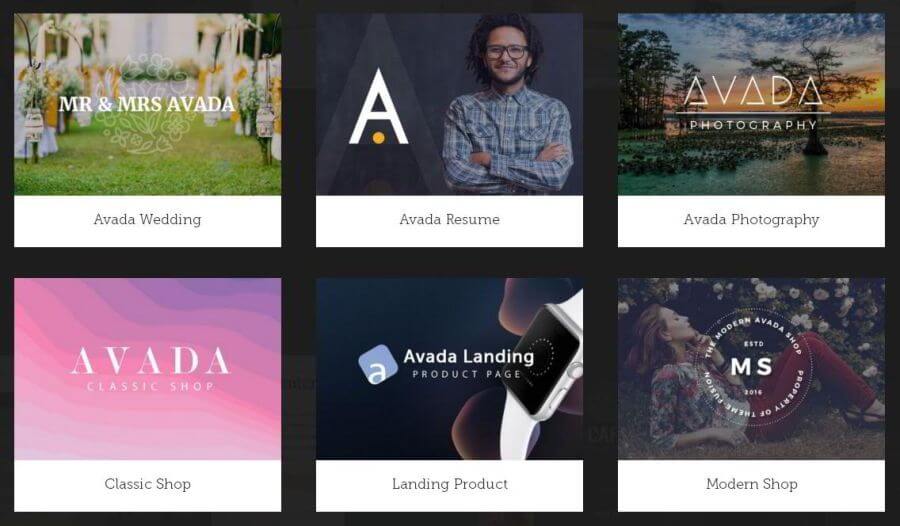 • Plugins
Owners of Avada get access to such premium plugins like Gravity Forms, The Events Calendar, WooCommerce, bbPress и Contact Form 7. Avada gives you the Fusion Core and Fusion Builder, and two additional premium solutions: LayerSlider, Slider Revolution. Besides, it's compatible with All-in-1 SEO Pack, Envira Gallery, W# Total Cache, and more.
Monstroid2 is packed with 9 Jet plugins (JetBlocks, JetTricks, JetWoo Builder, JetParallax, and more) compatible with Elementor. The more plugins will come with the next update. Indeed, it's compatible with some of the most popular WordPress plugins, but this may be an unnecessary option.
• Technical Support and Documentation
The default license of Avada gives users professional free technical support for 6 months only. For each consecutive 6 months, the user needs to pay an additional $18. This includes solid documentation and a stack of tutorial videos.
With Monstroid2 everything is clear – free lifetime support and all-around documentation are must-have for all TemplateMonster products.
4 Summing up
Now, it makes sense to check the infographics below to see the whole picture. Who knows, maybe you lose the sight of some main features or we didn't mention them. Anyway, here you can see all the differences and benefits of three WordPress themes.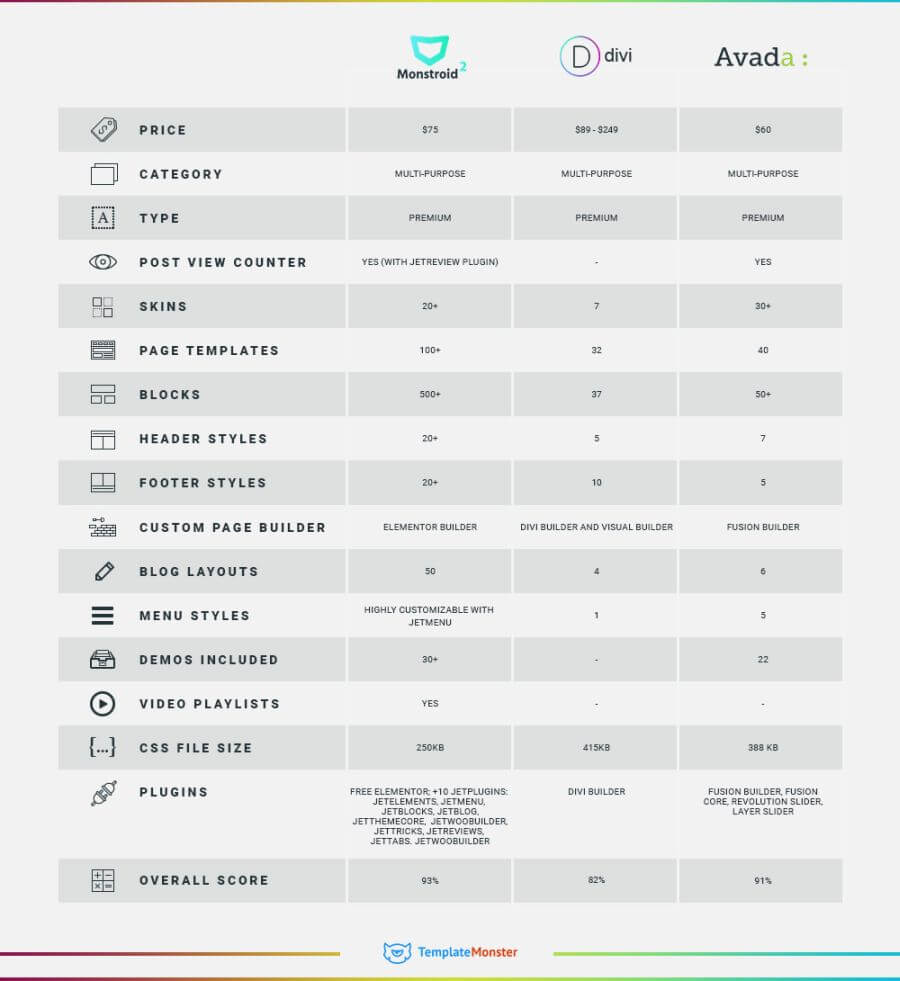 It's not a secret that Avada and Divi are one of the most popular design solutions for WordPress. Yet, the updated version of Monstroid2 2018 is the number one thing you might want to explore today. You might not realize this, but M2 has the magic touch that can help you make it big in designs. Have you already experienced it? Meanwhile, 30% discount offer is still valid.