Woo Auction Software Review: A feature-rich WordPress Auction plugin
Considering using the Woo Auction plugin to clear your old stock and sell products? Read our Woo Auction Software Review to know whether or not this tool is right for you.
Introduction
An auction website is an easy way to clear your old stocks or sell products that no longer seem useful. You can also use it as a powerful platform to popularize your newly launched products. Choosing the right Auction Plugin For WordPress
Finding a perfect online auction plugin for your site is a challenge. First of all, it should fit your purpose and support the types of auctions you need to conduct. Secondly, it should offer easy bidding options to your users. If you get some easy tools for user management and promotion, that's an added advantage.
If you are a WordPress user, the market is flooded with an unlimited number of auction plugins. You look for an auction plugin that meets all your criteria like:
Payment integrations
Email notifications
Allowing users to make an account and start listing items
Supports a variety of auction types
Auction scheduling and so much more
To compare the features and pricing and choosing the right one is not just difficult; it is tiring and time-consuming. Many times you get confused and end up buying one which does not serve your purpose perfectly. But take a seat back now and relax, because we have done all the hard work for you and reviewed a  WordPress auction plugin that is feature-rich and flexible. The Woo Auction Software will help you build an auction website eBay style. eBay is a massive auction website and it is almost next to impossible to compete with it. But with the right auction plugin, you are sure to succeed.   We will dive deep into Woo Auction Software's features and the functionalities  That will make planning your next auction a breeze. So let's dig in…
WooAuction Software to build a professional auction website
Woo Auction Software is an all in one WooCommerce plugin to hold auctions on your site. It offers you a ton of features for auction customization. You can customize the currency options, delete fraudulent bids, set shipping and fees, and send email notifications. Best of all it comes with pre-designed email templates that make it easy for you to customize the email notifications.  WooAuction makes it easy to create, edit, and manage auctions on your site. You may conduct unlimited auctions with inbuilt features and assign multiple categories to all types of auctions. The plugin lets you schedule auctions manually.
The auction plugin offers you auction filters that save your time and effort when you search for an auction. These filters are available in the WordPress dashboard product list. You can relist auctions manually or enable the automatic relist option. It is possible to reopen a closed or deleted auction.
Woo Auction Software comes with ready site setup options. The online auction software has a dedicated support team. You can get your site built by professional developers. The plugin works with all the modern WordPress themes and supports all popular add-ons. It is translation ready. So, you can conduct auctions in any language of your choice.
What are the types of auctions that Woo Auction Software supports?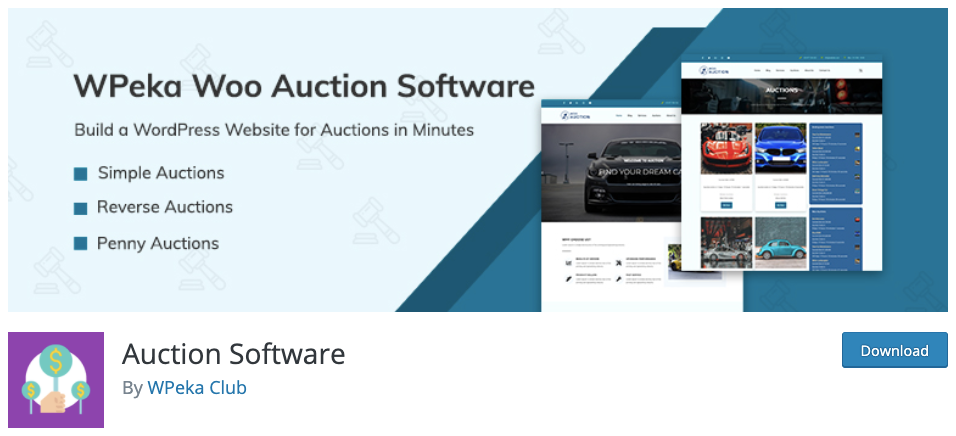 WordPress WooAuction supports three different types of auctions –
Simple Auction or Forward Auction
This is the most popular type of auction. In a forward auction, a single seller offers an item for sale to multiple bidders. The bidders compete with each other for upward prices. The person with the highest bid gets the product.
The reverse auction works exactly the opposite of a forward auction. In a reverse auction, buyers place requests for a required product first. Multiple sellers compete with each other and bid for the amount they want to receive for their items. The lowest bidder wins the auction.
Penny auction is also called "All pay auctions." Unlike traditional auctions, in this type of auctions, every single participant must pay a non-refundable price. Usually, the auction ends after a scheduled period. The highest bidder wins the auction and gets the product.
The plugin has the following features for the above-mentioned types of auctions –
It lets you custom all auction items by setting a start price and bid increments.
You can schedule the auctions manually and make it run from a specific start date to an end date.
Prevent actions from premature ending by fixing a custom reverse price
Automatically extend an auction when someone bids on it.
Set a "Buy it now" price. Buyers can directly purchase a product by paying this price without taking part in the auction.
What are the product types that the auction plugin supports?
The WordPress auction plugin supports the following types of products for auctions –
Auction virtual – this type includes products like training courses or consultant time
Downloadable products – this type includes products like coupons, licenses, or any type of digital work as software.
Physical products – this type includes the most common auction items, tangible products. These products have shipping gateway integration.
What are the key features of the WordPress auction plugin?
WooAuction software offers you almost all the features you need to run an auction website successfully. It is one of the most uncommon free online auction plugins that gives you full control over the auctions that you conduct on your site.
Here are the key features of WooAuction software –
The auction plugin is user-friendly and easily customizable. You can set it up in minutes with your already familiar WordPress and WooCommerce interface. Anybody can use it even without any technical knowledge.
There is a built-in WooCommerce user management system. Using this, the users can log in securely. One may place their bids only after logging in.
WooAuction software supports multiple payment methods. It is fully compatible with WooCommerce payments. One can run an auction using almost all popular payment methods. The plugin also supports multiple currencies.
The users can keep track of the bids in their auctions by simply adding them to a watch list. Whenever they want, they can see the report by visiting the watchlist.
When an auction takes place, the participants are sent automatic email notifications about the start and end time of the auction. After the auction is over, they get notified about this also.
There are ready-made starting soon, ending soon, and upcoming auctions widgets. The website owner can promote his auctions easily using these widgets.
The online auction software automatically prevents sniping or last minute bids by extending an auction by a custom period.
How can multi-vendor features help you?
Woo Auction is one of the rare online auction plugins that offer multi-vendor features. With this, you can create an eBay style vendor auction marketplace on your site. It lets you allow other users to place their auctions on your site. All they need to do is, simply register on your auction website. After that, they just have to log in and list their products. You can specify the percentage of commission for every single vendor.
The advantage of this feature is that you can use it as a secondary source of earning. When you are not prepared to conduct an auction, the other auctions will be live on your site. It will not break the continuity. There will be no risk of losing any user. Usually, if you don't post regularly, the users get disappointed, and some tend to move away from you.
On the other hand, you can develop and maintain a smooth business relationship with other houses with this. From time to time, you need to take help or collaborate with the other players in the field for professional benefits. A good relationship with them makes you process more.
Installation and activation
Installing WordPress Woo Auction Software is much easier than you think. Any layman can install it on his own without any difficulty. It is a matter of a few minutes. The self-explanatory features and the documentation section on the official product page guide a user in the right direction.
The WordPress auction plugin is available in both free and premium versions. The premium version is offered at $49 / Year that comes with 30 days money-back guarantee. You can begin your journey with the free one and then upgrade to the premium plans any time you require. Install the free version first if you want to install the premium one. Here are the steps you need to take –
Download the plugin zip from its official website wpeka.com
Log in to your WordPress dashboard.
Go to Appearance -> Plugins -> Add New
Click on the upload button to upload the plugin.
Select the plugin zip
The installation process will start automatically.
Once the installation is over, click on the "Activate" button to activate the plugin.
Note that the plugin needs the WooCommerce plugin to be installed in order to function. WooCommerce is a free WordPress add-on that helps you to create eCommerce stores on your site. The process is the same for installation and activation. Apart from that, Ajax "Add to cart" must be enabled on WooCommerce. To get that enabled, follow the steps below –
Search for the WooCommerce icon on the right sidebar in your WordPress dashboard
Navigate to WooCommerce settings -> Products Tab
Click on the Enable Ajax "Add to cart" buttons on the archives.
Now, it's time to add auction products to your account. It is a matter of a few clicks –
In, your WordPress dashboard, go to WooCommerce -> Products -> Add new
You will find many product options in the drop-down.
Select "Simple Auction" or the other auction type you need as product type
Click on the "Publish" button to make the page live.
You can use "Auction setting," "Auction history," and "Auction relist setting" tabs to add product descriptions to your page.
Final Words
Woo Auction software is undoubtedly one of the flexible and intuitive online auctions plugins available in the market. This easily configurable plugin is an all in one solution for all the issues you might face running your auction website. It is a rare plugin that supports downloadable digital products and allows you to hold three different types of auctions on your WordPress website.
Users may place bids using their own currency through any popular payment gateway. Furthermore, you can create auctions in any language. No technical skill is required to use this plugin. There is also a free version available that offers all the necessary features to run a small online auction store. Analyzing all these features in detail, we can easily say there is hardly any other option available in the market that offers so many rich features at such a reasonable price.
So, that's all from this blog. I hope you liked the Woo Auction Software Review. If you enjoyed this article then please share it with your friends. If you have any questions related to this blog then you can ask me in the comments section down below.