Divi vs Astra Comparison 2023 – Who is Better?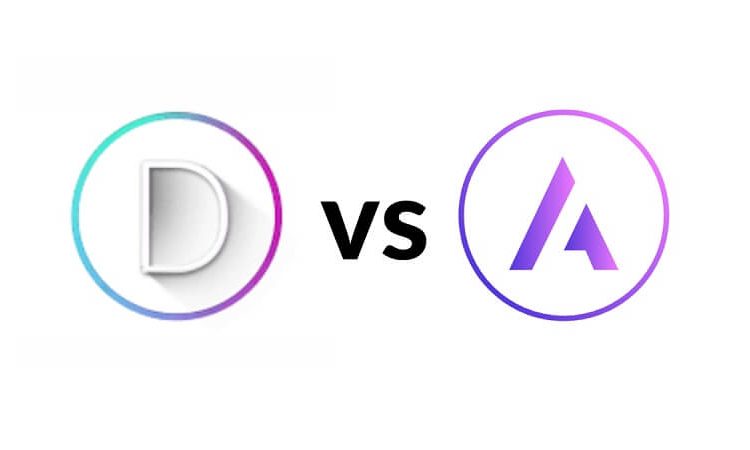 Trying to decide between Divi vs Astra for your website? Get a comprehensive comparison of these two popular WordPress themes in this article.
Features of Divi
What is Divi?
Divi is a highly popular and versatile WordPress theme known for its user-friendly visual builder, making website design and customization accessible to users of all skill levels. With a rich library of pre-designed templates and modules, Divi simplifies the creation of diverse websites, from blogs to online stores.
Its flexibility and robust features have made it a top choice for WordPress users looking to craft attractive and functional websites.
Divi: Design
Divi, a renowned WordPress theme and page builder, has revolutionized web design by placing the power of creativity and customization into the hands of website creators, both novices and experts alike. With Divi, design possibilities are virtually limitless, making it a go-to choice for crafting visually captivating and functional websites.
At the heart of Divi's design capabilities is the intuitive Divi Builder. This drag-and-drop interface empowers users to construct their web pages visually, eliminating the need for complex coding. Each element, from text to images, buttons to forms, can be effortlessly added, resized, and styled, all with a simple click, drag, or adjustment of settings. This user-friendly approach democratizes web design, enabling anyone with a vision to bring it to life.
One of Divi's standout features is its extensive library of pre-designed layouts and templates. These professionally-crafted starting points cover a vast array of industries and design aesthetics, ensuring that users can jumpstart their projects with elegance and efficiency. The ability to import these layouts and customize them to suit specific needs streamlines the design process and provides a solid foundation upon which to build.
Divi's commitment to responsive design ensures that websites created with this theme are not only visually appealing but also accessible across various devices and screen sizes. Its responsive editing features enable designers to fine-tune the appearance and behavior of elements to ensure a seamless user experience on desktops, tablets, and mobile devices.
Moreover, Divi's design capabilities are complemented by its comprehensive set of design options, including typography settings, color customization, and advanced CSS controls. These features allow for precise branding and styling; ensuring that websites created with Divi are not just functional but also visually cohesive with a brand's identity.
Divi's design prowess has made it a favorite among WordPress users seeking to elevate their web presence. Its user-friendly interface, extensive template library, responsive design tools, and detailed customization options make it a compelling choice for crafting stunning websites that leave a lasting impression on visitors. With Divi, the art of web design becomes an accessible and enjoyable endeavor for all.
Divi: Speed
Divi achieves its speed prowess through several key strategies:
Efficient Codebase: Divi boasts a lean and well-optimized codebase, which translates into faster loading times. The theme is designed to minimize unnecessary bloat, ensuring that only essential resources are loaded, contributing to a snappy user experience.
Browser Caching: Divi employs browser caching techniques, allowing frequently accessed resources, such as images and stylesheets, to be stored locally on a user's device. This significantly reduces loading times for returning visitors and subsequent page views.
Minimal HTTP Requests: Divi streamlines the number of HTTP requests a website makes. Fewer requests mean quicker loading times since each request requires a separate round-trip to the server. By combining multiple assets into fewer files and using techniques like CSS and JavaScript minification, Divi reduces the load on the server and speeds up page rendering.
Responsive Design: Divi is built with responsive design in mind. It automatically optimizes content and layout for various screen sizes and devices. This ensures that the same website provides a smooth user experience whether accessed on a desktop computer, tablet, or smartphone, further enhancing site speed.
Image Optimization: Images often account for a significant portion of a webpage's size. Divi includes built-in image optimization features that allow users to compress and resize images without sacrificing quality. This results in faster loading times without compromising the visual appeal of the site.
Content Delivery Networks (CDNs): Divi seamlessly integrates with popular CDNs like Cloudflare. CDNs distribute website content across a network of servers worldwide, delivering assets from the server closest to the user. This reduces latency and accelerates loading times for visitors across the globe.
Divi: Price
Yearly Access: Divi's Yearly Access plan costs $89 per year and provides users with access to the Divi theme, Divi Builder, Extra theme, Bloom email opt-in plugin, and Monarch social sharing plugin. This plan is suitable for those who need a powerful website-building solution and access to Elegant Themes' products but want to commit on a yearly basis.
Lifetime Access: For a one-time payment of $249, users can get Lifetime Access to Divi and Elegant Themes' suite of products, which includes all the tools mentioned above. This plan is a cost-effective choice for those who want to use Divi for the long term and eliminates the need for annual renewals.
Both pricing options come with updates and support for as long as the subscription is active. Users can use Divi on an unlimited number of websites, making it a versatile choice for web developers, agencies, and anyone looking to build multiple websites.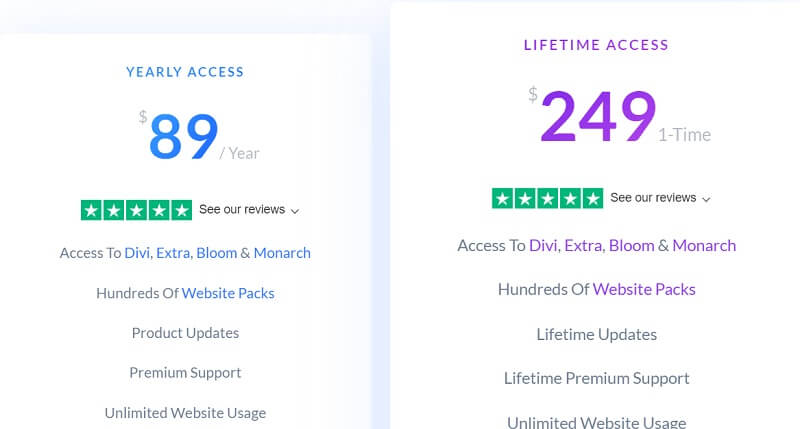 Features of Astra
What is Astra?
Astra is a lightweight and highly customizable WordPress theme designed for speed and performance. It offers a range of starter templates and integration with popular page builders like Elementor, allowing users to easily create and customize websites. Astra's focus on optimization and flexibility makes it a popular choice for building responsive and fast-loading WordPress sites across various niches.
Astra: Design
Astra, a popular WordPress theme, has become synonymous with modern web design; combining aesthetics and performance seamlessly. This versatile theme has gained immense popularity due to its design-centric features that empower users to create visually stunning websites that load quickly and engage visitors effectively.
Sleek and Elegant Design: Astra is designed with a minimalistic and sleek aesthetic in mind. Its clean and elegant design serves as a perfect canvas for users to express their creativity and branding. Whether you're building a personal blog, a corporate website, or an e-commerce store, Astra's design can adapt to various styles and niches, offering a polished and professional appearance.
Lightweight and Fast: Astra's commitment to speed is a standout feature. With a lightweight codebase and a focus on performance optimization, Astra ensures that websites built with this theme load quickly. This is crucial for retaining visitors and improving search engine rankings. A fast-loading website enhances user experience and contributes to lower bounce rates.
Customization Freedom: Astra offers extensive customization options, allowing users to tailor their website's design to their exact specifications. Users can customize layouts, fonts, colors, and other design elements effortlessly. The theme is also compatible with popular page builders like Elementor and Beaver Builder, providing even more design flexibility.
Starter Templates: Astra includes a library of professionally designed starter templates that cater to a wide range of industries and purposes. These templates serve as a foundation for building unique websites quickly. Users can import a template and customize it to suit their branding and content, saving time and effort in the design process.
Responsiveness: In an era of diverse device usage, Astra ensures that websites built with the theme are fully responsive. Content and design elements automatically adapt to different screen sizes; ensuring a consistent and engaging experience for visitors on desktops, tablets, and smartphones.
Astra: Speed
Astra's emphasis on speed is a standout feature that sets it apart in the world of WordPress themes. Designed with performance optimization in mind; Astra delivers websites that load swiftly, ensuring an enhanced user experience and improved search engine rankings.
Lightweight Codebase: Astra boasts an exceptionally lightweight codebase, which means fewer server resources are required to render web pages. This results in faster loading times and better overall performance. Astra's commitment to minimalism ensures that websites are not bogged down by unnecessary code, making it an ideal choice for users who prioritize speed.
Optimized Asset Delivery: Astra optimizes asset delivery by combining and minifying CSS and JavaScript files, reducing the number of HTTP requests. This approach streamlines the loading process, as browsers can quickly fetch and render optimized resources.
Efficient Page Loading: Astra incorporates lazy loading, which defers the loading of images and other media until they are visible in the user's viewport. This technique reduces initial page load times and data consumption, particularly beneficial for mobile users with limited bandwidth.
Compatibility with Caching Plugins: Astra seamlessly integrates with popular caching plugins like WP Super Cache and W3 Total Cache. These plugins further enhance website speed by storing cached copies of web pages, reducing the need to generate them from scratch with each visit.
Mobile Optimization: Astra's responsive design ensures that websites built with the theme perform exceptionally well on mobile devices. Google's mobile-first indexing also favors mobile-optimized sites, making Astra a solid choice for SEO-conscious users.
Astra: Price
Astra Free: Astra offers a free version of the theme available directly from the WordPress.org theme repository. This version includes essential features and can be used on as many websites as needed. It's a great starting point for individuals and beginners who want to explore Astra's capabilities without any cost.
Astra Pro: Astra Pro is the premium version of the theme and offers enhanced features and customization options. The pricing for Astra Pro typically starts at $47 per year for use on unlimited websites. This plan provides access to premium starter templates, advanced typography and color controls, additional site layouts, and various design and layout options.
Mini Agency Bundle: This bundle includes the Astra Pro theme along with the WP Portfolio plugin and the Ultimate Addons for Beaver Builder or Elementor. It's priced starting at $137 per year and is suitable for freelancers and small agencies looking for tools to create professional websites efficiently.
Agency Bundle: The Agency Bundle offers the most comprehensive package, starting at $187 per year. It includes everything from the Mini Agency Bundle; along with the Convert Pro plugin and Schema Pro plugin. This option is ideal for larger agencies and web developers who require a full suite of tools for their projects.

Divi vs Astra Comparison
Design:
Divi:
Divi is known for its intuitive visual builder, making it easy for users to create highly customizable and visually appealing websites.
It offers a vast library of pre-designed layouts and templates, covering a wide range of industries and styles, providing a strong foundation for design.
Divi allows deep customization with advanced design options, enabling users to achieve a unique and branded look.
Astra:
Astra boasts a sleek and minimalistic design by default, offering a clean canvas for customization.
It provides professionally designed starter templates catering to various niches, allowing users to quickly start their projects with polished designs.
Astra's customization options offer flexibility in design without overwhelming users; making it an excellent choice for those who prefer simplicity.
Speed:
Divi:
Divi takes speed seriously and offers features like efficient code, browser caching, and responsive design to ensure fast-loading websites.
Users can optimize images within the builder, reducing page size and improving loading times.
Divi is compatible with caching plugins, further enhancing website performance.
Astra:
Astra is renowned for its lightweight codebase, ensuring quick loading times out of the box.
It optimizes asset delivery by combining and minifying CSS and JavaScript files, reducing the number of HTTP requests.
Astra's focus on mobile optimization aligns with Google's mobile-first indexing; which can positively impact speed and SEO.
Prices:
Divi:
Divi offers yearly and lifetime subscription options. The Yearly Access plan costs $89/year, providing access to all Elegant Themes products.
The Lifetime Access plan is a one-time payment of $249, offering access to Divi and other Elegant Themes products with no annual renewal.
Astra:
Astra offers a free version available on WordPress.org.
The Astra Pro version starts at $47/year for unlimited websites, providing enhanced features and customization options.
Additional bundles, like the Mini Agency Bundle and Agency Bundle; offer more advanced tools and plugins at varying price points.
Divi excels in design flexibility with its visual builder and extensive customization options. Astra focuses on simplicity and speed; making it an excellent choice for users seeking fast-loading websites with a clean design.
Pricing varies, with Divi offering both annual and lifetime options; while Astra provides free and affordable Pro versions with flexible bundles to suit different needs and budgets. Ultimately, the choice between Divi and Astra will depend on your specific design, speed, and pricing preferences.
About an Author
Veljko has vast experience when it comes to WordPress. His main goal is to educate a large number of people, that is, to make this world a better place.
Website: veljkopendic.com