How Social Media Helps In App Marketing
Hey guys, in this article, we will discuss how social media helps in app marketing? So keep reading.
For every tiniest little thing, our hands instantaneously reach out for our smartphones. From setting the alarm or a reminder, or editing a picture to be posted on our social media later, our lives chores depend upon apps.
With over 2.2 million Apple apps and 2.5 million Google play store apps, the app industry is nowhere near stoppage. Instead, it is exponentially growing as app development is becoming increasingly customary for all types of small and big businesses or personal brands.
It has taken over our personal and social life so much, that if you even discuss a new shop or a store with someone, the first thing they're going to ask is whether the shop has an app or not.
However, we can't know about all the apps. There are so many apps that we still probably don't know about. Who can claim to know all the 2.5 million Google play store apps? Every app developer dreams about people knowing about his or her app and recommending it to friends. To make this happen, and to make your app float among the top-rated and downloaded apps, you need to go to social media for help.
App promotion through social media
In this day and era, during the establishment process of a company, app development and its promotion become the top priority for its marketers. However, before moving on to marketing your app on social media, you need to ensure your apps are spam free, like the AirG spam free apps, and provide the best user experience.
Let's help you out in devising one or all of the following ways to market your app through social media.
1. Facebook
With up to 2 billion users, Facebook remains to be the king of social media since its conception. The reason why Facebook is at the top of its game is the number of users and also the great variety of content that can be posted.
You can make video content on Facebook and make it go viral, while also sharing pictures of behind-the-scenes shots of app development, just to keep the users posted. Keep your Facebook page active and filled with your upcoming or ongoing app. Post stories of how people discovered and benefited from your app.
2. Instagram stories
Instagram is another most influential social media in the industry. It is purely based on visual content. However, Instagram is known to have the highest users engagement rate per second among all the other social media platforms.
The reason? Instagram stories.
Use Instagram stories daily to be present in your audience's minds. Keep reminding and flashing your app in front of them. Dig the reasons why your app is essential for them and how it is different from the numerous other similar apps out there.
3. Endorsement
Get a celebrity or an influencer to have your app used and reviewed. These days, it's all about who has used this app, and who is marketing it. If it is a personal fitness app, search for personal trainers on Instagram, and have them endorse you.
Get them to make videos and Instagram stories for you. Provide them with some thoughtful giveaways and ensure that they post them on their Instagram account and tag you.
It is one of the most influential and easiest ways to use social media for marketing your app.
4. Blogging
Bloggers are everywhere. You can see them sprouting after every other post on your news feed. Some are endorsing a brand, while some are seen to be reviewing a product they can swear by.
Hire a blogging team to chat about whatever your app has been doing and is promising to do so, or you can invite guest bloggers to start using your apps. The bloggers can use their social media following to direct users to your app and increase your downloads.
5. User-generated content
People love to be featured on a page or be a part of a promotion. Posting user-generated content is one of the most influential ways to market your app on social media. People trust the word of their peers more than the promotion of a page.
Start a contest on your page and invite your users and followers to write a little memo post about you (a testimonial, maybe). Then share their content on your page. It increases your visibility in the audience and also enhances user engagement. It is one of the great ways to develop SEO for your app too.
6. Video reviews and tutorials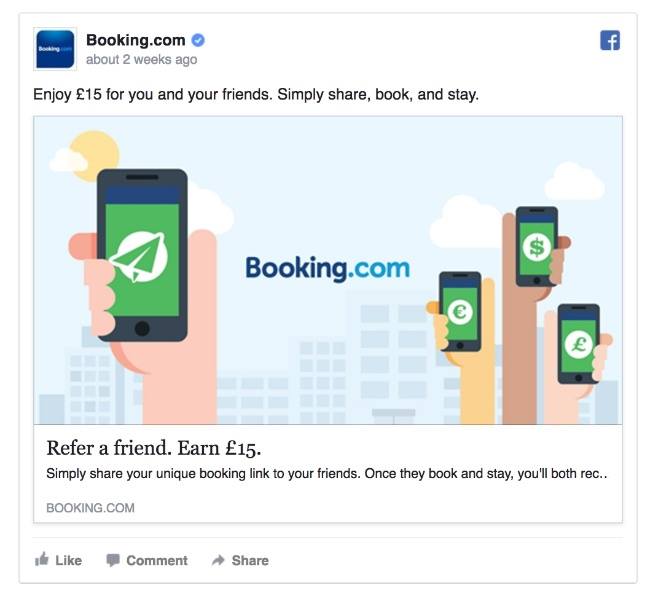 People love to be informed and kept in the loop. Give them what they want, and post video tutorials about your app. You can also use celebrities or influencers to do that for you. It will surely increase the weight of your video.
7. Incentives on sharing
See, how booking.com does do it? Offer incentives for sharing your app. If it is an app for a service, a salon service, for instance, offers a discount on a deal. It catches the eye and lures in a lot of shares from the users, thus increasingly marketing your app on social media platforms.
8. Go live!
Another most useful feature of social media (Facebook and Instagram) is to go live on your page and have your users comment away any feedback or questions they have in their minds. This idea really hits the right spots with the users and potential app downloaders, as they can relate to it. A human element becomes attached to the page and promotion when you go live and attend to your followers.
Final word
The world of social media has taken over any other medium that was previously being used for promotion and marketing. Therefore, it is essential for your app marketing. After all, you have probably made an app for the people who already have smartphones and are using social media in one or the other.
Happy marketing! Let us know how our tips helped you with your app marketing process.