How To Personalize Your Android Phone: Themes, Applications, Keyboards, Widgets…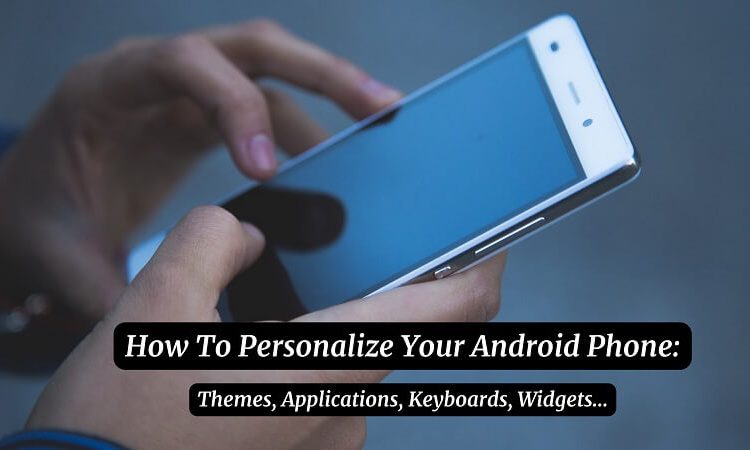 Do you want to know how to personalize your Android phone: themes applications, keyboards, and widgets?
Follow these simple steps to personalize your Android phone with themes, applications, keyboards, widgets, and more!
Change the keyboard on Android
To change the keyboard on your Android phone, so you can subscribe easily on Vave login:
Go to your device settings > System > Language & input
Choose the "Current Keyboard" option and select the keyboard you want to use
To configure keyboard settings to your liking
Choose the "Virtual keyboard" option always in the language and input menu
Click on the desired keyboard and configure what you want: word suggestion, auto-completion, automatic correction, automatic capitalization, key vibrator, etc.
Install a keyboard app
You can also install a keyboard app if you want:
Gboard is Google's Android keyboard. Once installed, the application offers you to select Gboard as the default keyboard. You can then set a color theme for your keyboard, the layout of keys such as voice commands, symbols, and emojis, and activate gesture writing…
SwiftKey is a similar app to Gboard and was acquired by Microsoft in 2016. It covers the same functionality as the Google keyboard. The application has a very good and very efficient predictive input technology and its flow function which allows you to write faster.
Download and install themes
Do you find your Android interface too austere and you want to change the atmosphere? Themes are sets of wallpapers, icons, widgets, and/or fonts that can be activated on the phone. Some smartphones already have pre-installed themes.
Go to Settings > Screen > Theme
If the option is available, you can select a theme already available, or download new ones. Depending on your smartphone model, you will be able to access a service in which you will be offered a range of themes. This is the case, for example, with LG and its SmartWorld service.
For all Android phones, you can also go to the play store to search and download more themes by installing apps.
Change wallpaper
You can change the background image used on the home and lock screen of your Android phone. For that :
Go to Settings > Display > Wallpaper. On most phones, you can also press a few seconds on an area without an icon on the main screen to change the wallpaper.
Choose the type of wallpaper: an image or a photo from your gallery, a wallpaper provided by the phone, or an animated wallpaper such as videos or 360° images.
Select the desired image and click on "set as wallpaper"
To change the lock screen wallpaper
The option to change the lock screen wallpaper can be located in several places: with wallpaper settings or phone lock (security) settings.
Set up widgets
Widgets are application shortcuts for quick access to their content. You can add them to your device's home screen.
On your home screen, press and hold an empty space
You will be offered a menu with an option "widgets" or "gadgets"
Click on the option and long press on a widget.
Drag the widget to the location of your choice.
Lift your finger to affix the widget.
To delete a widget, long press on said widget and drag it to the trash can or the "delete" function of the home screen, like deleting an application.
Store apps in folders
You can organize your apps into folders to save the number of home screens on your smartphone.
Long press an app icon.
Drag this app onto another app.
You can add as many apps as you want by dragging them into the newly created folder.
You can rename the folder by clicking on it and then on the text box to edit it.
Add emergency information to the lock screen
You can add an emergency message and information to your phone's lock screen. This feature can be extremely useful so that, in the event of a problem, someone can notify someone close to you without having to unlock your phone, find out if you have any particular health conditions, or simply how to return your phone to you.
So, that's all from our side. I hope you like these tips on how to personalize your Android phone.