How To Recover Lost WordPress Files On Localhost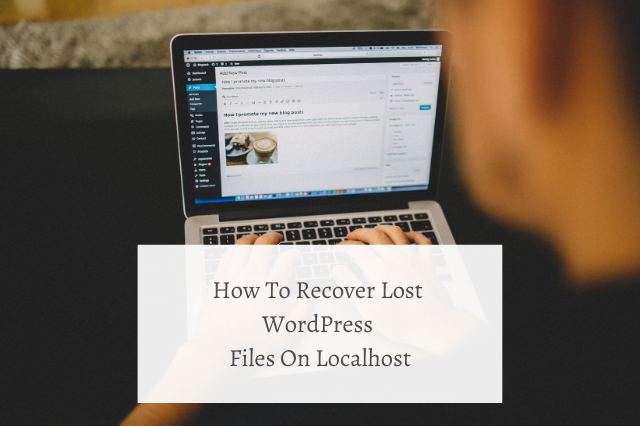 The headache of WordPress developers and ordinary PC users is the loss of important files: photos, documents, and other valuable data. Say, you were successfully building your WordPress site, and then, all of a sudden, some important files have disappeared, and you can't continue without them. What to do? Should you do it all over again? Do not despair because we have a few solutions that may help you get your missing files back. In this particular article, we will share our knowledge with you on How To Recover Lost WordPress Files.
This article is not about theory – it's a practical guide that will explain the basic principles of file recovery. We hope you will be able to efficiently use these principles to recover all missing files, which accidentally (or not) got into the Trash or simply disappeared. Let's do this!
Can You Always Recover Lost Files On Your Computer?
Not always but, in many cases, it's quite possible. Read on to find out details.
After deleting your files, they still remain on your SSD. In a file table, they are labeled "0". This means that this space is not occupied and can be used to save other data.
Thus, though the file is invisible to your eyes, it's only removed conditionally and can be restored until overwritten with other data. (By the way, you can recover files after they have been overwritten. However, there is a risk that they are partially corrupted and cannot be recovered).
How to Assess the Chances of Recovering WordPress Files after Deletion?
The probability of recovering files depends on many factors. The checklist looks as follows:
How your files were deleted (through the Recycle Bin, bypassing it (Shift + Del), or through formatting);
Time elapsed since the deletion. The more has passed, the higher the risk of overwriting the files;
Deleted files type. Some files (images, videos) can be restored partially, others cannot be restored even when a single byte of data is lost;
Storage device type (hard drive, RAID, etc);
File system type (NTFS, FAT, exFAT, etc).
Provided the circumstances are successful, the files can be fully or partially recovered. You cannot determine the probability in figures but it's definitely worth a try.
How To Recover Lost WordPress Files From Recycle Bin
Usually, after the deletion (via Del) the files are sent to the Trash, where they are stored for 30 days, then automatically deleted. If you change your decision during this time (for example, recall there are necessary files among the ones you deleted), check the contents of the Recycle Bin and recover your WordPress files. The recovery process goes as follows:
Open the Recycle Bin via an icon on your Desktop or Windows Explorer;
Select files you want to recover and use Recover in the context menu;
The files will be restored to their original position.
How To Recover Lost WordPress Files If My Recycle Bin Is Empty?
Even when you empty the Recycle Bin, the files are not irretrievably deleted. However, you will need additional utilities and time to successfully restore your missing files. Recovery programs work on the same principle – they scan the file system, look for sectors on your computer marked with "deleted file".
By installing a utility, you inevitably make changes to your file table, reducing the chances of recovery (depending on the amount of data written to your SSD). We recommend installing a recovery utility on a flash drive, another computer, or a disk partition that was not used to store deleted files.
Restoring WordPress Files After Formatting
Let's move on to more "complicated" cases. In particular, after formatting, not only individual files but also the entire SSD partition is subject to changes. The result is irrevocably deleted WordPress files. So is there a chance to restore your data in this situation?
After quick formatting – yes;
After full formatting, the chances are minimal;
Software? In this case, we recommend Auslogics File Recovery.
Which Softwares Will Help You to Recover WordPress Files On Your SDD?
Actually, there are dozens of recovery utilities online. We do not recommend taking the first one you see, though, because there is a risk that you will not only fail to recover your missing files but also spend money on useless features. We will list three top-class utilities that have been tested and are highly respected among users.
EaseUS Data Recovery Wizard: advanced file recovery after the deletion (difficult cases):
1Data Recovery Wizard is perfectly integrated with the file system and Windows OS. Thanks to the built-in Recovery Wizard, it's very easy to work with;
You ensure reliable protection for your computer's Recycle Bin. Unlike the standard Recycle Bin, you can store deleted files in it even after emptying. Solution for complex cases;
Recover files deleted though the "Shift+Delete" combination, recover data after formatting or on SDD partitions with a RAW file system.
Recuva: universal solution for file recovery.
Recuva is a free and actively "growing" program for Windows. Recovering lost files on your computer with it is very easy plus, it does not require money for basic functions or removal of limits. When using it or other similar software, it is important to remember that such utilities for recovering deleted data or data from damaged partitions are designed to be used only on working media with no bad blocks or other damage.
DiskDrill is a young product in the market of computer recovery software. However, professional technical support and a large community show the maturity of the solution.
Disk Drill is functionally suitable for the recovery of most files stored on your PC, e.g. images, music, videos, documents, archives, etc. Apart from Windows, there is also a version for macOS. Thus, regardless of the OS, you can recover up to 500 MB of found files for free.
DiskDrill Features:
Selects the type of data to be recovered. You can select only those types of files that will be in search results. Functions like attribute filtering and flexible search among recovered files are also available;
Pause/continue scanning at any time, which is very convenient if you have HDD/SSD of large volume;
Overwriting protection. By blocking partitions while DiskDrill is running, you will ensure your SDD/HDD from overwriting deleted files.
FAQ
Q: The SSD had 50 GB of free space, now it's 360 GB. I do not see any lost WordPress files in Recuva. How can I recover my files if I don't know their names?
A: The file name and date will be lost after recovery in Recuva (the same is true for other recovery tools). Thumbnails (photos) will be available in the scan results. You can watch the video by opening the file.
In any case, you can check the results by opening and previewing them.
Q: The laptop was fully formatted and Windows reinstalled. It's been a year or so since then, can I restore missing files?
A: Chances are extremely low. If you have been actively using your laptop all this time, the files could be overwritten in place of deleted ones. This is most often the case when there is little disk space left. But you can try to recover it.
Q: I've accidentally deleted a video with a part of my WordPress development guide. I found the program, recovered it but half of the files are damaged…
A: There are utilities to recover corrupted videos, e.g. Video Repair Tool, JPEG Recovery LAB, Stellar Phoenix Video Repair, and others. However, they do not guarantee a 100% result. File fragments may have been lost due to overwriting by other files.
Q: Files seem to be blocked by some kind of virus… When trying to open a folder, a message appears that says: "Files are blocked, transfer money to the number…".
A: Check your computer for viruses – use Dr. Web CureIt! (free one-time antivirus) or Malwarebytes (removes ads, blockers, and trojans).
Q: Tried to recover a deleted file using Wise Data Recovery. All files found are in the "Lost" condition. I assume this means they can't be recovered?
A: See if Wise Data Recovery has a deep scan mode. Most likely, it does not. Install other recovery programs. For example, Disk Drill has a Deep Scan mode, which increases the chances of recovering deleted files. You can also use PhotoRec to recover photos on your computer.
I hope you liked the article on How To Recover Lost WordPress Files. Feel free to share your thoughts in the comment section below.
Also if you want more knowledge about wordpress then must follow our wordpress blogs.