6 Easy Ways To Master WordPress Blogging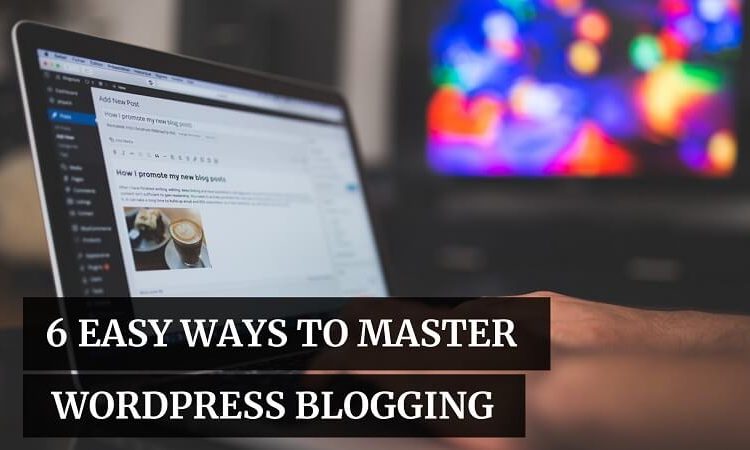 A life of blogging is not just about writing. Instead, you need to know about the tricks that will help you gather visitors' attention and help you maintain your blog's position on the internet. If you have a WordPress blog but do not understand how to maintain it or think of starting a blog, then this article of six easy ways to master WordPress blogging will surely help you.
Many people want to be a WordPress blogging master but don't research before creating their blog. As a result, they get no positive visitor views and can't rank up their blogging site. For sorting all of these problems, I am here with six ways to become a master in WordPress blogging.
So, just scroll down and read this complete article without wasting any time.
How Can I Be A WordPress Blogger?
WordPress is the biggest blogging platform that has almost a quarter of the website of world under it. WordPress also gives you a quick start-up guide and does SEO of this by taking primary keywords.
To become a good WordPress blogger, you first need to have a domain and web hosting. Then place material and content in it. Lastly, promote it and go to money blogging.
Deep Research
Doing deep research before starting any new thing plays a very important role. That is because you need to know about everything you will work for.
The best source of research is the internet as you can find everything from there. You can also get help from any peachy essay on the internet and watch many WordPress blog-related articles.
Dash Box
For becoming a good WordPress blogger, you should need to spend most of your time on your dash box. Dash box is the home page or a landing screen that you first saw after logging in.
Here, all the options, buttons including setting, creating posts, and rearranging or managing options, are available.
There is your name located. By clicking on this, you can preview all the major details of your website. Furthermore, coming soon active point will help you continue organizing and get started.
Secondly, you should design your dash page and landing page properly as anyone can come there get fully attracted and could not get back without reading. That will be your main focus.
Title
Separate the idea on which you will start your WordPress blog. Not only the whole WordPress blog name but also the name of every blog have the same worth. You should need focus on both.
For selecting a website's name, you should need to keep fixing the title at once so that google will rank it up. You cannot change your blog title name again and again.
If you didn't fix your blogging content theme yet, you don't need to worry. You can skip it for now. The next thing is to select the name of each content that you will publish in your article.
For selecting the title name, you need to remember about few things like;
The content must link the blog name.
The blog title should be attractive.
It also is informative and not too lengthy.
The title must have a clear meaning.
Maintain Images
Image maintenance is really important when you are thinking of mastering the WordPress blogging site. The pictures or images that you will upload to your website or article must be compressed and have less size.
Multiple compressing tools are available on the internet to help you decrease the image size you choose. Make sure the size of a single image is less than 1 MB.
After uploading the image in your WordPress, you can edit it as there are no limitations. You can crop, rotate, flip or resize it as needed.
Laws
For working as a professional and working as a master in WordPress blogging, you should need to obey all the laws and restrictions maintained by the company.
If you do not follow their rules, you should pay a fine, or somehow your website can be in danger as you can lose your content.
The hardest law from WordPress blogs is copyright. If there is any copyright found in your website, article, or content, then your website will have been blocked.
Keep reviewing these things before inserting them into your word-press blogging website.
The content must be unique.
You have express permission to insert it.
Must be available for the free user looking for the same thing.
You have created it all on your own.
There is no plagiarism in the content.
Backup
Backup is an important factor when handling your WordPress blogging site. We all know that cybercriminals can easily hack our data, and a lot of time and cost are required to recover this unfortunate case.
To prevent this kind of situation, it is better to back up all the data and secure it in any separate drive. Not only hackers, sometimes the data can be deleted by ourselves accidentally.
In those cases, the backup will help us to recover our loss. It is better to make automatic adjustments so that your computer will automatically secure backup when needed.
You can use WordPress Backup to Dropbox, BackUp WordPress for this purpose. It'll surely save you time.
The Final Thoughts
Here, we are standing at the bottom of this reading and closing this. I hope you enjoyed this reading and am happy to learn about the six ways to master WordPress blogging.
The major steps discussed in this article also make it easier for you to arrange your website on your own.
So, why are you standing here? Arrange your WordPress blogging website and work as a master.