Top 15 Best PHP CMS in 2023 For Developers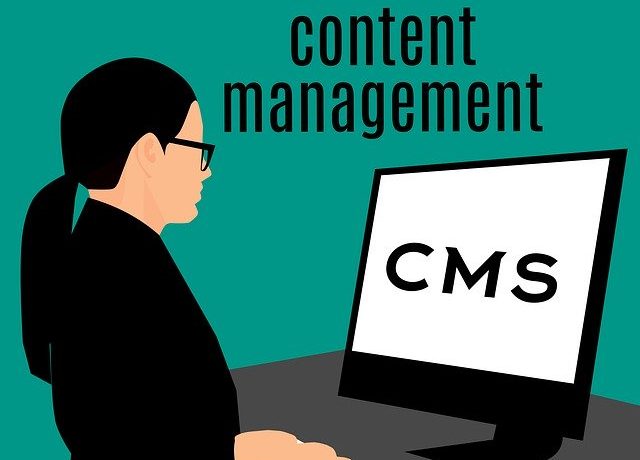 A content management system (CMS) is a software platform, or a set of related programs that helps users to manage, create, publish, and modify digital content. Selecting the best PHP CMS is the most vital decision when you are starting a web development process.
Today we have so many open-source CMS available in the market. The choice depends on our requirements, Whether you want to build a simple and decent dynamic website or a fully functional and flexible eCommerce store. There are multiple types of CMS available in the market that could lessen your workload. As not every developer wants to build web pages using orthodox HTML and CSS because it is too complicated. So, We are listing the top 15 PHP CMS you can use for your digital content.
List of top 15 best PHP CMS we cover:
1. WordPress
2. Magento
3. OpenCart
4. Drupal
5. Joomla
6. SilverStripe
7. Typo3
8.  PrestaShop
9. ExpressionEngine
10. CakePHP
11. ModX
12. Concrete5
13. PHP Fusion
14. CMS Made Simple
15. Moodle
1. WordPress: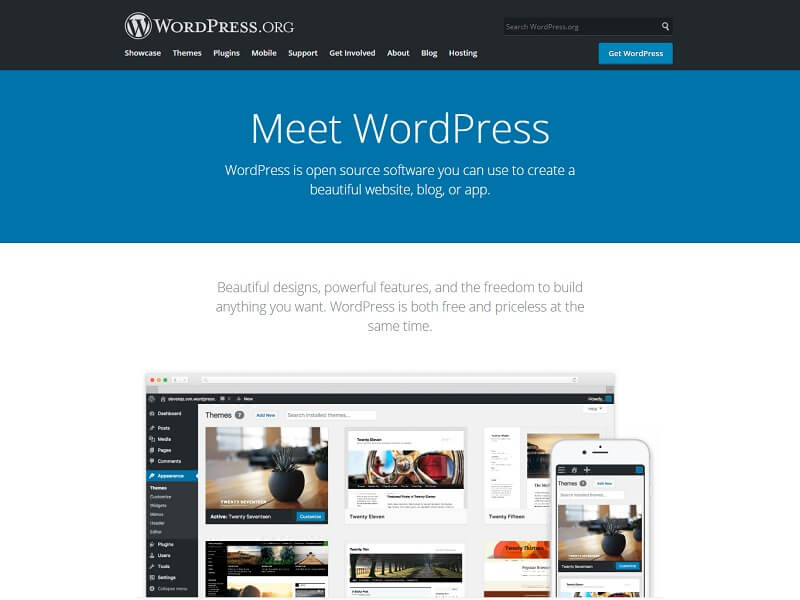 One of the Best PHP CMS "WordPress" started in 2003 with a single bit of code to enhance the typography of everyday writing and with fewer users than you can count on your fingers and toes. Since then it has grown to be the largest self-hosted CMS in the world, used on millions of websites and seen by tens of millions of people every day.
WordPress is the most famous PHP CMS on the list, and it holds the repute of the world's most used open-source CMS for web development. It comes with a lot of features, themes, and plugins so you can develop your website easily and More than 76% of the CMS market is covered by WordPress.
WordPress is a user-friendly platform.
WordPress is the most commonly used CMS platform.
It has the largest plugin/theme repository
It is a highly secured platform, so you do have not to worry about your security.
One of the best CMS Built-in SEO mechanisms
WordPress is available in more than 70 languages.
You can easily download and install WordPress on your web, to do this you need a web host who meets the minimum requirements and it takes a little time to install. WordPress is completely customizable, flexible, feature-rich, and can be used for almost anything. There is also a web called WordPress.com which allows you to start a new and free WordPress-based blog in seconds, but it varies in several ways and is less customizable than the WordPress you download and install yourself.
---
2. Magento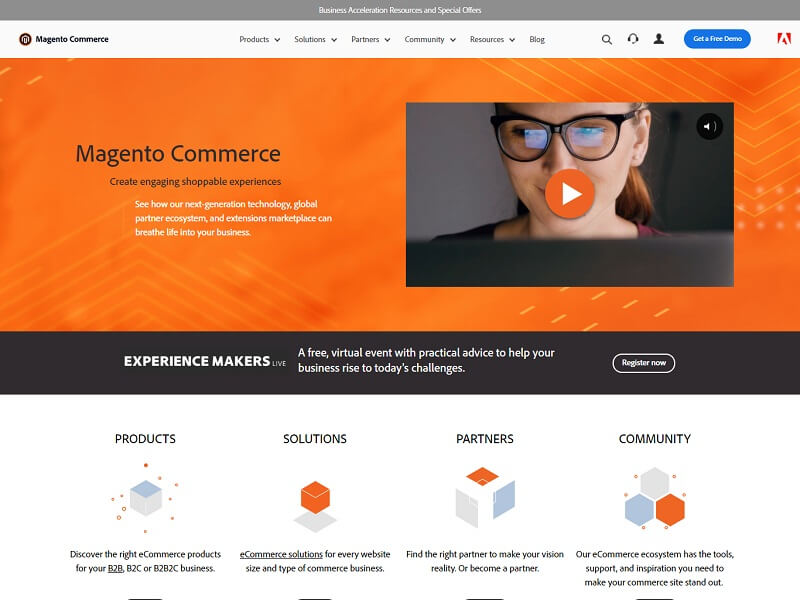 Magento is an open-source e-commerce CMS platform written in PHP. It uses multiple other PHP frameworks such as Laminas and Symfony. It is the most used and most popular choice for developing online stores and also it is the leading platform for open commerce innovation. Many leading brand names including Ford, Olympus, Nike, and many others uses Magento for their online operations. It has optimized and enhanced eCommerce features and it gives ease to design customized eCommerce applications.
One of the best choices for eCommerce platforms.
Flawless and secure
Over 250K online stores are using Magento.
Magento community counts around 800K+ members till to date
Rich of features
User friendly
easy in use
When it comes to its enterprise and premium versions, the platform is a bit expensive, so small online stores can't afford its premium versions. It has a bit slower loading time as compared to other CMS platforms and it only supports dedicated hosting. Magento has Product support but it is quite expensive.
---
3. OpenCart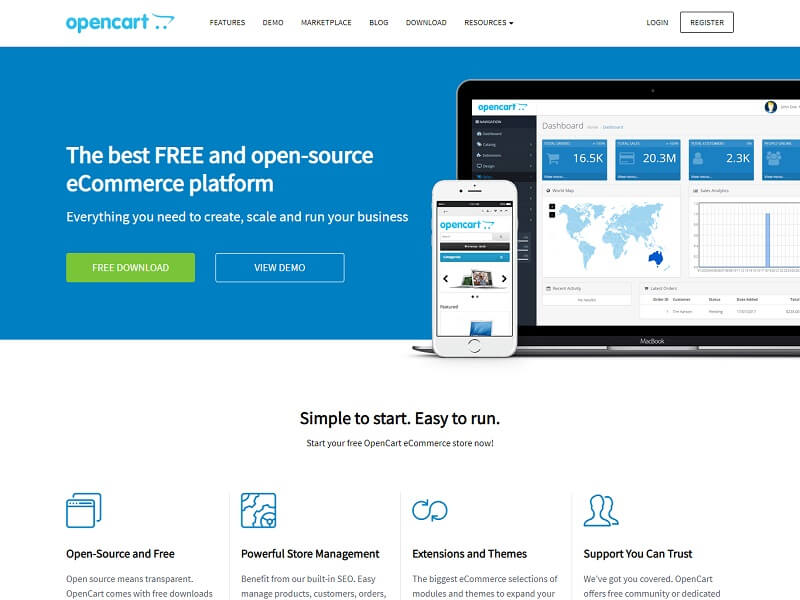 The best free and open-source eCommerce platform that provides a complete eCommerce solution and allows you to make your online store with great functionalities.  Like other CMS platforms, Opencart is also very easy to use & its interface is quite user-friendly for new users. With the help of OpenCart, you can easily set up your online store by focusing on any niche. This CMS provides you with all functionalities and features of the advanced online store you need.
Easy to set up and use
A lot of free themes available
Powerful store management
User friendly
Has around 794,234 websites running globally
Open Customization needs a bit of technical experience, so it is not a good choice for new developers. This platform is not SEO-friendly and Becomes slow when web traffic increases quickly. If you have some technical experience then you can easily use its thousands of extensions and modules for your online store management, also it Provides great functionality to make sites multilingual.
---
4. Drupal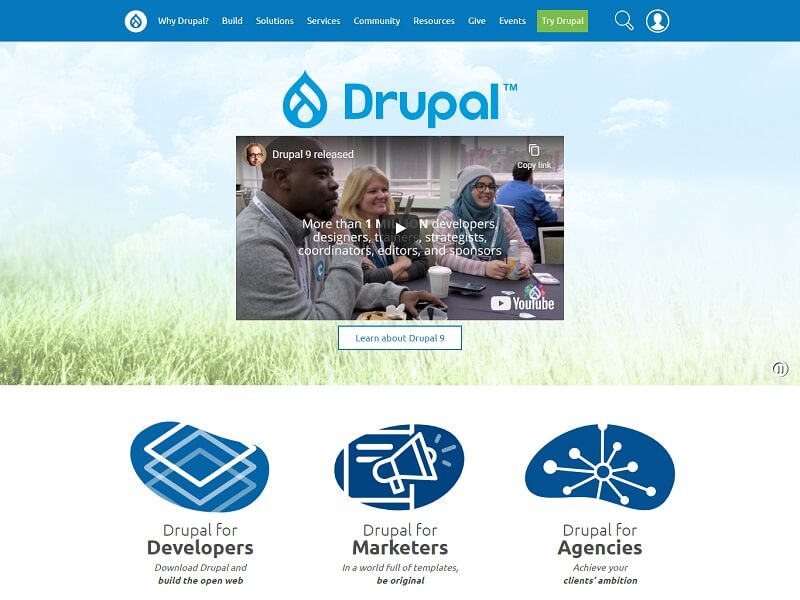 The best PHP CMS "Drupal" is free open-source content management software (CMS). It's used to make many of the websites and applications you use every day. It comes with great standard features, like easy content management, reliable performance, and excellent security, But what sets it apart is its flexibility and compatibility. Its tools help you build the flexible and resourceful structured content that dynamic web experiences need.
Drupal is rated as one of the best platforms for eCommerce stores.
more than 1 million websites are currently running on Drupal.
Drupal is available in more than 90 languages
highly optimized
Drupal CMS is open-source software and Anyone can download it, use it, work on it, and share it with others.
Drupal is also a great option for creating integrated digital frameworks. You can extend it with any one, or many, thousands of add-ons. Modules expand Drupal's functionality. The themes of Drupal let you customize your content's presentation in a wide manner. This CMS is one of the best CMS platforms and No other content management software is this powerful and scalable.
---
5. Joomla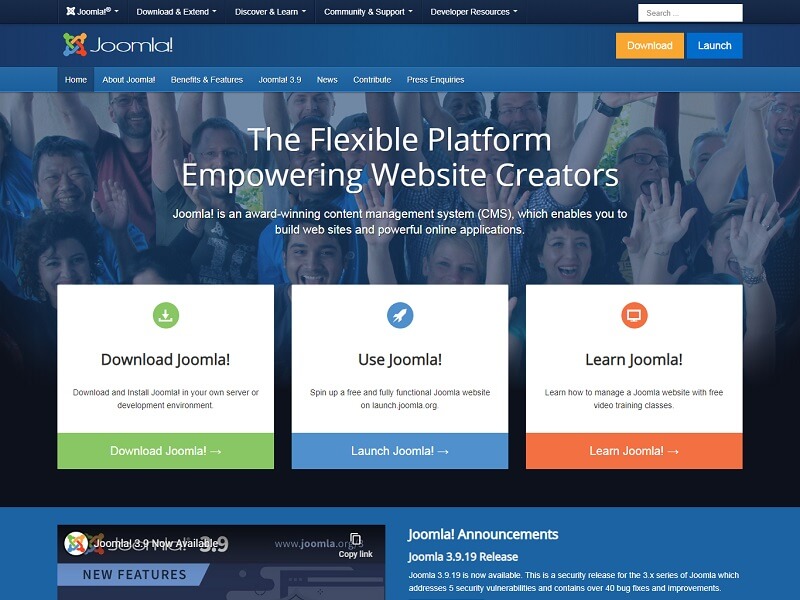 Joomla! is an Associate in Nursing victory content management system (CMS), that allows you to create websites and powerful online applications. Over the years Joomla has won multiple awards. Joomla is used all over the world to maintain millions of websites. It is famous for its ease of use and extensibility. Joomla's Flexibility and ease of use have created Joomla as the foremost well-liked information processing system software package accessible. This CMS is Associated with Nursing open supply answer that's freely accessible to everybody.
flexible and ease in use
best for online reservation websites.
It has active sites of more than 200K
It has integrated eCommerce systems.
Since Joomla is really easy to use and flexible, so as an internet designer or developer you'll quickly build websites for your shoppers. It has the smallest quantity of instruction so you'll empower your shoppers to simply manage their websites themselves.
If your shoppers would like specialized practicality, Joomla is extremely protractile, and thousands of extensions (most for free of charge beneath the GPL license) area units are accessible within the Joomla Extensions Directory.
---
6. SilverStripe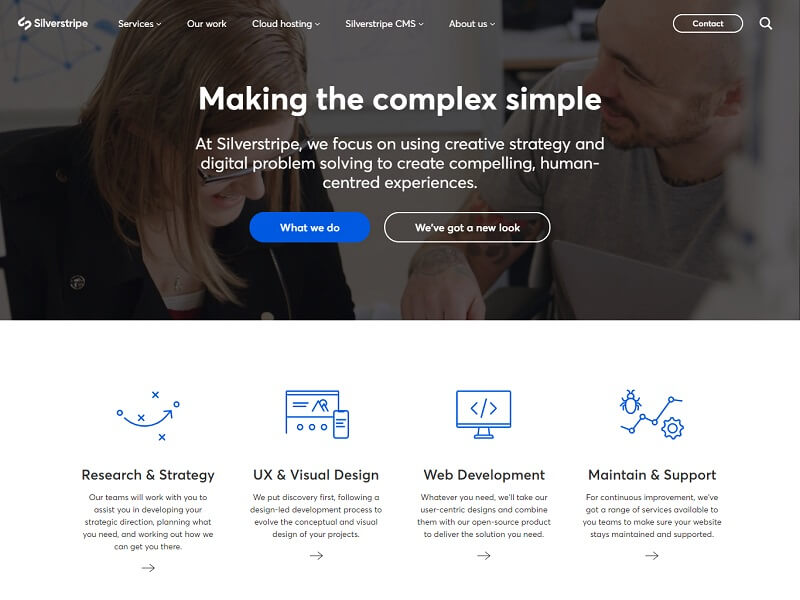 SilverStripe Ltd began in 2000 by 3 folks smitten by the limitless potentialities of the online.
It is an associate degree open supply web page management system employed by government organizations, businesses, and non-profit organizations around the world. This CMS is an easy-to-customize tool for skilled website developers and straight forward to use for web page authors.
easy to use
super flexible and extensible
Robust and secure
customized open source
more than 800k downloads
The CMS is written in PHP and may be used at intervals in a UNIX, Windows, or Apple atmosphere. It was the primary Open supply CMS to be certified by Microsoft. Tim Copeland, Sam Minnée, and Sigurd Magnusson supported SilverStripe Ltd in 2000 in Wellington, New Zealand. In 2006 SilverStripe was set to unleash the CMS beneath the open supply BSD license. the choice to try to thus support the concept that open supply merely produces a higher software system through the support and input of the community.
---
7. Typo3
Typo3 is a free and open-source Web content management system written in PHP. one of the most popular CMS which is compatible with Windows, Linux, macOS, FreeBSD, and OS/2, and also it can run on several web servers such as Apache, Nginx, or IIS. If you want to create, manage, and output any kind of internet content then TYPO3 is one of the best tools for you. Typo3 offers you more than 9,000 Features so you can create and manage amazing digital content.
More than 1,500 Extensions / Modules
More than 9 million downloads
No license cost
Various functions and flexible
Large Integration management
---
8. PrestaShop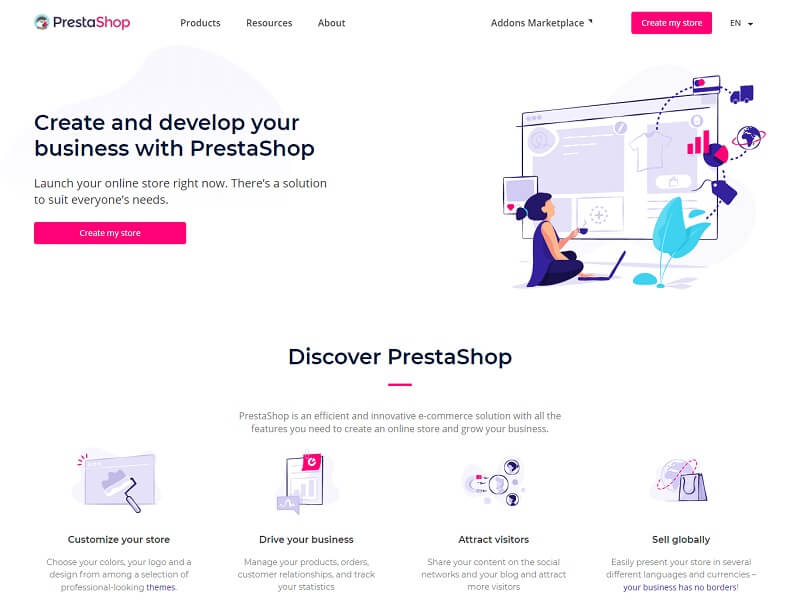 PrestaShop is a freemium, open-source e-commerce solution. It started in 2005 as a student project within the EPITECH IT School in Paris, France. Originally named phpOpenStore, the software was first available in two languages: English and French, Three months after its launch the project was translated into thirteen languages.
This is an efficient, compatible, and innovative e-commerce solution with a lot of features to create an online store and grow your business. It is currently used by more than 300K shops worldwide and is now available in 60 different languages.
Responsive
More than 300K e-commerce stores run on PrestaShop technology
Secure
Various themes available
customized
PrestaShop is written in the PHP programming language with support for the MySQL database management system.
---
9. ExpressionEngine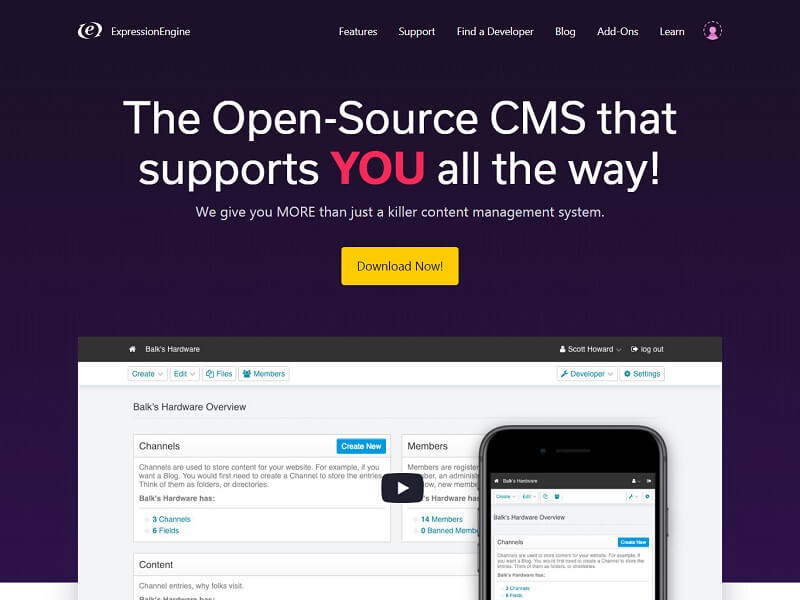 ExpressionEngine is an open-source content management system. If your website is working with lots of content, ExpressionEngine can be a great choice for you. This CMS offers some great features which you can utilize in creating and managing content over the internet. It has some Custom edit forms and You can navigate and fill them out easily. It offers an easy templating system means there is no need to inject PHP code, you just have to add HTML to HTML files and CSS to CSS files.
In build SEO components
Secure
Features rich
Fast and flexible
Managed mailing lists
Drag and drop option is not available in this CMS and also it has less 3rd party add-ons and plugins.
---
10. CakePHP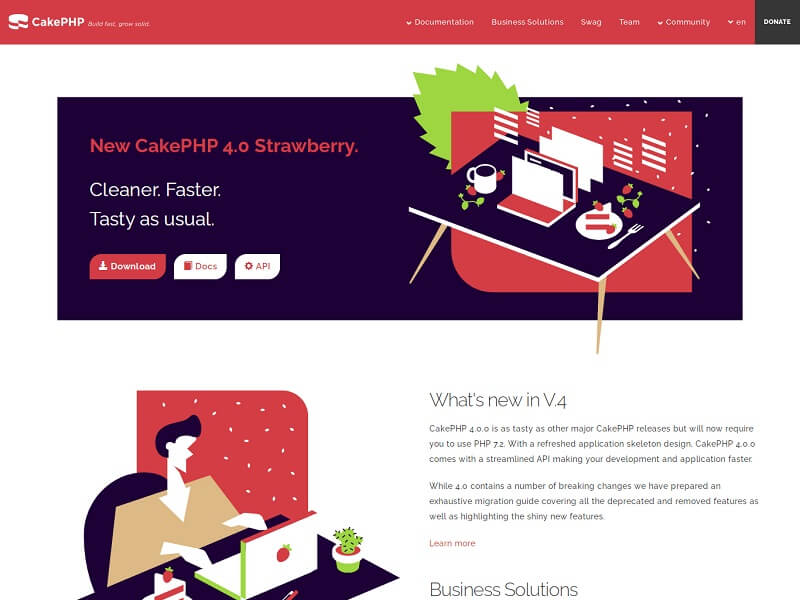 CakePHP is an open-source rapid development content management system. It makes building net applications easier, more compatible, and faster, whereas it requires less code. The main goal of CakePHP is to provide you with a structured and rapid manner CMS –without loss of flexibility. It is compatible with versions 4 and 5 of PHP.
Flexible
easy in use
MVC architecture
Email, Cookie, Security, Session, and Request Handling Components.
This CMS is licensed with an open-source MIT license which makes it good to be used in industrial applications.
---
11. ModX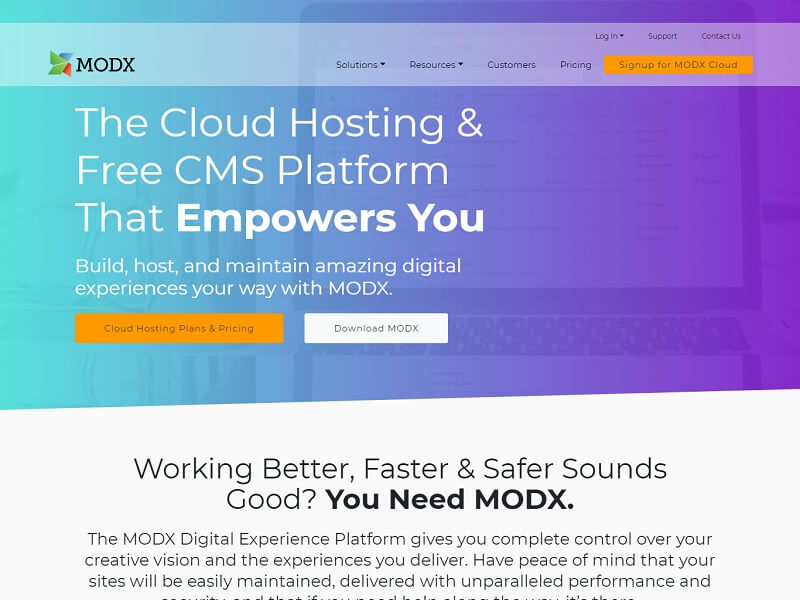 The best PHP CMS "MODX" Revolution is the website management platform for people who care concerning no-compromise style and exceptional user expertise. It supports PHP version 5.1.1 and above. The MODX CMS platform gives you full control to you to establish a creative version of your website. You can maintain your sites easily with the help of MODX.
speed
secure
productive
creative freedom
It offers you complete management and customization over your website and content, with the pliability and quantifiable to adapt to your ever-changing wants.
---
12. Concrete5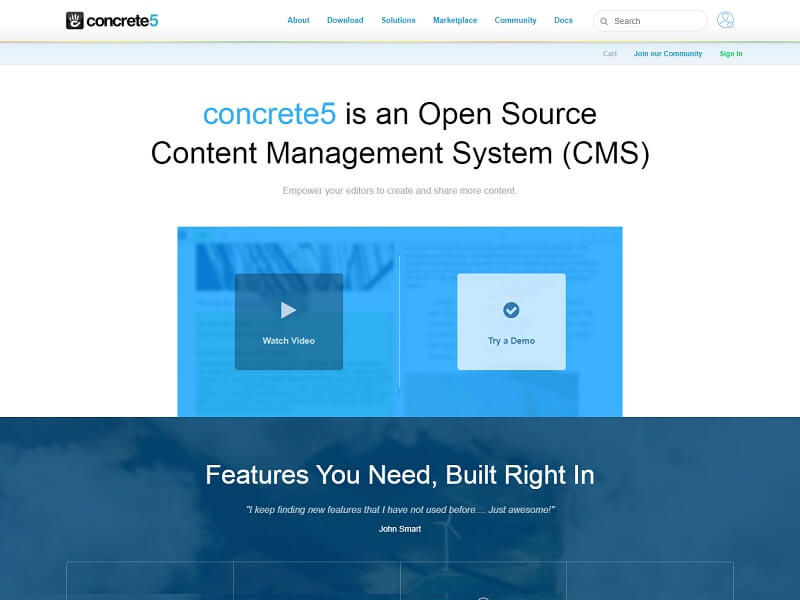 Concrete5 is an open-source content management system (CMS) for publishing content. You can create and edit any page on your website, and a writing toolbar offers you all the controls you wish to update on your web.
Powerful and Extendable
Mobile-Optimized and Responsive
Social and SEO optimized
Secure
Fully Controllable
Concrete is free and easy to use so this is a good option for giving a beautiful look to your web and for managing your content. It is best suitable for small businesses.
Building and maintaining an internet site area unit are completely different challenges. Launching an excellent website is completely different from running a good website over time, Concrete5 enables you to do both: build and maintain excellent websites.
---
13. PHP Fusion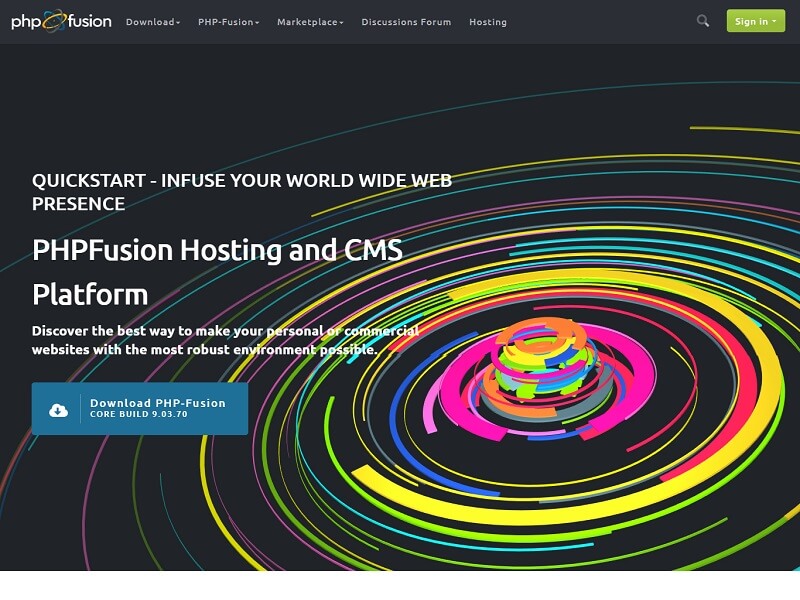 PHP Fusion CMS is a free open-source content management system (CMS) developed in PHP that uses a MySQL database to store information. Just like other CMS PHP Fusion also gives you a lot of features you need to create and maintain your website.
 Easy in use
Secure
creative
automotive features
This CMS allows developers to focus on what they intend to do, and rely on PHP-Fusion instead to automatically take care of security and input validation issues for example. PHP-Fusion can automate repetitive tasks and ultimately saves developers a lot of development time effectively.
The best PHP CMS "PHP-Fusion" is associated bushed one integrated and ascendible platform that may work for any purpose once it involves website productions, whether or not you're making community portals or personal sites. Based on an associate open-supply project below the wildebeest AGPL v3, PHP-Fusion is authorized to be open and liberated to use. By-product codes should be shared unless we tend to grant you a license to waive the AGPL agreement. This can be what we tend to believe offers the most effective attainable protection for each PHP-Fusion and every one of the Developers that make Add-ons for PHP-Fusion.
---
14. CMS Made Simple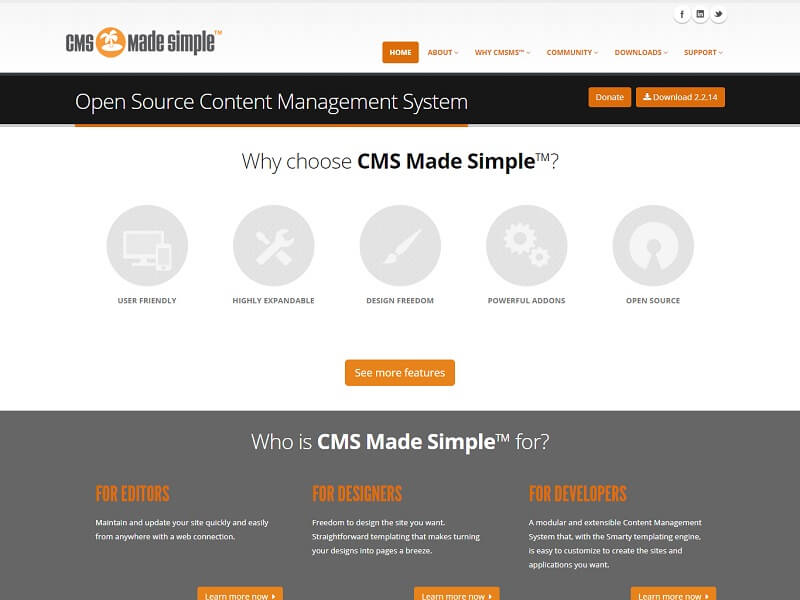 CMS Made Simple is an Open Source Content Management System(CMS). Beyond content management, CMS Made Simple is a powerful and customizable system that makes the perfect, flexible, customizable, and more advanced websites and applications. CMS Made Simple™ provides a mechanism for the website administrator to form and manage "pages", their layout, and their content. CMS-created Simple™ is unassertive…. you'll produce a table-primarily based layout, or a confirmatory XHTML/CSS layout.
Edit Layout Features
It can make any design you can imagine easily
Easy in use
Secure
CMS Made Simple is easily available for you to download and use for free under the tenets of the GPL license. You can easily use CMS Made Simple on commercial and personal projects, and in many cases, it will also be able to use third-party modules that have been developed (though you should check their licenses).
---
15. Moodle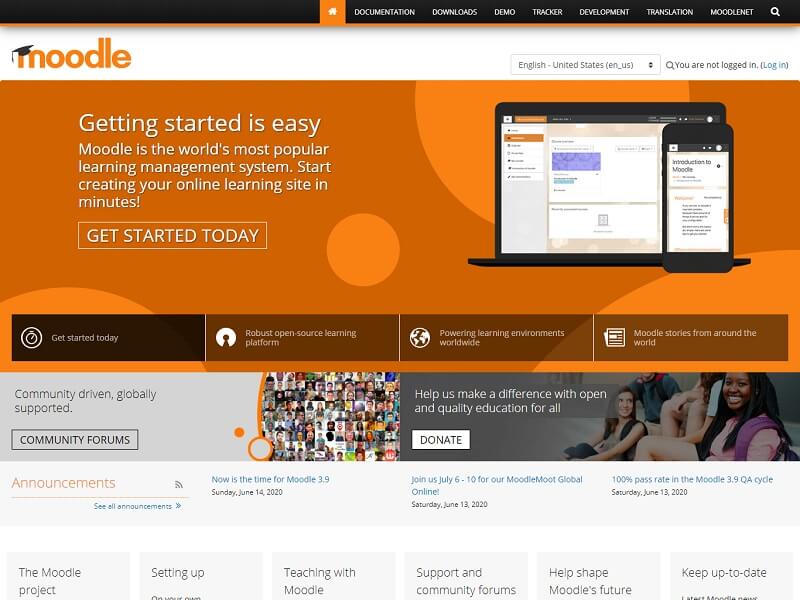 Moodle is one of the Best PHP CMS learning platforms designed to produce educators and directors. And learners with one strong, secure, and integrated system to make individualized learning environments. You'll be able to transfer the software package onto your internet server or raise one in every of our knowledgeable Moodle Partners to help you.
Easy to use
Free with no licensing fees
Always up to date
Highly flexible and fully customizable
Robust, secure and private
---
Follow wpshopmart.com for more updates on digital content and tech strategies. I hope you like this article. If you have any questions about this article then please feel free to let me know in the comment section below.