10 Simple Steps To Create A WordPress Website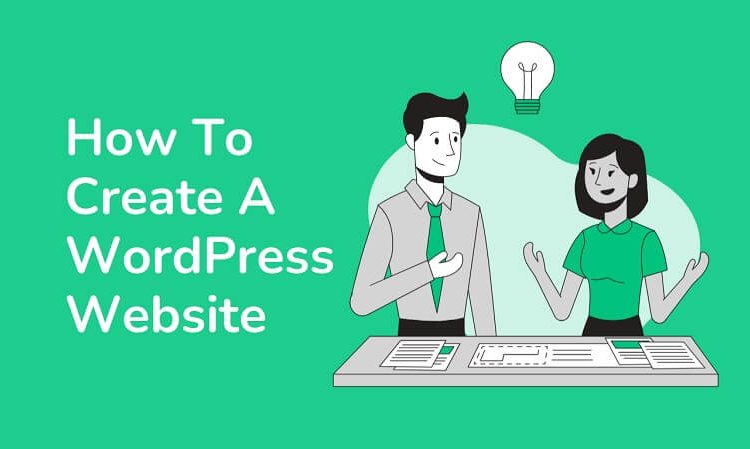 Do you want to know what are the 10 simple steps to create a WordPress website? If yes, then keep reading this article.
If you've never done something similar before, setting up your WordPress website could seem like an overwhelming undertaking. Fortunately, one of WordPress' best features is how easy and intuitive it is to use. Anyone can do it, pretty much!
It's not difficult to set up a WordPress website technically, but it might be challenging to know what to put on it and how to make it function for you.
But before we go through the procedures, let's define a WordPress website, discuss why you should use it, and discuss the factors to take into account before you begin developing a website using WordPress.
A WordPress Website:
A MySQL/MariaDB database is used with WordPress, a free and open-source CMS (content management system). In its most basic form, WordPress is a free and open platform, a website builder where you can create straightforward websites for your blogs and companies.
WordPress has a ton of features, such as templates that you can simply fill out with your information to make a website, plugins, add-ons, various themes, and much more.
Even though there are other ways to create websites, WordPress has consistently been the most well-liked and widely employed open-source platform for doing so.
Why Create A WordPress Website?
WordPress was first intended to be a blogging and associated publishing platform, but it is now the foundation for one-third of all websites. This is due to the numerous benefits WordPress offers website owners, such as:
Adaptability and flexibility
User-Friendly
Themes and Plugins
High Standing
Steps for Making A WordPress Website
Start using WordPress now with these 10 simple steps. You'll be up and running in no time if you just adhere to these.
1. Set Up Your Website
Choose your niche before beginning any WordPress-related work. It won't be helpful to attempt to create a WordPress website about something that has already been done 10,000 times. If your WordPress site isn't for an established company, choose a subject that fascinates you so that updating your site now or in the future won't feel like a chore.
2. Decide On A Domain Name.
Your domain name should have a strong connection to the market you choose in step 1 and be incredibly easy for users to remember. Studying keywords might also be beneficial. Your preferred name is taken, but the.com is available. Think about.net or co.
3. Acquire Web Hosting.
Finding a trustworthy web host to manage your website is the next step. At HostPapa, we provide servers and infrastructure that are at the top of their game. We provide multilingual customer service by chat, email, and phone in addition to having a substantial knowledge base and video guides. How about a dedicated vs. shared server?
Most of the time, shared web hosting will do just fine and is highly well-liked by WordPress users.
Hosting a VPS
Devoted Hosting
4. Set Up WordPress.
At the risk of oversimplifying, once you've selected a web server and domain name, it's time to install WordPress and get things going. Our Softaculous script installer makes installing WordPress exceedingly simple and quick.
5. Choose A WordPress Theme.
The design theme for your WordPress site must then be chosen. There are tens of thousands of themes to choose from, with prices ranging from zero to several hundred dollars. Be sure your theme makes sense for your site's topic, as well as the design and content you intend to publish while choosing it.
Premium WordPress themes You can choose from a variety of pre-made solutions for WordPress themes. They range widely and include commerce, services, the arts, food, fashion, and many others. Each of them might serve as a fantastic foundation for the website of your dreams.
6. Install Plugins For WordPress.
A PHP scripting software known as a WordPress Plugin adds particular features or services to the Cost of WordPress website. WordPress Plugins give your WordPress site a lot of customization and flexibility as well as useful features and tools for your visitors, such as the addition of live chat.
Although you might not have many plugins at first, as you use WordPress more, you'll discover more that can help your site. The Plugins option can be found in your WordPress admin dashboard.
7. Fill Up All of Your Administrative Pages.
Among the most important sections are your contact, about, privacy, and disclaimer pages. Take care of these initially before concentrating on adding content to your website. After all, it's easier to include them now than after you've published all of the other, more fascinating information. These pages also seek to safeguard both you and other site visitors.
8. Put Your WordPress Website Online.
It's time to start adding engaging content once the crucial administrative pages have been published. Whatever your niche, you should be sure to provide your audience with a ton of high-quality information. Make your site visually appealing, and further, give regular content addition top emphasis. If you blog, make sure each post has at least one image. This not only provides your readers with content for social media sharing, but it also improves the look and feel of your article. Making a content schedule will help you stay on course whether you choose to add content on a daily, weekly, or monthly basis.
9. Remember To Market!
There are two processes involved in promoting your new website. Make sure relevant keywords are present in your site's title, description, and body content before anything else when it comes to SEO (search engine optimization). Second, invest some effort in spreading the word about your website in any way you can. Both participating in forums on social networking sites and distributing a regular email newsletter are free options. You might also consider posting as a guest and leaving comments on blogs, forums, and communities to broaden your social networks and link popularity.
10. Restore Your Website.
Because your website's content is your most precious asset, make sure you back it up. To avoid having to start again in the event of a crash, you should back up your blog's content. Without a backup of your affiliate links, plugins, and content, it may be challenging for you to recover swiftly. If you don't have the time to regularly back up your website, your web host should offer an alternative. provides an excellent automated website backup solution that is simple to set up and does away with the need for site backups forever. If you have a backup copy of your website, it can be quickly recovered and restored without losing crucial data.
Aside from that, money is another issue that deters many people from building a website. Even though we first discussed using WordPress to build a website, WordPress is free if you don't want to use any additional paid features.
Author Bio:
Maria Hernandez is a qualified content writer with experience in writing on a variety of themes, including WordPress websites, Web design, Commerce Websites, and much more.