Start your Coupon & Cashback Website with ClipMyDeals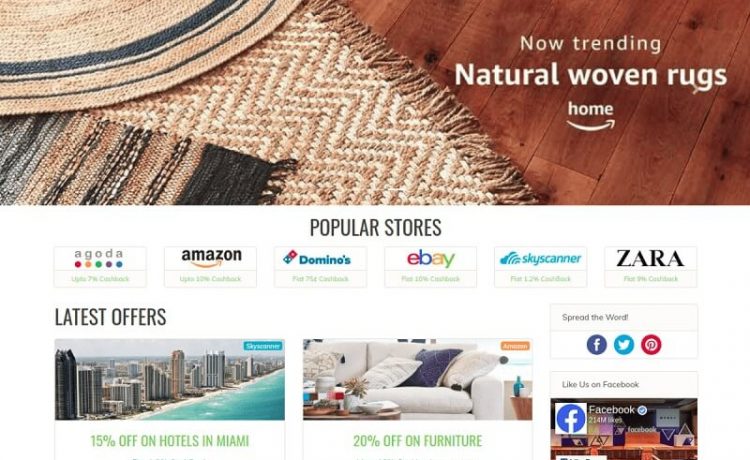 WordPress has become one of the giants in the website design and maintenance industry because of its flexibility and ease of use. WordPress users can choose from a number of different themes — hundreds of them — to find the one that best fits their design motif and compliments their business or blog the best.
So it should come as no surprise that there is now a WordPress theme for coupon and cashback websites. What are those? You may have heard of websites like DontPayFull.com, e-Bates, Retail Me Not, Hot UK Deals, and a number of other different websites that feature coupons for a variety of retailers or cashback options when you purchase specific products from specific retailers. It is a great service for people who are already going to purchase those products to get some money off or receive money back for doing something that they had already planned to do.
ClipMyDeals WordPress Theme
The creators of this theme claim to have 6+ years of experience with Coupons & Affiliate industry. And this shows in their distinctly practical functionalities. They have a Cashback website, Postback integration for Affiliate Networks, integration with Coupon Feed providers, a free mobile App, and lifetime updates & support.
In this article, we will go through some of the best features that I liked in this theme, and why I feel this is the best theme to start a coupon or a cashback website.
For a full list of features and more details, you can visit their website https://clipmydeals.com/
User-Friendly Design
For codes and coupons presented using the ClipMyDeals theme, you can select a number of different views and layouts depending upon what you have to offer. There is a list layout, presenting everything in a linear fashion from top to bottom. If you are looking for less scrolling on your page, you can condense that view down to two or three column layouts. Additionally, there are mobile device layouts as well since so many people currently use their smartphones to navigate applications such as the aforementioned sites.
Cashback Plugin
For the cash back aspects of these sites, there are a number of different features that are available from the ClipMyDeals theme. You can present your search function, looking for a number of different cash back options from a variety of stores and categories, through a banner feature (a static image), a slider feature that rotates through a number of images, or a short video that plays continuously in the background. This gives your website a live feel to it and makes it feel all the more interactive to customers who use this service.
Happy Customers (raving about ClipMyDeals)
Because of its versatility and the smooth, sleek design of the theme, those who have implemented it have spoken very highly. Not only does it provide a modern, unique, and sleek design, its functionality is second to none. The layouts that are available offer easy functionality, allowing customers to easily find what they are looking for an implement the information that they desire.
Mobile First design and Free Mobile App
Additionally, the ability to adapt to the mobile format puts it right at the top of the heap. Mobile is all the rage in the consumer world, allowing for ease of access as well as the ability to access apps and websites without needing a computer. Being able to access everything that you need to while on the go is a huge convenience factor and one of the primary reasons that the mobile platform has grown as exponentially as it has over the last several years.
Gives you a perfect start
The ClipMyDeals theme allows for flexibility, versatility, and a gorgeous layout for your coupon or cashback website to operate. Implementing the theme will get you off and running in no time flat and allow you to transition smoothly.
With lifetime updates and unlimited support, this theme is "the best" start you can ever give to your dream affiliate income.