WordPress vs Wix – Which One is Better?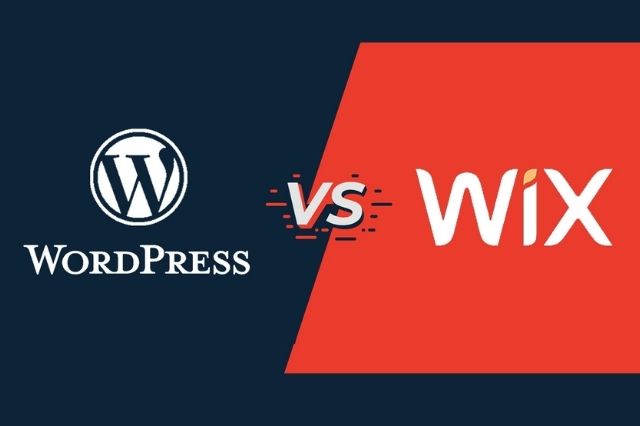 All you want to create a website but confused in between WIX and WordPress that which platform is better for you. Well, if yes then don't worry; in this article, I will clear all your doubts and confusion. So let's start with our topic WordPress vs Wix:
WIX and WORDPRESS both are two very big names and both tools are used to build a website. But they have completely different approaches. Wix is a website builder and WordPress is a CMS (Content Management System).
1. Wix vs WordPress: What's the Key Difference?
 Wix is an all in one website builder with flexible and self-building design. This platform is perfect for beginners and also for those who have no coding knowledge.  It allows you to build a good looking website quickly and easily.
Whereas WordPress is a self-hosted open-source CMS that allows you to build your website totally from scratch according to your needs. WordPress powers 50% of the internet that's why wordpress is a powerful and famous platform.
2. Ease of Use:
WIX comes with powerful and easy to use tools with along some pre-designed templates to build your own dream website easily and quickly. It offers you a drag and drops functionality where you can select any part on your site and start editing and customization it according to your needs. In short, you can rearrange things on your website, write content, change the font, add elements, and much more in a very easy way.
WordPress comes with a visual editor that allows you to write your content in a user-friendly way. Also, it comes with a theme customizer that allows you to edit and customize your theme properties in a very easy way.  However, Like Wix, WordPress does not come with a built-in drag and drop page builder but it offers you a lot of free drag and drop plugins that help you to build your website very easily. WordPress requires some learning efforts so you can use it properly.
So it means Wix is clearly the better option here. Because the users don't need to spend more time to understand the platform or install any plugins before they can start creating their dream project.
3. Pricing and Costs:
WIX offers you a wide variety of premium plans and each plan has different storage and bandwidth limitations that include an increasing number of features and web hosting services. You can also choose monthly and yearly plans according to requirements.
It offers you 5 basic plans starting from $4.50/month. If you want to start a blog or business the best value plans for your business on Wix is the Unlimited plan of $12.50 / month, and if you want to start an eCommerce store, then the best option for the eCommerce plan is $16.50 / month.
If you want to add more functionality to your website then you can also buy more apps from the Wix app market.
WordPress is open-source software and it is available for free for everyone to use. To start your business or blog you just need a domain and a hosting. For Purchasing a domain and hosting you can select any platform depending on your budget, but always remember don't buy poor quality options. There are so many WordPress hosting providers are available in the market, you can choose on the basis of your budget and requirements.
Now after purchasing the domain and hosting you just need to install wordpress in your hosting. For making a beautiful and attractive website you can also go for some free and premium themes available on the wordpress market or you can buy themes from the internet also.
So this is clear from this that wordpress is cheaper then Wix, So if you don't have a big budget then you can go for wordpress only.
4 Apps & Plugins To Enhance your site's functionality:
To add more functionality to your website you need to use additional third-party plugins and applications.
Wix has got an App Market that provides you almost 280+ free and paid apps that you can add to your website to expand your specific website's functionality. These additional apps help you to add more functionalities to your websites and it gives you multiple features such as E-Mail newsletter, contact forms, social media buttons, accordions, gallery, and much more.
WordPress is actually famous for its plugins and themes, there are more than 60,000+ free plugins are available on the WordPress.org. Also there are so many free and premium plugins are available on the wordpress marketplace to add more functionality to your website.
The best part of choosing wordpress is its plugins market. Anytime When you think of a feature, there's probably a WordPress plugin available to make that happen for you.
So it means that in WordPress you will get tons of plugins for almost anything you want for your website such as if you to want to create a newsletter, contact form, gallery or you just want to install tools like google tag manager, Google Analytics, or you want to build your custom website or landing page there is a plugin for everything you need.
Conclusion
WordPress is a more popular and better website building platform for any kind of website you want, While Wix offers an easy to use website builder that helps you to build your website easily just by drag and drop.
It's up to you which platform full fills your needs. I suggest that if you want a popular and feature-rich platform then you can go for wordpress and if you want to make a website in an easy way you can go for WIX.
So, that's all from this blog. I hope you get the idea about the WordPress vs Wix which website builder is best for you. If you have any confusion related to this blog, then you can ask me in the comments section down below.
If you like this article, then please share it with your friends and followers.