5 Pro-Tips To Make A Web Developer Resume in 2023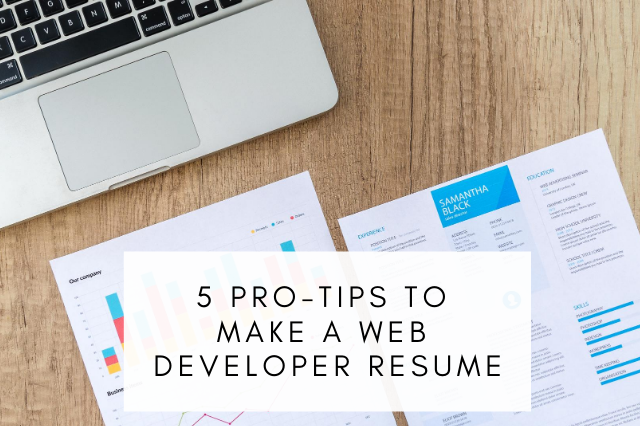 The bounce rate for slower websites is higher and reaches up to 120 percent. Some websites often determine the digital presence of a brand and how well it will perform online. Web developers not only design a website but also target essentials that can make it operate smoothly. This proves that the work of a web developer is certainly not easy. Hence, companies look for talented professionals who can help them achieve their business goals. So we will share some amazing tips with you that you can use to make an attractive Web Developer Resume.
Now you may possess all the skills that go in developing world wide web applications. But if you fail to convey them in a resume, it will be of no use.
In this guide, we will cover 5 pro tips that will help you showcase your expertise in a web developer resume:
Make A Professional Experience Section In Your Web Developer Resume.
This section is a way of writing your work profiles along with displaying your web development expertise to the recruiter. Through this section, recruiters will gain some insights in terms of what you can offer to the organization. So, you need to make sure that you cover all the relevant details entailing web development experience.
Here are some pointers that will help you craft a stellar professional experience section:
Verb usage: Begin all the points in your resume with action verbs that will help you create a better impact on showcasing your job responsibilities. Also, keep in mind the proper form of the verbs that you use. For example, you should be using the present participle of the verb for current profile and past participle everywhere else.
Bullet points: Hit the bullseye in terms of readability with bullet points. Many candidates make the mistake of going into unnecessary details about their job duties but it is not ideal to do so. You need to create one line bullet points to explain your experience in this section and avoid long paragraphs.
Showcase Your Skills
We understand that a resume is achievements based and candidates want to display their skills in whatever manner they can. That is the reason why we see so many candidates using buzzwords to showcase their skills.
But the truth is that they do little to no good for your expertise. To avoid that, read up on the methods outlined below that will help you display your skills.
Bucketing & Highlighting: Bullet points are helpful in improving the readability of your resume. But a recruiter should not have to read all the bullet points to understand what your expertise and achievements are. Hence, you should be highlighting important keywords and numbers to showcase your achievements. And create buckets for 3-4 relevant points. For example, the subheadings for your resume can be "Web development life cycle & Graphic designing", Web developer Course etc.
Skills section: You get 6 seconds to make a lasting impression on the recruiter. You can achieve it by curating a skills section. This section should contain all your web development expertise and required transferable skills. Also, create a separate technical skills section for your tools/methodologies.
Write A Professional Summary
A professional summary should cover the most important aspects of your profile. It should include descriptive details of all your achievements and skills. So writing your professional summary in your Web Developer Resume is most important.
Now that we know what to write in a summary, how should you format it?
It should be written at the top of your resume right below your name and should not exceed more than 3-4 lines. Here is what it should look like:
4+ years experienced Web Developer adept at deploying responsive designs to revamp the brand's website. Proficient in creating user-friendly websites that improve the customer experience and user clicks. Adet at utilizing industry-standard methodologies for web development.
Include Keywords
Most applicants use a single resume to apply for all the jobs they encounter. But the truth is that the job responsibilities will be different for each post. Hence, it is important to modify your resume as per the job description before submitting your resume.
It is important to note that a significant number of organizations use an applicant tracking system to weed out irrelevant applications. So, it is not only important to modify your resume as per the job posts, but it is also required to pass the applicant tracking system which screens resume as per job-related keywords.
You can achieve all of this by incorporating keywords from the job description. Let's say the job post has pointers around using graphic design. If you have expertise in graphic design, you can highlight it in the summary, buckets, or skills section.
This idea is to make it available for the recruiter's perusal and include it in your resume so that the ATS can screen it.
Optimize The Profile Title
Do not write your profile title as "resume" or "CV". Instead, include your current/last held profile, certifications, or your education level.
Also, you should not lie in the profile title. If you have 6 months of experience in web development, you cannot call yourself an expert.
So, here are some examples of a profile title based on the experience that will help you understand what to write.
Certified Web Development Professional
Web Developer – Project Management
Software Development Engineering Graduate
Key Takeaways
Here are a few key takeaways from the guide:
Make a professional experience for your work profiles and display your job responsibilities.
Showcase your job responsibilities via buckets and a separate skills section.
Write a professional summary that serves as descriptive examples of your achievements.
Include keywords to make your resume specific to the target job.
Optimize the profile title as per your work experience or education details.
I hope you liked the article, feel free to express your thoughts in the comment section below.
And also follow wpshopmart blogs for more trendy tech articles.