WordPress can be a proper choice for designing a website if you tried many site builders and failed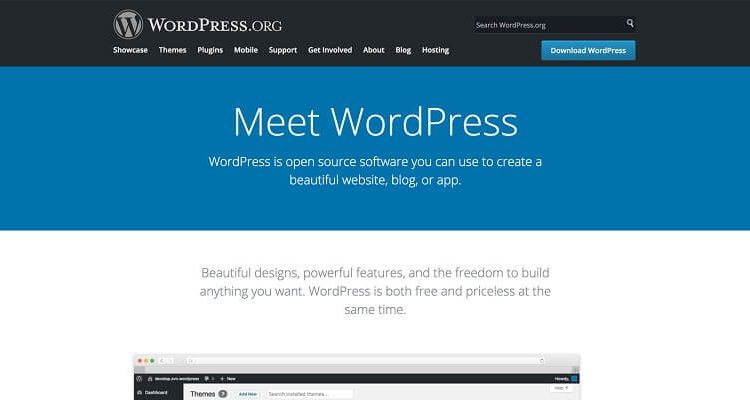 If you tried dozens of site builders for designing a website and were disappointed, maybe you still should stop at WordPress. WordPress is the most popular and widespread platform in the world. It's not surprising, as it provides:
A quick start of an Internet project and simple operation of the designing a website in the future;
An intuitive and pleasant admin interface;
The availability of a huge number of plug-ins and templates that help to develop and improve the web resource without deep web development knowledge.
Convenience and Simplicity.
WordPress is installed in one click on almost all hosting sites, so there will definitely not be any problems installing the system. You can also install it manually by downloading the distribution kit from the developer's site. There are many instructions and guides on this issue.
Basic WP is a system with pretty limited functionality. You can customize the template a bit, create pages, and first posts – that's all. The flexibility of WP is provided by plugins available in the corresponding section of the admin panel and in directories on other sites.
However. extensions solve a number of important issues:
Provide security – for example, protect against spam and unauthorized access.
Help optimize the site for the requirements of search engines;
Add new features for user interaction with the interface.
Some functions are added to the engine without plugins through editing template files. However, there are mandatory additions, without which the site cannot be brought to the front pages in search engines and protected from various troubles. Therefore, before installing each plug-in, it is necessary to evaluate whether it is possible to do without it to reduce the load on the server and add the corresponding functionality through the template files.
The fifth version of WordPress introduced the visual editor Gutenberg. It made the system even more convenient to use. You can find out more about it at the WordPress official site.
Hosting is an advantage
Along with the popularity of WordPress is surrounded by a bunch of myths. Some say for WP you need powerful hosting, a dozen caching plugins, and a system administrator. It's not like that at all. Hosting requirements are minimal, and for beginners even free tariffs are suitable.
And having a good hosting gives you the opportunity to grow your site without restrictions, unlike many site builders.
WordPress hosting requirements are minimal:
PHP 7.3+.
MySQL 5.6+.
The server on Nginx or Apache with a module for generating mod_rewrite permalinks.
Https.
Any sane hosting has all of the above characteristics and makes it possible to install CMS "out of the box" through a special module.
All you need is to find reliable hosting. You can pay attention to this one. InterServer fits all parameters of the trustworthy hosting service:
Convenient and functional panel: cPanel, ISPmanager, or self-written.
Flexible and inexpensive tariffs with the ability to add/remove services.
Responsive tech support.
Good uptime is server uptime. Ideally, the rate should be 100%.
High performance – query processing time.
Unlimited traffic – the number of visits to the site.
Permanent backup – every day or every 2-3 days.
For the minimal price, you get the freedom of choice and scale.
Design
The external presentation of the site defines the template. You can find a suitable option in the official catalog, available in the "Themes" section of the admin panel, or on other sites. There are many templates, but remember that not all of them are suitable for WP 5.0 with the Gutenberg editor.
You can find beautiful and user-friendly themes here.
Any theme for WP has a set of settings. It may be different depending on the template (for example, there are more options on paid options), but the main features look like this:
Download site logo;
Change of color scheme;
Setting the main menu and sidebar;
Add and remove widgets;
Selection of the type of display records;
Selection of fonts;
Customization of sliders and other special elements, if they are in the theme initially.
Appearance editing tools are also added using plugins. For example, if Gutenberg does not have enough features, you can install a visual editor from a third-party developer. Not all templates are suitable for its use, but the choice still remains very rich. So to implement a visual editor on WordPress, as on-site designers, is not a problem. But for deep customization of the template, it is desirable to deal with HTML and CSS – it will immediately become easier to designing a website on WP.
Search Engine Optimisation
WordPress sites easily occupy top positions in the search engine results thanks to the excellent technical optimization of the engine. However, basic functions are pretty limited.
For further site optimization plugins are needed. The required set consists of at least two additions. Here you can learn more about one of the most convenient and useful SEO plugins. Also, there is much useful information about the plugins on WordPress's official website.
Installing SEO Friendly themes will also benefit. Friendliness in this case means compliance with the layout requirements of the CSS and HTML5 standards, as well as a quick display of pages after clicking on the links.
Is it worth it to choose WordPress instead of site builders?
One of the key strengths of WordPress is its flexibility and scalability. You can start with a designing a website for small blog, and then gradually add new sections and features for users – for example, make a forum or create a full-fledged online store: with a catalog of goods, convenient cards, a shopping cart, online payment, etc.
Another bonus of working with WordPress is that you can do without working with code for a long time. In the administrative panel, everything is simple, there is a visual editor for adding content, and for expanding functionality there are plugins, most often even free ones. It is not surprising that WP has become so popular as other CMS have noticeably more requirements for the technical preparation of the webmaster.
These two points lead to the simple conclusion that the best option for using WordPress is to develop a site with the prospect of development to a major project. You may not have a large budget or web development skills. At first, it doesn't matter. And when the project starts to bring in money, it will be possible to devote even more time to its development – immerse yourself in development yourself or allocate a budget to help specialists.