Top 10 Business Analytics Tools In 2023
Are you looking for the best business analytics tools? If yes, then keep reading this article.
In this modern age of technology, data is the most tactical asset of every organization. Businesses depend on data to make crucial decisions on business operations and production.
Furthermore, data aids businesses in making decisions and enhances collaboration among employees, managers, and the CEO. With the help of analytical data, organizations get a complete business overview, in-depth analysis of individual sectors, and comprehensive information about all employees' performance and productivity.
Besides this, the importance of data analytics in business can be known for its popularity. According to the survey, 52% of software companies and 50% of financial companies use business analytics capabilities for their business operations.
Nevertheless, with the enhancement of technologies in businesses, the technology market has seen significant competition in the field of software development and software tools.
Hence it has been a good headache for the organization to choose the best data analytic tools provider from the market. Many IT organizations offer different and unique capabilities of data analytical tools to attract enterprises towards software tools which sometimes create confusion and turmoil among decision-makers; which tool to choose and from whom?
Therefore, to get the solution to your problem, we have created a list of the best BI tool service providers. We have listed 10 top data analytics tools that will streamline your selection and provide an overview to make the appropriate decision.
List of Business Analytics Tools
1. Tableau
2. Power BI
3. Klipfolio
4. Qlik
5. Looker
6. Python
7.  Zoho Analytics
8.  Domo
9. RapidMiner
10. QuickSight
1. Tableau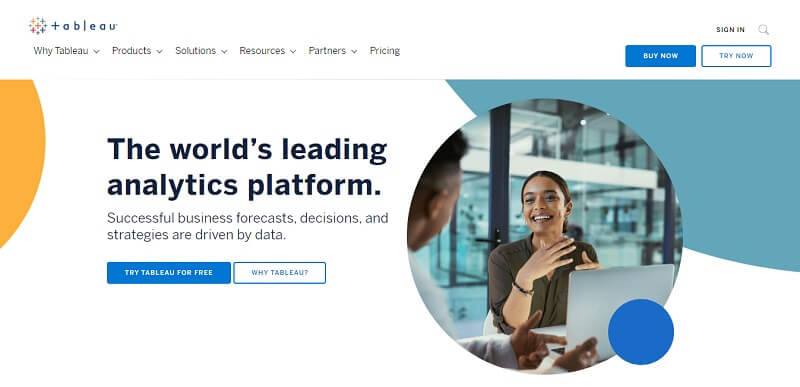 Tableau data analytics software is considered the best integrated visual business intelligence tool in the market. It is a well-liked option for enterprises of all sizes because of its efficiency and productivity. Additionally, Tableau incorporates Einstein Discovery AI as a part of Salesforce, enhancing BI tools' capabilities and increasing business productivity.
With Tableau Public, a free software version, even non-analytics experts may play around with their data and create complex visualizations per their needs and requirement.
---
2. Power BI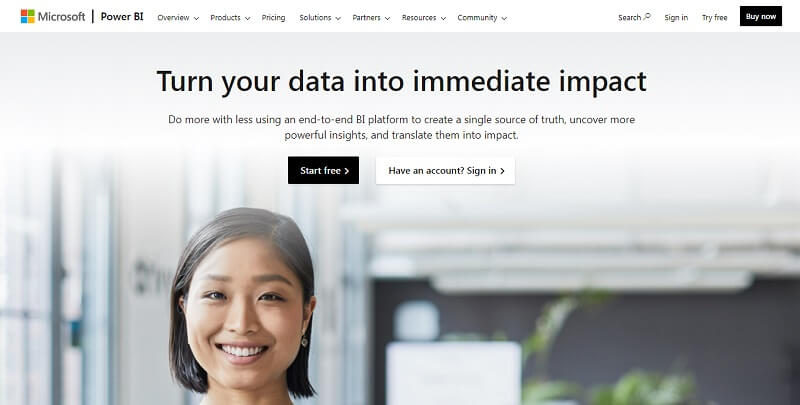 Microsoft Power BI offers agile, strong, and user-friendly data analytic tools that aid businesses with insights that lead the business toward success. Additionally, you can seamlessly create, organize, and sustain data reports and dashboards using this tool and safely exchange them between applications.
Power BI has unique capabilities of integrating or connecting with more than 60 data sources that help organizations enhance collaboration and engagement.
More than just a tool, Power BI is a collection of business intelligence services that assist organizations in organizing, analyzing, and presenting their data in the most efficient manner possible to support informed decision-making.
If you are running shopify store then analyze your Shopify data with Power BI. Power BI Shopify Connector allows export e-commerce data from your Shopify stores to Microsoft Power BI.
---
3. Klipfolio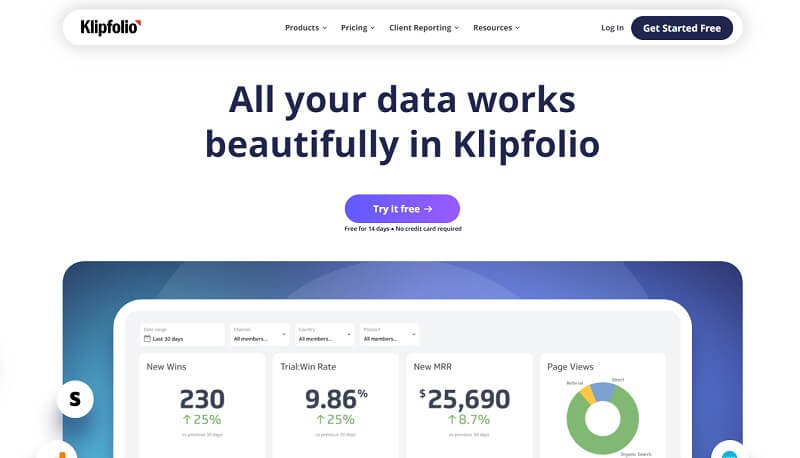 Klipfolio is the ideal data analytics software for quick metrics and confirming business decisions. Using a robust data modeler, users can edit, alter, organize, and manage data in any way they wish.
Besides this, one of its unique features that make Klipfolio stand out from the competition is PowerMetrics.
PowerMetrics tracks historical data so that users can quickly match, compare, and evaluate time phases and examine past trends. Moreover, this data analytics program is simple and doesn't require coding expertise.
---
4. Qlik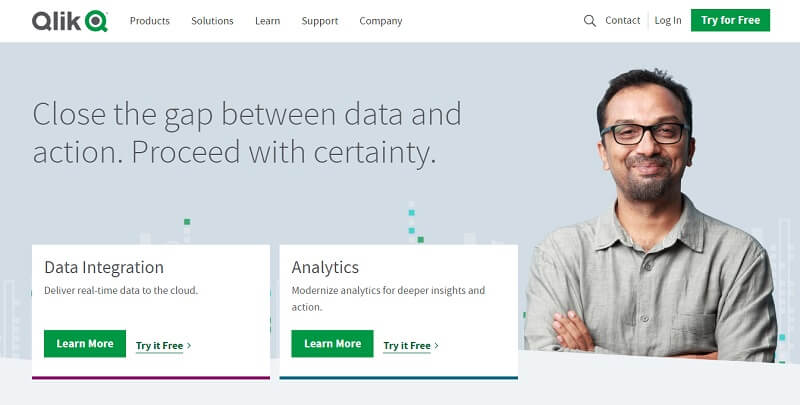 Qlik data analytics is powered by Machine learning capabilities that help organizations to work more efficiently and seamlessly. Also, it comes with several data analytics tools like QlikSense and QlikView, which are built and designed for small and medium-scale entrepreneurial businesses.
Additionally, with Qlik, users can modify and alter data, build analytics-based visualizations and dashboards, and explore enhanced analytics.
---
5. Looker

The data analytic and business intelligence platform that Google offers is one of the ideal BI tools for data exploration. Additionally, with the unique abilities of Looker, users can build exclusive applications on top of the data as Looker is enabled with solid API.
Moreover, using the looker platform, organizations can seamlessly create, organize, and manage data from compound data resources and build intuitive, actionable reports and dashboards for the rapid development of businesses.
---
6. Python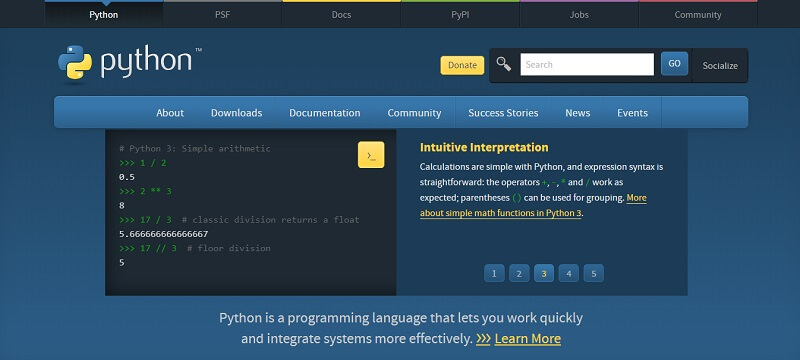 As the name suggests, it is open-source software for developing and programming applications through coding. Obviously, it requires coding knowledge, but at the same time, it is an opportunity for the freshers or the coding learner to learn to code efficiently and get into the world of coding and programming without doing much.
Besides this, it is hugely like other programming languages like JavaScript or PHP, but it differs from them because it is straightforward, understandable, and simple to code.
---
7. Zoho Analytics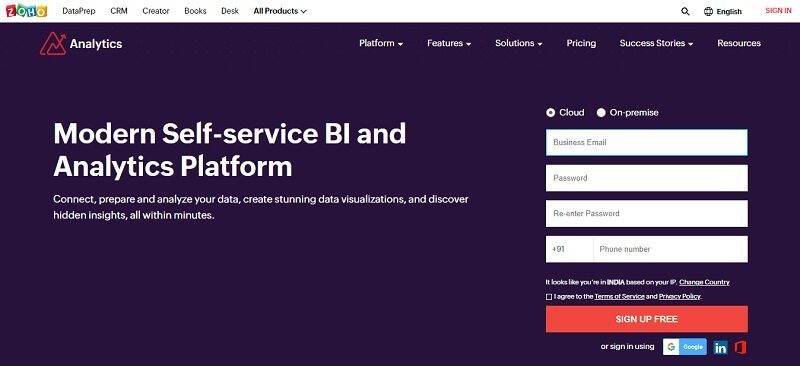 Zoho Analytics offers the best analytical tools for robust and actionable insights. It provides a user-friendly connector interface, including reports and dashboards, renowned applications, cloud-based applications, and also on-premises databases.
Moreover, Zoho Analytics offers a wide range of APIs and a drag-and-drop interface integrated with AI and machine learning capabilities to react faster and run applications more smoother.
---
8. Domo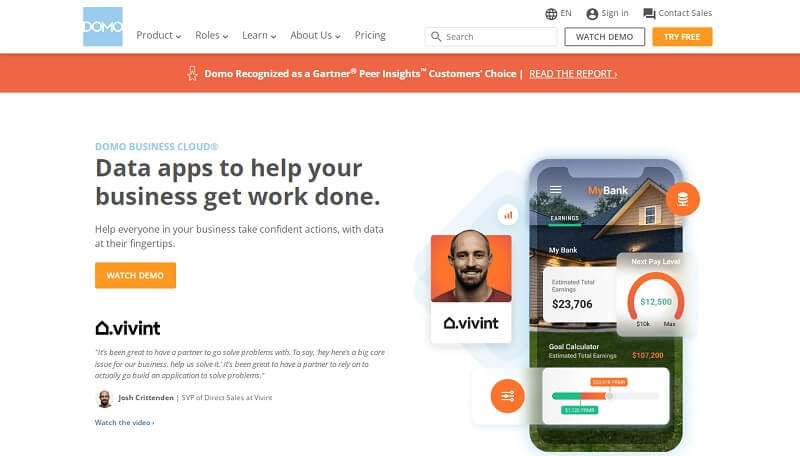 Domo offers 1000-plus connectors and application combination capabilities that automate business operations and delivers data from anywhere, anytime.
Besides this, new technologies and promising initiatives benefit from Domo's elegant and straightforward user interactions, encouraging widespread adoption of Domo analytics tools.
---
9. RapidMiner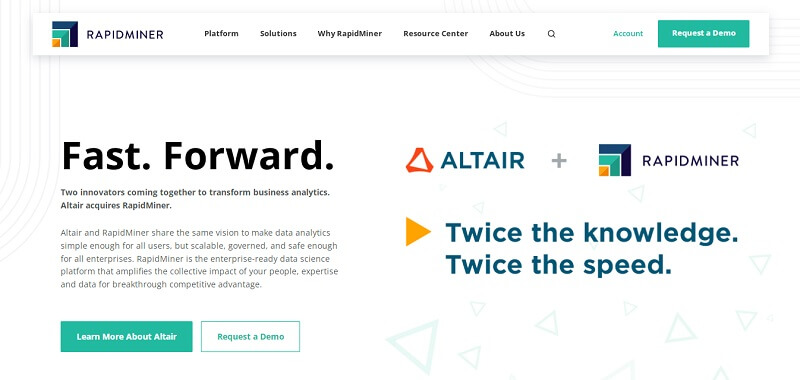 Rapidminer is another valuable and productive analytical tool that controls data sets and delivers accurate predictive analysis.
It is not just an analytic platform but offers more than that with advanced analytic data predictions, visualization, and data mining capabilities.
---
10. QuickSight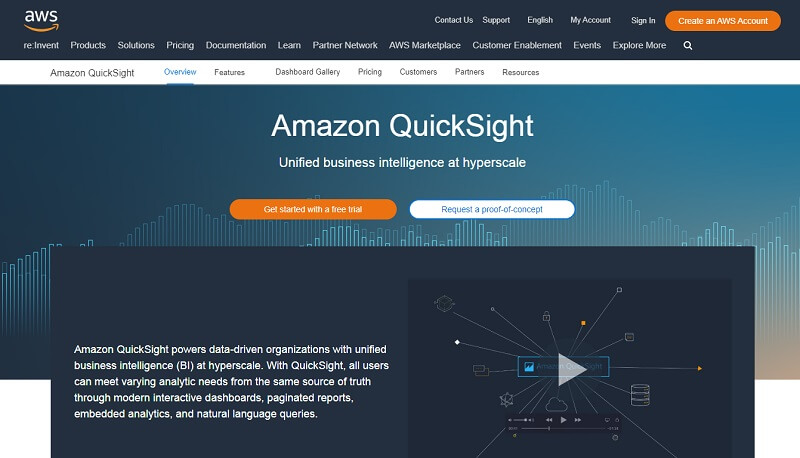 Amazon's quicksight analytic tool is powered by machine learning capabilities with services developed and designed under the umbrella of Amazon cloud AWS.
Moreover, Quicksight offers intuitive, actionable, and easy-to-understand insights that seamlessly business decision-making process. Additionally, its scalability allows Amazon QuickSight to accommodate thousands of users without needing extra ecosystem management and planning abilities.
---
Conclusion: Business Analytics Tools
We have already discussed that different IT companies offer various tools with unique capabilities. Besides this, the list of 10 Business Analytics Software Tools ends here. However, if you want to choose one from the above, we recommend you embark on Power BI.
Power BI solutions are the most capable, fast, and agile analytical tools that capture the BI tool market with more than 26% of the global share. Organizations can get in touch with power BI development companies to move the business forward quickly.
Moreover, with the help of Power BI development services, organizations can reap the benefits of a complete roadmap of developing, integrating, and managing the power BI tool across the organizations. Moreover, with Microsoft Power BI, the organization will have the unique capability of a Power BI dashboard, providing a complete business overview with seamless visualization.
Author Bio:
Michael Donald is a senior IT Consultant at leading Microsoft Power Bi Partner Company Bitscape. He has unified experience in adding value to the existing technological architecture of various businesses. During his professional journey, he has tackled a wide range of challenges and has built the ability to work through challenging issues in any industry.