EaseUS Data Recovery Wizard for Windows – Get Back Your Files in 3 Easy Steps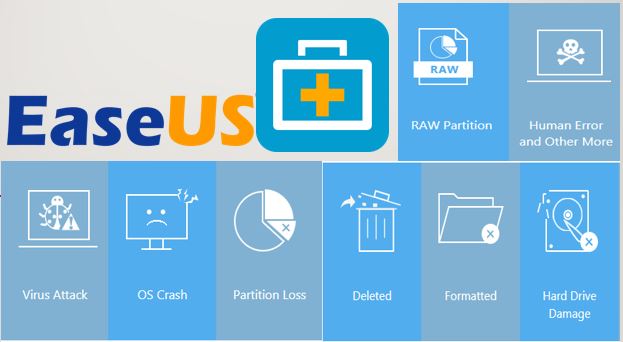 If you have ever lost files on your computer, you know the feeling of horror as you realize that your storage disk crashed. It may have been a technical error or your inattention, but that matters less once you are past the point of no return. You may have just said goodbye to family photos and work documents in a blink of an eye. here we are talking about EaseUS Data Recovery Wizard.
However, you should know that everything's not lost, yet!
The good news is that the files on a "dead" storage drive are never fully dead. If you could access the drive, you wouldn't find them in their original format. Instead, they have been converted into a series of backup data, which you should be able to recover only if you use the best data recovery software.
What is EaseUS Data Recovery Wizard?
The EaseUS Data Recovery Wizard is an all-in-one data recovery safety tool for any type of device that runs on Windows XP and above. It can help you regain lost documents and files on desktop computers, laptops, and even servers.
This wizard software enables you to access and recover deleted files, folders, missing or corrupt partitions, and even formatted hard drives. You can run it to restore the files from a CD, a DVD, a camera memory stick, or a USB thumb drive. It uses an intuitive scanning mechanism that allows you to preview the files it finds before restoring them.
Whether you accidentally delete data from your computer or the data drive suffers damage, you can count on Recovery Wizard to get back your precious files. This program has a high rate of success for:
Lost data recovery
Partition recovery
Formatted file recovery
Storage media recovery
Emergency data recovery
You can even restore files that have been hidden or deleted by malware. An accidental shutdown may also damage some of your data, but you should be able to get it back with EaseUS Data Recovery Wizard.
How does EaseUS Data Recovery Wizard work?
EaseUS Data Recovery Wizard uses a unique 3-step data recovery system that even entry-level users can manage:
1. Select the location
2. Begin the scanning process
3. Recover data
It might seem like the regular mechanism of any data recovery program out there. However, it is not. The Recovery Wizard recovers files while scanning the damaged drive. It also gives you full control over the process through these nifty, innovative features:
The ability to search for deleted/lost files by extension or name
The option to sort out photos by category (people/animal/building/others)
The choice to identify the source device of deleted/lost photos/videos
Easy filtering of the results by category
Quick preview of the files
One of the best aspects of using this software program to restore lost data is that you can run it on a broad range of devices that include PCs/laptops, internal/external hard drives, USB drives, Micro cards, Camcorders, digital cameras, music players, video players, RAID, CF/SD cards, pen drives, and more.
You can run EaseUS Data Recovery Wizard on any of these devices if you do it through a media that functions on Windows 10/8.1/8/7/Vista/XP or Windows Server 2016/2012/2008/2003.
Contrary to other data recovery programs, EaseUS Wizard can recover a wide selection of files, such as Documents (8+ types), graphics (19+ formats), videos (14+ formats), audio (17+ formats), emails, ZIP, RAR, SIT, ISO, HTML, SITX, etc.
EaseUS Data Recovery Wizard Special Features
The market for data recovery programs is oversaturated. However, EaseUS Wizard stands out in the crowd with its ability to repair corrupted photo files (JPEG/JPG) and damaged videos (MP4/MOV).
Here are other special features that make EaseUS Recovery Wizard the best data recovery software:
It is intuitive and easy to use
Even inexperienced users can run it
It is highly effective in repairing and recovering data
It works on a wide range of Windows-running devices
Also, it benefits from extensive trust and support from the IT community
It is affordable
Conclusion
If your computer has just crashed and you need a speedy recovery of your data, you can safely use Data Recovery Wizard.
You can even opt for the free version that will let you recover as much as 2GB of data. Restore data from deleted, hidden, lost or RAW partitions, and preview the files before restoring them.
You can find UUkeys Windows Password Mate – for Reset Windows admin password Software