Windows Based VPS Hosting Plan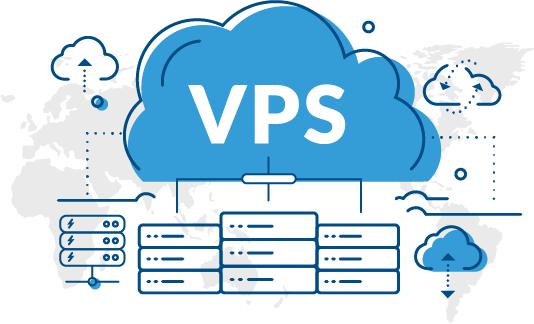 Virtual Private Server or VPS Hosting is a superior hosting service that matches the versatility of dedicated servers with the affordability of shared servers. VPS is hosting that virtually mimics dedicated server environments within a shared server. VPS hosting plan has become a popular choice because it is generally lower in cost than dedicated hosting but provides better reliability, security, and performance than shared hosting.
Although many website owners start out with a basic shared hosting plan, that may not continue to be a viable option as your website attracts more attention. If your traffic levels have increased, it may be time to consider an upgrade. A Virtual Private Server or  VPS hosting plan provides your site with its own individual operating system, disc space, and bandwidth. This is a stark contrast to shared hosting plans, in which those resources are shared with many other users.
VPS hosting plan enables you to provide a more optimized service for your visitors – which is essential as your site really starts to grow. In this post, we'll go over some of the top reasons for upgrading to Cheap Windows VPS  Buy RDP. Let's get started!
A little bit of history.
Microsoft has created a server optimized version of the Windows operating system in 1993 and called it Windows NT Advanced Server 3.1. This version was mostly used for small office computers providing computing power with the great user interface Microsoft is famous for. Fast forward 7 years, after a few versions in between, Microsoft has announced Windows Server 2000 and introduced technologies like Active Directory and Group Policy which helped increase productivity in data center and office environments. However, it made its big jump in 2008 with Microsoft's own virtualization technology called Hyper-V.
What is Hyper-V?
Hyper-V is a microkernel-based virtualization hypervisor that is natively integrated with Windows. It was first released as a beta in 2008 for Windows Server 2008 and it is available since then on all Windows server editions.
Great for development
With its native support for Microsoft technologies like .NET Framework and Microsoft SQL Server, Windows VPS acts as an ideal platform for Microsoft-oriented development and testing. It is especially useful for big projects with a huge number of Windows components when the need to deploy and test in real-life conditions arises.
A testing bed for Windows updates
If you are running Windows on your projects, it is good practice to keep your Windows installation up-to-date with Windows service packs and Windows updates. However, if you do not have a dedicated computer for this purpose or it does not fit into your budget – renting a cheap Windows VPS hosting plan will provide you with the benefit of testing updates before doing them in your regular environment.
How to buy RDP at a cheap price:
If you are wondering how to buy Cheap Windows VPS Buy RDP, this article will help you. This article will cover some of the basics of the technology and how to use it for your business. Once you understand the basics, you can purchase RDP for your business. In addition, we'll also discuss some of the best ways to save money when buying RDP for your business. This article is written for the benefit of the business owner and is not intended to be a complete guide on how to RDP buy.
First and foremost, you should know how to buy RDP at a cheap price. If you are a student, you can get this service for a much cheaper price than a regular one. This type of service is suitable for students, business owners, and anyone who needs a second PC. The most popular benefits of RDP are its speed and portability. It can offer higher bandwidth than your home connection. Thus, downloading and uploading larger files will take just a few seconds. In addition, you can use it to take backups of your important data, such as pictures.
Use of RDP
RDP is an excellent choice for those who want a second computer without the hassle of lugging a laptop. It can also store files on the cloud so you don't need to carry a laptop everywhere. Another great benefit of this service is its high speed. You can upload and download large files in seconds. This service is particularly useful for people who run web-based businesses and need to access their data from different locations.
If you are a business owner, RDP for Sale will help you cut down on the costs of carrying flash drives. It's an ideal solution to the problem of losing work-related files. Using RDP for Sale also allows you to access workplace data on the go and won't require any installation or software on your PC. So, you can use it anywhere. However, you should keep in mind that the privacy of your data will be largely compromised when you're using it for business purposes.
RDP For Resellers
If you want to buy RDP for sale, you need to look for a reseller that offers it at a cheap price. You'll need to register with the company to get an account. In order to do this, you will need to be a business owner. Whether you're a business owner or an individual, RDP can help you get the information you need when you need it. You'll need a reliable service to keep your data safe.
It's important to know how to buy RDP at a cheap price. There are several companies that offer RDP for sale at cheap prices. You'll need to be a member of a hosting company to purchase service. These companies have a dedicated IPv4 network and you can also use RDP for sale if you are a business owner. The only difference between a hosting service and an RDP for sale is that the host will give you the server IP.
Buying an RDP for sale will allow you to use a virtual second computer. You'll need to choose a server that has a dedicated IPv4 over a 1Gbps port. A more powerful server will provide faster uploads and downloads. Make sure you read the terms of service and the terms and conditions. There are many RDP for sale hosting providers, but you'll have to find the one that suits your needs.
Final Words
Once you have purchased an RDP for sale account, you'll need to choose a hosting provider. The best options for this service include the features listed below. They will provide you with a dedicated IP, unlimited bandwidth, and more. If you're a business owner, you can use RDP for Sale hosting to reduce the need to carry around flash drives and other devices. Then, if you're a business owner, you'll be able to access your workplace data wherever you are.