How To Teach Kids HTML – 8 Effective Ways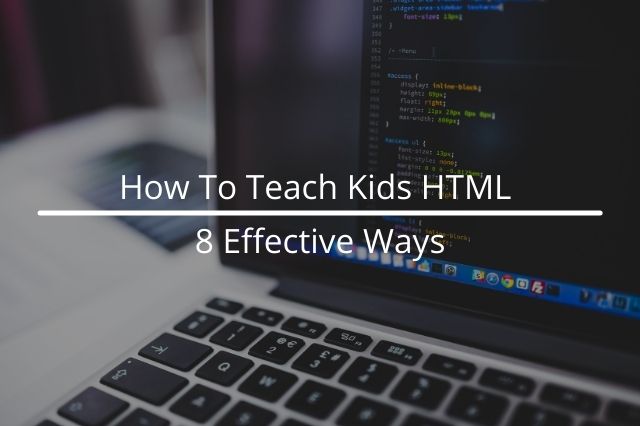 HTML was one of the first internet technologies. It has undergone numerous upgrades, modifications, and revisions since its introduction in the late 1980s. Nevertheless, it remains the backbone of internet architecture since most internet browsers use the HTML protocol. Therefore, it is very important to teach your children about HTML. But How To Teach Kids HTML? Well, here are the main ways that you can use to teach your children about HTML.
Mazes
Solving mazes is a skill that any child needs to develop if they want to attain optimum computer skills during their early childhood education. Studies have shown that children who are good at solving mazes have greater problem-solving skills. Each time they create a maze, they gain extra command-taking skills.
It would help if you bought card games for a start. You can organize these cards on the floor and invite the children to play the game. Children who solve the game by following instructions will have a better command of HTML knowledge.
Board Games
According to STEM experts, failure to use entertaining teaching strategies will lead to poor HTML grasp among children. Fortunately, many games help children to learn HTML within a fun environment. In particular, board games are a great way to explain the basics of computer programming. For instance, Code Master is a board game that introduces your children to the concepts of problem-solving, sequential reasoning, and planning.
Hour Of Code
HTML learning should be done in a structured and organized manner. Your child should know that specific moments of the day have been set aside for HTML learning. This can be one hour for three days every week. Thankfully, there are many online tools to help you in creating a working schedule. These tools will remind you when you are supposed to teach your children about HTML.
Games And Animation
You can create animated videos and games to explain HTML to your children. Using animations and games can cultivate creativity and improve learning. Some parents use online applications like Scratch because they come with pre-programmed training sessions. These sessions inspire collaboration, systematic reasoning, and creativity. The explanations are so easy that children can learn them without adult supervision.
Create A Blog
Once your kid has mastered sufficient HTML knowledge, you can ask them to join you in creating a blog. The blog will assist you in identifying your children's progress. It will also help you to impart extra HTML knowledge. After a few trials, you can ask your children to prepare our website on their own.
Learn A language
It will take some time before your child becomes conversant with the essential concepts of programming. However, it would be best if you didn't give them a break. As soon as they are done with the initial programming, enroll them in a coding school to learn major programming languages, including Java, Python, Ruby, and JavaScript. Luckily, there are many offline and online places where they can learn coding for free.
Understand Their Interests
Computer programming is not a binary activity. Every person can come up with an idea while they are recording. The same is true for your child. Therefore, you should have weekly conversations with your child, where you try to learn their interests. For example, your child may be interested in games, contests, or books. Learning your child's interests is beneficial because it can help you to customize their learning activities.
Hardware
One way to bring HTML learning exercise to life is to introduce playing and programming hardware. The availability of such hardware is key because it enables your child to construct real-world things.
Final Thoughts
It's never too early to learn something. Introducing your child to HTML concepts at an early age will prepare them for the inevitable world of computer programming. These tips, if implemented correctly, will get your child on the right path.
I hope you liked our thoughts on How To Teach Kids HTML. Also, don't forget to share it with your friends.