Why Should Bloggers Learn To Code?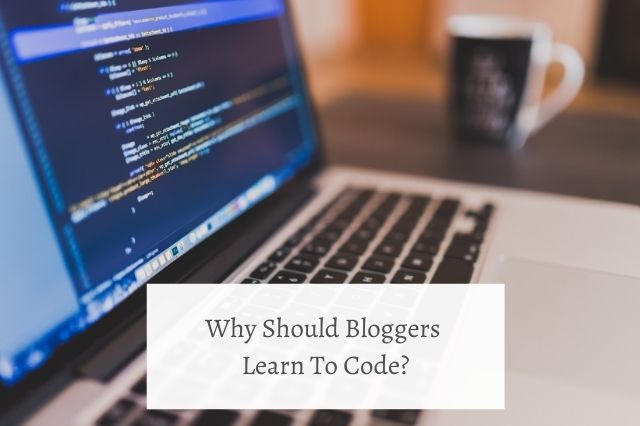 If you want to know Why Should Bloggers Learn To Code? Then in this blog, we talked about why should bloggers learn to code for everyone. So keep reading…
Without a doubt, it takes a lot of time and patience to become a blogger. Starting from scratch to publishing daily stories that attract a significant following is not simple. That aside, you should invest in creating or purchasing a worthy website to help you find earning opportunities. Most bloggers prefer a ready-made website, which is certainly an easier way for those getting started. However, while it is fast, cheap, and visually attractive, you should consider creating your website. This is probably the basic reason why bloggers should learn coding. Those interested in blogging should learn to code for the following reasons;
Grow A Unique Brand
With widespread internet use, blogging is slowly becoming a reserve for everyone. Internet-savvy people are out there sharing their ideas, be it political, social, travel, or beauty. Therefore, you should aim at creating something different and unique, which you can achieve from your website. As mentioned, it can be tempting to purchase a ready-made website. Unfortunately, despite the seemingly high-quality design, most of these shelved themes are the same.
That said, learning how to code opens up a plethora of design possibilities. Proper web development will require that you learn a language like HTML, CSS, or JavaScript, which is not challenging for beginners. Since blogging websites significantly affect your brand, designing an appealing website will certainly attract more audiences and better your blogging results. You can customize the website to suit your brand, play with fonts, colors, and buttons style, and include plugins where necessary.
Making Later Changes
Beginner themes, settings, and styles of your website are a great place to start. However, as your channel and audience grow, the need to make adjustments and customizations becomes inevitable. With increased traffic on your site, even the simple website builders like Wix and Squarespace can fail. Learning how to code comes in handy in such situations. With such knowledge, you will avoid spending heavily when rebuilding your website. Coding experience makes it easy and flexible to create unique websites or add other functional plugins that better your website performance.
Saves Time And Money
If you just started blogging, those with experience can attest to the frustrations of paying heavily for a website that doesn't meet their expectations. Coding skills are currently in high demand and quite pricey. Regardless of whether you need some basic edits on the fonts, a change in color scheme, or updating already installed plugins, hiring a programmer occasionally accrues your expenditure.
Employing an experienced web developer often comes with its challenges. For instance, they might be held up with other projects, thus taking more time before sorting your issues. Hiring an affordable programmer also rarely meets your expectations. That said, you can avoid all these hassles by learning to code. A simple course in programming can help you master the intrigues of web development. With this, you can make website updates, create basic customizations, and work on your website immediately. It also saves you from the recurring cost of hiring web developers every time.
Get More Clients With Microsites
Blogging is undoubtedly a competitive landscape. With bloggers everywhere, finding better-paying clients, and standing out from the rest can be hard. As such, you should take a different approach to increase your income with microsites. However, this can only be possible with some coding knowledge. Coding skills make it possible to create microsites for your clients, which excel in ads and marketing campaigns. These mini-sites can earn you double the revenue from your original blog.
As A Side Hustle
As more sectors shift towards using computers, developing and maintaining computer programs has become a highly rewarding job. Coding skills are also expensive by nature. As such, if you can code expertly, you can find a job as a programmer as you grow your blog simultaneously. You can freelance for other upcoming bloggers, local news sites, institutions, and other web development opportunities.
However, to land such opportunities, you should improve your programming skills. Fortunately, apart from signing up for online courses or learning from textbooks, you can enroll in various coding Bootcamps. Skills and expertise gained from a coding Bootcamp are overly beneficial than what you learn online or on your own. Bootcamp certificates are also an excellent way to land better-paying programming jobs.
Coding Is Beneficial For Bloggers
Evidently, you can take advantage of various coding skills as a blogger. Working on your website by either making customizations or updates at your pace is flexible and highly rewarding. As such, you should desist from the common notion that learning how to code is hard. While it can be hard for beginners, several strategies can help you learn how to code with ease.
Since your goal is web development, your first step should be choosing a relevant programming language. You should then select the best learning resource and start practicing.
So that's all this blog. If you like this article on why should bloggers learn to code then please share it with your friends.