10 Best PowerPoint Templates with Creative Backgrounds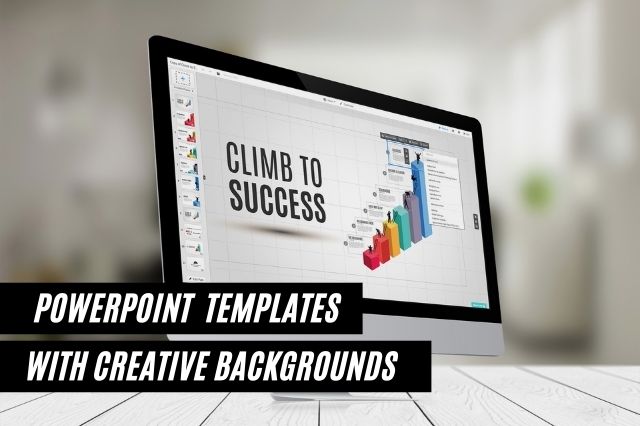 Whether the goal is to educate, inform, influence, or motivate a group of people, presentation is the go-to destination for everybody. Be it educational or business, a presentation has the power to engage with the audience with the help of mere words and images. So here I am joining to share some of the best PowerPoint Templates with creative backgrounds that will help you to represent your work in an effective way.
Since not everybody is a connoisseur of design, often presenters fail to make it big with their presentations. An ideal, well-constructed presentation delivers information intuitively while reinforcing a brand's image. Today, we will talk about some of the most popular, ready-to-use PowerPoint Templates with creative backgrounds from SlideModel.com that presenters can utilize to build stimulating and fascinating presentations.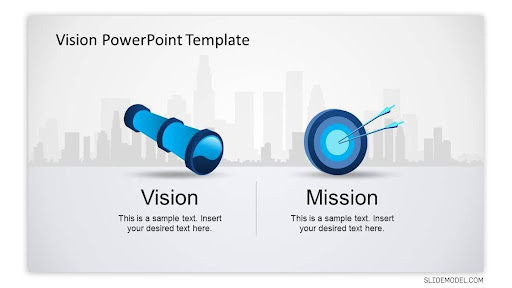 Both Mission and Vision statements play a crucial role for a company. Where the Mission statement defines the current state & objectives of an organization, the vision depicts the future goals and plans. Together both mission & vision act as a North Star and defines the path for company expectations, targets & decision-making to achieve the desired future. Whether you're meeting with a group of venture capitalists or showcasing your next product/service to the audience, people do care about your organization's mission and vision.
If your audience can resonate with your company's strategy, it is only then you can successfully onboard stakeholders. The Mission & Vision PowerPoint template allows you to achieve the same. The 4-slide template comes pre-packed with captivating visuals, typography & editable slide elements. You can leverage the template to showcase what your company comprises, what you seek to deliver in the future, and hence, cast a lasting impression on your audience.
---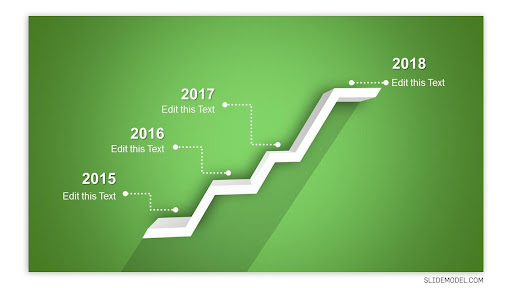 For any project, a timeline is a must-have component. Not only does a timeline clearly define the ownership, but it also improves communication, ensures better time management, boosts motivation, and enables project managers to track progress. Moreover, time plays a starring role in all business activities and engagements. With the help of an effective timeline setup, project teams can utilize time, resources to the fullest and ensure successful deliverables.
The 4-Stage Shelf Timeline template lets you seamlessly execute business plans. The template features over four intuitive slides that exhibit a superior design. The timeline diagram is a 100% editable, shelf-like structure. Presenters can enter relevant content in the placeholders and correlate different chronological events with added ease. The template lets you cast a high-level view of the events to your audience and present information in a digestible and comprehensive manner.
---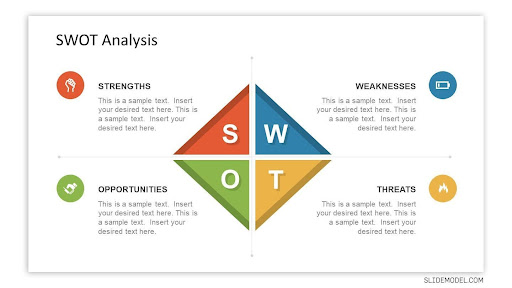 With over 25 slides containing 14 imperative business analysis diagrams, the Industry Analysis template is your go-to destination for analysis meetings. Presenters can leverage the corporate-grade slide design and backgrounds and do analyses such as SWOT, PESTLE, Porter's Five Forces, Ansoff's Matrix, Value Chain Analysis, and much more. The template is effective for business analysis, competitive investigations, project timeline discussions, etc.
The PowerPoint Templates come in two sizes, 16×9 and 4×3. Whether it's Microsoft PowerPoint, Apple Keynote, or Google Slides, the template design stays intact and encompasses a pixel-perfect appeal. Hence, rather than creating a presentation from scratch, presenters can invest more time in crafting quality content, leverage this ready-to-use template, put their content in placeholders & deliver a captivating analysis presentation. Thus, organizations of all scales can unlock valuable insights from detailed & effective analysis and progress towards business success.
---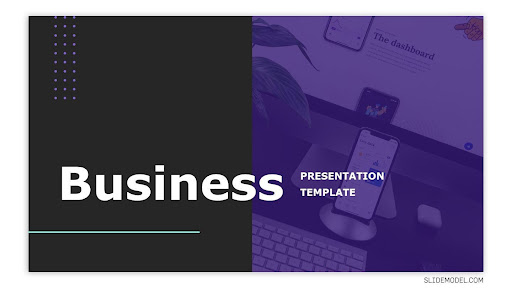 A report by Investopedia states that over 21.5% of startups fail in their first year of existence. Often presenters fail to make it big during the sales pitches. One of the many reasons is ordinary pitch decks. In a fast-paced business world where you have got a handful of times to convince your investors, it takes much beyond a mere presentation to convince your audience and initiate a call-to-action.
The Business Proposal PowerPoint Templates with creative backgrounds are your perfect companions when it comes to delivering clear, concise, targeted information about the company's short and long-term offerings. The 7-slide deck enables you to define the problem, provide your solution, depict your project strategy, and mark deciding events without any fuss. The template comes pre-loaded with visual resources that you can customize to bring out the actual value of the content.
---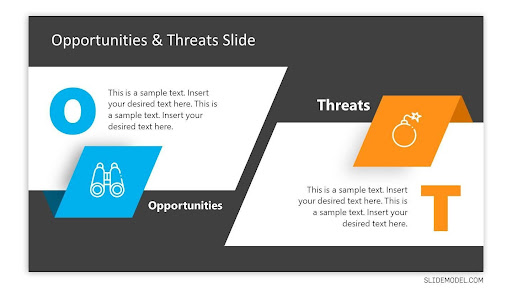 What makes some businesses more successful than others? It's the around-the-clock analysis of opportunities and threats. Presenters can use this amazing Opportunities & Threats template for their next meeting to assess the company's current position, explore new areas, mitigate risks and ensure a smooth business function. The template features minimalistic, two-themed slides in light and dark colors.
Presenters can get their hands on the slide and start putting in relevant content in Opportunities and Threats placeholders. Thus, you can save a huge amount of time in terms of presentation designing and creation. Explore new markets, customer segments, emerging technologies and reduce potential risks, breakpoints today to take your business to new heights.
---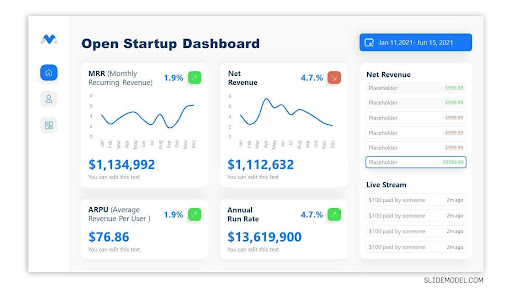 When it comes to providing a consolidated view of business data, the Open Startup Dashboard can do wonders for you. Presenters can make their presentations intuitive, provide real-time customer analytics, enhanced visibility, better forecasting, and aid the company's decision-making abilities manifolds. With effective dashboards, you can connect dots between the data and generate a valuable inference out of the same.
Presenters can seamlessly transform ordinary business information into meaningful data visualizations. The 4-slide Open Startup Dashboard template comes pre-packed with professionally designed dashboards. You can leverage the template to plot data such as Quarter by Quarter growth, Annual Run Rate, Revenue, Profit and showcase the company's overall performance across different KPIs (Key Performance Indicators). The data-driven slides can help your audience quickly grasp the data and understand it.
---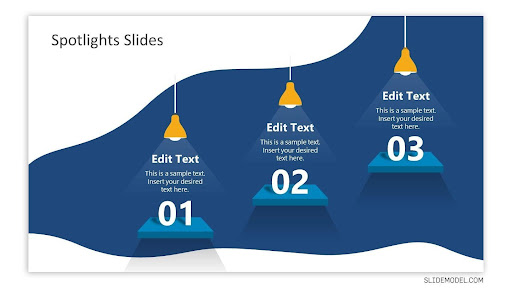 The 3-Step Spotlight Slides is a good pick when the purpose of your presentation is to emphasize certain parts of the content. The template comes in both- light and dark themes. You can place important content under light-bulb-like spotlight diagrams and encourage your audience to concentrate on the slide's portion. Presenters can advertise their products, services during launches.
Not just that, you can also use the template to reiterate important pointers during a presentation. You can easily place valuable content in the placeholders and position your slide elements in an incremental manner. Hence, you can place products or services incrementally & bring maximum attention to the element sitting over the 3rd position. This way, presenters can woo the audience and encourage a call to action.
---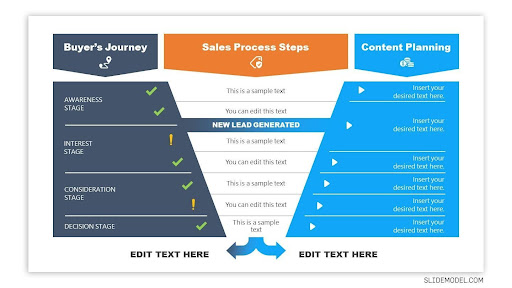 Today's marketplace is highly competitive where a business can't survive without a robust sales funnel in place. An effective sales funnel not only allows you to make sales forecasts accurately or simply your marketing endeavors, but it also helps you boost the conversion rates, rake in more revenue and boost accountability for the sales. Well, when it comes to your sales-oriented presentations, the Buyer Funnel Sales Process template can do wonders for your meetings.
Presenters can effectively project their sales process leveraging the 2-slide template's funnel diagram. As a presenter, you can emphasize and explain how your sales processes are prioritizing the interests of the customers, bridging the gap between marketing & sales, scaling up personalization and helping in overall conversion rate optimization, respectively. The template allows you to breathe life into your sales process through captivating storytelling.
---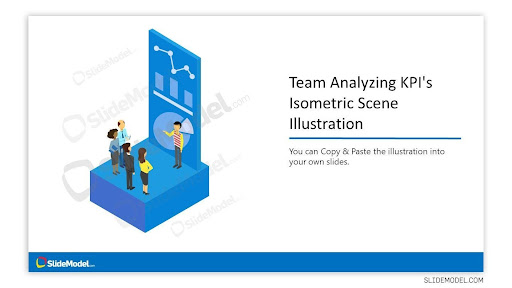 Project managers often take account of several team's KPIs or Key Performance Indicators when it comes to successful running and delivery of projects. As a manager looking to make your next presentation informative and intuitive, you can use the Team Analyzing KPI's Isometric Scene Illustration template to project KPIs and enlist the team's reflection.
You can seamlessly track and measure the team's efficacy while presenting the same to the stakeholders such as upper management, clients, etc. The slide deck features over three user-friendly templates that you can customize and put your content. The template helps you cast an overall picture of your team's efforts & results across the room with added ease.
---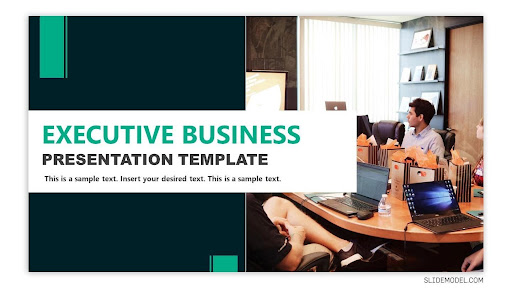 There is no denying that a good presentation is a crucial tool for any speaker. A well-crafted presentation, loaded with attractive and meaningful visuals can help you stick information quickly & longer in the minds of the audience. Especially while you're presenting to company executives where time is of the essence, the Executive Presentation template will help you woo the audience in no time.
The template aids the audience to understand the data easily, evoke emotions, and engages with the audience at various layers, respectively. The all-in-one 14-slide template features sections such as Introduction, About Us, Our Solution, Why Us, Market Size, Organizational Structure, SWOT, Timeline & Conclusion. Hence, presenters can cover all aspects of their executive presentations with the help of this template, that too without worrying about the slide design.
---
Wrapping It Up:
One can agree on the fact that a business idea or product is as good as how you present it. An ideal presentation captures the attention of the audience, projects the entire subject as a story, interacts with the viewers on different levels, and delivers your message such that the audience remembers it for a long time. The PowerPoint Templates with creative backgrounds mentioned in this post can help you cover all aspects of presentation making like a pro, explore today!