Tips And Tricks On How To Create Product Video In 2023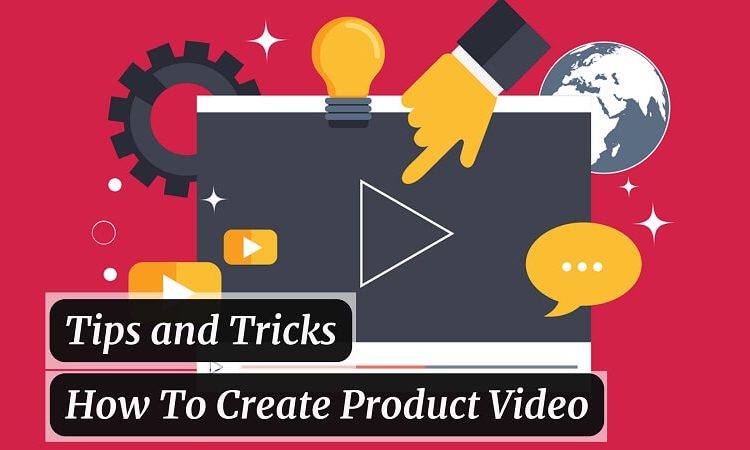 Video marketing has been making a tremendous comeback in recent years. Several circumstances have brought it into the spotlight, although it is far from a new marketing technique. As a result, videos have become a critical tool for organizations looking to inform and engage their target audience and market their goods and services. More than 80% of video marketers report that their direct sales have risen because of video. If you haven't done so before, you should! However, this is sometimes more difficult to accomplish than it appears. A video marketing strategy is the first step toward knowing "how to create product video". We'll show you exactly how to design one with the help of the best Windows 10 screen recorders. Let's begin!
1. Write A Compelling Script
Before filming product videos, you must first work on the screenplay. Even if you're in a time crunch, resist the temptation to start shooting straight immediately.
A well-written script will help you present a cohesive tale and avoid costly blunders in your video production. Producing videos without a screenplay increases the likelihood of their having a muddled message and losing their intended audience, as well as the expenditures associated with reshoots and edits after the fact.
2. Speak To Your Audience
Even if you have the best product video ideas, your video won't convert if you don't consider who it's for first.
The tone, vocabulary, and even the style of video you create will all be influenced by your target audience. Understanding your target market's demographics is the first step in creating a product video that will sell.
Analyzing your existing client data is an important first step in creating buyer personas that you can utilize to target and create product video. Surveying potential buyers can also help you identify frequent buying obstacles, which you can address in your product introduction video.
3. Outline Your Product Video's Objectives Clearly
Before making any video, consider the aim of the project. What are your video's aims? Also, what would you envision success to look like?
The type of video you make, its content, its audience, and the platform you upload are all determined by your aim, so identifying it is an essential first step.
Understanding where your video falls in the marketing funnel is a wonderful approach to defining your video's aim.
In order to increase the number of people who know about your brand, service, or product, you'll need to make a film that shows off what you have to offer. In that case, short-form social videos, documentaries on a company's culture, and explainer videos can be the best bet.
Are you attempting to persuade potential clients to buy your product or service, or are you attempting to position yourself as an expert in the field? You can also create product video demos, in-depth explainers, and instructional movies.
Are you trying to persuade those who are undecided to buy, or are you trying to persuade them to buy? Case studies, social proof, and testimonial videos, and customized videos, are all viable options in this situation.
4. Identify Your Target Audience And Value Proposition
To begin, you need to identify your goals. The next step is to determine to whom you're writing and what purpose you're serving.
Ahead of anything else, we need to know who the video is for. If your answer is "everyone," you may need to spend some time doing some serious experimentation.
The more you know about your prospective customers, the better you may tailor your video's tone and language to their needs.
When you begin your video project, you might ask your sales staff to define your target clients and the Mention aspects that appeal to them most. You can learn a lot about your clients' preferences for simplicity of use by reading internet reviews of your product.
5. Ensure You Have The Perfect Video Length & Quality
Make sure your product video maker app is clear and concise when you create it. Because the average human attention span has dwindled to less than 8 seconds – the attention span of a goldfish – the length of your video is critically important. The duration of a video affects its ability to hold an audience's attention, and different lengths are appropriate for different sorts of videos.
Potential customers' first impressions of your product and brand are typically shaped by the demo film you provide. Make a great first impression by utilizing professional photography and videography. People may be put off by shaky or blurry footage, which could decrease product sales. Finally, you want to ensure that the quality of your video is constant.
6. Choose Your Marketing Channel Wisely
Consider the channel wherever you want and broadcast your videos before you start developing content and proceed forward with it in mind to optimize your videos for success.
You may, for example, make a video testimonial just for your landing page or homepage. A two-minute presentation would be great for conveying crucial information while keeping your audience's attention and assuring they don't drift away.
It's important to know your audience and where they hang out before deciding which channels to use. The more active your target audience is on Facebook than on TikTok, the more likely you are to generate video content and run video advertisements there to maximize your ROI.
Depending on the type of video you're making, you'll need a different channel name. Tutorials and explainer videos can be found on YouTube, among other places. On the other hand, Listicle videos may do better on social media platforms like Instagram & Facebook than on YouTube.
Modifying your videos for different channels is certainly a good idea, but it's best to plan your video's content for one channel first.
Conclusion
Don't be hesitant to analyze your product marketing using your metrics. If you're looking for something specific, it's possible that a platform doesn't have it. Your product videos may be evaluated more easily as part of an overall omnichannel strategy.
Moreover, you'll be able to identify areas of improvement for the next time. Because no one does everything right the first time, it's important to learn from your failures and improve your plan going forward.