How To Make An Educational Presentation: 7 PowerPoint Templates Inside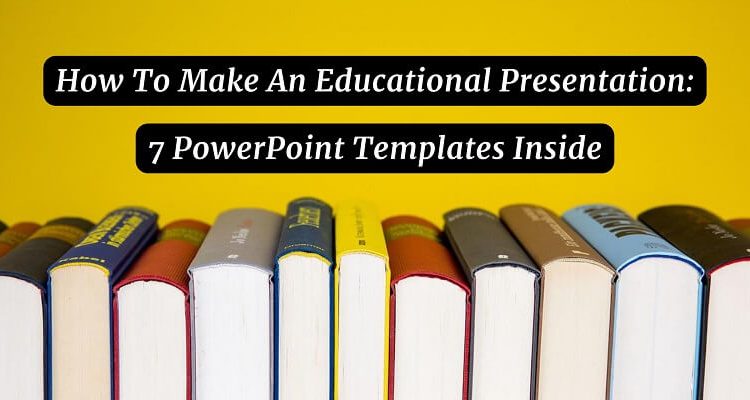 How To Make A Creative Educational Presentation: Making a communicative presentation is every educator's goal. You have more chances of succeeding in explaining the material if you back it up with a visual and engaging PowerPoint. While students have different learning styles, you can combine all of them into one presentation and with this get them involved in the learning process.
You don't forget to hire a writer from dissertationteam to write a perfect content for your presentation.
It's a no-brainer that PowerPoint is the best go-to presentation software due to its convenience and ease of use. While preparing an educational presentation, you need to spend more time on the content instead of slide designs. While PowerPoint has some built-in themes, it's easier to use custom themes with pre-build slides. MasterBundles is a cool platform to find any type of presentation template, offering more than 1000 different designs, each in multiple color schemes. With their simple yet powerful presentation ppt templates, you'll quickly grab the audience's attention and make the learning process more fun.
5 Tips On Making Successful Educational Presentation
Start preparing your presentation by planning and writing the content. It may be hard to write the content from scratch, so try to break it down into small sections and then write about each of them.
Here are some more tips on how to build an educational presentation:
1. Introduce The Subject
Start by introducing the main theme of the presentation and the key ideas that you would discuss. It's also the part where you introduce yourself if the audience doesn't know you.
2. Show The Importance Of Your Presentation
To win the audience's attention, explain why the topic is important and how they can use it in the future.
3. Visualizations Are The Key
Visual content makes the presentation easier to understand and remember. Regardless of whether you work with children or adults, adding some charts, graphs, or illustrations will help to drive the topic to the audience. Advice: don't use visuals just to make your presentation look good, they have to be relevant to the topic. Make your presentation appealing with templates and use visuals only as support for the information. Using a graphic approach may be more efficient in explaining difficult concepts than just giving a dry lecture.
Don't forget to leave some white space around visuals. This trick makes it easier to concentrate on the visual and plus, your slide won't look overcrowded.
4. One Topic Per Slide
Don't put many bullet points on one slide since this may be overwhelming for the audience. It's better to make more slides but focus on one topic per slide because you want to keep the attention throughout the presentation, and not only at the beginning.
5. Getting Feedback
To make sure the audience understood everything you've explained, make them use the provided information and ask for an action. Find a task in which they can implement everything they've heard and you can correct them on the spot or re-explain if something remains unclear.
Find More Educational PowerPoint Templates: 7 Top Designs
So what if you need to create an educational presentation but you don't have time to build it de novo? MasterBundles has your back. Check their education PowerPoint templates or choose among the ones that we've picked for you and choose the one that speaks to you.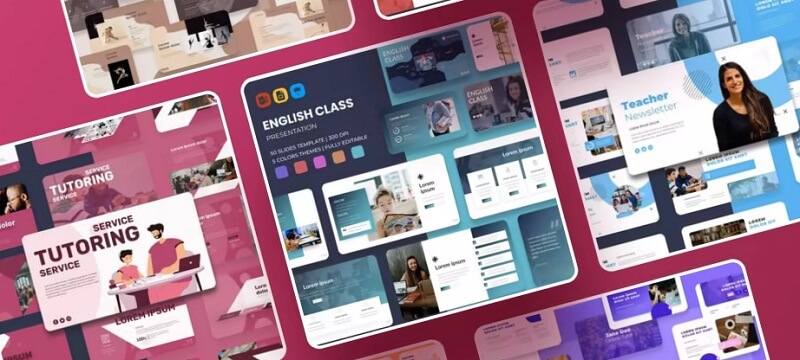 This is a power bundle that contains 8 different products for any type of presentation. With 400 slides available in 5 color schemes, you can tailor your presentation to your needs and present any topic with it.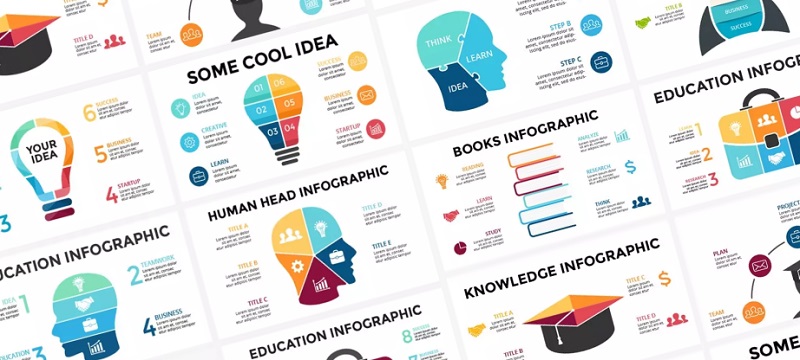 Remember the importance of visuals and infographics? Well, with this bundle, you can include any chart, diagrams, or data you want, and make it memorable and easy to learn. Each of these 20 infographics is available in PPT, PPTX, KEY, PSD, EPS, AI, and JPEG files. It works with any software and you can customize it in Powerpoint, Keynote, Photoshop, and Illustrator.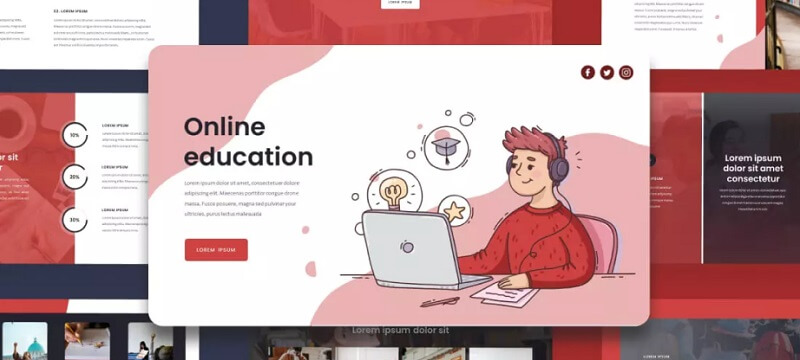 This template is a great choice for those who like modern and eye-catching designs in bright colors. Choose from red, purpure, purple, green, or blue that will only accent the content of your presentation. The template is available in PPTX, KEY, and Google Slides and can be viewed and edited on any device.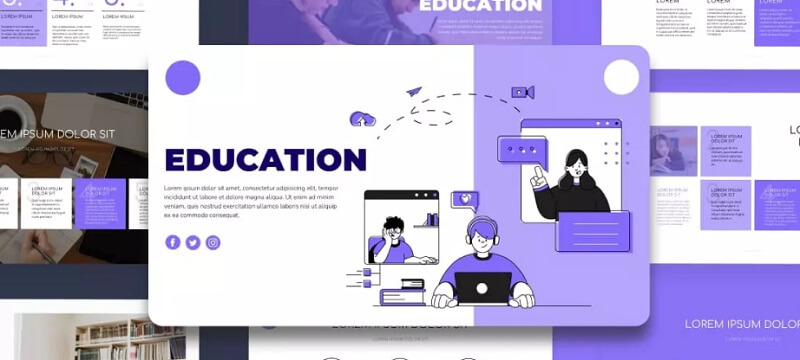 If you work with students, this is the perfect template to use at school with its classy and elegant color schemes. With 50 different slides supported by visuals and charts, you can create a communicative presentation in no time. All the slides are pre-built, so you just need to paste the text and choose the visuals that best suit your topic.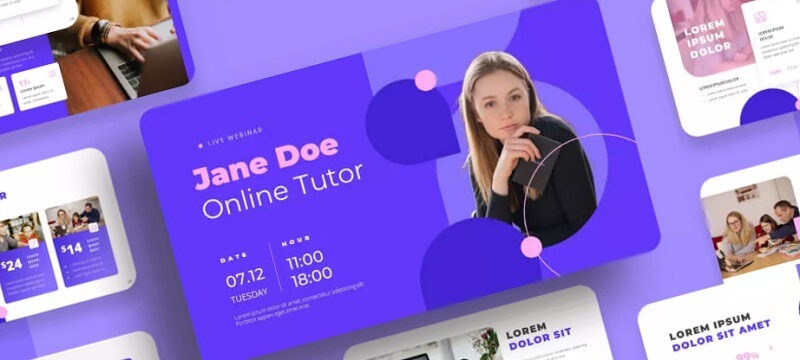 Including presentations during tutoring lessons is just as important. With this engaging tutor presentation template, you can make your classes more interactive and notice how useful this template is. There is a lot of graphic content, but also just enough room for you to add your own details and text.
Recently released, this template has already gained its own audience and great reviews, particularly for its design and ease of use. If you want to make lectures or lessons more dynamic and interesting, this is a go-to template for you. It comes with 50 fully edible slides, as well as graphs, charts, tables, but also icons & maps for your presentation.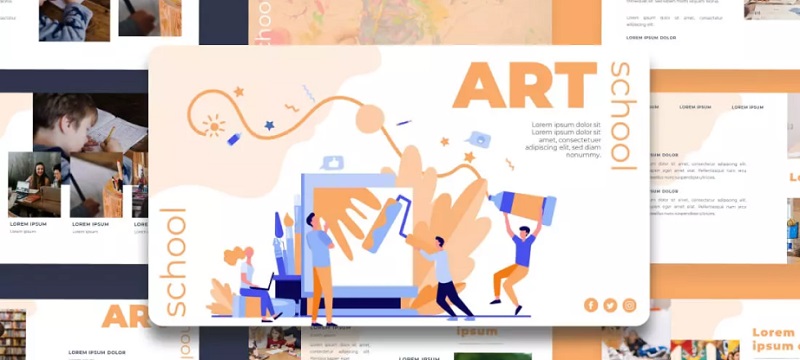 Creative and adventurous – this art template is for those who don't like classy color schemes and fonts. Some topics and projects are easier to experiment with in terms of colors and visuals, and that's the purpose of this template. Make your project pop up with this modern design. Fully editable, and available in three file types. Great both for students and for teachers.
Apart from this, you can also check the 10 Best PowerPoint Templates with Creative Backgrounds.