Why Laravel Development Is The Best Choice In 2023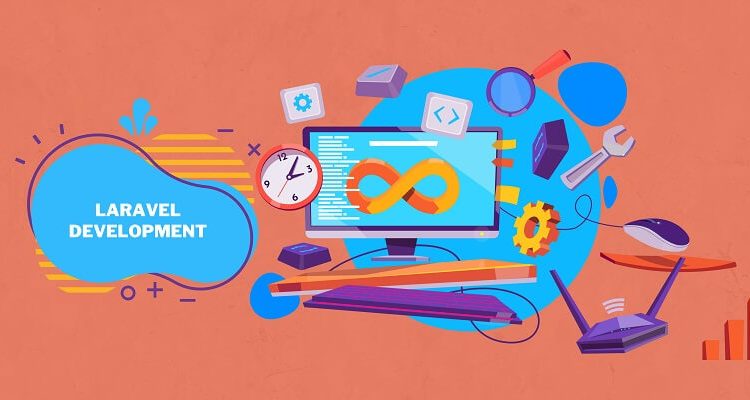 We all know how rapidly technology is progressing these days. So is the software that is being developed in top app development companies. One needs to stay on track and informed to keep up with the rapid advancements. This is the reason developers are coming up with new technologies every day to meet customer requirements. To help meet the demands of the customer Laravel development is one of the best to add more functionality to the program. It has already been inculcated within Alison and MyRank which are doing extremely well in the case of meeting customer requirements.
The base of Laravel is PHP which makes the storage and accessing of databases extremely efficient. Hence, this is one of the most popular frameworks that are available in the market. More than 6,00,000 cases have been registered that use the Laravel framework. So without further ado, let us get into the benefits of using Laravel.
Advantages of Using Laravel Development For Your Next Project
The benefits of using Laravel for your next project are numerous. Some of them are listed as follows:
1. It is quite popular
Lavarel is one of the most popular frameworks that are available in the market. It has more than six lacks Laravel developers that are currently working on it. But, there are some people that have extreme expertise in it. If you are facing any difficulties that are making you get stuck in the coding part, you can always ask for help online. You can also join communities that make your coding better and more efficient. As many developers choose Laravel development, they will be glad to help you out on your development journey. Meeting like-minded people can expand your knowledge and gain more experience in this field. This is one of the best ways to succeed.
2. It is highly secure
Laravel development companies are being approached to solve security issues. This is one of the top concerns of all sectors as data misusing has become quite popular. These days, no one wants to use a website that is less secure which is the reason why people are also willing to pay extra in order to get there and the customer's data extremely secure. As a developer too, you need to focus on the security aspects of the app. Is it reasonable to use functionality that increases the risk of the entire app? If yes then you should reconsider your choices.
3. Ability to inculcate multiple languages
Localization is one of the best approaches to getting your customers hooked to the app. There might be certain customers who are more comfortable using their mother tongue. Also, localization increases the chances of making a purchase for the customer as the companies appear more trustworthy. This is the reason that more and more businesses are approaching Laravel development company to increase sales and profit rates. Hence, you need to make sure that you are using the ability to the best and try it out for your company as well!
4. Economic point of view
These days budgets are becoming tighter and tighter for businesses. Sometimes setting out as a new business can make you question whether you are investing in the right thing or not. The inbuilt functions provide high functionality and help you cut down on the cost of investment. These are the top benefits of using Laravel development for your next project. The entire framework uses MVC architecture which means that your development becomes a lot more effective as compared to any other frameworks that are being used online. Hence, this can help you reach more customers on a budget.
5. An advanced set of libraries and functions
We all know how difficult it is to start coding from scratch. The same applies to Laravel developers. There are more than 20 different libraries that Laravel developers can be inculcated within the source code. This makes the entire code more flexible and adaptable. Also, they help to ease the task of the developer as well as help cut down on coding time. The more inbuilt functions also make sure that the use of PHP and other native libraries also becomes very easy so that the app looks more advanced.
6. Helps to manage traffic
When it comes to handling multiple clients, your servers can react badly. This is the reason why you need to use a framework that strong, scalable, and a lot more functional. This is why Laravel development is the best choice for apps that have huge traffic on daily basis. This helps to prevent the website from crashing time and again and saves you as well as the company's goodwill. It will ensure that the app never lags despite the complexity of the code. You can also easily update and sync the changes in your app.
7. Less time is spent on the development process
We all know how time-consuming the entire development process can be. Plus keeping in mind the security issues can help complicate the development process for the hired Laravel developers. But, as there are preloaded libraries and UI components that are available at the disposal of the developer, one can cut down on the time of development. This is why it is highly preferred all around the globe. Plus, with the help of PHP, you can access more complex functions and easily use them within your code for the development of complex user interfaces.
Conclusion
These days, people are looking for apps that are more stable and scalable. But with the many platforms and frameworks available in the market, it can be confusing to choose the best one. In this case, more than 6M people have chosen Laravel development. There are many advantages to doing so. Firstly, laravel uses the PHP framework which makes accessing databases and storing them more easily. Secondly, it is more secure as compared to various options that are available in the market. And lastly, it provides a vast variety of predeveloped widgets that makes the task of the Laravel developers a lot easier.