A Quick Guide To PDF Accessibility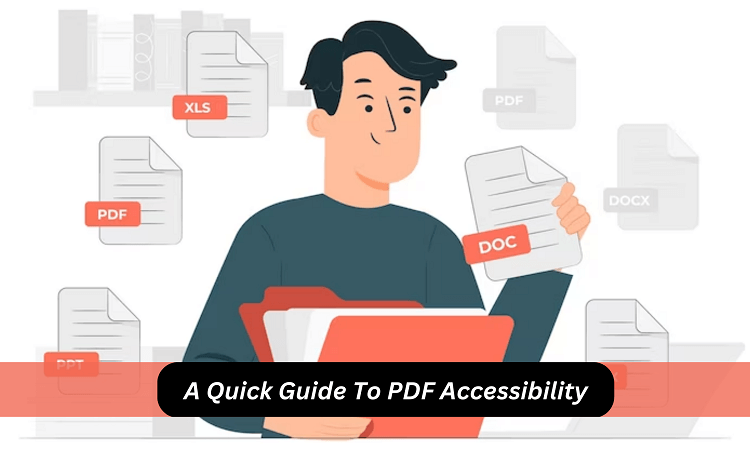 Hello there, today in this article, we are going to discuss a quick guide to pdf accessibility. So keep reading.
The Portable Document Format (PDF) has gained popularity in recent years due to its ability to preserve document formatting across applications and devices. Because it was developed as a proprietary document format by Adobe in 1993, it was not until 2008 it became more widely available. More software manufacturers have started supporting the format, including Microsoft, which currently offers a PDF export feature in the MS Office suite.
The ISO Technical Committee has adopted PDF as a global standard for document sharing, which means that files in this format should observe different accessibility guidelines. While Adobe included accessibility features in the third edition of the format (2001), rapidly changing accessibility regulations across the world require a drastic update in PDF accessibility. Let's look at what PDF accessibility entails and what you can do to make your PDF documents more accessible.
A Quick Guide To PDF Accessibility:
Why Should You Care About PDF Accessibility?
Recent court rulings have considered websites and other digital properties as places of public accommodation under the Americans with Disabilities Act (ADA). This definition includes PDFs posted on your website. The number of ADA-related lawsuits has risen steeply over the past 5 years, and as more users become aware of accessibility, more companies are at risk of litigation.
Website accessibility, and by extension, PDF accessibility, also contribute to web traffic. When potential customers cannot read or understand content such as product specifications in PDF, they are likely to take their business elsewhere. Because adults with disabilities comprise 16% of the world's population (and 26% of the US population), you risk excluding millions of people from being part of your customer base.
What Makes A PDF Accessible?
Let's start by defining accessibility. For the purposes of this article; an accessible PDF is one that is easily read by a screen reader; which implies that we can only consider text-based content. A scanned image of text is not accessible at all and will require remediation for it to become accessible.
To determine whether a PDF is scanned; you can try to select a single line of text in the document. If the entire page gets highlighted, it is most likely an image. However, readability alone does not ensure PDF accessibility. You need to format PDFs correctly so that screen readers can identify headings and images. Format any tables properly so that screen readers can identify columns and rows in a similar way. You may identify untagged files using Acrobat Pro's built-in accessibility checker.
How To Make PDFs Accessible In MS Word
Many word processors and desktop publishing applications offer PDF export capabilities. For instance, it only takes a few clicks to export an MS Office document or spreadsheet to PDF. However, you need to use the correct formatting (also known as tagging) to make your document accessible before exporting it.
Here are a few things to remember as you format your documents:
Headings: These add structure to your document and help users understand the context of the content. Accurate headings also help users search for the content they need. You should tag major sections as Heading Level 2, and the title should be Heading Level 1, and so on.
Document title: A proper title helps users identify files more easily. You may choose to copy the Heading Level 1 text, then add it to Properties >> Title.
Table of contents: Once you've organized your document into sections, you may start creating a table of contents using the Reference ribbon. If you edit the document, this method will automatically update the page numbers.
Objects and images: Adding alt text to images helps screen readers identify them. The alt text should be brief and descriptive. If an image is decorative, you need to mark it accordingly so that the screen reader can ignore it.
Adding the correct tags to your documents will help readers understand your content and give them the information they need accurately.
Parting Words: Guide To PDF Accessibility
When businesses implement accessibility programs, they often overlook PDF accessibility. However, PDFs need to be accessible so that users with disabilities are not excluded from reading them. While adding accessibility to your PDFs can be a long, tedious process, it is well worth the investment.
Also, you can check: How Can I Reduce The Size Of A PDF?