4 Best 3D Animation Software in 2023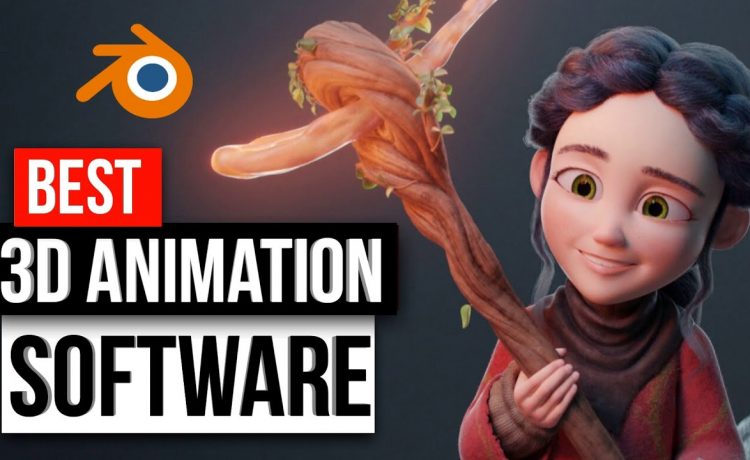 3D Animation is one of the most demanding disciplines in contemporary art industries. Not only it requires a grasp of the 3D models used in its development but also a substantial knowledge of shot composition, renderer, specifics of the game engine used, and the 3D animation software that is used to design it.
We can define Animation software as a class of computer software programs that are used to design 2D and 3D moving images. Lots of animators use a variety of 3D Animation software and 3D Animation service to create their masterpieces.
In this article, we have listed the 4 best 3D Animation software of 2023 that will provide you variety of features and options to create amazing Animations.
1.  Cinema 4D
Cinema 4D is one of the famous 3D Animation software developed by Maxon in 1990. It was initially named FastRay when it launched, but, soon after Maxon changed its name to Cinema 4D. The best thing about This powerful software is its easy learning curve. There are lots of tutorials and guides that will help you learn and master its features and functions. It also has a Skilled community that helps beginners quickly develop their skills.
Cinema 4D is powered by OpenGL. Its real-time viewport baffles with a depth of field and display space reflections make it easier to implement and control these effects. In Cinema 4D, you can also export preview renders. So, you can submit your proposals to clients for approval. It offers a variety of features like Scene Reconstruction that let you create geometry based on tracked and coloured point clouds. In the latest release, more features have been added such as new placement tools, special presets for rendering cars, improved asset browsers, a scene manager, and a bodypaint tool that now supports the real-time viewport.
The pricing of Cinema 4D starts at $1199.00 per year which includes free membership of their training site called Cineversity.
Features:
User Interface Enhancements.
Polygonal Modeling.
Parametric Modeling.
Poly Pen.
Volume Modeling.
Polygon Reduction.
2.  Maya
Maya is a professional software precisely developed by Autodesk for 3D modelling, Animation, and rendering. This Amazing and powerful tool is widely used across the globe. It is used to create Animations and VFX in blockbuster movies and web series such as Transformers, Harry Potter, and Game of Thrones. Maya offers Viewport 2.0 that allows a faster Animation playback and lets artists review Animation right in the viewport. It also reduces the requirement of the Playblasts. Maya's latest version has Butterworth and Key Reducer filters that allow creators to fine-tune their animation curves.
This powerful Animation software lets you do everything from creating complex characters to realistic effects and vast worlds. Maya also offers an Evaluation Toolkit that helps you in testing, analyzing, and understanding the operation of parallel evaluation modes. With the help of its Bifrost feature, you can create procedural dazzling effects.
The pricing of this Amazing software starts at $1700 per year.
Features:
Ready-to-use graphs.
Interactive hair grooming.
Bifrost visual programming environment.
Seamless import/export.
In-memory USD stage support.
Fast playback.
Time and Graph Editor.
Integrated Arnold renderer.
Standard Surface Shader.
MASH procedural effects.
Scene Assembly tools.
Bifrost Ocean Simulation System.
3.  LightWave 3D
LightWave is another popular 3D Animation software developed by NewTek that allows users to excel in their 3D Animations. This intriguing software delivers real-time combined 3D interactivities. LightWave 3D is a feature package that includes a fast rendering engine. This engine has some advanced features that make radiosity, realistic reflections, caustics, and 999 render nodes. LightWave 3D is used for Rendering 3D images, both animated and static. It helps users by giving them Shading Model Customization Tools with newly updated nodes. LightWave 3D also offers Display Scaling to scale multiple UI elements for large-screen displays and HiDPI.
This powerful and feature-packed software has been used in many movies, digital matte painting, web series, video games development, motion graphics, visual effects, product design, architectural visualizations, virtual production, pre-visualizations, advertising, and music videos. LightWave 3D provides a Noise Filter option that uses the NVIDIA OptiX™ library for AI-accelerated noise elimination.
The pricing of LightWave 3D starts at $495.
Features:
Redesigned Motion System.
Local Action Center.
Tone mappings.
Shedding New Light.
New Shaders in FiberFX.
Scene Editor.
FBX Interchange.
New Global Illumination Render Engines.
4.  3ds Max
3ds Max is another popular 3D modeling and rendering software developed by Autodesk. This software is widely used for Animation, game development, architectural visualizations, and visual effects. 3DS Max contains comprehensive 3D Animation capabilities, including Separate character Animations. The Character Studio helps you create bipedal characters, while the CAT tool lets you rig and animate non-human characters. Both Tools also provide customizable ready-made character rigs. These rigs can be skinned with the Skin or Physique modifiers and are suitable with motion capture file formats.
Furthermore, the 3DS Max Fluids, which allow you to create realistic liquid Animations like water, lava, and oil. You can also replicate gravity and collision effects with this tool. Other Animation tools include a motion mixer to combine motion data for biped and non-biped objects, wire parameters to link any two object parameters in the viewpoint, and Linked hierarchies to animate several objects at once. It also has a self-contained crowd simulation system.
The pricing of this powerful software starts at $215 per month.
Features:
Spline workflows.
Open shading language support.
Chamfer modifier.
Automated retopology and mesh repair.
Mesh and surface modeling.
Particle Flow effects.
Character Animation and rigging tools.
Arnold for 3ds Max.
Activeshade viewport.
Scene Converter.
3ds Max Fluids.
Conclusion:
There are many 3D Animation software out there and choosing the right one that fulfils your requirements is hard. All of them have unique features and capabilities. We have listed Some of the best 3D Animation software of 2023 that may meet your expectations. You can try out these best Animation software to create your masterpiece.